Recipe: pumpkin soup
I have 36 hours, but I need about 72. It's times like these that sleep takes a back seat. Oh well… I plowed through the photos from this last shoot in record time knowing full well if I didn't get them processed now, it would be 2011 before I'd look at them again. So here ya go:

this hillside was ablaze (in the good way)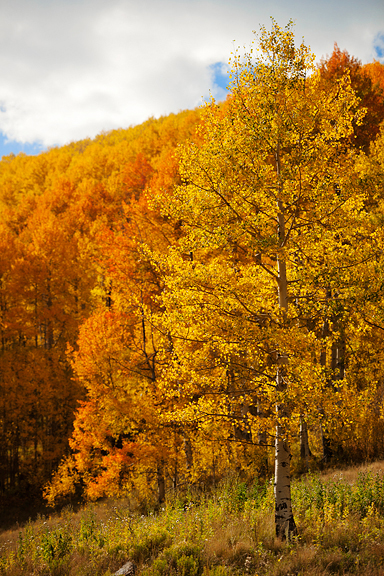 mixed bag: reds, greens, yellows, stripped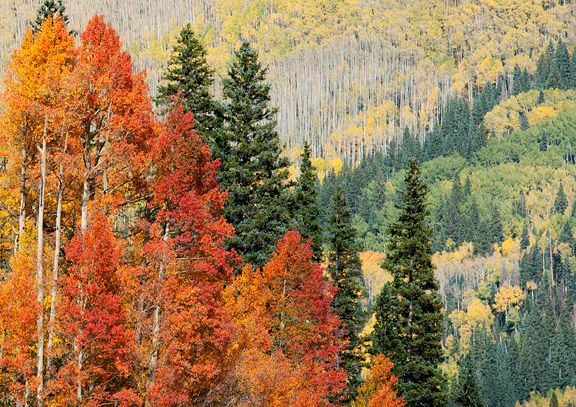 sunset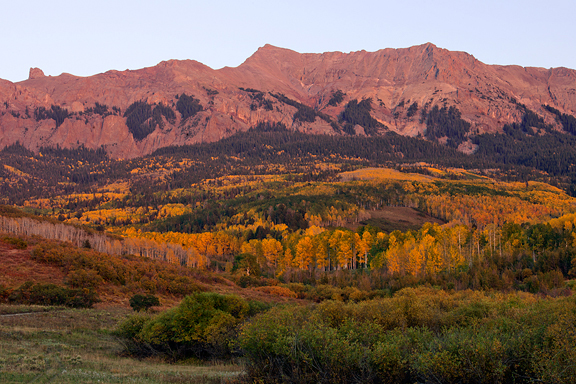 aspens lean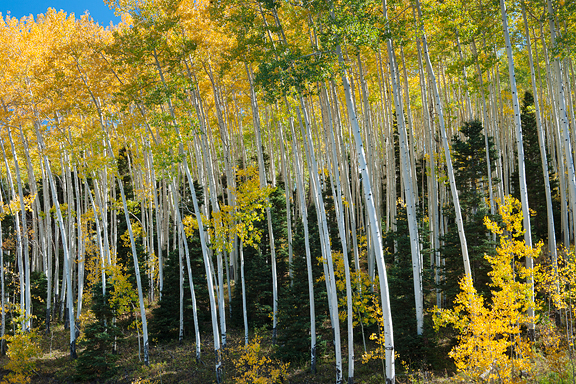 You can see the rest of this fall shoot set on my
photo blog
.
I have many fond associations with autumn. Besides the fall colors and our (mine and Jeremy's) birthdays, it's also that time of year for BlogHer Food in San Francisco. BlogHer Food '09 is where I met Shauna and Danny and little Lu. I don't go to these conferences intent on meeting (or stalking) specific people unless they are already my friends. So when I met Shauna, I was vaguely aware that she was Gluten-Free Girl. I just knew she was incredibly sweet and that her baby girl kinda ran off with my heart. It was only on our second meeting together at Kingsford University that I became aware of her rock star status (so I'm slow on the uptake, cut me some slack!). But that rock star status is nothing compared to the lovely woman she is. I got to talk with her and Danny on the bus ride into wine country and by our final dinner of the trip they told me about The Beatles, their first date, tattoos, and why Danny was sharing his bottle of lemonade with me.

and now they share this act of love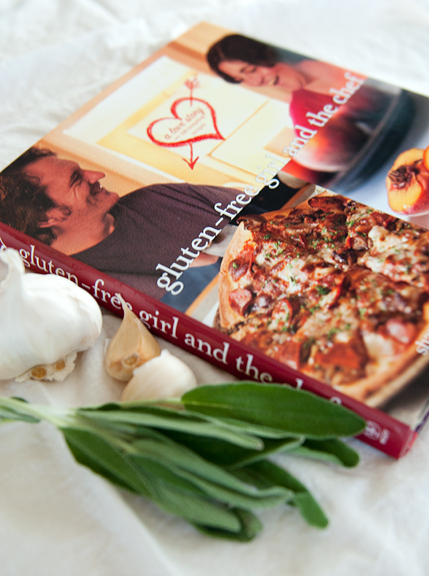 When I was at
IFBC in Seattle
, I got to flip through Shauna's only copy of the book. It made me hungry. I don't go out of my way to be gluten-free since I like gluten and I can eat it. I can eat the hell out of gluten. So a gluten-free cookbook has to appeal to me at the cooking level, not at the gluten-free level. And this is what I find so special about the book: if you were to erase all mention of gluten-free in the book, it would stand on its own merit as a damn fine cookbook. That's the magic in the book. That's the magic in how Danny and Shauna cook and live their lives.
i couldn't wait to try their pumpkin soup
little pie pumpkin
By the way, this isn't a proper review – it is merely my heavily biased opinion. I haven't read the book cover to cover yet as autumn is my busiest time of year. But when I began flipping through the book to tag the recipes I wanted to try, I found myself reading. Shauna has a beautiful writing style and writing voice. A couple of paragraphs into the introduction, her words made me catch my breath and I had to blink back a few tears… because Shauna and Danny are two people I care about very much and their hopes and happiness bring me great joy. It's about the journeys of discovery, growth, love, happiness, learning, and really incredible food.
oiled and seasoned, ready to roast
scrape out the flesh after the pumpkin has cooled
Every time I open the book I get sucked in by the stories, restaurant behind-the-scenes, recipes, tantalizing photographs, and cooking tips and instruction. It's a miracle that I ever set it down long enough to step into the kitchen and make a recipe. The one that demanded to be first was the pumpkin soup. It's autumn. I've been chasing fall colors around Colorado for the past three weeks. I have autumn on the brain – big time.
slicing sage (diced: red onion, celery, carrot, smashed garlic)
peel the sweet potato (which my grocer incorrectly labeled a yam)
This recipe is like a special gift to the cook, because it is full of vibrant colors and heady aromas when you prepare the soup. The process itself is beautiful. Once you have your mise en place (mess in place), the soup comes together quickly and easily.
add sage to the mirepoix
stir in the pumpkin, bay leaf, and chicken broth
And then you blender it. Danny suggests that you purée 75% of the soup and then strain it. I managed to completely not read that little bit of instruction and didn't strain anything. I thought the chunks from the remaining 25% might lend to an odd experience, but I quite loved the bits of soft sweet potato, carrot, celery, and onion. I imagine it's a matter of preference. If you like smooth purée, go for it. Just don't diss on the chunky version until you've tried it. The lesson: trust Danny.
hit any button on the blender, they all do the same thing
finishing with butter and cream
I was supposed to garnish the soup with the roasted pumpkin seeds, but I was looking for an excuse to fry sage leaves in butter! Just melt butter in a pan on medium to medium-high heat and drop whole sage leaves in. They fry up crisp in no time. Be sure to make extras because they are that good. I also fried a few slices of Yukon gold potato for garnish, but I could take it or leave it. The pumpkin soup is hearty and satisfying, something that serves as a meal in itself. I made half the recipe and there are easily four soup servings from just the half. I can tell you though, you won't regret making the other half of the recipe… or getting the book for that matter.
soup's on!
Full disclosure: I received a free copy of Gluten-Free Girl and the Chef from John Wiley & Sons, Inc. I was under no obligation to write about or review the book.
Pumpkin Soup
[print recipe]
reprinted with permission from Gluten-Free Girl and the Chef by Shauna and Danny Ahern
5-pound sugar or pie pumpkin
6 tbsps extra virgin olive oil
Kosher salt
cracked black pepper
1 large carrot, peeled and large diced
1 red onion, peeled and diced
2 stalks celery, large diced
5 cloves garlic, smashed and peeled
1 tbsp fresh sage, chopped
1 medium sweet potato, peeled and medium diced
1/2 tsp nutmeg, freshly grated
1 bay leaf
2 quarts chicken stock
1/2 cup heavy cream
2 tbsps butter
2 tsps pumpkin seed oil (if you don't have that, you can use olive oil)
Heat the oven to 450°F. Lop the top off of the pumpkin and cut it into quarters. Scrape out the seeds and the innards and set the seeds aside. Place the pumpkin quarters in a baking dish and drizzle with 2 tablespoons of olive oil. Season with salt and pepper and bake for about 30 minutes or until the pumpkin is soft enough to scoop with a spoon. Let cool to room temperature. Spread the pumpkin seeds on a baking sheet and lightly coat with 2 tablespoons of olive oil. Bake in the oven with the pumpkin, until the seeds start to brown (5 to 10 minutes). Remove from oven and season with salt. Scoop the pumpkin flesh from the pumpkin and set aside.
Place a medium stockpot over medium heat. Pour in the remaining 2 tablespoons of olive oil. Add the carrot, onion, celery, and garlic to the hot oil and cook. Stir occasionally until the vegetables are softened and the onion is translucent (takes about 10 minutes). Add the sage and cook until you can smell the aroma of the herb. Add the sweet potato, nutmeg, and bay leaf to the stockpot. Pour in the chicken broth and pumpkin flesh. Bring the soup to a boil and then reduce to a simmer for about 15 minutes or until the sweet potato is fork-soft. Remove the bay leaf and purée three-quarters of the soup in a blender and push through a strainer (whoops! I forget to strain it). Season with salt and pepper to taste. Add the cream and butter. Bring soup to a boil and reduce to low heat. Let simmer until soup is thickened to your liking (about 10 minutes). Serve with pumpkin seeds and a dash of the pumpkin seed oil per bowl. [Jen's note: I used olive oil and I garnished with fresh sage leaves fried in butter and thin slices of Yukon gold potato fried in oil.] Serves 4 (generously).