Recipe: wonton soup
My trip to San Francisco was originally intended just for BlogHer Food 2010. When I checked my calendar to book my flight, I realized the following week was my dad's birthday and my grandma's birthday. I drummed my fingers on my desk – could I afford the time to hang out for ten days or should I fly back home and then back to the bay area? The wheels began to turn and I quickly formulated a plan checking with my parents, my aunt, my grandma, and Jeremy. For my father's 70th birthday, I'd take him on a tour of wine country as his designated driver. Dad likes it when I make all of the plans and arrangements, and that's exactly what I did. Mom isn't a big drinker, so Jeremy joined us to taste wines with my dad. My parents love Jeremy. He is the perfect Chinese son-in-law, except for the fact that he isn't Chinese.

wine tasting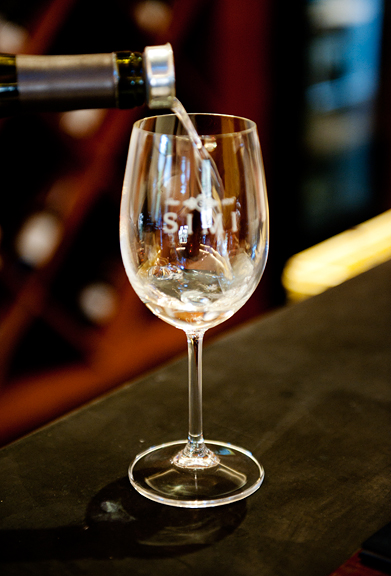 one of several vineyards we visited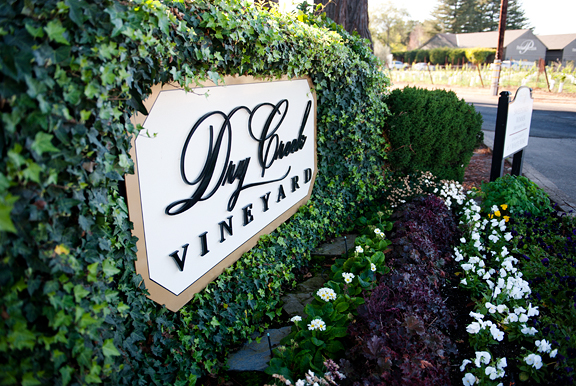 jeremy checks out the room's balcony at the hotel healdsburg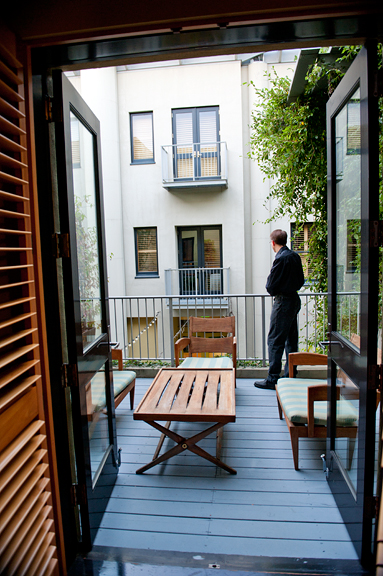 Our first stop was Jordan Winery just outside of Healdsburg in Sonoma Valley. I'll talk more about Jordan in a later post, but it was a gorgeous introduction to Sonoma's wine country. It was also blazing guns hot – in the 90s! If ever my dad doubted my love, enduring this heat should be proof enough :) After visiting a few other wineries, we drove into town. I adore Healdsburg. I had such a lovely time
last year
that I wanted to share it with my parents and Jeremy on this special occasion. We stayed at the luxurious
Hotel Healdsburg
for the night where they leave you a bottle of local wine (and in this case, local is freaking awesome) in the afternoon, the staff come in and turn down your bed and leave freshly baked cookies… and the wifi is not only FREE, but it WORKS. That evening, we had dinner at
Dry Creek Kitchen
to celebrate dad's birthday week.
patio dining at dry creek kitchen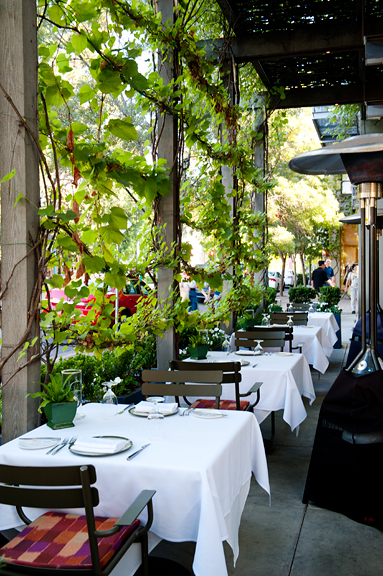 chef's tasting menu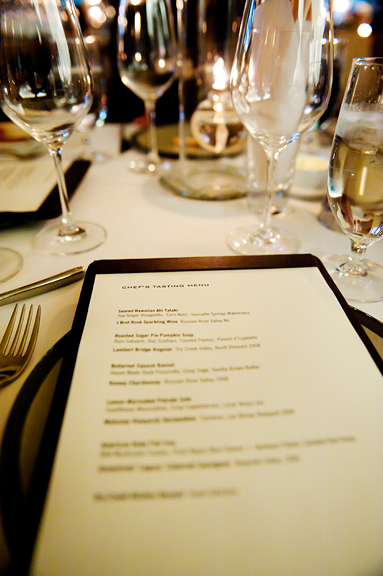 toasting dad's 70th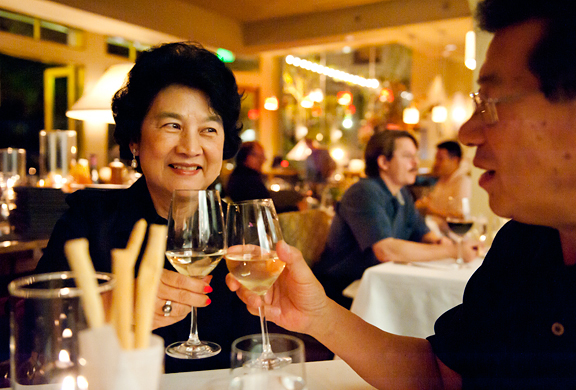 We had the chef's six course tasting menu and for the most part, it was exceptionally executed. The only real disappointment was the final main course – the American Kobe beef. A good deal of my cut was gristly and rather unpleasant, which is a shame. Having had Kobe beef on several occasions at
The Flagstaff House
, I came to appreciate just how awesome Boulder's own restaurants are. My dad commented as much too. I think my parents are sold on Boulder (full double rainbow all the way). Dry Creek Kitchen's service was impeccable and overall I think everyone had a truly delightful time.
seared hawaiian ahi tataki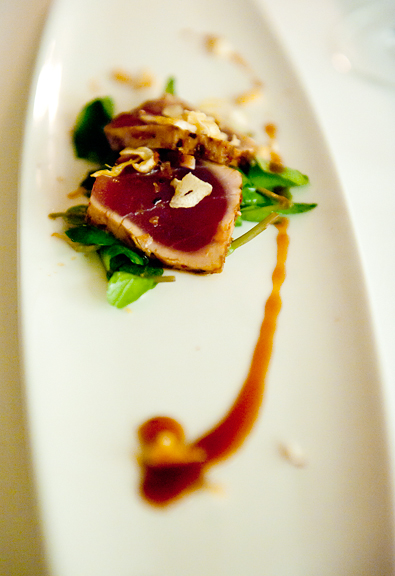 roasted sugar pie pumpkin soup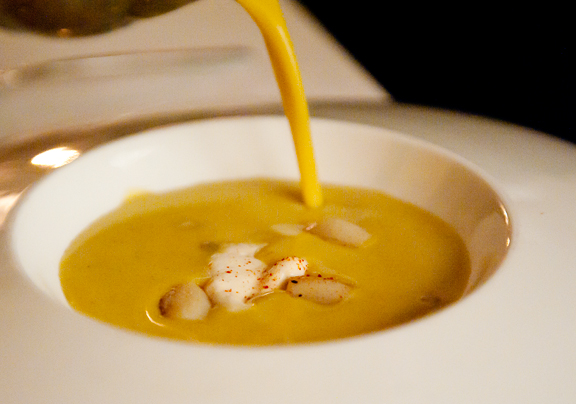 butternut squash ravioli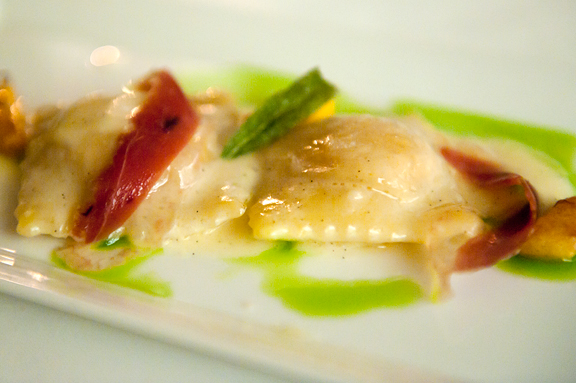 lemon-marinated petrale sole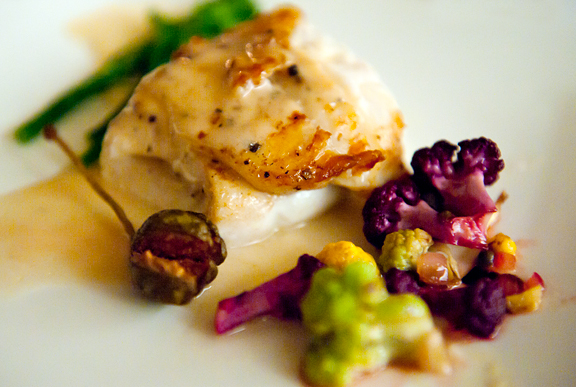 american kobe flat iron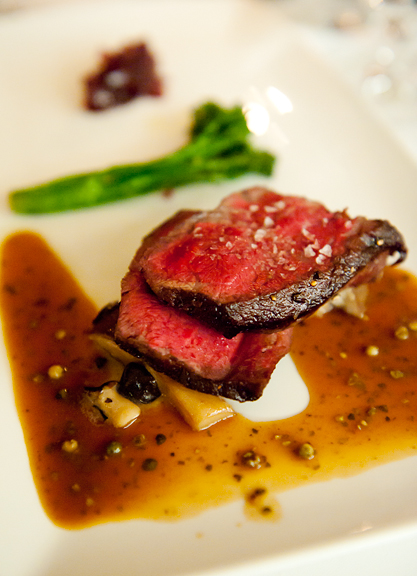 spice cake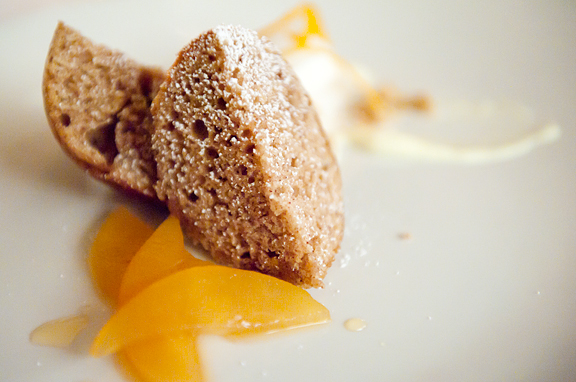 warm valrhona chocolate cake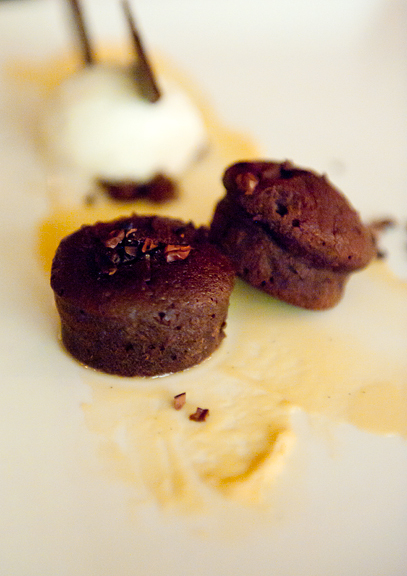 After a good night's sleep (those beds are like clouds) we took a stroll around town before setting off toward Napa Valley. Jeremy and I mapped out the vineyards to visit based on our route, some of my dad's preferences, and the encyclopedic recommendations that
Lisa
emailed me a few months ago. The pleasant drive along California highway 128 from Healdsburg to Calistoga rolls through picturesque hills of wine country. My dad's favorite aspect of wine tasting is… the wine. My favorite part of the wine tasting is walking around the grounds of the nicer vineyards (some are better than others, to be sure). I let Dad decide if he wanted to sit down to lunch or pick up some goodies from
Dean and Deluca
in St. Helena. He opted for a baguette, pâté, and cheese from Dean and Deluca and we circled back to Beringer Vineyards to get a nice bottle of wine.
i had to take them by seghesio family vineyards before leaving healdsburg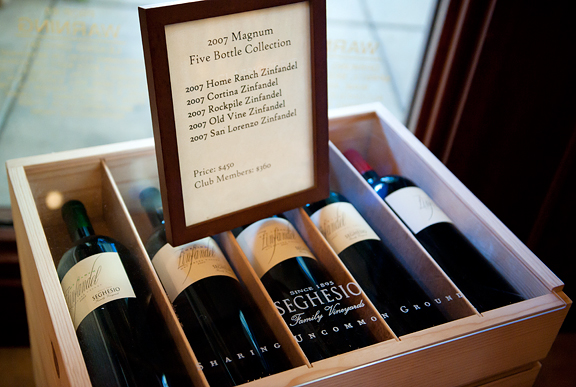 driving from sonoma valley to napa valley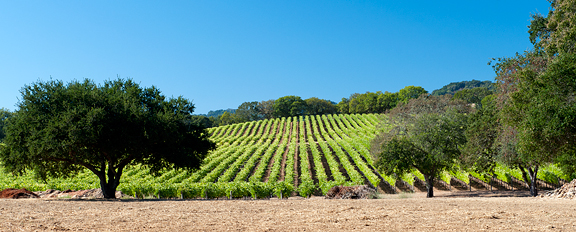 so neat to visit wine country during the crush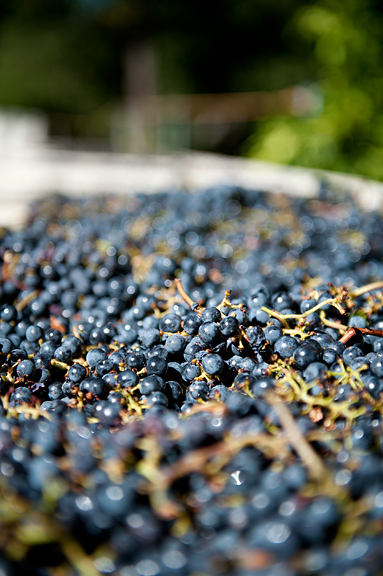 wow, that is huge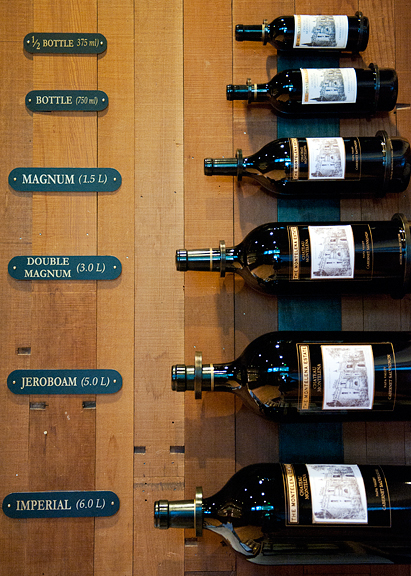 chateau montelena winery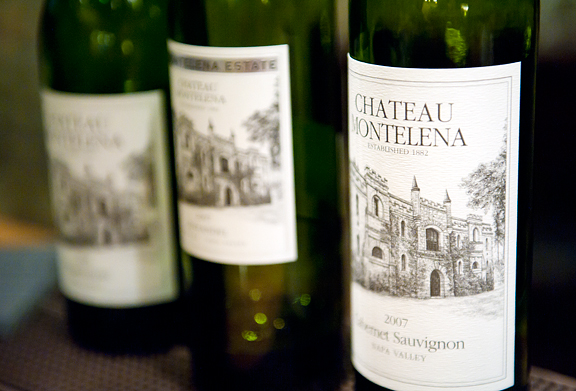 at beringer vineyards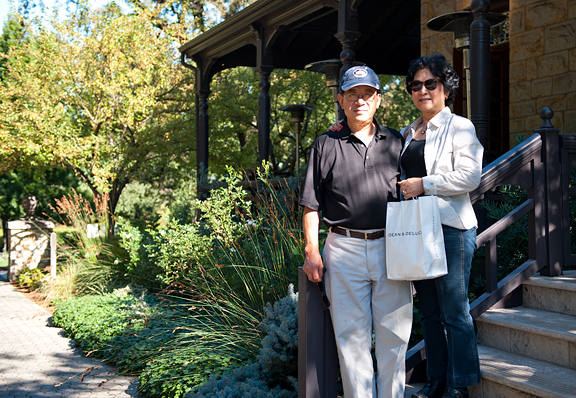 Dad was happy. Very happy. He fell asleep in the car as we drove south. I thought about all the years that I fretted over what to get my dad for his birthday. It's like that with my parents – I can't buy them things because they either get what they need or don't want more stuff. So to plan for and take him on a trip into wine country was something I could finally do for my dad that I think he really enjoyed. In fact, I know he enjoyed it because he mentioned something about how he liked having me drive him around and that we should do more trips like this in the future. Okay, well… good thing he doesn't turn 70 every day ;)
We returned to San Jose just in time to meet up with Grandma and two of my aunts for dinner. Jeremy had to fly home for the day job while everyone else was starting to arrive for the two birthday banquets – my dad's and my grandma's. When my family gets together, we eat… and eat… and eat. It's suuuuuch a Chinese thing. The first thing we did after I picked my parents up from the airport in San Francisco was head to a Sichuan restaurant for lunch. We bond over food.

a big spicy sichuan lunch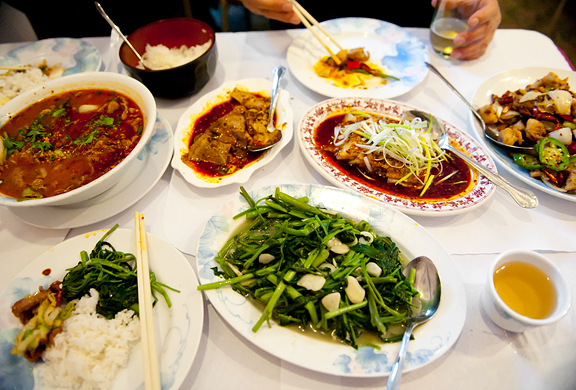 cantonese dinner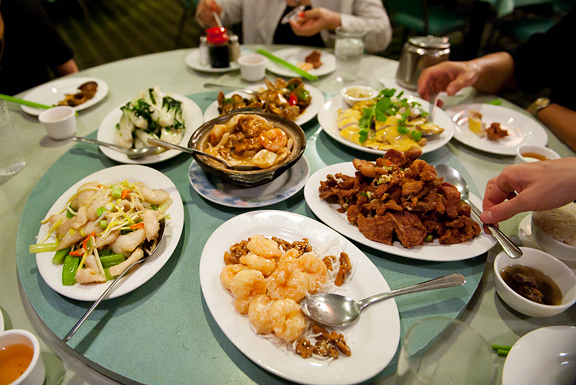 beef noodle soup, congee, shredded pressed soybean curd sheets, and other goodies (lunch)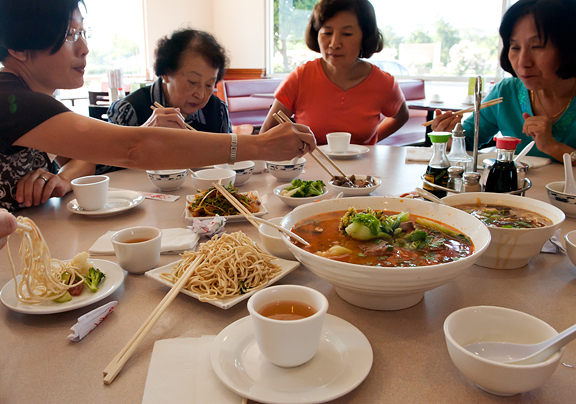 everyone grabs a slice of hot scallion pancake (another lunch)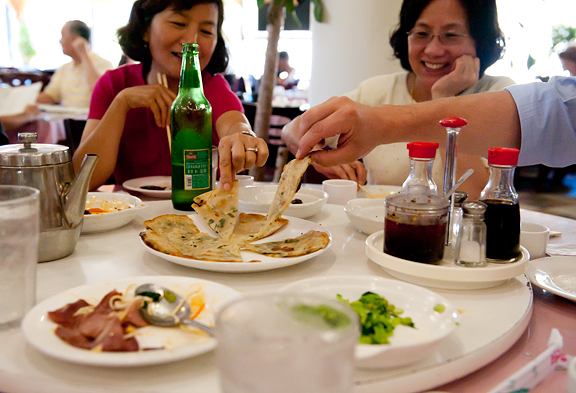 It's a little surreal hanging out with my family. We're always celebrating someone's birthday. Dad turned 70 and Grandma turned 89. Those are big numbers. But when you look at them, look at my family, they all seem remarkably young for their ages. Good genes, I'm telling you. I remember what they were like when I was a little kid and to be honest, they haven't changed all
that
much. But time moves in one direction and as I grow older, I know they won't be there forever and so I cherish these moments. Grandma said next year is going to be extra special, because my cousin turns 20, my other cousin turns 30, I turn 40, my uncle turns 60, my mom turns 70 and Grandma will be 90. Grandma told me the Chinese like those round numbers. I told her I like her.
On Dad's actual birthday, we had a 10-course banquet at Dynasty Seafood Restaurant in Cupertino (thanks again to Lisa for her outstanding recommendations). The dishes were: Chinese cold appetizers, shark fin soup (hey, I did not pick the menu), crab balls, stir-fried scallops, Peking duck, abalone, lobster, smoked sea bass, special noodles, and peach buns. They weren't real peach buns, they were steamed sweet buns with lotus seed paste shaped like peaches – shou tao or longevity buns. The food was terrific. My favorites were the duck (I always love duck) and the sea bass.

four beautiful women: my mom and my three aunts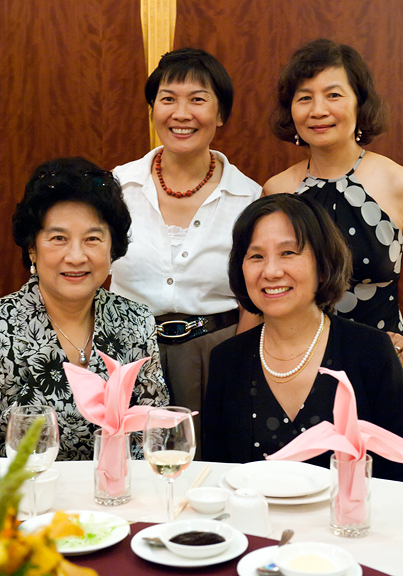 stir-fried scallops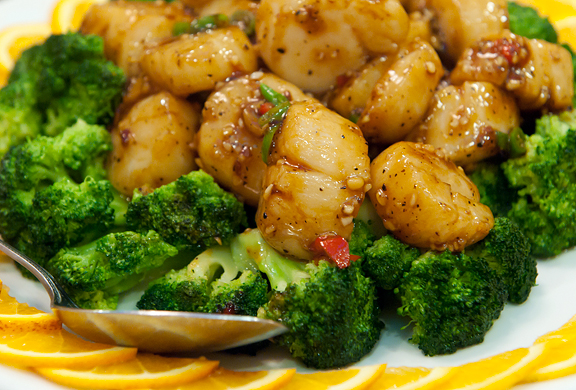 peking duck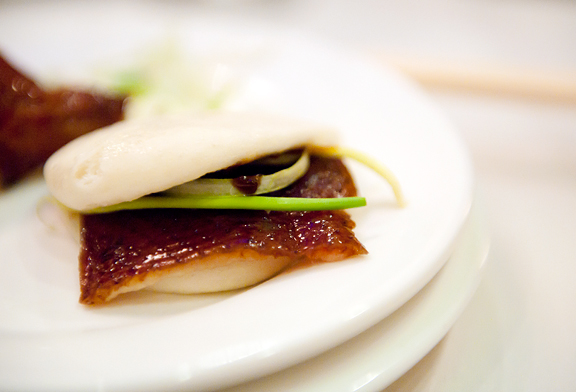 happy 70th birthday, daddy!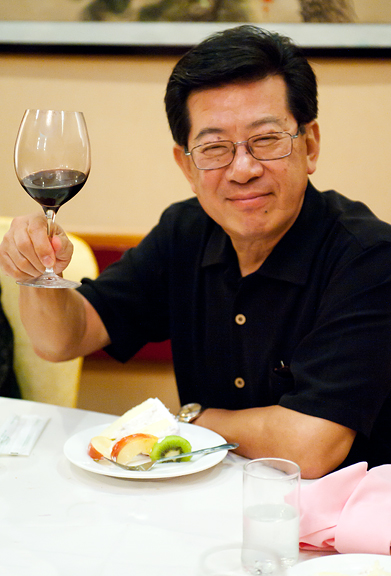 The next day was Grandma's birthday, so we had yet another banquet that evening at
Chef Chu
in Palo Alto. I know you're wondering how it is that we can all keep eating like this. The only explanation I can come up with is that we expend a lot of energy shouting Chinese at one another. It's exhausting! Grandma's banquet menu included: an incredible plate of Chinese appetizers, lobster special noodles, Hunan tofu, mustard green hearts, some kind of beef (seriously, I lost track), miso sea bass, and tapioca taro root soup for dessert (in addition to a mango-raspberry mousse cake). The best part of the evening was seeing my mom and my grandma smiling so much.
delectable plate of chinese appetizers (the pickled cukes were the best!)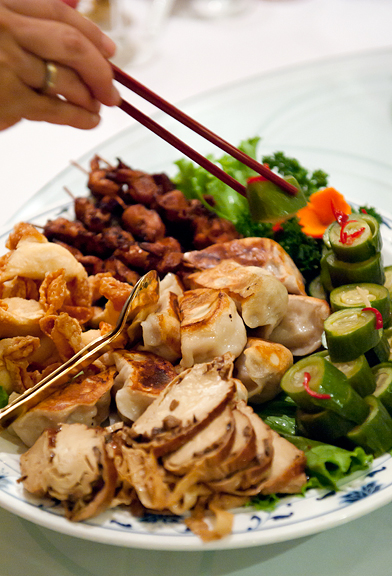 you'd never guess my grandma turned 89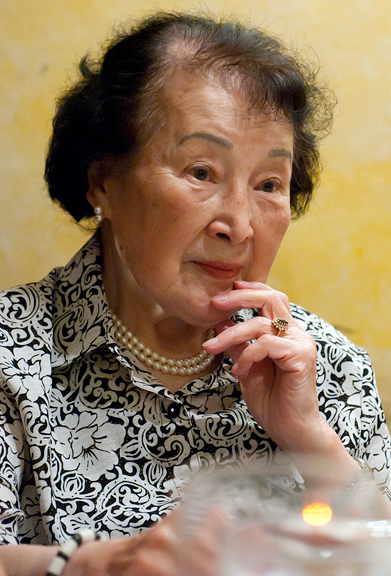 lobster noodles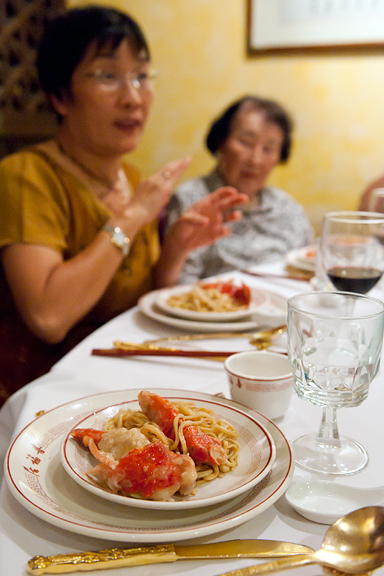 a chinese birthday isn't complete without a *crazy* birthday candle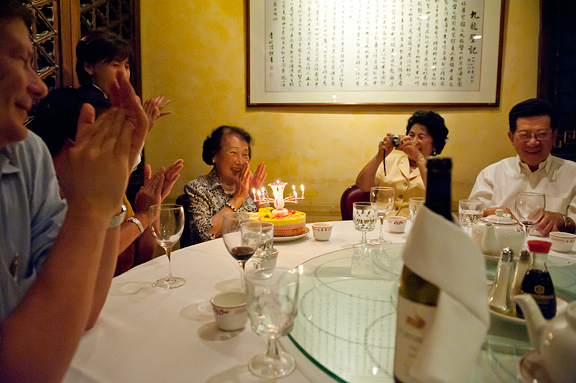 The following morning, most of us shipped off to our various corners of the country and I felt that pang in my heart whenever I leave my parents or my grandma. I think it comes from those feelings of being a kid when these adults were around to care for you and make everything right. I'm an adult now and I still get those warm fuzzies remembering how I used to go for afternoon walks with Grandma or when Mom would hold me in her arms when I was sick until I fell asleep. But when I come home to Jeremy, his gentle embrace has a similar effect on me. And when I open the front door and Kaweah bounds around me, sniffing and licking my pants (I know, she's an odd dog) because she's so excited to see me – I see it is the progression of family and I'm grateful for that. Also… I noticed that the heat wave in California broke the day I left. Thanks a lot.
my aunt, grandma, and mom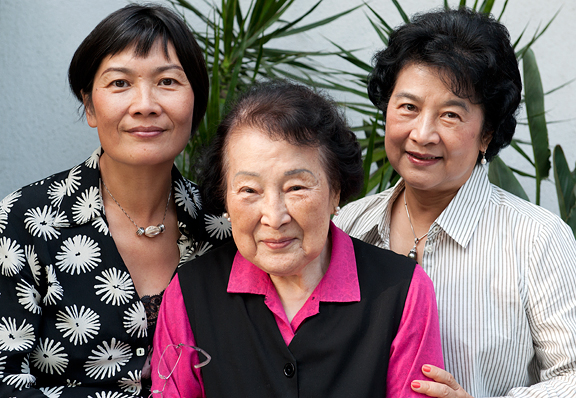 Ask any of my friends and they'll tell you that I'm always busiest right before a trip. That's because I plan ahead for Future Me. I clean the house, and prepare for the day I return from my trip. I always think to myself that if I were to die on my trip, that would totally be wasted effort. But I still do it. I can't help it. So before my trip to California, I was busy making wontons. Not for Jeremy to eat while I was away (I made plenty of food for him), but for when I came back so I wouldn't have to cook because I knew I wouldn't be in the mood to dine out. What I realized was that I hadn't blogged soup wontons before – I had only
fried
them.
wonton wrappers, pork filling, and little dippy bowl of water at the ready!
chopsticks are far easier than a spoon for filling the wonton skin
Unlike the fried wontons which had a shrimp filling, these are pork wontons. The reason I like wontons is because I find it mentally acceptable to purchase wonton wrappers and so it is super easy to make heaps of them. Dumplings are another matter. I cannot buy dumpling wrappers. Physically impossible for me. I have to make them from scratch and that is a bit of a commitment.
moisten the edges
pinch the top together
These wontons pretty much assemble like the fried wontons. Choose your filling as you like, just don't overstuff the wontons because they will break apart when you cook them. I find a heaping teaspoon of filling works for the standard wonton wrapper. Seal them well by pinching the edges together all along the sides. Then fold the little arms over and pinch that together too.
seal the edges
give the wonton a little attitude, yo!
Soup wontons are a lot less messy than fried wontons because you boil them in liquid. I usually boil some chicken broth and then plop the wontons into the boiling liquid. I used to think when they floated they were done cooking, but if you have air pockets in your wontons, they can float before the filling is cooked through. Give it a few minutes and cut one open to be sure (especially if you made pork or chicken wontons). If you don't like how cloudy your broth gets when you boil your wontons, you could boil the wontons separately in a pot of water then drain them and add them to hot broth. I don't bother with that extra step.
it's like they're judging me
woohoo – hot tubbin'!
Present Day Me was really thankful that Past Me thought of making wontons ahead of time. I froze them on a baking sheet until they were no longer sticky and placed them in a ziploc bag in the freezer. They took longer to cook through (I gave them a good 10 minutes) because they were frozen, but the wonton soup really hit the spot as our evening temperatures dip closer to freezing. And any time I eat dumplings or wontons, it reminds me of my family.
tender and delicate wontons
Wonton Soup
[print recipe]
1 pkg wonton skins (I like Denver Tofu brand wonton skins – about 45)
1 lb. of dumpling filling (pork filling, shrimp filling, or shrimp chive filling – whatever you like!)
little bowl of water
4 quarts chicken broth
scallions, sliced thin (for garnish)
Plop a teaspoon of filling in the middle of a wonton wrapper. Using your finger, wet the edges of half of the wonton skin. Fold the wrapper in half on the diagonal and press the edges together. Push any air pockets out when you seal it. Wet one of the bottom corners and fold the wings in front of the wonton so that they cross at the corners. Press the corners together. Heat 2 or 4 quarts of the chicken broth in a pot until boiling (depending on the size of your pot). Add the wontons to the broth and let it return to a boil. Make sure not to crowd the wontons. If it's a medium saucepan, then cook a dozen or so at a time. If it's a large pot, cook 2 dozen or more. When the wontons float to the top, they are done. Sprinkle scallions in each bowl and ladle soup and wontons over the scallions. Serve immediately. Makes ~ 40 wontons. To freeze: place wontons on a baking sheet (make sure they aren't touching) and set in freezer for 20 minutes or until the wonton wrappers are no longer soft. Put the wontons in a ziploc bag and freeze for up to a month. To cook, place frozen wontons in boiling broth (or water) and cook until the filling is done – should take several minutes longer than when you boil fresh wontons.