Recipe: fried shrimp wontons
I've been hearing/reading about the broiler weekend everyone has been having on the East coast. Something to be said for the ridge-trough-ridge systems that march through. Our mild and sunny days in the mountains this week gave way to a thick fog this morning followed by drizzle and then… snow. I know some of you will grimace at the mention of snow as we're almost into May, but if I didn't like snow, I'd be (even more of) an idiot to live here, don't you think? I like my snow and drizzle and frizzle and grauple and hail and t-storms and rain and sun. I love the weather. Makes me feel alive. Okay wait, I am not a fan of the winds here. THAT I could easily do without and since our wind season is over, it's time to sand and oil the patio furniture again!
I must plug a new site that Chuck [of SND, of foodgawker, of many talents] has recently launched. It's beautiful! It's craftgawker! Go check it out – nice craft porn.
Speaking of crafts… I had a little gathering of my betties for another stitch-n-bitch, but this time only one knitter. Everyone else – well, we all worked on different projects: bee keeping, drawing, beading, and sewing. Here's what came of my distracted efforts (there was a visiting puppy running around that needed to be played with, you know):

bright and little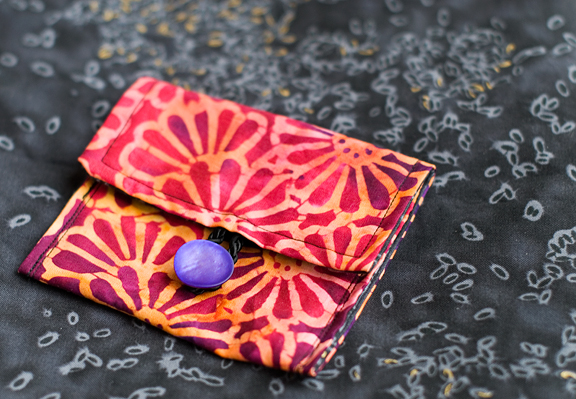 handy wallet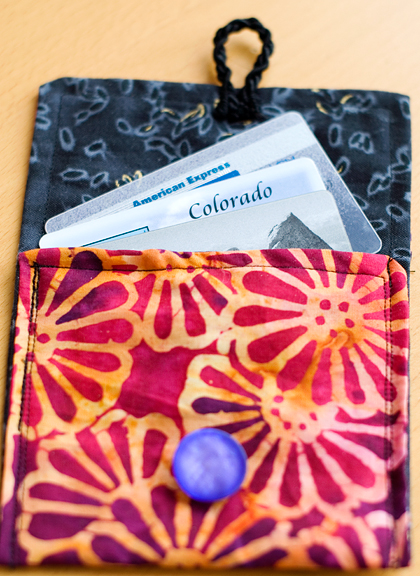 That was a first attempt from a design in my head. I am a novice sewer – a noodler sewer. With helpful feedback, the next iteration will be more streamlined. I'm jazzed. I love making something that someone can use. Of course, I love feeding people too. I started the session with some fried shrimp wontons. The weather was still warm, so the thought of soup wontons didn't jive with the temperature on the deck.
rinsing green onions
slice thin
I think of wontons and dumplings to be very similar in terms of fillings. The main difference for me is that I
make my own dumpling wrappers
whereas I will buy wonton wrappers from my local Asian grocer. That might be because dumplings were a homemade treat growing up in my house, but wontons were almost like "convenience" food because we didn't make the skins from scratch. I had forgotten how much I loved a good wonton though.
peeled shrimp, green onions, ginger, water chestnuts
mixed together with salt and sesame oil
When I make shrimp potstickers, I add pork to the filling or else my potstickers wind up being too dry. But I didn't bother adding pork to these as they were going to be deep-fried. The shrimp in the photo, by the way, are pink when raw (wild caught Gulf pink shrimp from Whole Foods), just so you don't go and cook them for the filling. Keep the shrimp RAW. I chopped them up coarsely because I like the texture of chunky shrimp in my wontons. That also means they will be a little tougher to handle during wrapping, but hey – we're not afraid of a little extra work around here, right?
wipe the edges with water or egg white wash
fold in half on the diagonal and press the edges together
cross the wings like the wonton is embarrassed
I try to press out as much air as possible when folding these guys or else the air will heat up and expand during the frying process, puffing the wonton into a little balloon. They only take a few minutes to turn golden and then they're done. I've done these with pork before too and the filling gets cooked through without any problems. I know that dayglo, sweet and sour, gloppy sauce is all the rage with fried wontons and eggrolls, but… that's so white! I prefer (and I think my guests did too) a more traditional soy sauce-vinegar combination dipping sauce. I added a touch of sugar and grated ginger to it as well. Awesome. Huge hit with the betties.
impossible to resist
Fried Shrimp Wontons
[print recipe]
1 lb. raw shrimp, peeled, deveined, coarsely chopped
3-4 stalks green onions, washed, trimmed, diced
1 tbsp ginger, peeled and grated
1 cup water chestnuts, small dice
1/2 tsp salt (to taste)
1 tbsp sesame oil
~ 50 wonton wrappers
water or beaten egg white for sealing wrappers
oil for deep-frying
dipping sauce
1 tsp ginger, grated
1/2 tsp sugar
4 tbsps soy sauce
2-3 tbsps red wine or rice wine vinegar
chili garlic paste (optional)
Mix the shrimp, green onions, ginger, and water chestnuts in a bowl. Season with salt and sesame oil. Mix well. Place a teaspoon of filling in the center of a wonton wrapper and wet the edges on one half of the wonton with the water or egg white wash. Fold the wrapper in half on the diagonal and press the edges together, pushing out any air pockets in the wonton. Daub one of the bottom corners with more water or egg white wash and fold the wings in front of the wonton so that they cross at the corners. Press together. When all wontons are folded, heat oil in a deep medium saucepan to 350°F. Fry 5-6 wontons at a time until they are golden brown. Remove and set on a rack. To make dipping sauce, combine all ingredients and stir until sugar is dissolved. Serve hot wontons with dipping sauce.