Recipe: meatball sandwich
On our quick 2-day trip in California's glorious wine country, our first stop was Jordan Vineyard and Winery just over a mile north of Healdsburg off of beautiful Alexander Valley Road. I had met Jordan's director of communications, Lisa Mattson, at IFBC in Seattle this past summer. Lisa was spunky and hilarious company during dinner. When she gave me her card, I only registered that Jordan was in California.

the lovely grounds at jordan winery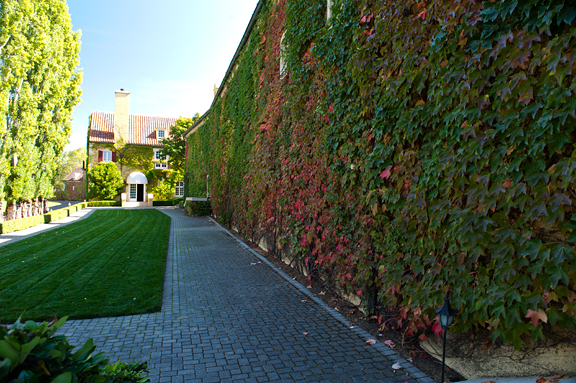 old oaks grace the patio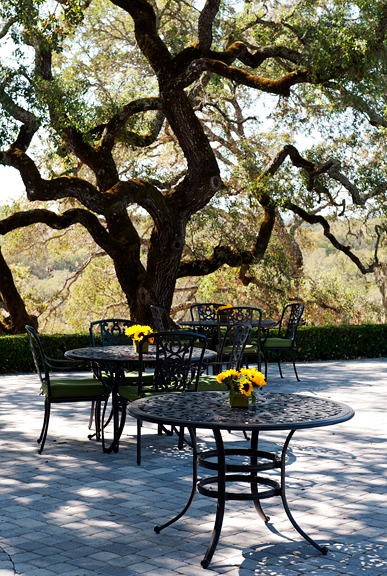 A couple of weeks before I left for
BlogHer Food
, I tweeted that we'd be spending a few days near Healdsburg after the conference. Lisa tweeted back that I should visit Jordan – perhaps attend their Harvest Lunch. The dates and locations all matched up, except that Lisa was going to be away on travel the day we arrived. But she made sure we were in good hands. Laura greeted us and walked our group through the stunning grounds to the incredible Harvest Lunch spread that their resident chef created. It was like being transported back to summer (California does that to you).
our table for harvest lunch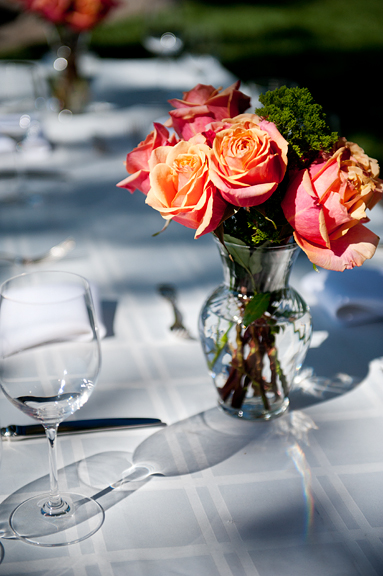 What I noticed and loved about Jordan was how all of their employees came in from the fields, the buildings, and gathered at the tables across the lawn to share lunch. Every day, Jordan's chef prepares lunch for everyone at the winery to eat. There was a nice family feel to it. Laura told me she was excited about the mac and cheese (it was deliciously fancy mac and cheese) they were serving at lunch, but I was completely enamored with the vegetables – most of them straight from the garden, bursting with flavors of summer. Our lunch was served with Jordan's crisp and bright Chardonnay. The winery is known for two types of wines: Chardonnay and Cabernet Sauvignon. The Chardonnay grapes are harvested from the Russian River Valley, but the Cab grapes are harvested in Alexander Valley.
tomatoes picked from their gardens that morning – still warm from the sun!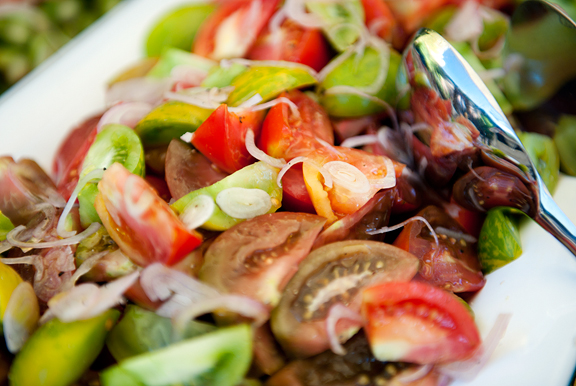 just a fraction of the beautiful dishes on offer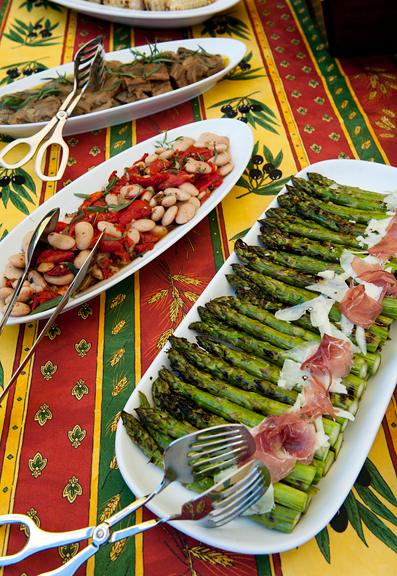 jordan chardonnay on ice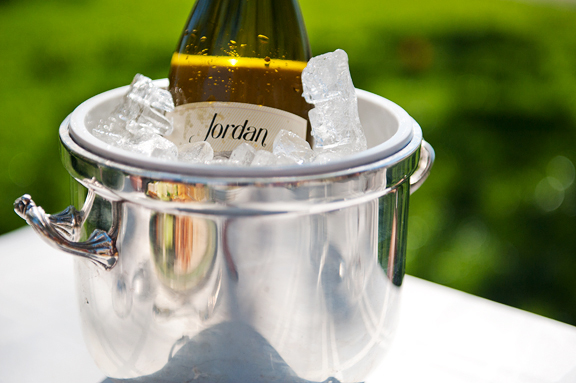 During lunch, we learned that Jordan was founded in 1972 by the Jordans – two petrologists who moved from Colorado to California. Petrologists are a flavor of geologist and so I was delighted to hear that the winery recently began
incorporating soil mapping
into how they grow their grapes. The property itself spans over 1,500 acres of rolling hills adorned with majestic California oaks and 75% of that is left natural and wild. As Laura led us down to see the chef's garden after lunch, she explained Jordan's commitment to sustainability and ecological balance of their land. The business is certified carbon-neutral and they implement several policies to minimize their impact on the environment. The garden was an enormous plot with tomatillos, all manner of herbs, precious heirloom tomatoes, several varieties of peppers, strawberries, figs, beans, onions, corn.
strawberries down at the chef's garden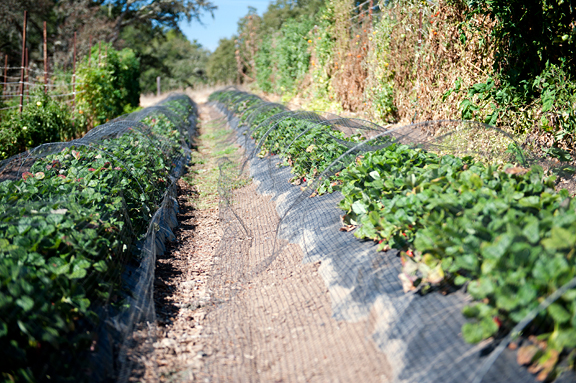 Because it was the harvest, we could see large stainless steel containers being loaded with hand-picked grapes and then transported up to the winery. We watched the operations as each container was tipped and emptied of its contents. The grapes fell into the hopper and then moved via conveyor belt past inspectors who removed debris and lesser-quality grapes before speeding into the building to be processed further. Meanwhile, the stems and leaves that were separated were trucked out to their compost (I love that!). The sheer volume was mind-blowing.
petit verdot grapes pouring into the hopper to remove stems and leaves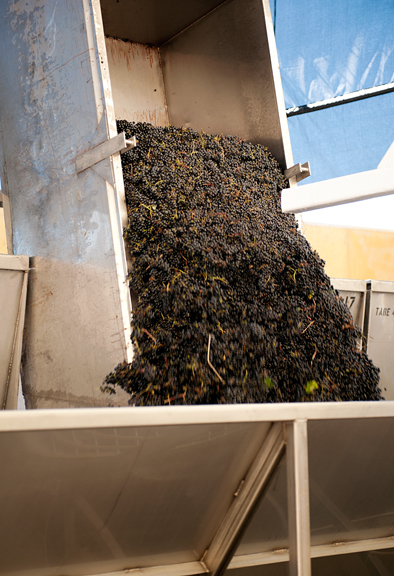 sooooo many grapes!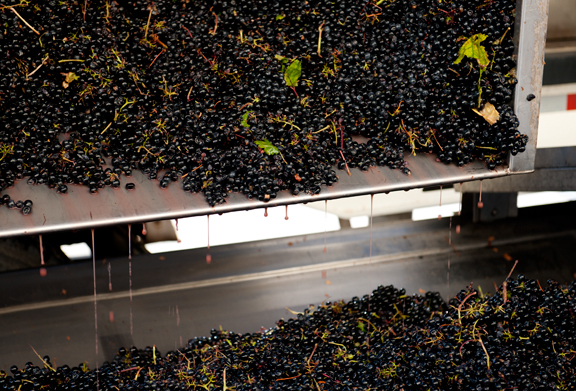 picking out burned grapes and other plant matter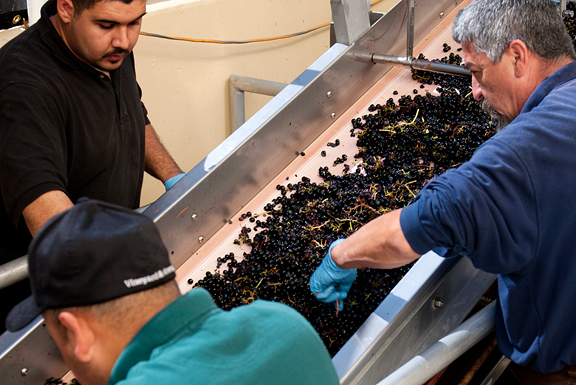 On the way back to the reception area, I couldn't help but admire the architecture and all of the trees and plants growing in courtyards and on the structures. Grand walls were blanketed in ivy which helps to keep the buildings cool from that hot hot sun. It's the kind of place – with all those idyllic little nooks in the shade – that makes you want to grab a book, some cheese and bread, a glass of wine and go sit down and forget about everything else. Our sincerest thanks to Lisa and Laura for such a special visit at Jordan Vineyard and Winery.
persimmons ripening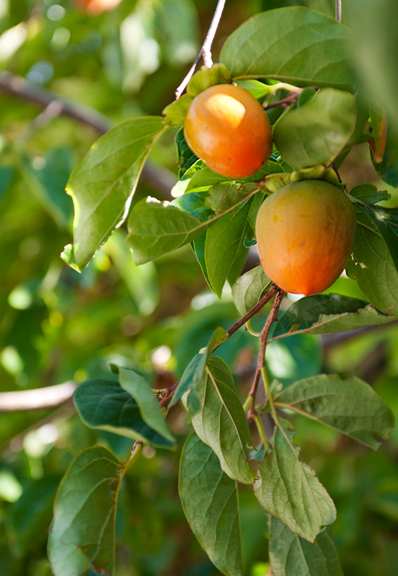 a quiet courtyard with a statue of bacchus, roman god of wine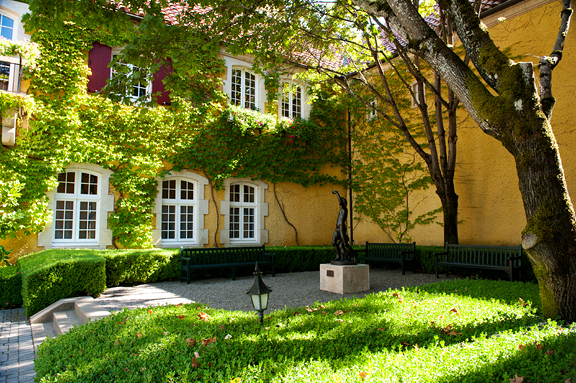 Full disclosure: Our group of four received complimentary harvest lunches and tours from Jordan Winery with no obligations.
It's a small world, you know. When I was photographing lunch at Jordan, Laura asked me if I knew Matt Armendariz because he had been there not too long ago for a photo shoot. Are you kidding me? I love that guy! I just hugged his adorable self at BlogHer Food not five days ago… Food connects everyone in some form or another, but food and the interwebs bind us all like The One Ring. Not long before I flew to San Francisco, Jeremy informed me that the first year graduate students in his department gathered and took turns cooking for each other every weekend. He told me that the coming weekend they were going to make my recipe for Italian meatballs. Somehow, someone found my blog. I asked Jeremy if he thought it was weird to have these separate worlds colliding. He shrugged. I don't think it phases him anymore. Okay, but where was I going with all of this? Those meatballs are not *my* recipe, they are Lorna's recipe and when I saw her at the Queen Anne farmers market last month, I promised her I had another post on those meatballs coming.

i made meatball sandwiches
I must confess that I have always had a problem with meatball sandwiches. I began to discuss this with Jeremy because I had never had one before and he asked me why not. I'll tell you why not. Because meatballs are spherical and they don't stack nicely between two planar surfaces, that's why not. Who the hell thought up such horrendous design mechanics of a sandwich? Also, they are discreet spheres rather than a continuous filling in the sandwich space. Ultimately, you know what this means, don't you?
*inherent structural instability*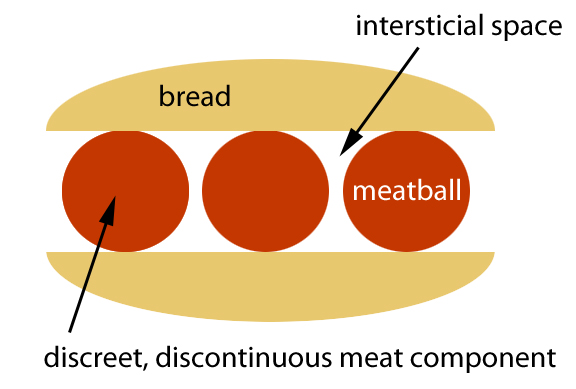 Jeremy watched in amazement as I railed against the meatball sandwich for a good five minutes. The reason I had never had one before was because the cognitive dissonance of this disastrous construction overpowered any desire to eat a meatball sandwich – no matter how "good" it was. I recall watching suspiciously and carefully as my pal Beth ate a meatball sandwich once. "Is it good?" She looked up, smiled, and nodded "mmm hmm!". I was still skeptical. So messy…
place the meatballs on the bread
top with some sauce
Despite the obviously flawed build integrity, I felt I needed to overcome my issues. I mean, what is better than pairing super tender and saucy meatballs with pasta? Pairing super tender and saucy meatballs with bread! I asked Jeremy, "Doesn't it fall apart on you?" He reflected on his past experiences with meatball sandwiches and told me that it can be a messy ordeal, but you just sort of hold the entire sandwich together and consume it quickly before it disintegrates – which it inevitably will. So I gather this sandwich discriminates against people with small hands.
add basil to the sandwich after melting the cheese
squash it down with the top half of bread
It started out well enough. I was able to manage it on the first bite, but this isn't the kind of sandwich you hang out with while taking your sweet time. It's a scarfing kind of sandwich. You scarf it down because it will otherwise wind up in your lap. But it's worth it.
messy, but good
Meatball Sandwich
[print recipe]
Italian bread
Italian meatballs
Italian meatball sauce
Provolone cheese
fresh basil leaves
Oven: 400°F. Slice the bread in half lengthwise. Set meatballs on the bread and ladle some of the sauce over the meatballs. Top with cheese. Bake both pieces of bread until the cheese begins to bubble. Remove from oven and top with basil and the remaining half of bread. Serve and eat immediately.