Recipe: alice's chocolate chip cookies
Coming home feels good. There are many aspects of southern California that I miss and love: friends, food, cultural diversity (OMG, something other than WHITE!), and it's familiar. But I can do without the heat, the smog, the traffic… the stress. For us, living in Colorado has fewer stressors – it's simpler and we like it that way. That is why visiting California is so great. I caught up with more friends during the week over lunches and dinners and election results. Todd and Diane were so incredibly sweet to take an entire day off to meet with me and take me around Little Saigon.

a knock-off hello kitty seal on my milk tea boba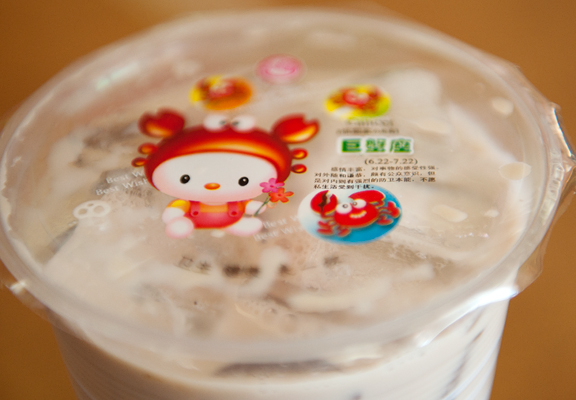 banh mi to kick off the food fest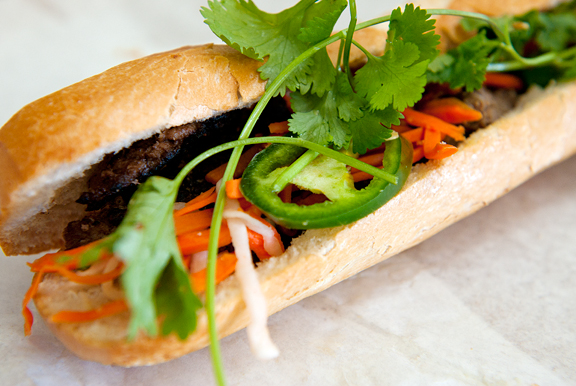 These guys are like family to me – so generous, loving, open, honest, sincere. They are also ridiculously funny, protective of my interests, silly, and just plain fun to be around. Family. To walk through Little Saigon with the two of them is quite the experience. Todd speaks in Vietnamese with the little ladies in the stores asking about various produce and they LOVE him (who doesn't?) while Diane explains what the popular snacks are or the difference between a Viet baguette and a French baguette. I noticed that she beams with pride and love when she shares this with me. It's such a part of who she is and I really love that. I love those two.
diane smiles at a jar of her favorite pickled mango (i am addicted to it)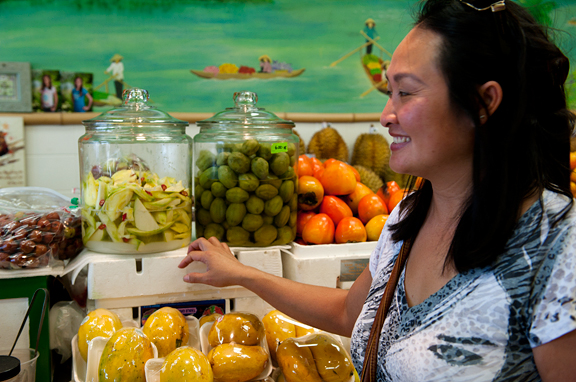 pâté chaud (puff pastry filled with chicken and vegetables)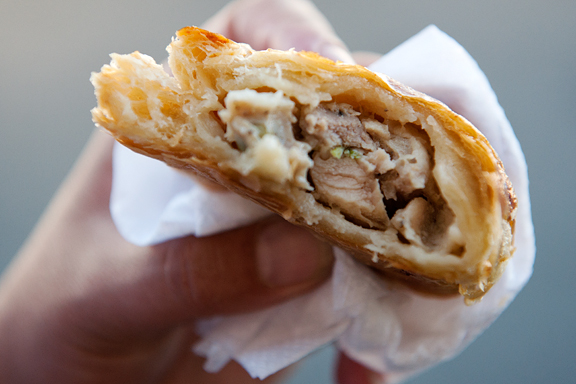 But I was on a mission to find passion fruits. Most of the passion fruits on Todd and Diane's vines were still green (and I don't want to be picking their bounty clean anyway) and some were supposedly arriving in the markets and getting bought up quite early. We decided to try our luck and just see what was around. Lo and behold, there were passion fruits. BAGS of them! Let me just point out that the bougie bougie grocery stores like Whole Foods and Bristol Farms carry passion fruits. They carry about 12 small ones in some neglected corner of the produce department and they want $3.69 FOR EACH ONE. Diane asks the little lady in Vietnamese how much a bag is. The lady replies and Diane turns to me and softly says, "$10 a bag" and turns right back to the lady to haggle. There were 20 passion fruits in each bag. Diane is haggling, speaking softly in her beautiful native language and I whisper loudly to her, "Tell her I'll pay $20 a bag! I'll buy them all!" Without turning around, Diane waves her hand at me – the sign language for "SHUT UP!" She laughs and says, "If you buy three bags, she'll sell them to you for $9 a bag." I bought four bags. I hoard shop. It's a Chinese thing.
score – big time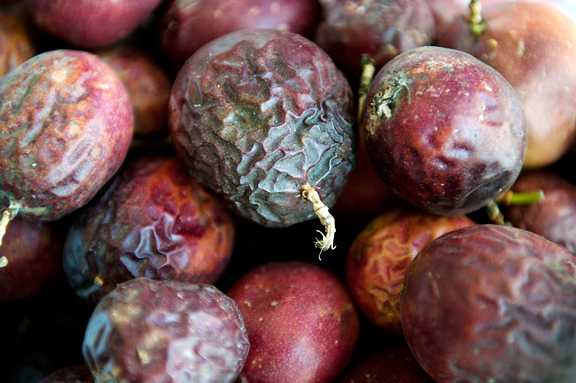 Next they brought me to their studio in LA for a tour and then to relax and start prep for dinner. We took a stroll around the 'hood, visited with one of my oldest college friends back at the studio for a short while, and then guests began arriving.
this is willie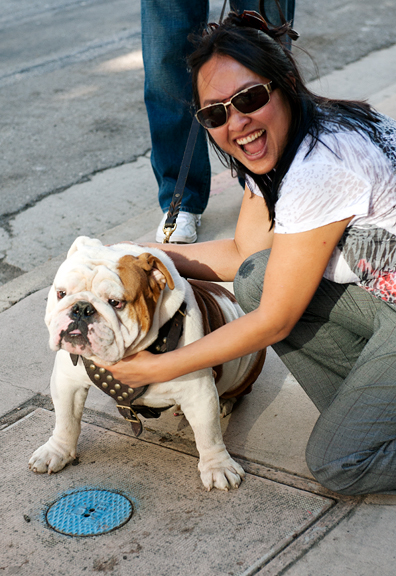 diane made passion fruit juice from some of our loot!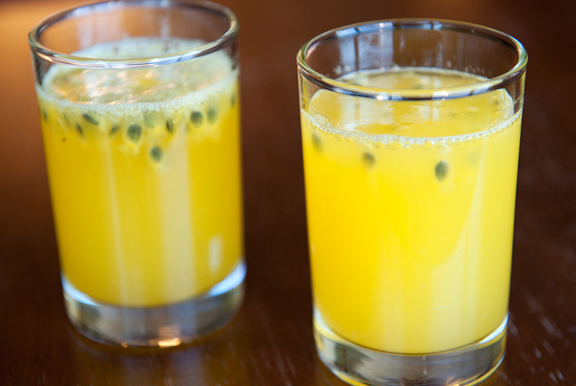 totally addictive sweet onion dip and the last candy-sweet tomatoes from their garden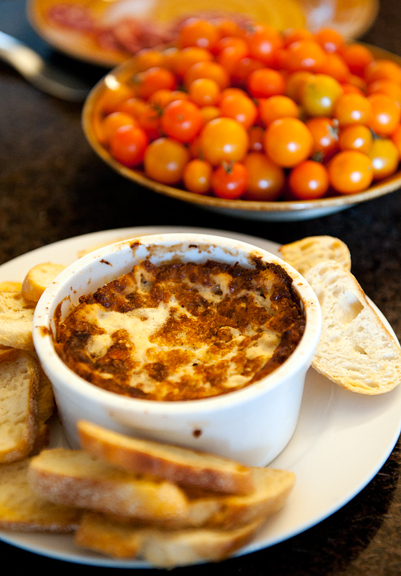 We had a lovely evening with
Allison
, Son,
Melissa
, and
Rene
. [
Brooke
had to cancel at the last minute because of work and we were so sad to miss her.] The food was exceptional. I think that is a given with food bloggers – we know how to throw a dinner party! We began with that sweet onion dip (aka crack) and the tomatoes, then a lovely green salad with fresh picked fuji apples and homegrown pomegranate seeds. I believe Todd mixed some homemade apple cider sidecars for folks (a drink would have had me under the table). He also made his sinfully magical potatoes au gratin to accompany a one-pot chicken dish they learned from
Three Many Cooks'
latest book. Allison brought her light-as-a-feather vanilla cupcakes with chocolate ganache frosting for dessert. The conversation was a roller coaster of laughs, revelations, "tweetable" moments, stories, and musings.
who knew a small group could be so boisterous?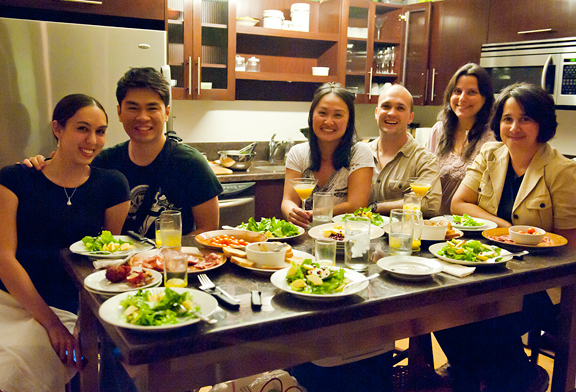 diane dishing up some amazingness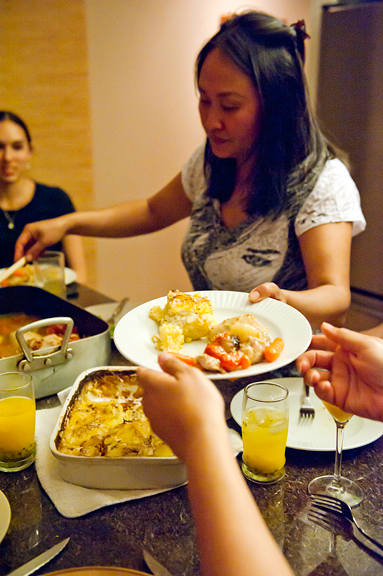 thankfully it cooled down enough to open the windows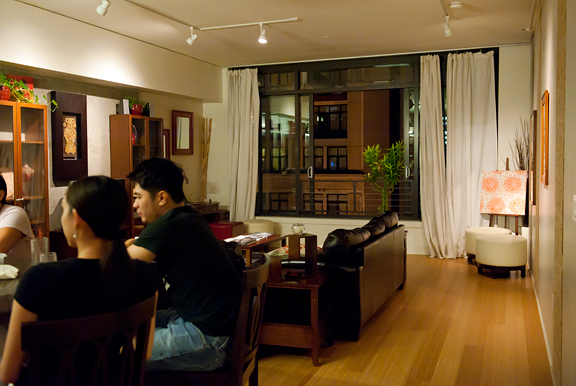 By the end of my trip, I was feeling drunk on all of that quality time spent with people who are important to me. Several of these friends I've known longer than I've known Jeremy. It's good to catch up in person even if you are in touch via email or other social media fairly regularly. In the morning, I watched the sun's approach over the mountains in the East and began to pack my things, including the haul of 60+ passion fruits. It was time to go home. Home was calling to me.
sunrise through our filthy window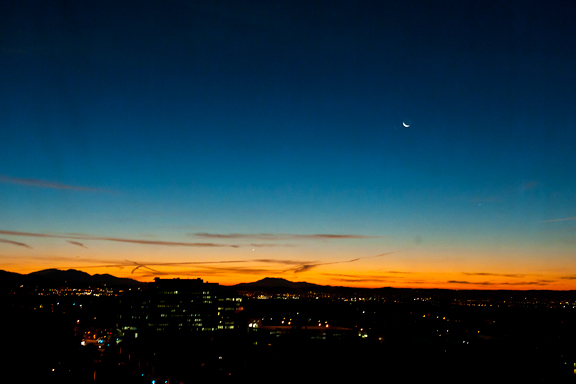 You know what I like to do at sea level? I like to run. I ran and hiked during our trip to southern California because I feel like I'm on jet fuel with all of that extra oxygen in the air. There are things that are more difficult to do at elevation, like run… or bake. Some of my food blog pals like recipe testing and do it for a living. I have to wonder if they would love recipe testing if they had to bake at high altitudes. Because I *hate* recipe testing high altitude baking recipes. So one night I'm looking online for a good chocolate chip cookie recipe. I found
Alice
's recipe and it sounded like the perfect cookie. I gave it a try.
beat the butter and sugars until super light and fluffy
add eggs and vanilla
The cookies spread too quickly and were very crunchy when they cooled. Fail #1. I think I sent those into Jeremy's department. On my second attempt, I added more flour, reduced the butter, and reduced the oven temperature. Too fluffy and not chewy enough. Also, I was using Ghirardelli chips which are a little large for my tastes and they seemed to overwhelm the cookie with too much chocolate. Fail #2. I took those on a photo shoot to feed the fellas.
stir in the flour and other dry ingredients
mix in chocolate chips
I switched the Ghirardelli chips out for my personal favorite: Guittard dark chocolate chips. The chips are smaller (well, normal) and I like the chocolate better because it has a bit more of a vanilla flavor than the Ghirardelli chips. I also reduced the leavenings, increased the vanilla and increased the temperature of the oven. These were better, but hard. Fail #3. I gave those to friends and made Jeremy take the rest to work. The fourth time around I reduced the brown sugar and baking powder, increased the vanilla and flour, and reverted back to the original temperature.
this was getting old
Thankfully, it was what I was looking for. A nice butterscotch taste, slightly chewy inside, crisp outside, good chocolate chip distribution, little crystals of salt scattered in the dough. Seal of approval. They don't store as long as I would like (perhaps because it's so darn dry here), but these are the best chocolate chip cookies I have baked at elevation. And I'm really happy that I don't have to play around with it anymore. The recipe listed below is Alice's recipe, although you will find my high altitude adjustments for 8500 ft. a.s.l. in parentheses.
all that trouble for a cookie
Alice's Chocolate Chip Cookies
[print recipe]
from Savory Sweet Life
8 oz. unsalted butter, softened (Alice calls for salted, I use unsalted)
1/2 cup sugar
1 1/2 cups packed light brown sugar (@8500 ft. use 1 cup packed light brown sugar)
2 eggs (at room temperature)
2 tsps vanilla extract (@8500 ft. use 4 tsps vanilla extract)
12 oz. all-purpose flour (@8500 ft. use 16 oz. flour) – yes, weigh it
1 tsp medium coarse sea salt
1 tsp baking soda
1 1/2 tsps baking powder (@8500 ft. use 1 tsp baking powder)
2 1/4 cups semi-sweet chocolate chips
Oven: 360°F (I found 350°F works better for me at 8500 ft.). Place butter, sugar, and light brown sugar in the bowl of a stand mixer and beat with a paddle attachment on medium-high speed for 3 minutes or until the mixture is light colored and fluffy. Scrape down the sides of the bowl as necessary. Add the eggs and the vanilla extract and continue to beat for a couple of minutes. Again, scrape down bowl as necessary. Add the flour, salt, baking soda, and baking powder and stir in on low to medium speed until incorporated. Pour in the chocolate chips and mix well. With a medium cookie scoop or a spoon, drop approximately 2 tablespoons of dough onto a baking sheet (I make mine about 1.5 tablespoons). Alice lines her sheets with parchment, I don't. Make sure the cookies are 2-3 inches apart. Bake 12-14 minutes (@8500 ft. I bake for about 11 minutes) until edges are golden. Let cookies cool on the cookie sheet for another 2 minutes (@8500 ft. I remove mine to a cooling rack immediately). Then let cool on cooling rack. Serve. Makes 4-5 dozen.