Recipe: eggplant fries
Someday I will sit down to post when I don't have a million other things going on. I don't know when that will be. I do know that this will be the last post in 2010 I write the night before I have to catch a flight. Let me tell you, I am quite happy about that. I've been home for three days frantically trying to get things done before I head off into the yonder including a thorough round of spring cleaning which is merely 6 months late (or early if you want to be generous). Colorado still hasn't decided if it is summer or autumn. And now with the time change, the dog is petitioning for dinner at 5pm.

looking east as the clouds pass overhead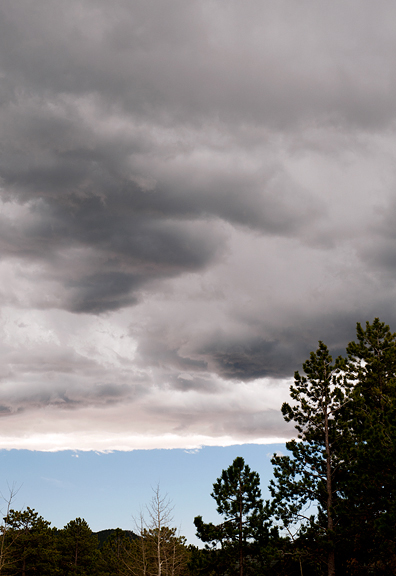 So I'll dispense with any further chit chat and get to brass tacks. When I was in
Seattle
this past September, my good friends took me to
Poppy
for dinner. There I had the most delightful eggplant fries and made a mental note to try it at home.
eggplant, herbs, seasonings, and flour
put the seasonings in with the flour
It's a relatively basic concept to chop up the vegetable in question and deep fry it. Everything tastes good this way, right? Knowing my deep frying prowess, the potential for screwing it up was high. I checked the interwebs for reference and found a
lovely recipe
at The Hungry Mouse which guided me through not having to think about what goes in the seasoned flour.
mixing the seasoned flour
peel the eggplants
The prep is dangerous, as in dangerously simple and fast. Simple + fast + fried can only lead to trouble. I didn't have cute, tender, sweet baby eggplants available, so I had to use the standard grocery store eggplant (my personal favorite is the Japanese eggplant – slender and not too seedy). They work perfectly fine. Peel, slice, and toss the eggplants. It takes about 10 minutes tops including a break to give the dog a little biscuit.
slice into 3/4-inch thick sticks
coat in seasoned flour
When I deep fry food these days, I use a thermometer. It helps me monitor how much the temperature fluctuates and explains a lot of the disasters I've experienced in the past. I kept my oil around 350 – 360°F and the eggplant fries browned up in a minute or two. You could drain them on paper towels, but I find that always makes whatever I'm frying soggy. I prefer to let them drain on a cooling rack.
fry in hot oil
drain on cooling rack
Work in small batches unless you can keep the fries warm in the oven without going soggy. The fries (like all fries) are best when hot and crispy. Sprinkle a little salt and a touch of honey and enjoy.
drizzle with honey
Eggplant Fries
[print recipe]
from The Hungry Mouse
3/4 cup flour
2 tsps garlic powder
1 tsp dried oregano
1 tsp fresh parsley, minced
1 tbsp kosher salt
1/2 tsp black pepper, fresh ground
oil for frying
3 baby eggplants or 2 medium eggplants
salt for seasoning
honey
In a shallow bowl, combine the flour, garlic powder, dried oregano, parsley, salt, and pepper until thoroughly mixed. In a heavy-bottom medium saucepan, heat at least two inches of oil to about 350F. Peel the eggplants and slice into 3/4-inch thick fingers. Toss the eggplant slices a few at a time in the seasoned flour until well coated. When the oil is ready, drop a few sticks of eggplant into the oil – they should begin sizzling immediately. Be sure not to overcrowd the pan or have the oil temperature drop too much. When they begin to brown (about a minute) flip them over and cook for another 30 seconds to a minute. Remove the eggplant fries from the oil and let drain on a cooling rack. Serve hot with a shake of salt and a drizzle of honey. A great snacking appetizer for 4 people.