Recipe: passion fruit bars
Happy new year, everyone! Did you make any new year's resolutions?
As some of you know, I don't do new year's resolutions. I was wondering about this the other day. I realized that it's not because I don't do resolutions, it's just that I am too impatient to wait until the first of the year to start one if I think of it on any other day of the year. That's how I roll. In the past few months I've readjusted my goals a smidge. It's always ultimately been about passion – the things I'm passionate about – but a little course correction was warranted. I think I'm on the right track.
This morning, Kaweah is happily romping about and disemboweling her plush toys with great gusto. Jeremy and I have eaten something sweet first thing in the morning to ensure that "sweet words" come out of our mouths all year long! I think it's going to be a very good year. In fact, let's all agree to make it so, okay?

geese at sunrise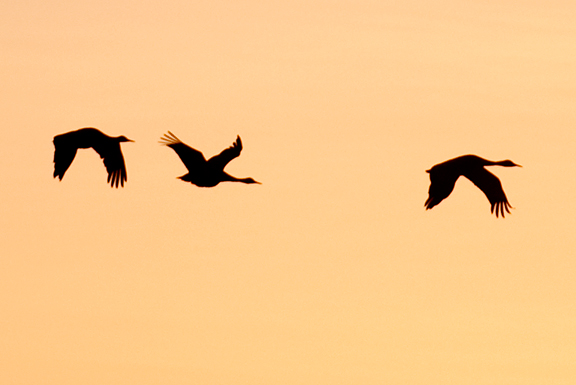 And speaking of passion… this past week I got a small package in the mail from
Todd and Diane
– those two hilarious green thumb, photographer, videographer, practical joker extraordinaires. It was a box of precious passion fruits
from their garden
. I know, right?! Those two are freaking awesome!
a box of california sunshine in colorado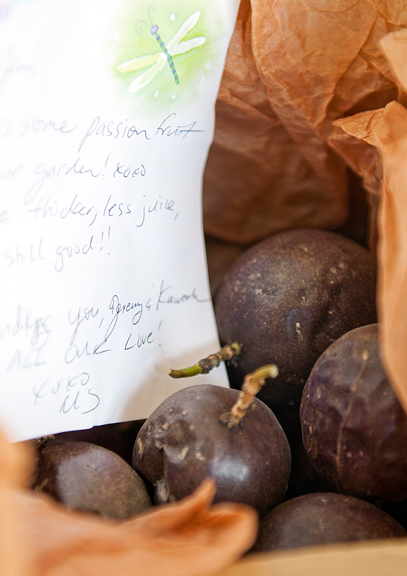 I began looking for passion fruit recipes to put these gems to good use when I ran across a blog entry for passion fruit bars. Passion fruit bars! That's like lemon bars without the lemon, but with passion fruit. I'm a huge fan of lemon bars as it is, so I was all over the passion fruit bars.
cutting butter into the flour and powdered sugar
pressing the coarse crumbs into the bottom of the baking pan
In hindsight, I should have lined the baking pan with parchment because the bars didn't release nicely. So if you don't care about a clean release, then do whatever you want. If you want the bars to look presentable without mangling them, then line the pan.
six eggs to be beaten
add the sugar gradually
Now I was all excited to split open the passion fruits, scoop out their ever-loving guts, and make passion fruit bars – but the recipe called for purée. I had purée in the freezer. It's also precious, but I actually have a lot of it because I hoarded that stuff in the past few months. In the hierarchy of preciousness the fresh passion fruit pulp is king. Next comes the purée. If we can get by with purée, then that is what we do.
good stuff
mixing in the dry ingredients
The hardest part is procuring the passion fruit purée. Once you've got that, you're golden and these bars come together with minimal effort. I think my eggs were slightly overbeaten because I walked away from the stand mixer for longer than I had anticipated and when I returned they were super frothy.
add the passion fruit
pour the batter over the baked crust
The batter practically filled up to the rim of the baking pan and I think that's because it was still fluffy from overbeating the eggs. It puffed up quite a bit during the baking process, but never overflowed and eventually settled out when the pan cooled.
out of the oven and cooled
slicing into bars
The passion fruit bars are intensely fragrant, floral, sweet, and tart. And sticky. When I was cutting up the squares I'd clean some sticky from my wrist by licking it off only to discover that there was more passion fruit sticky goodness elsewhere on my hand that was now on the side of my face. It went on like that for a few minutes. I think the shortbread crust is really just a mechanism for holding the gooey luscious passion fruit topping. It's lovely with a spot of tea.
hope your new year is sunshiney, awesome wonderful
Passion Fruit Bars
[print recipe]
adapted from The Go Lightly Gourmet
crust:
2 cups (295 g) flour
1/2 cup (75 g) confectioner's sugar
8 oz. butter
1/4 tsp salt
filling:
6 large eggs
2 cups (400 g) sugar
1/4 cup plus 2 tbsps (55 g) flour
1/1/2 tsps baking powder
2/3 cup (5.3 oz.) liliko'i puree or passion fruit puree
confectioner's sugar (for dusting)
Crust: Preheat oven to 350°F. For the cookie base, mix the flour, confectioner's sugar, and salt in a medium large bowl. Cut the butter into the dry ingredients with a pastry cutter until the mixture resembles coarse crumbs. Press the dough into the base of a 9×13 baking pan. [I had a hell of a time getting these suckers out of the pan when they were done. Next time I will butter the pan, line the pan with parchment, and butter again for ease of removal.] Bake for 15-20 minutes until just golden. Remove from oven.
Filling: Reduce the oven temperature to 325°F. Whisk or beat the eggs until frothy (I think I overbeat the eggs – you don't want it TOO frothy). Gradually whisk in the sugar. Then beat in the flour and baking powder until well-mixed. Pour in the passion fruit purée and whisk or beat until thoroughly combined. Pour the filling over the crust in the baking pan and bake for 30-35 minutes until the top of the bars are golden brown and the center is firm. Cool completely and refrigerate for a few hours before slicing into squares. Makes 2 dozen 2×2-inch squares.