Recipe: puffy hearts and rings
When I was a little kid growing up in Virginia, snow storms would catch me by surprise. The only way I knew anything was in the works was when Kris would stay up late tuning the radio to find out if school would be closed the next day. On those very rare snow days we would stay home playing games, running around the house like maniacs jumping off the stairs, building forts, watching television, lip syncing Shaun Cassidy while standing on top of the coffee table, and sledding down our steep driveway. I have a lot of good memories of Kris.
Living in Colorado, we can get snow as early as September and as late as May. It snows in our mountains in June and July too. Even though it is a common occurrence I still get excited – I just don't lip sync Shaun Cassidy from the coffee table anymore (I have that very coffee table in our great room). These days I suit up and head out.

hit the lifts early to beat the late morning rush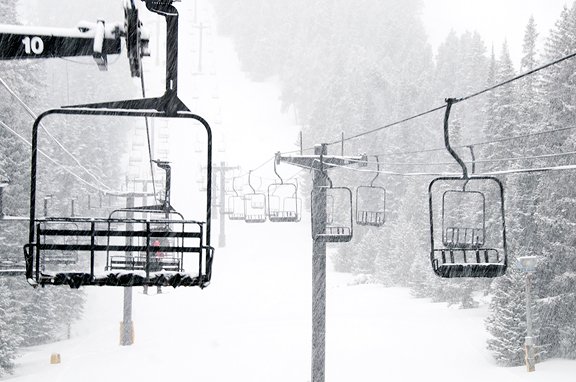 that's jeremy freezing his bum off on the lift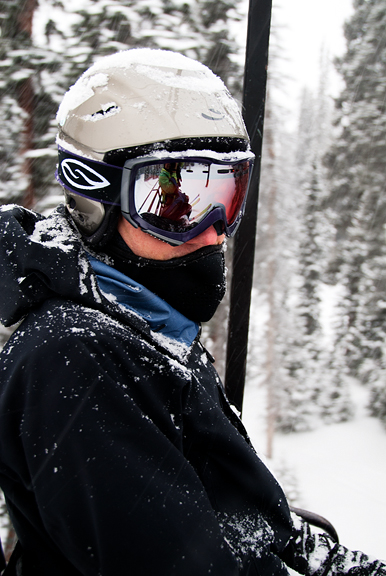 After we return from a ski – be it at a resort or in the backcountry – it's Kaweah's turn to play in the snow. When she was a wee pup in Ithaca, New York, we'd take her out into the snow and find the deepest drift to drop her in. She'd expend an enormous amount of energy bounding about in the snow and would sleep all night long at home. Yay! Now in her golden years, Kaweah doesn't wander as far into the snow nor does she handle the cold as well as she did in her crazy years (years 0-10). She sleeps much of the day and all of the night.
she'll always be a puppy to me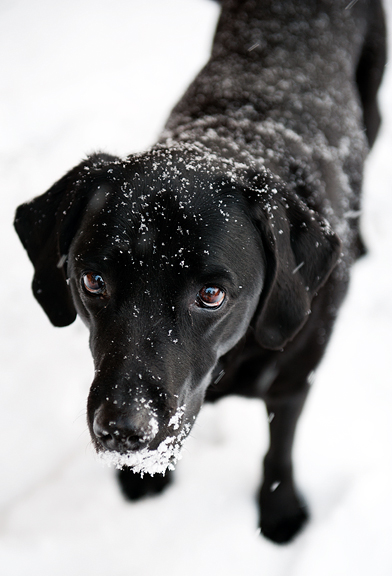 sun setting on a quiet, snowy day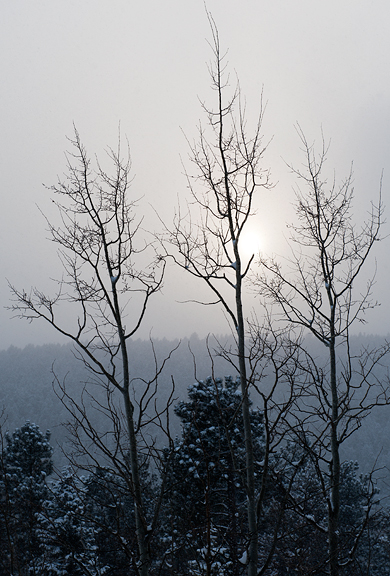 when the storm moves out, we get blue skies once again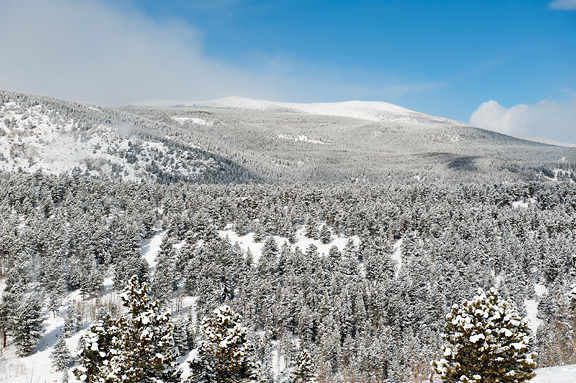 As a kid, I never remembered being cold when I played in the snow. Maybe that's because as kids, we're crazy people? I would barely recognize myself today, grabbing a warm hat, gloves, boots, jacket, sunnies, chapstick, sunblock… While thinking back on those snow days of my youth, I grew nostalgic for my mom's baking projects. She wasn't much of a baker, but she did have a handful of sweets she could make for potlucks and parties. What I loved most were these things called puffy hearts and rings.
stick of butter
stir in flour
Have any of you heard of puffy hearts and rings? I just knew it was an involved process for my mom because I'd watch her patiently shape the dough into hearts and rings with two spoons as I bounced up and down singing "puffy hearts and rings!" in anticipation of my favorite treat. It was a super sticky dough and she only made them once or twice a year – usually around the holidays. I can close my eyes and recall the properties of that dough. I knew the taste and texture of the baked pastry, the icing, the almonds. The flavor was almonds. I am a complete sucker for almonds.
mix in the eggs one at a time
piping hearts and rings
One morning I woke up and said to myself, "It's cream puff dough." I pieced together what the puffy hearts and rings were from memory and set about recreating them. Cream puff dough would most certainly be a sticky mess to shape into hearts and rings. I opted to pipe the dough into the desired shapes. Then there was the icing: confectioner's sugar and milk or cream. Since I'm lactose intolerant, I used water instead. The flavor was most certainly almond extract. Then a little coloring – they were always pink hearts and green rings.
the almond extract makes it
stir in the coloring
When the puffs were done baking and cooling, I iced each one and sprinkled slivered toasted almonds over the icing while it was still wet to make sure the almonds adhered. I bit into one. This is what I remembered – almond flavor, sweetness, the egginess of the soft dough. I liked it. I had Jeremy try one just to be sure that it wasn't just me and my nostalgia that thought it tasted good. We have another fan and I have happily brought an old memory back to life.
maybe the green rings were wreaths?
you can make them any shape, but i love the hearts and rings
Puffy Hearts and Rings
[print recipe]
4 oz. (1/2 cup) butter
8 oz. (1 cup) water
1 cup flour
4 eggs
2 cups powdered sugar
3 tbsps water (or cream/milk)
1/2 tsp almond extract
food coloring (optional)
almond slivers, toasted (optional)
Line baking sheets with parchment paper. Heat oven to 400°F. Heat one cup of water water and the butter in a medium saucepan over high heat until butter is melted and the liquid is boiling. Remove the pan from heat and add the flour all at once. Stir until the dough forms a ball. Add eggs one at a time, stirring vigorously after each addition until the egg is completely incorporated and the dough is smooth and satiny. Scoop the dough into a piping bag with a medium plain tip (about 1/2 inch in diameter). Pipe rings and hearts on the parchment with enough room for expansion (2 inches of space in between). Bake for about 20 minutes or until the tops are golden in color. Remove from baking sheets and let cool completely on cooling racks. Mix the powdered sugar, 3 tablespoons of liquid, and almond extract in a medium bowl. Add food coloring as desired. I split mine in two batches and color one pink and the other light green. When the puffs are cooled, dip them face-down into the icing or drizzle them with icing. While the icing is still wet (it dries very quickly here) sprinkle almond slivers over the icing and gently press them into the icing. Makes about 2 dozen (depends on how big your puffs are).