Recipe: roasted vegetable quiche
Lunch is a nice word.
Lunch is my favorite meal of the day. Then comes dinner. Then brekkie. Breakfast gets short shrift around here because we like to do things first thing in the morning like ski, hike, ride, or work. I know this is a terrible habit – skipping breakfast. I wish I had the same gusto about breakfast that Kaweah has. But when lunch rolls around, I become quite animated. Lunch can be anything and lunch can pretty much be any time for me. I like work lunches, "let's try out this new place" lunches, picnic lunches, backpacking lunches, team lunches, lunch dates, happy hour lunches, grazing my way through awesome location lunches, loud Chinese lunches, après ski lunches and most of all… social lunches.

dana applies thai basil to her pho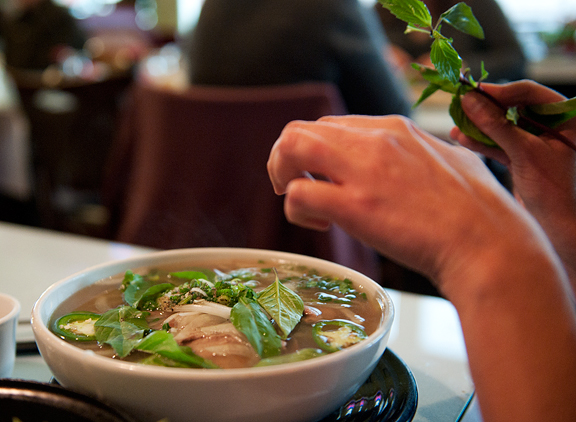 I had the noodle bowl stir-fry because I'm a noodle girl and because I love the vegetables. I love vegetables in general and often times I will end up with one oddball vegetable here and there on my counter, in the pantry, or in the refrigerator. Or I'll dig out a bag of greens that have been languishing in some remote corner of the refrigerator in dire need of immediate cooking and consumption. I hate waste. Hate to waste food, especially 1) expensive food and 2) produce.
i found purple kale, peppers, eggplant, potatoes, and an onion
i bought the purple kale a while ago because it was so pretty
Do you impulse shop? I am not what is considered an impulse buyer. I think my purchases through fairly carefully and rarely buy something on emotion or on a whim (that said, don't ever take me someplace where there are a lot of puppies or kittens). Jeremy loves that I'm so
practical
. Except that I'm not always practical when it comes to colorful, beautiful produce. It's that parrot thing I've got going. I'll rush into the store or market to seek out those items on my list only to be stopped dead in my tracks, staring wonderingly at pink, purple, red, and white Easter egg radishes, purple cauliflower, or multi-colored potatoes. Purple really does it to me.
diced eggplant, potato, pepper
tossed with olive oil, salt, and pepper
That's why I had that bunch of purple kale, because I was mesmerized by the striking lines of purple branching through those dark green leaves. Luckily, I found them before they had shriveled to oblivion. What to do with all of these oddballs – a couple of potatoes, peppers, one eggplant, an onion (actually, I usually have several of those lying about), the kale? Quiche.
sliced onions
semi-caramelized onions, sautéed kale, roasted eggplant, potatoes, and peppers
Any time I make a quiche, it's hard for me to not include bacon because those two just go together in my mind. Actually, bacon goes with just about anything. This time I didn't have bacon on hand, and I was okay with that. I wanted to see if this vegetable quiche would live up to my vegetable craving.
toss the vegetables together
toss with gruyère
The reason I roasted and sautéed the vegetables is because we typically have several containers of leftover vegetables in our refrigerator from previous nights' dinners and they are almost always roasted or sautéed. I just wanted to see if this would jive with our little leftover farm because it's an easy way to throw everything in and make a nice new meal.
whisking milk with eggs
filling the crust with the vegetables and cheese
I do have a terrible habit of overestimating the filling volume for a quiche… as in double. With enough filling for a whole additional quiche, I grabbed another baking dish, buttered it, and poured the filling in (that's why there are four eggs in the picture, but only three in my recipe). I am a big fan of crustless quiches and that is mostly because I think making pie or quiche crust is a pain in the ass.
pour the egg-milk over the filling
baked, cooled, sliced
Wow! I *love* this quiche and I should have known it was going to be phenomenal because what recipe that has potatoes and Gruyère isn't? But then there is the slight bitterness of the kale, the earthy eggplant, sweet onions, and tangy peppers that make it happy and bright. It's good. Very good. And you don't have to use these vegetables, you can use whatever you like and I'll bet it will be fantastic. The crustless version is just as lovely. I didn't waste my vegetables and I really enjoy them this way. The best part? I'm going to have the leftover quiche for lunch!
veggie goodness
Roasted Vegetable Quiche
[print recipe]
1 large Yukon gold potato, peeled (optional) and diced (medium dice)
1 small eggplant, diced (medium dice)
1 medium bell pepper, diced (medium to large dice)
2-3 tbsps olive oil
salt
pepper
1 bunch of kale (about 8 stems), washed and torn
1 medium onion, sliced thin
more olive oil
1 pie crust
1 1/2 cups Gruyère, shredded
1 tbsp flour
3 eggs, beaten
1 1/2 cups milk
1/4 tsp salt
pie crust
from Better Homes and Gardens New Cook Book
1 1/4 cups flour
1/4 tsp salt
1/3 cup shortening or lard
3-4 tbsps cold water
Vegetables: Preheat oven to 425°F. You can use any vegetables you desire, but these are the ones I had on hand. Toss the diced potato, eggplant, and pepper with 2-3 tablespoons of olive oil, salt and pepper to taste in a wide baking dish so that the vegetables sit in a single layer. Roast for 30 minutes, remove from oven and let cool. In a sauté pan, heat 2 tablespoons of olive oil over medium heat and sauté the onions, stirring them about to avoid burning. Cook them for about 20 minutes until caramelized (I took mine off a little early) then remove from pan. In the same pan, heat a tablespoon of oil on high heat and sauté the kale until cooked. Remove from pan and roughly chop the kale.
Pie crust: Set the oven to 450°F. Mix flour and salt in a mixing bowl. Cut shortening into flour to form pea-sized pieces. Sprinkle water over the mixture and toss with fork until all is moistened. Form dough into a ball and roll out on lightly floured surface to about 12 inches in diameter. Press and form into a 9-inch pan. Line the crust with foil and bake for 5 minutes. Remove the foil and continue baking for another 7 minutes. Remove from oven and reduce heat to 325°F.
Quiche: In a large bowl, toss the vegetables together. In a separate bowl, toss the cheese and flour together and then mix the cheese in with the vegetables. Fill the pie crust with the vegetable-cheese mix. Beat the eggs and stir in the milk and salt. Pour the milk over the vegetables and bake the quiche for 35-40 minutes. Let quiche rest out of the oven for 15 minutes before serving.
Crustless Quiche: I had leftover filling, so I grabbed an extra buttered pan and baked the rest without a crust. Oh boy, that is good too. It baked for the same amount of time (35-40 minutes) as the crusted quiche.