Right before a meeting Friday morning, I got a text from my lovely friend, Denise asking if I wanted to grab lunch at Frasca's new pizzeria. I already had lunch plans and sadly had to decline. But the following day I was back in town for PodCamp Boulder 3 with my pal, Kathya. When the conference broke for lunch, most of the folks planned to cross the street and grab a bite. Kathya and I are food bloggers – every meal is an opportunity, right? So we high-tailed it in the snow to Pearl Street and managed to get a table for two at a very busy Pizzeria Locale.

pizzeria locale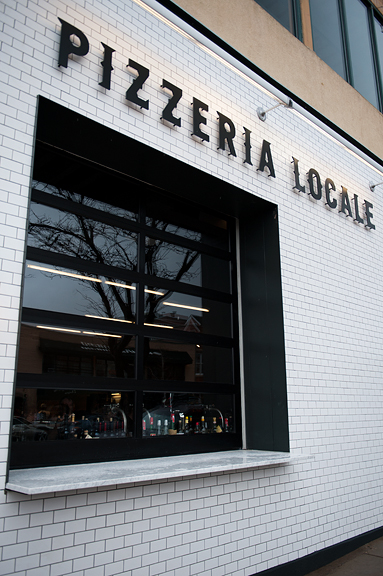 The restaurant had only been open a week or so when we walked in.
Frasca
is the parent restaurant of Pizzeria Locale. Frasca is also an absolute gem of a dining establishment in Boulder – their food, wine, and service is phenomenal. I had high expectations for Pizzeria Locale. The tables were packed, the bar was packed, and the bar around the gorgeous pizza oven (the first Stefano Ferrara oven in the state of Colorado) was packed.
the menu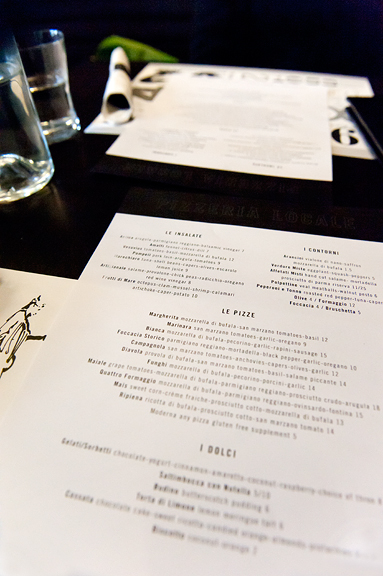 The service is good. It's not at the level of Frasca which I don't really expect from a pizzeria anyway, but the hostess, servers, and the general manager (Chris – a stand up fellow) were all attentive, friendly, and warm. The interior has a jovial, modern feel to it and the place is loud because diners are happy and enjoying themselves. As staff walked plates of freshly baked pizzas out to the tables, more than a few sets of eyes followed the plates with longing. I'm guilty of ogling the pizzas too.
hydrate with some still water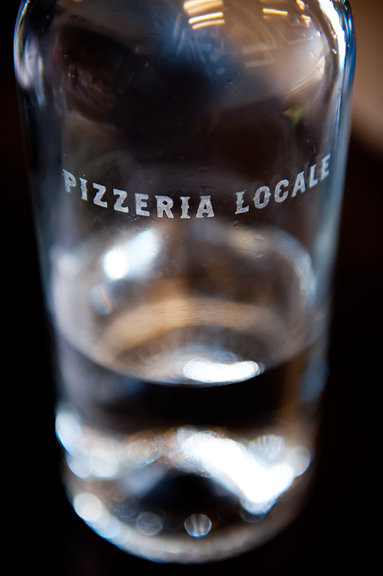 Kat and I opted for a table (had better natural light than the pizza bar) and began to scan the menu. Pizzeria Locale offers up a tempting selection of salads, side dishes, pizzas (and calzone), and dessert. They also offer gluten-free dough for their pizza. The lunch special (which Denise had mentioned) was a small arugula salad, a marinara pizza, and a coke for $9. As good as that sounded, we wanted to sample a little more of the menu and opted for two salads and a pizza.
the amalfi: fennel, citrus, dill ($7)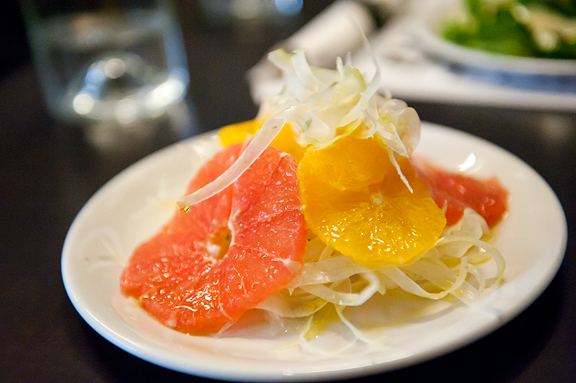 the antica: arugula, parmigiano reggiano, balsamic vinegar ($7)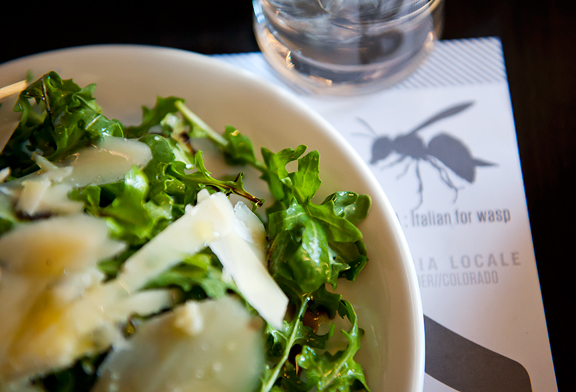 kat digs into the lovely greens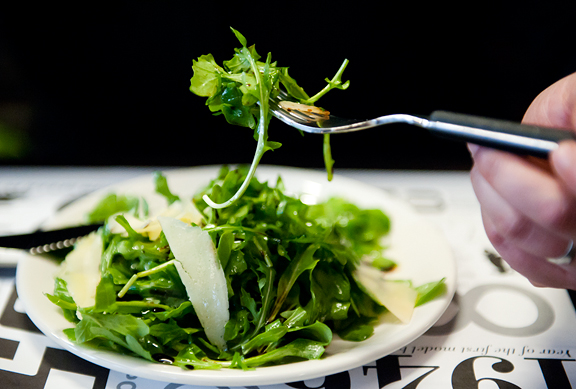 We swapped salads halfway through, because food blog pals are like that. The Amalfi salad was so refreshing – bright gems of orange and grapefruit up front and mild fennel slivers to crunch on. My favorite was the Antica. Aside from the tender arugula, the bite of the cheese and perfect tang from the balsamic vinegar, I was won over by those occasional crystals of sea salt that dotted the greens. Perfect salad.
making perfect pizza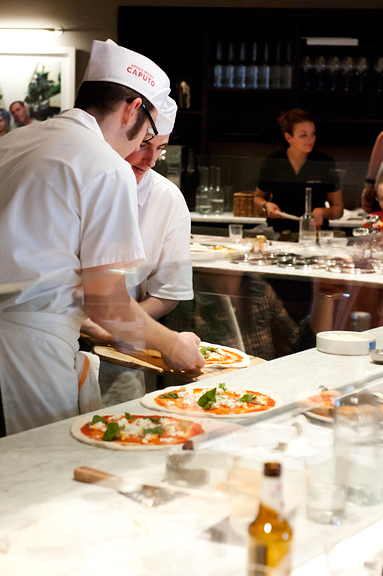 If you go at lunch time, expect to see several other people with the same idea as yours. Pizzeria Locale is popular and with good reason. Their pizzas are pretty magical. Super thin crust, baked exactly as they should be. Crisp outside and ever so soft and chewy inside topped with quality ingredients – not too much, not too little.
this happy patron enjoying his pizza margherita at the pizza bar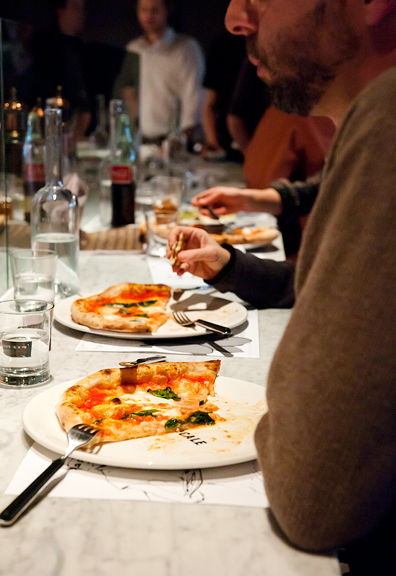 Kat and I split a pizza – the funghi (lovely porcini mushrooms). They come uncut, in the traditional manner. Typically one pizza serves one person. It all sort of melts in your mouth when you take a bite. The cheese is silky and creamy in texture, buttery smooth flavor. Pair that with the richness of the porcini mushrooms and the heady garlic and you've found yourself one heck of a fantastic meal. We really enjoyed it.
funghi: mozzarella di bufala, pecorino, porcini, garlic ($14)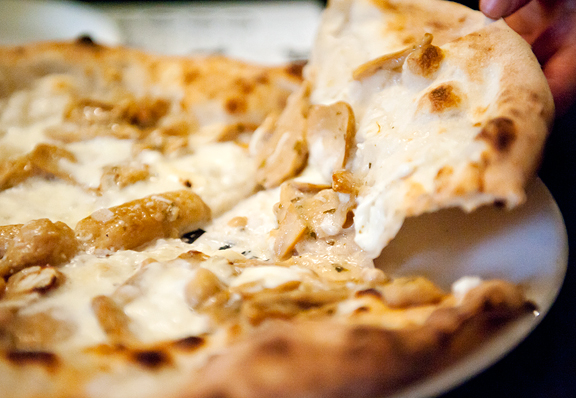 Just to make sure it wasn't a fluke (that's my excuse, really – I couldn't wait to come back!),
Manisha
and I returned for lunch a few days later. She opted for the lunch special while I tried the pizza bianca and of course we sampled both pizzas. I fell in love with my pizza bianca even more than the funghi.
bianca: mozzarella, garlic, rapini, sausage ($15) and marinara: san marzano tomatoes, garlic, oregano ($9)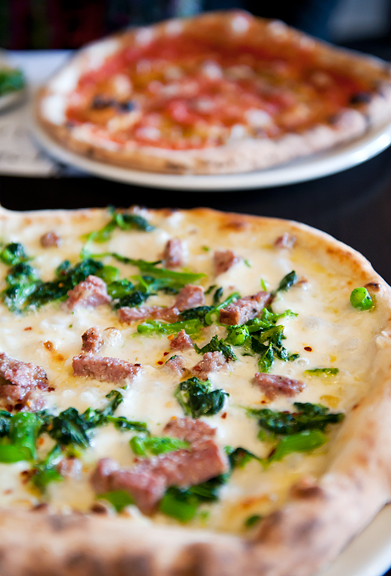 Chris recognized me (um, was it the camera?) and came over to say hi, but he says hi to all of the repeat customers. Making sure the patrons are happy is very important to Pizzeria Locale. There's a reason there are so many repeat customers when the place has only been open for a few weeks. The food (the pizza!!) is a delightful treat. The atmosphere is lively and casual. Pizzeria Locale has wiggled its way into my list of Boulder favorites. I cannot wait for the warmer months when they open the garage door in front, but I'll be there plenty of times in the interim.
Pizzeria Locale
1730 Pearl St
Boulder, CO 80302
Ph: (303) 442 3003
Email: info@pizzerialocale.com
Twitter: @localeboulder
Facebook: Pizzeria Locale Facebook Page
Full Disclosure: No comps. I wrote this post of my own volition because I *really* love Pizzeria Locale.