Saturday, December 1st, 2012
It used to be when someone would suggest a mediocre place to meet for a meal, I'd say "sure", because I wanted to be agreeable and nice and easy. Well, after years of walking away from a meal wondering why I wasted good money on it, I have decided not to do that anymore. Screw that. I'm lucky to live near a town (city) full of terrific restaurants. Usually, our problem is deciding where to go as we run down the list of favorites. A few months ago, my pal Kathya sent me a text that she and her husband had eaten at Oak, and that it was fantastic. So one day Jeremy and I were looking for a place to enjoy a late lunch and I said, "Let's try Oak."

oak at fourteenth and pearl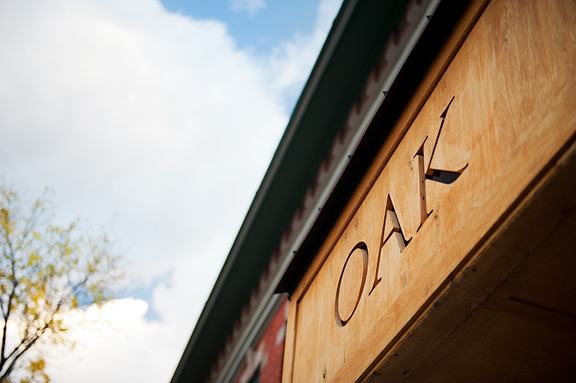 outdoor seating for the days of finer weather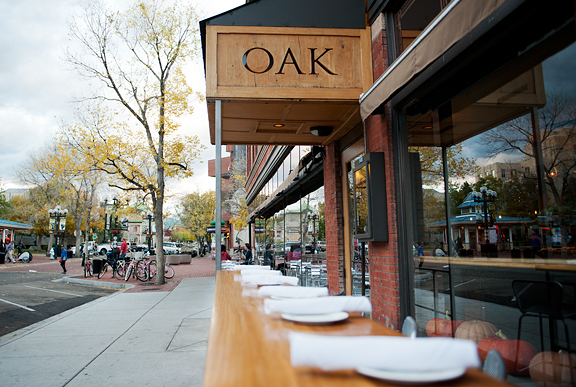 Oak sits on the corner of Pearl and Fourteenth Streets in downtown Boulder. It's been there for a while and I remember having lunch at Oak a few years ago with a friend, but nothing more than that. There was a destructive fire, Oak re-opened, and I began hearing great things about their food. It's got a clean, contemporary, open interior with a main dining room and a smaller adjacent dining room. From the main dining room, you have a view into the open kitchen, the extensive bar, or out the picture windows onto Pearl Street's shenanigans.
housemade passion fruit and lemongrass soda (jeremy's cocktail in background)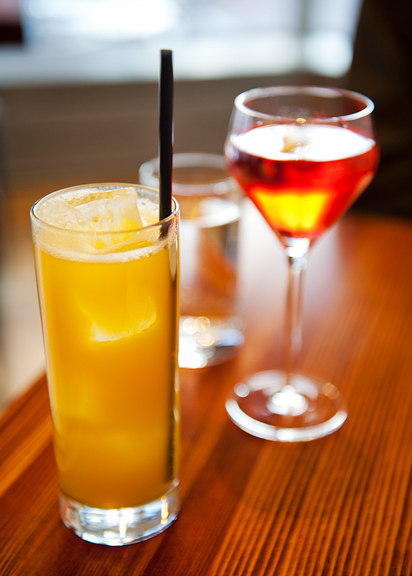 On our first visit to Oak, we hit their midday menu (2:30-5:30 pm) and the first thing that sucked me in was the housemade passion fruit and lemongrass soda. Jeremy got a "surprise me" cocktail from the bar and I think he wasn't so thrilled with the surprise. My soda was not overly sweet and beautifully passion fruity. The lemongrass was fairly understated, but… PASSION FRUIT! I have a soda about once every six months, yet Oak managed to list two housemade sodas that I cannae resist: passion fruit, and ginger beer. The ginger beer was spot on spicy, fresh, not too sweet, peppy – pretty much the second best I've had (first is
Rachel's Ginger Beer
which I thoroughly enjoyed at
Delancey
in Seattle). And then there were the pickles…
holy mother of whoa, fried pickles with green goddess aioli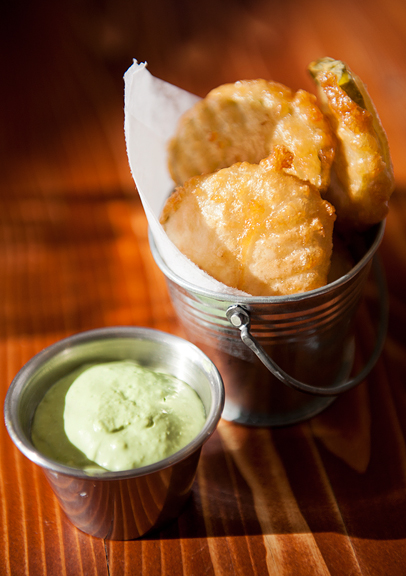 shaved kale and honeycrisp apple salad with togarashi, parmesan, and candied almonds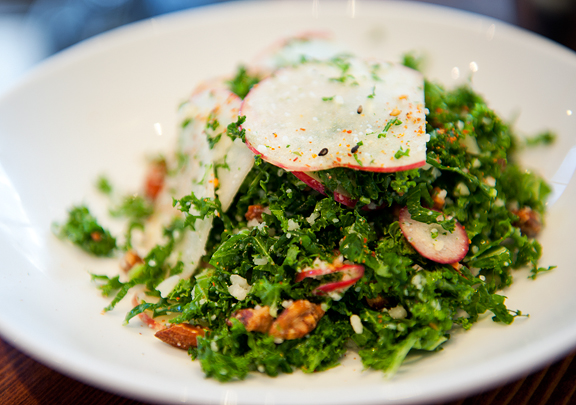 fried padrons on sausage and harissa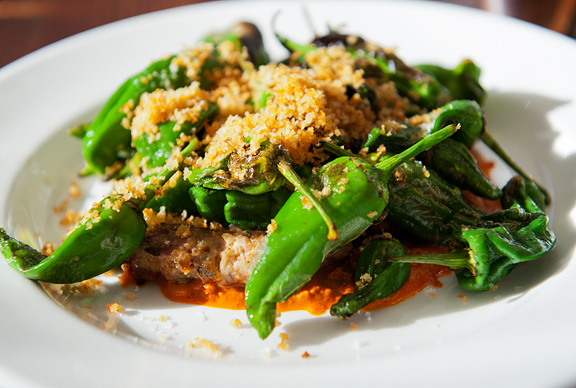 Over the course of a couple of visits, we sampled a few of the appetizers or small plates Oak had on offer. Let me confess, we have ordered the fried pickles every time, because they are THAT GOOD. The pickle slices are crisp and dilly and thick and big, coated in a crunchy, hot batter. It is my favorite item on the menu and that is saying a lot because the food at Oak is pretty much outstanding. Something so simple as a shaved kale salad was prepared to perfection. The padron peppers were lightly charred and served on a bed of aromatic sausage and delightful harissa. The menu has an impressive variety without being overwhelmingly ridiculous or underwhelmingly bland like most chain restaurants. It was tough choosing among the entrées.
shrimp po' boy with champagne mango, spicy sambal, cilantro aioli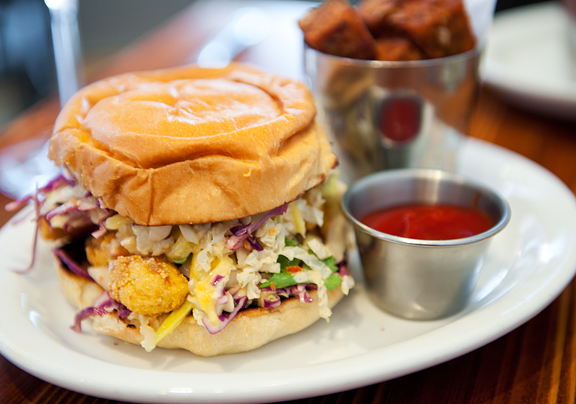 grilled double cheeseburger, tender belly farm bacon, gruyère, harissa aioli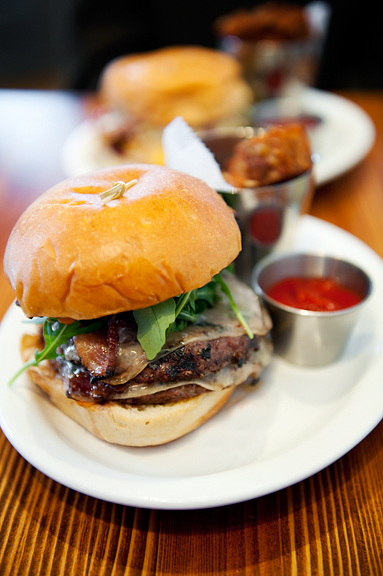 **Jump for more butter**