Recipe: chinese steamed crabmeat egg custard
engagement: mountain bike
dress: $35
cake: $20
guests: 12 + 1 dog
weather: rainy and cold
location: my advisor's living room in Ithaca, New York
ceremony by: The Honorable Marjorie Olds
years together: 18.5
years married: 14
best guy ever: Jeremy
We've been married fourteen years on Tuesday. Jeremy and I had completely forgotten until my mother called over the weekend and reminded me about our anniversary. It's funny that our moms remember, but we don't. Our moms are so cute.

jeremy enjoys a delightful lunch at l'atelier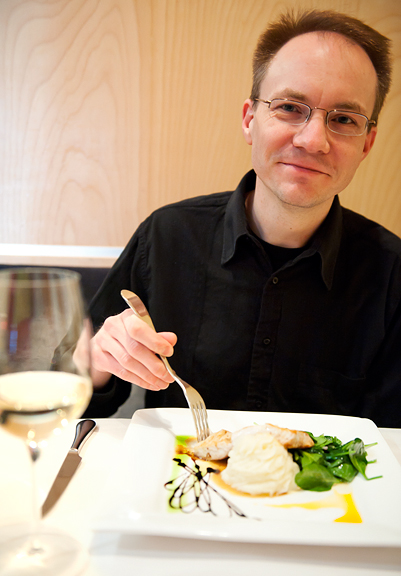 I know when most people see Jeremy they just think "random white dude". He is a classic introvert and few people stop talking long enough to get to know him. That's their loss, because he's a real treasure. Plus, if you're some loud mouth who can't get over how awesome you think you are, he probably doesn't want much to do with you anyway.
When I see Jeremy, my heart is filled with all kinds of wonderful meltiness. It's so cliché and yet the truth of the matter is that I fall in love with him more each day. You're probably thinking, "What have you done with Jen? She hates that mushygushy crap!" Okay, let's just say that our relationship is muy excelente. Thank you, Jeremy, for being the best part of my life.

sunshiny day in boulder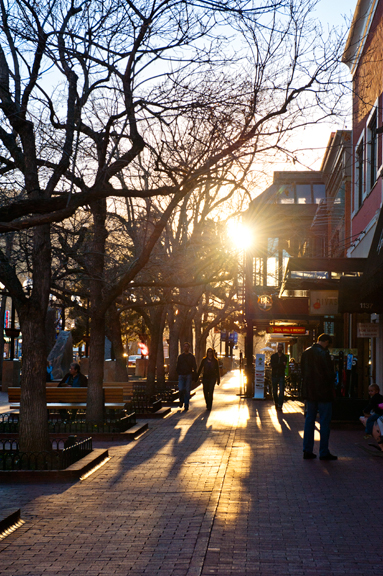 We know of many people who go through what Jeremy calls "practice marriages" before they find a truly good partner. The ones that snipe and bully, that don't respect the other, that never listen, that lie, blame, or are insecure – they don't last very long. Or if they remain together they make me feel like punching one or both of them in the face for acting like such jerks to one another. In contrast, it's a great feeling when you see the people you care about in healthy, loving relationships.
chives, shiitake mushrooms, chicken broth, crabmeat, eggs, salt, tobiko, white pepper
whisking the broth into the eggs
Last October, I got to spend time with two of my favorite couples in San Francisco: Chuck and Hungry Bear of
Sunday Nite Dinner
(but you may know Chuck from
Food Gawker
) and Anita and Mike of
Dessert First
. Chuck invited us (Mike, Anita, and myself) over for dinner after BlogHer Food ended. Hungry Bear started the meal with these delicate and wholesome Chinese egg custards.
place crabmeat in the ramekins or tea cups
pour the egg mixture over the crab
I've had simple egg custard before. My grandma taught me to beat together an egg with some broth and steam it for a light meal or to settle my tummy when I wasn't feeling so good. But this? This was fancy. Hungry Bear used shrimp instead of crab, but it was such a welcome change of pace from the party food of the past couple of days. Both Anita and I requested the recipe. That's high praise from food bloggers!
seal well with plastic wrap
in the steamer
My first attempt at making these custards was an aesthetic failure. Edible? Yes. Pretty? No. I steamed the custards per the instructions in the recipe, but the egg curdled and had that hard cooked egg texture rather than the lovely silky, tender texture I was after. I emailed Chuck and asked him to check with Hungry Bear for what I did wrong. She said she always baked them in a water bath and they always came out. So I tried again.
cook the mushrooms in oil
top with caviar (or tobiko in this case)
Bingo. Worked like a dream. I do have some tips though, if you are entertaining. Don't fill the ramekins to the brim. In fact, leave a good 1/2 inch from the top because the custard puffs up during cooking and if it touches the plastic you'll get a texture or some odd pattern across the top or it will overflow and look like ass (sorry – this is how I felt with the few that overflowed). Also, try to avoid letting the foil touch the plastic wrap on each ramekin because the plastic wrap will melt onto the foil. Ask me how I know this! The caviar – take it or leave it. It gives a great crunch and pop to each bite, but I wouldn't say it's critical. The mushrooms however – you need those. The deep and earthy flavor is *perfect* on its own, but even better with the egg custard. It's a lovely recipe. Really lovely. It's also amazalingly (yes, that's a word) good without any seafood as I ran out of crabmeat during the second time around. Thanks, HB & Chuck!
elegant and delicate
also? delicious
Steamed Crabmeat Egg Custard
[print recipe]
from Chinese Cuisine by Susanna Foo
2 cups shrimp or chicken stock, all fat removed
3 large eggs, lightly beaten
1 1/2 tsps coarse or kosher salt
1/2 tsp white pepper, freshly ground
8 oz. jumbo lump crabmeat (I used 4 oz.)
1 tbsp olive oil
2 fresh medium shiitake mushroom caps, wiped clean and finely chopped (I used little ones and left them whole)
1 tbsp vodka (I skipped this)
1 tbsp fresh chives, chopped
1 oz. Beluga or other caviar, optional (I used tobiko)
Pour the broth into a small bowl and gradually stir in the eggs until well-blended. Mix in 1 teaspoon of salt and the white pepper. Strain the mixture into a measuring cup with a spout (or something similar that makes it easy to pour). Divvy the crabmeat evenly among 6 to 8 ramekins, tea cups, Chinese tea cups with lids, whatever you like. Pour the stock into the cups making sure to leave at least a half inch from the top (because the egg custard puffs up during cooking and well – it looks better if it doesn't puff up against the plastic wrap or foil). Cover each cup with plastic wrap, foil, or if using Chinese tea cups – the lids. They need to be well-sealed to avoid letting moisture drip into the custards. Now Susanna says to fill the bottom of a steamer with water until just under (but not touching) the rack and bring to a boil. Then she instructs you to place the cups on the rack, cover them and steam on high heat for 5 minutes, then reduce heat to medium-low and steam for another 20 minutes. The surface of the custards should be moist and slick when they are finished. This didn't happen for me – they were overcooked or something, but they had a honeycomb eggy texture instead of the nice silky texture that Chinese egg custards should have. So I tried the OTHER method she describes (which Hungry Bear says she's had great success with) and baked them in a water bath in the oven. This worked for me: Place the covered cups in a large, shallow baking dish and fill the dish with hot water to about halfway up the custard vessels. Cover the entire dish with foil and seal the edges tightly. Bake for about 30 minutes at 325°F. This yielded silky, smooth, beautiful custards.
While the custards are cooking, heat the olive oil in a small saucepan and add the mushrooms and vodka (I didn't do the vodka). Cook over high flame for about 5 minutes until the mushrooms are tender and starting to just brown. Add the remaining half teaspoon of salt and then remove from heat until ready to use.
Remove the wrappings or lids from the custards and place mushrooms on each one (either sprinkle the chopped caps or set whole caps on top). Garnish with chives and a little mound of caviar (tobiko mounds very nicely). Serve right away. Makes 6 to 8 servings 1/2-cup servings. Also very good without crabmeat.