Recipe: strawberry daifuku mochi
You know, I'm always looking up. You might think it's because I live with an astrophysicist or that it has to do with my graduate minor in atmospheric sciences. Actually, I've been enamored with the night sky since I was a wee tot and I began to obsess about the weather ever since I learned to sail at age 9. It's just habit now to gaze skyward at dusk to search for Venus or look for the Milky Way while Kaweah takes her time in the side yard at night. Sunset is a regular event for us. Missing it makes me feel like my day is incomplete. And the weather? Well, that dictates a good deal of what I do both professionally and recreationally. I've always got one eye on the sky.

a lee wave (standing or stationary wave)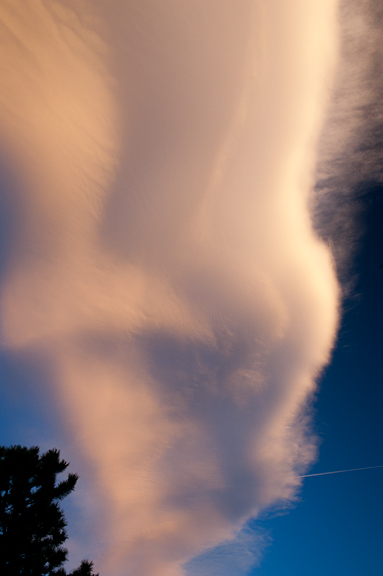 lots of textures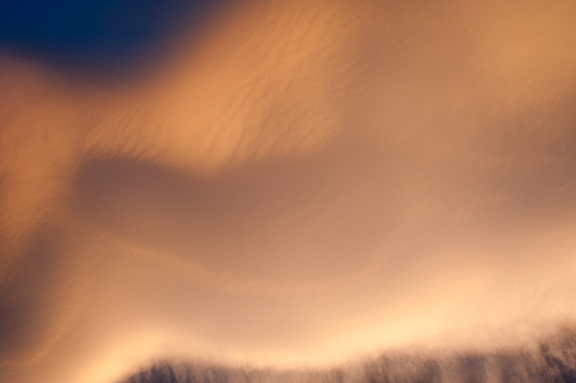 with crazy cool fringes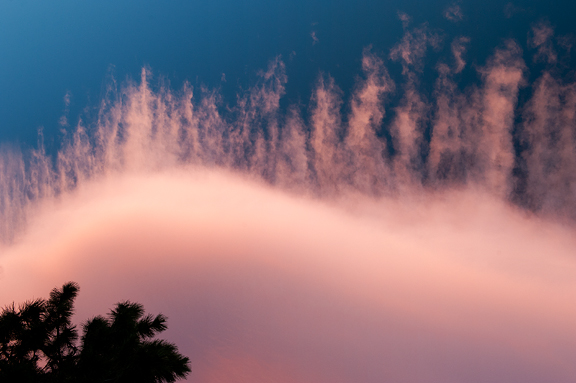 And even though we were on the wrong side of the planet to witness the total lunar eclipse, I was still pleased to greet the full moon as it rose – big, glowing, and gorgeous. I never tire of seeing her, like an old friend.
she'll be comin' around the mountain when she comes…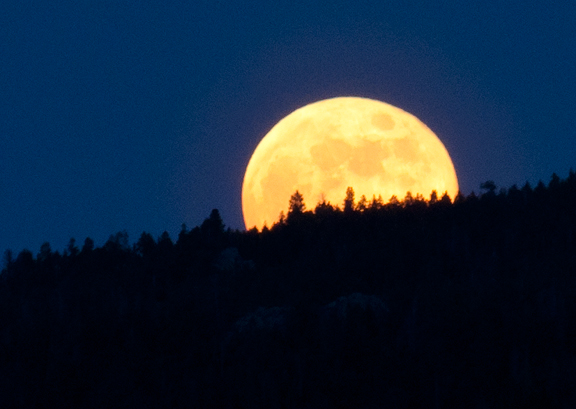 we tried to get kaweah to howl, but she wouldn't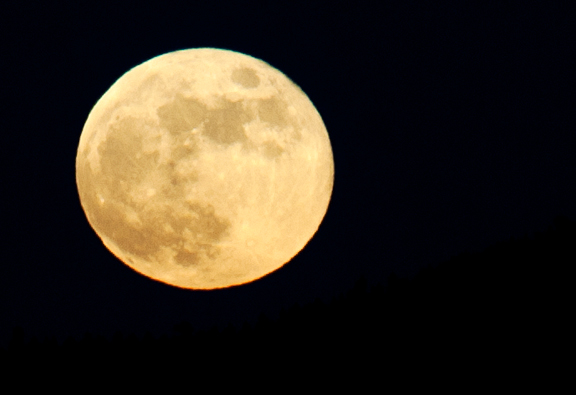 But there is always room for new friends. Not that I have found some new heavenly bodies or anything, no. I meant room in my belly for my new BFF that I met while
eating my way through the Big Island of Hawai'i
. I'm a little ashamed to say it, but I couldn't get those amazing strawberry mochi from Two Ladies Kitchen in Hilo out of my head. And with strawberries in season…
organic and juicy
sweet azuki bean paste
I had no idea how complicated making mochi could be, but I knew if I could make mochi, the rest should be simple because the only other ingredients are (good) strawberries and sweet azuki bean paste. I prefer the azuki paste with a few mashed and whole beans mixed in, but this was all that my local Asian grocer had – and driving all over the flats in summer for single grocery items makes me stabby. So of course, I researched this delicacy on the interwebs and to my delight
Clotilde
had written an informative post on exactly what I was looking for! *Rejoicing*
potato starch and glutinous rice flour
mix water, sugar, and rice flour
So I know some gluten-free folks freak out when they see glutinous rice flour because they think there is gluten in the rice flour. There is no gluten in the rice flour – the word glutinous is used to describe how dang sticky this stuff is (and it is STICKY). Good news! Instead of using Mochiko, a brand of rice flour that my beloved grandma used to make Chinese treats for me when I was little, I used this finer flour that my Asian grocer in Boulder carries. Worked without any issues. Just mix with some water, some sugar, rub out the lumps, and nuke it. Nuke (microwave) it until it becomes thick and somewhat translucent. It took me about five minutes on high power. Crazy stuff!
slightly translucent here and ridiculously sticky
pour onto a bed of potato starch or suffer the consequences
I worried that when the mochi cooled, it would be impossible to mold or it would lose its stick, but that wasn't the case at all. The potato starch is there to keep you from losing your marbles. Make sure you have plenty of it. I coated the mochi and then flattened it out with my hands as evenly as I could. I sliced the mochi up with a pastry cutter forming squares. The size really depends on how large your berries are. I think some of my berries were huge, so I should have made bigger pieces of mochi for wrapping around them (darn, I'll just have to make more).
cutting the mochi
gently shaping the sticky, elastic mochi
The mochi cannot be stretched infinitely thin. It will tear when too small a piece of mochi is pulled around too large a strawberry (discrete discontinuity), so use your judgment when cutting the mochi for each berry. Clotilde instructed coating the berry in azuki paste first then wrapping it with mochi. I opted to smear a little azuki paste on the mochi, dropping the berry in the middle, and wrapping the whole ensemble. It works. I mean, it all oozes around the berry while you wrestle the mochi into place.
it's easier when you place it tip side down
pinch the edges together (they will stick)
When the strawberry is encased in azuki paste and sweet mochi, gently press it into a round shape and pat it down with more potato starch. These are best eaten fresh although they will last a day in the refrigerator (if you can resist polishing them all off). Heck, I think I could live off of these for the rest of the summer, really. They aren't terribly difficult to make – just sticky – and they are totally worth it. I've got a little bit of Hawai'i going on in Colorado now.
irresistible
Strawberry Daifuku Mochi
[print recipe]
from Chocolate and Zucchini
3 1/2 oz. (100 g) glutinous rice flour
1/4 cup (50 g) sugar
2/3 cup (150 ml) water
2 cups (or more) of potato starch (or cornstarch, but I prefer potato starch)
a dozen ripe small strawberries* (preferably organic), washed, hulled & patted dry
1/4 – 1/2 cup sweet azuki bean paste
* I just want to let you know that I doubled the recipe because my strawberries were mostly ginormous.
Mix the rice flour, sugar, and water together in a glass or pyrex bowl. Work out the lumps until smooth. Place bowl in microwave oven and set on high for a couple of minutes. Stir the mixture and cook on high for another two minutes. Continue until the dough becomes thick and translucent (i.e. no longer chalk white). It will get hot too, so be careful. If you don't have a microwave, you can steam the mochi or put it in a rice cooker to achieve the same results (see Clotilde's post). Spread the potato starch on a large rimmed baking sheet. Pour the contents of the bowl onto the potato starch. Cover the top of the mochi with potato starch and gently pat it down to flatten it. Cut the mochi with a pastry cutter or knife into a dozen pieces. Stretch a piece of mochi out gently with your fingers and place a small amount of azuki paste in the center. Set a strawberry, tip down, on the mochi and pull the edges up around the berry. Twist the tops and press together to seal. Shape the mochi into a little sphere and set it seam-side down. Dust with some potato starch. Serve. Makes 12 strawberry mochi.