Recipe: trail mix
It is now July. You know what July means, don't you?
July means we are into the thick of summer.
July means half the year is over.
July (in this country) means Fourth of July celebrations, barbecues, and fireworks! You guys know how lousy we are at following holiday instructions. Instead of celebrating, we exercised and got some work done. Instead of barbecue, we had pad thai. But there is no "instead of fireworks" because I totally love pyrotechnics. Love the pretty colored lights that rain down from the sky when nighttime finally settles over the mountains. And what I see with my eyes is never quite the same as what the camera captures – but I like them both!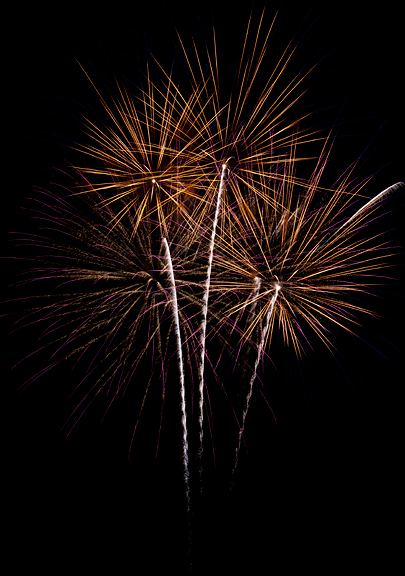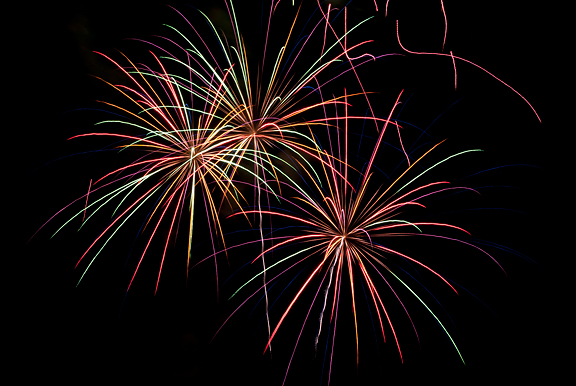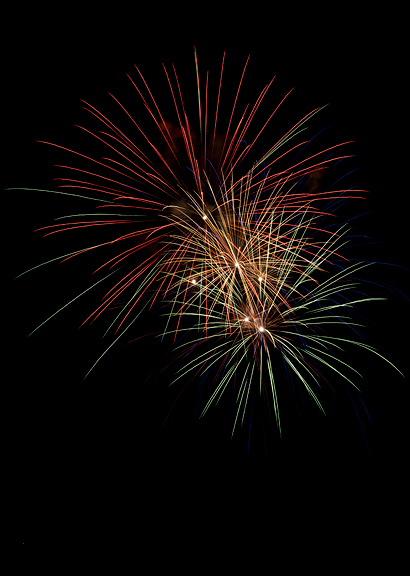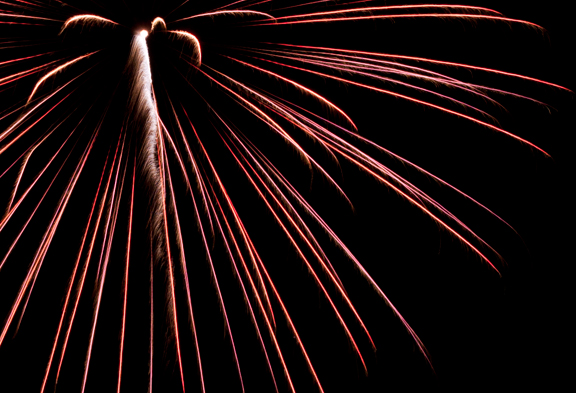 You can view the rest of the fireworks set on
my photo blog
.
July is also the month when we will eventually be able to hike into the high country without having to wear or carry skis or crampons. That point in which the trails are no longer classified as "mixed terrain" is true summer for us. Our great room becomes a sort of giant locker room and instead of having a bike bin and a ski bin, we will transition into the bike bin and the hike bin. Of course, they overfloweth resulting in the multiple packs, water hydration bladders, boots, shoes, gloves, hats, jackets, sunnies, sunblocks, maps and snacks strewn about.

i own plenty of footwear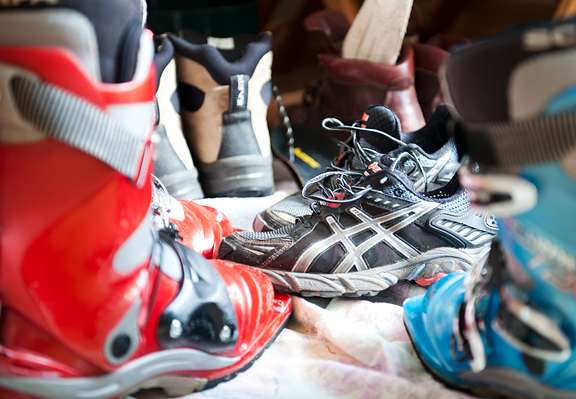 when i see my platypus, i think "let's go!"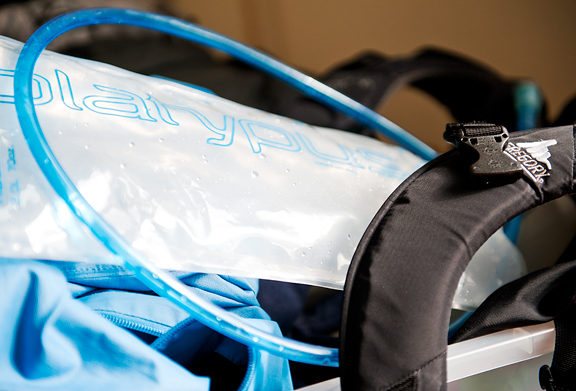 I'm pretty particular about my snacks when we head into the backcountry. Contrary to what so many people think, we actually prefer no fuss, bare bones food when we camp, hike, or backpack. I don't go into the backcountry to spend a lot of time preparing fancy food. I do plenty of that at home. I go into the mountains for the mountains. When we hike, we always have some emergency calories on hand like LARA bars. I've tried many other "bars" over the years and I cannot get them down without a sudden desire to hurl. We cycled through several varieties of trail mixes (from Trader Joes) early on, but none of them resonated with my taste buds. Trail mixes are based on GORP – Good Old Raisins and Peanuts. Neither of us are huge fans of raisins or peanuts.
but cranberries? yes
and cashew nuts
It's not hard to make your own version of GORP. The raisins provide the sweet and the peanuts provide the salty and nutty. What I end up liking turns GORP into a sort of alphabet soup. Because I don't live near a Trader Joe's (ahem…) I get all of my trail mix ingredients from the bulk foods section at my local Whole Foods. Why? Because they offer organic versions of everything. In addition to the cranberries and cashews, we like to add…
roasted sunflower seeds and pumpkin seeds (pepitas)
and chocolate-covered almonds and raisins
Yes, the chocolate-covered almonds and raisins are all organic too. Chocolate typically dries me out on the trail and I generally prefer to have nothing to do with it. Jeremy, however, loves chocolate anytime, anywhere. He is a chocolate
fiend
. So I added these in the hopes that the almonds and raisins would balance out the presence of the chocolate. It really is a nice touch. The beauty of trail mixes is that they are anything you want them to be.
pour everything into a bowl or a large bag
mix
When you grab a handful of this mix and pop it into your mouth, the flavors and textures are satisfying… gratifying. Tweak it to your liking – you can't really go wrong. And we all know that anything eaten on the trail or in the backcountry tastes ten times better than it does at home. What do you put in your trail mix?
happy trails
field testing the trail mix (she's a winner!)
Trail Mix
[print recipe]
1 cup dried cranberries (organic)
1 cup roasted cashew nuts (organic)
1/2 cup roasted sunflower seeds (organic)
1/2 cup roasted pepitas (pumpking seeds) (organic)
1/2 cup chocolate-covered almonds (organic)
1/2 cup chocolate-covered raisins (organic)
Mix all ingredients together. Makes 4 cups.