Friday, September 2nd, 2011
Raffle winners: Thank you to everyone who donated to A Fund for Jennie and a special thanks to Maggy, Erika, and Aimée of Bloggers Without Borders for coordinating the raffle and donations on such a huge scale across the food blogosphere. We had 41 legitimate entries and Kaweah chose the numbers (or rather, ate the corresponding dog biscuits for): 48 and 66. Mod 41, that gives us #7 (Jenn) and #25 (Kaela). Congratulations to our winners! I'll contact you shortly to arrange for your choice of photo!


*********

I keep a long list of things to do. It's not the normal list of errands, house maintenance, work, etc. It's a special list for things that I will eventually get around to in either a few weeks or a few years – but I'm gonna do them. Things like the dozen or so baby quilts for which I have already collected the fabric, a care package to send around the globe, cookies to give to people who least expect them, or dinner with friends at another friend's restaurant. Coordinating among multiple busy schedules means we have been attempting to get together for months, but we finally made it earlier this week. It was the first of many foreseeable dinners with this fine crew:
Ellen
,
Manisha
, and
Kathya
. We went around on email to figure out where to meet for dinner. There are so many choices, but I had been promising to visit my friend (and chef)
Chris
at his new restaurant since before it opened in Westminster, Colorado nearly six months ago. We're all friends on Twitter and everyone agreed that
Hideaway Steakhouse
was the top of our list.
our own private dining room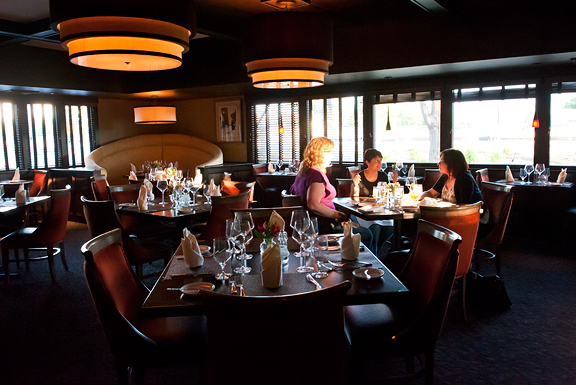 I met Chris at my
Food and Light workshop
in Boulder in 2010 – one of our best students, a true sweetheart of a guy, and an incredibly talented chef and photographer. He told us Monday nights are generally quiet so he reserved the backroom just for us so we could dine, gab, and shoot photos to our hearts' content. Such a great fella. The owners and manager came by to say hi and introduce themselves too. Hideaway Steakhouse is located in a predominantly residential area that is a bit of a food culture wasteland. The menu at Hideaway has the traditional steaks that you'd find at a steakhouse on one half, but the other half is where Chris gets to play and show off his culinary mastery.
chris offers so much more than just a steakhouse menu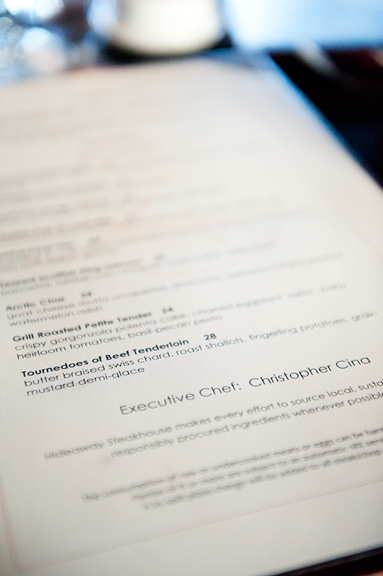 manisha starts with a mojito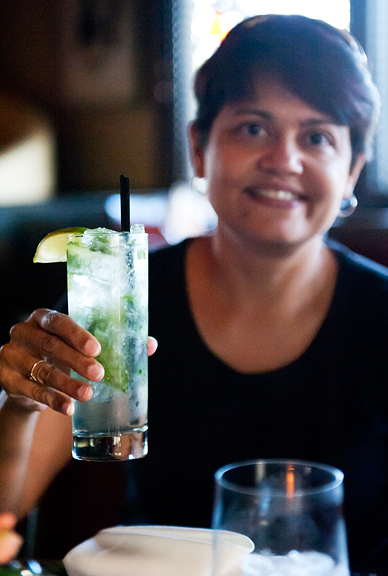 ellen soon learns that she's fallen in with a camera-toting crowd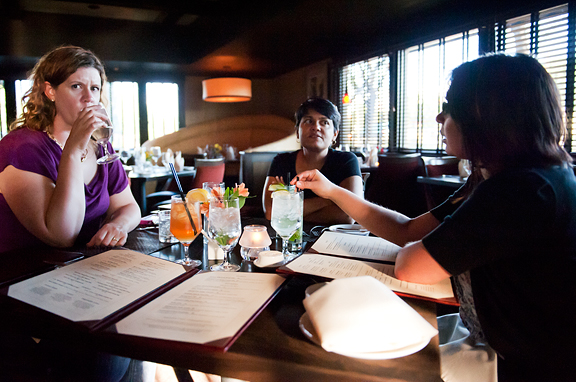 What I love about having dinner with my foodistas is that "they get it". We all order something different so we can get a good sampling of the dishes. We share everything. No one dives into the food as soon as it arrives because we're all getting our cameras ready (except for Ellen, who kept repeating "That's a damn big camera!"). Oh, and they are absolutely hilarious, wonderful, amazing women. We had so much to tell one another that it took an hour before we finally figured out our order. But Chris took great care of us – he
spoiled
the hell out of us! We started with plates of his "lamb three ways" dish: braised lamb shank and goat cheese ravioli, lamb bacon (he cured it himself) sweet potato hash, and lamb tenderloin. Then we shared a couple of appetizers off the menu because everything was just too tempting to not sample a few.
lamb three ways: heavenly!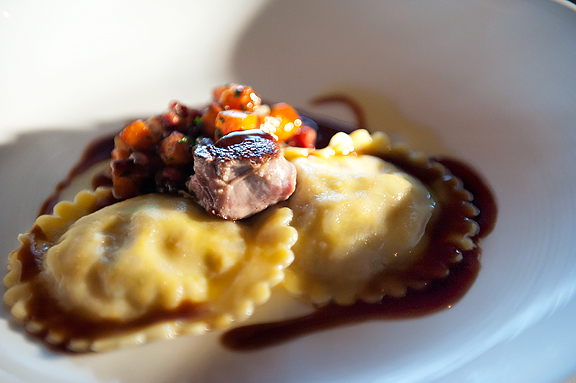 click click click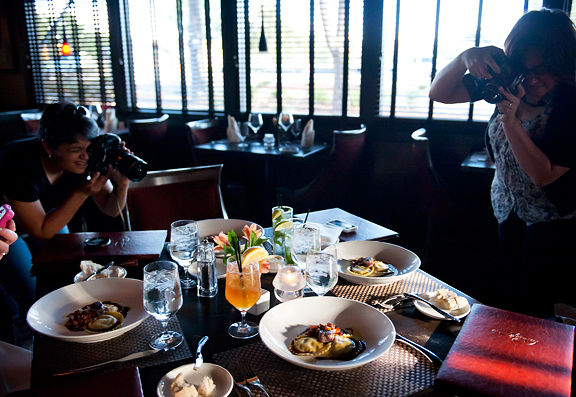 heirloom tomato carpaccio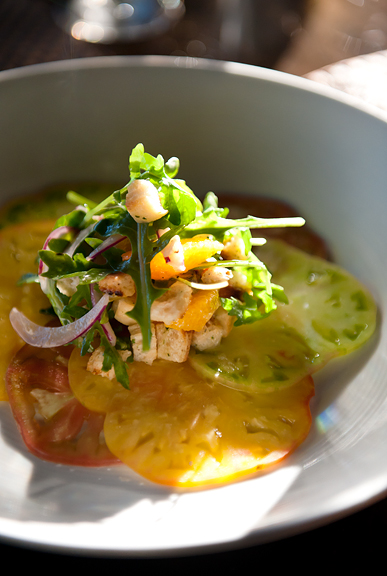 ellen tries an escargot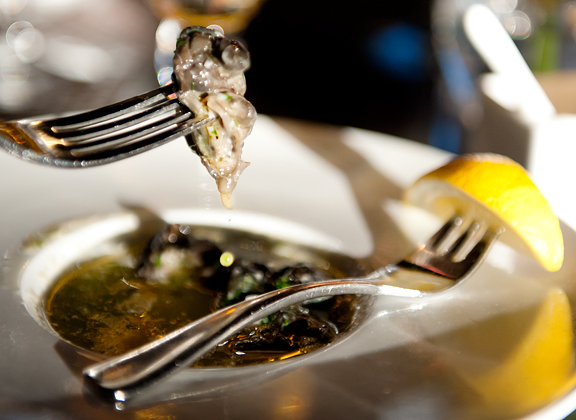 **Jump for more butter**