Wednesday, April 1st, 2015
[Note: Even though this is posting on April 1, this is not an April Fools Day post - it's totally real and totally awesome. -jen]
Crested Butte goes by many monikers: The last great Colorado ski town, Wildflower Capital of Colorado, The birthplace of mountain biking (along with Cupertino), The Nordic Ski Capital of Colorado, Powder Magazine's #1 Ski Town in the US (2014)… We call it Paradise. Whether you're hiking, biking, fishing, skiing, riding, or running – you are immersed in stunning mountain scenery that can only be described as God's Country. Winters in Crested Butte are idyllic – lots of sun and snow, beautiful landscapes, friendly people, and a great ski resort 5 minutes up the road.
The Ice Bar at Uley's Cabin
Crested Butte Mountain Resort is a very fine mountain to ski. There's something for everyone and then some. But after you've had your share of the corduroy, the powder, the parks, the glades, or the cliffs, you can give those legs a rest at any number of dining spots on and around the mountain. The coolest – literally and figuratively – place to wet your whistle between runs is The Ice Bar at Uley's Cabin.

uley's cabin
the ice bar – it's made of ice (except when it's been really really warm)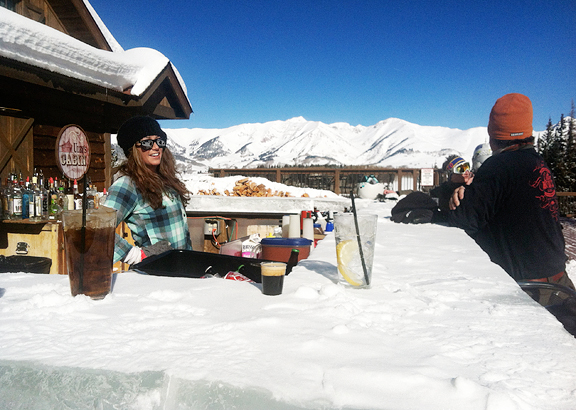 To get there, ski or ride down Twister (one of my favorites on a powder day) to the bottom of Twister Lift. If you aren't feeling the love for black diamond bump runs, you can also scoot to Uley's from the cruisy green Peanut to Lower Twister (also green). Once there, put your skis or boards up at the racks and belly up to the outdoor bar, grab a table on the deck, or claim a loungy Adirondack chair and watch folks kill it on the mountain (Crested Butte has some ridiculously badass skiers and riders). The views of surrounding high country are spectacular, unless it's dumping snow – and then you don't need views because you've got powder and a big fat happy grin on your face. The menu at the bar includes cocktails, mixed drinks, shots, beer+shots, hot drinks (spiked hot cocoa, coffee, cider, toddy), various White Russians, and a Build-a-Bloody Mary. If you've worked up an appetite charging down the mountain, you can order some quick hot bites just behind the bar. I spied bowls of chili, bags of piping hot french fries, pulled pork sandwiches, and other ski mountain fare in people's hands.
serving up colorado bulldogs (white russians with coke) on a bluebird spring day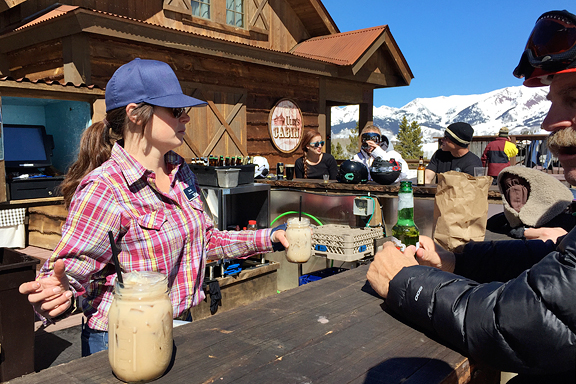 my libation (ginger beer) and the summit of crested butte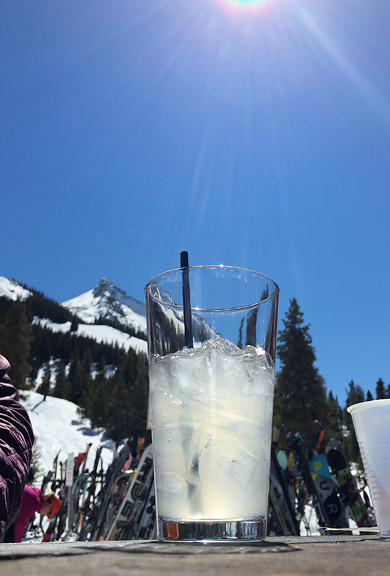 If you have a hankering to dine on something more refined for lunch, then you'll want to check out Uley's Cabin. Just go through the front door of the building to the beautifully rustic mountain cabin/restaurant. While waiting to be seated, you can park yourself in a comfy leather armchair and warm up by the fireplace. Uley's Cabin serves a sit down lunch daily from 11:00 am to 2:30 pm with a selection of salads, soup, shared plates (mussels, charcuterie, or cheeses), and entrées like salmon filet, Colorado elk bourguignon, seared pork belly, and risotto (usually a vegetarian option). Call ahead for reservations or walk in – just be aware that they are typically busiest starting around noon to 1:00 pm.
the inside of uley's cabin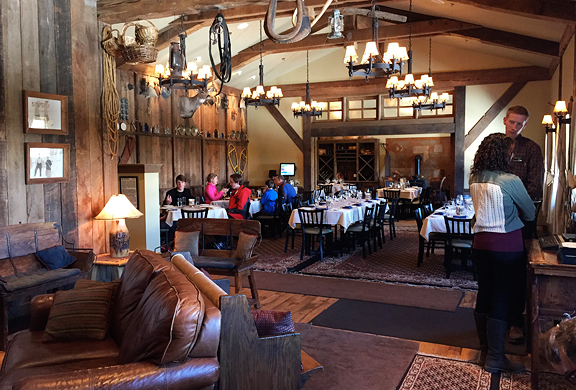 I spoke with the staff about their lunch service, which was when they mentioned dinner. Dinner? But if the mountain closes at 4:00 pm, how do people get up here for dinner? Funny I should ask… Uley's Cabin offers sleigh ride dinners starting in mid-December to early April, Wednesdays through Saturdays (so no bookings for Sunday, Monday, or Tuesday nights), one seating per night. It's $100 per person for a 5-course meal with your choice of entrée. Gratuity and alcohol are not included. It sounded so fun – a little adventure, a little fine dining, a lot of awesome – not too unlike
The Magic Meadows Yurt Dinners
. We had to check it out, so we booked a reservation for dinner.
Sleigh Ride Dinner at Uley's Cabin
Our instructions were to meet at the Waffle Cabin (a place from which wonderful aromas emanate when the ski lifts are operating) at the base of the mountain at 5:15 pm and to have warm hats, gloves, and jackets for the open sleigh ride. Even if it is warm in spring, you'll want the warm things for the return ride after dark. About 25 people were dining the night we went in late March, but Uley's capacity is 50. We were greeted by Daniel, a nice young man with great knowledge of the local goings-on in Crested Butte. He had us each sign a waiver that said we understood the risks of riding up the mountain, and then invited us into the giant sleigh, pulled by a snow cat. There were cozy blankets set out on the bench seating for guests to use. I highly recommend wearing smart footwear. Smart footwear is NOT HEELS, ladies. Something with good grip is advisable as the floor of the sleigh can be icy and slick – so just keep that in mind. I also recommend sitting on the left side of the sleigh to avoid catching the exhaust from the snow cat. Hey, I'm always looking out for you.

meet at the waffle cabin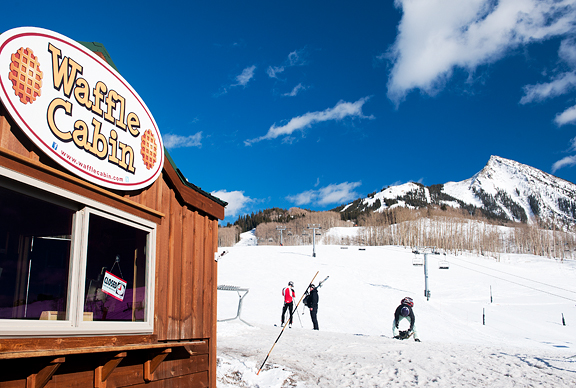 the snow cat pulling the sleigh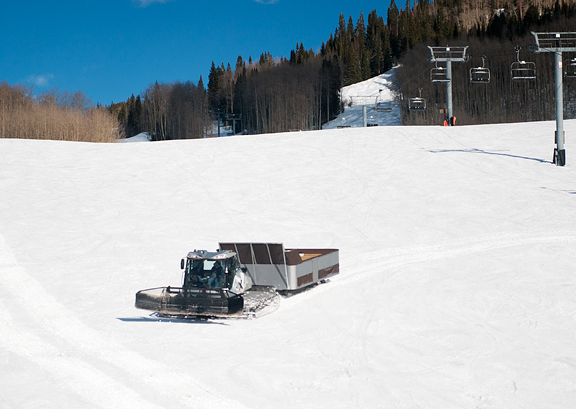 view of the summit on the way up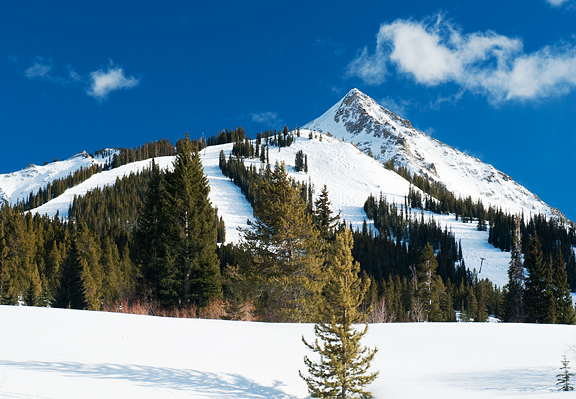 **Jump for more butter**