Edit: I'm sad to report The Pinyon has now closed, but hopefully Chef Theo will have new endeavors to follow in Denver. Stay tuned, locals.
Restaurants come and restaurants go. It's a high turnover kind of industry and Boulder is no exception. When a place isn't so good, you can wait a year and the space will likely free up. Folks in Boulder know what they like. I can't even keep track of all the newish places opening up around town – and there are a lot because I get plenty of invitations to grand openings, special blogger dinners, media functions, etc. I guess there is some sort of directory for Boulder/Denver food bloggers. I don't usually have the time in my schedule to attend. And really, I prefer to visit on my own dime, as a normal patron… with a camera.

from pearl street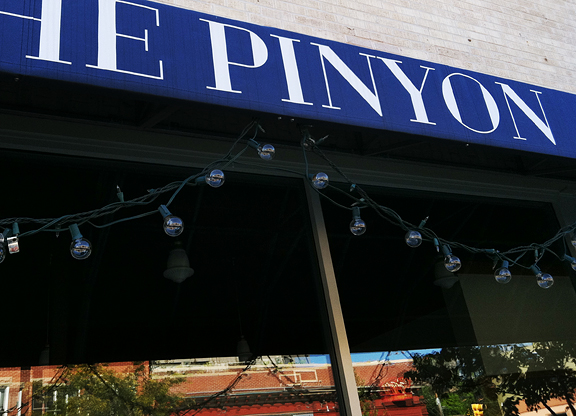 So
The Pinyon
opened up last year. I caught it in my peripheral vision as I frequented favorites on East Pearl Street like
Frasca
,
Pizzeria Locale
,
Atlas Purveyors
, and
L'Atelier
. Another restaurant… I gave it some time and began to hear happy murmurs about the joint. Summer was so insane that we never had a chance to go. Then friends of mine started tweeting me: "@userealbutter have you been to @thepinyon?" It merely increased the urgency to pop by for a meal.
roomy interior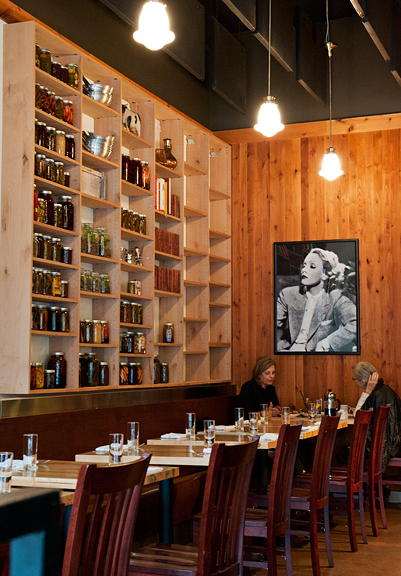 view toward the bar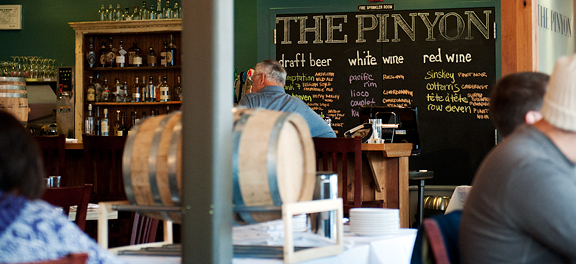 These days if I like a restaurant, then I'll visit more than once. I think that's important to get a proper and honest assessment of a place. So even though the first time I dined at The Pinyon was in September and it was terrific, I made a point of returning a couple more times. Also? It's an excuse to sample more of the menu, in the name of research.
Ahem.
The Pinyon doesn't offer an enormous selection, but it does offer a nice variety. This is American cuisine. They source locally as much as possible and serve seasonal fare. The food is bright, fresh, and perfectly seasoned – nothing overdone, but certainly done well. Ingredients are allowed to shine on their own for their quality. Tender mixed greens, sweet heirloom tomatoes lightly dressed, or a smooth and sweet golden beet soup with a touch of acid for added zest.

mixed lettuce with herb vinaigrette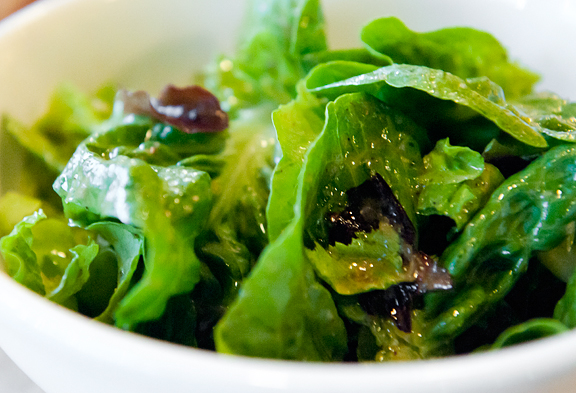 heirloom tomato salad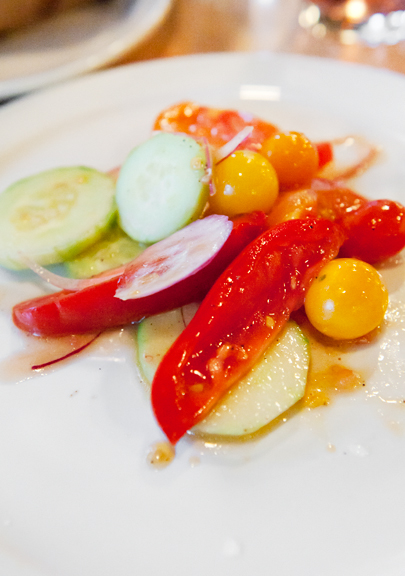 golden beet soup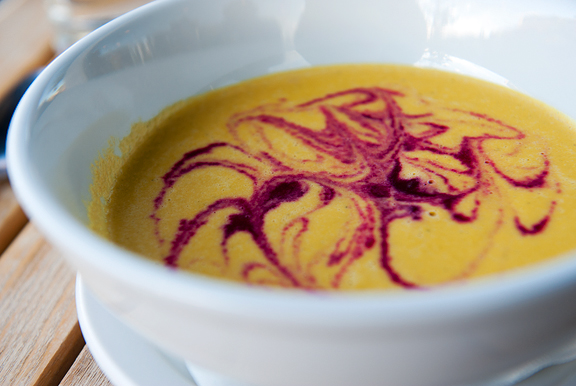 I dined here three times in as many weeks. After the first visit, I couldn't wait to go back. There's a reason for all of the hype among my Boulder twitterati – the food is terrific. In addition to the salads and daily soup pictured above, they offer small plates of house farmer cheese, country ham, pnynwings (a sriracha take on buffalo wings), and a selection of charcuterie and friends. Some side dishes include: pickled watermelon rind, duck fat french fries (how could you not?), English muffin with house made butter and jam, sweet corn and fennel, and cheddar grits.
the four-freaking-fabulous-hour meatball and spaghetti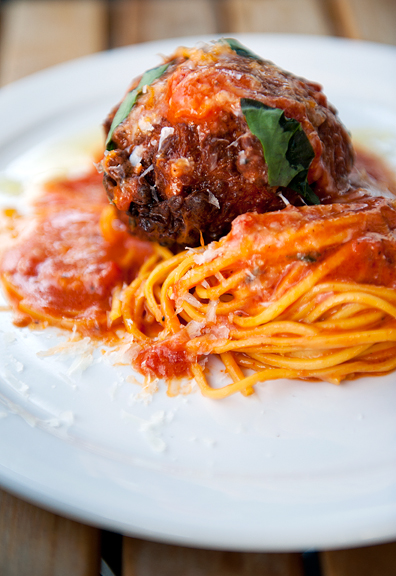 shrimp and grits with a fried egg on top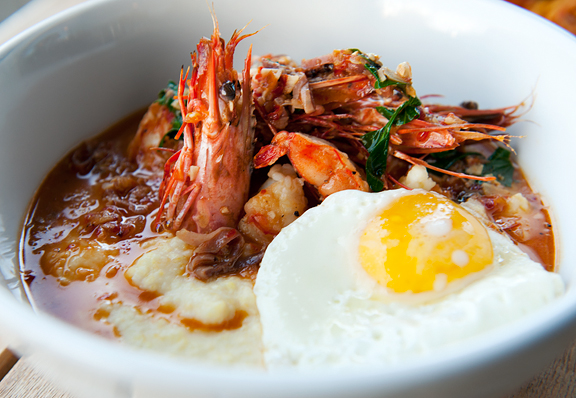 fried chicken with scallion pancake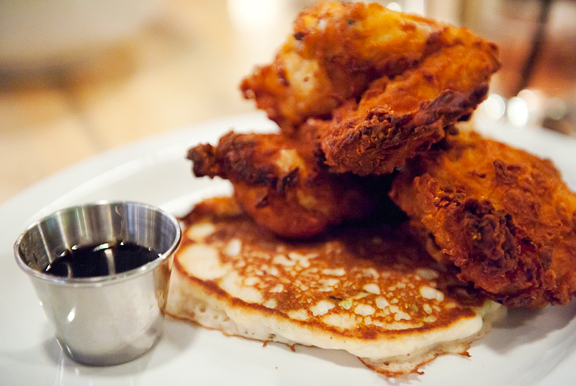 The large plates are what do me in. The food arrives unadorned, but homey, simple, pleasing. The four-hour pork meatballs is in fact just one giant meatball. The outside is fried crisp and reveals a tender interior filled with pine nuts, herbs, vegetables, and all manner of goodies. It's like a surprise meatball of the very best kind in a slightly spicy tomato and basil sauce on a pillow of perfectly cooked pasta. Jeremy ordered it and we were supposed to share our plates, except I only got one bite because he ate the whole damn thing. It was that good. My shrimp and grits arrived with four huge tiger prawns – heads on! – nestled in a bed of buttery creamy smoothness with a nice spicy sauce and fried egg on top. The prawn flesh was bouncy and crisp to my delight (I can't tell you how many places have served mealy shrimp and charged premium rates for it). It's a belly-warming, belly-satisfying bowl of happiness.
On another visit with my friends Kathya and David, I had to get the fried chicken. Everyone raves about the fried chicken. It's good. It's not my favorite dish at The Pinyon (and yes, I plan to try the whole damn menu), but it is quite juicy and crisp with great flavor in the seasonings. The scallion pancake is a real pancake with scallions (I'm Chinese, I was thinking of the Chinese scallion pancakes). So good. I'm not a pancake girl, but I seriously enjoyed the hell out of this pancake. Other items I definitely plan to try in the future include their Pnynburger, the Colorado rib-eye (as long as I can find someone(s) else to share it), and the Maltagliata pasta. Oh, and I sampled some of David's duck fat fries – excellent when piping hot.

bourbon glazed doughnuts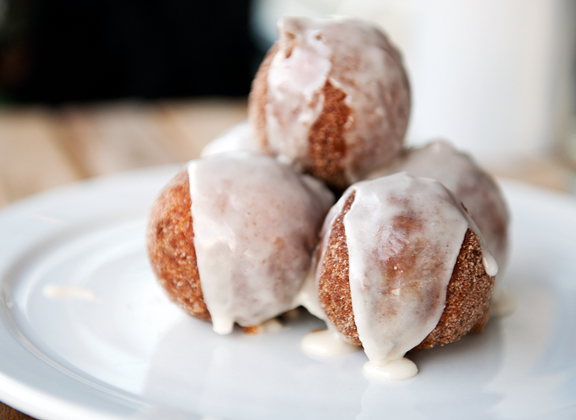 citrus curd with homemade frosted flakes and cocoa nibs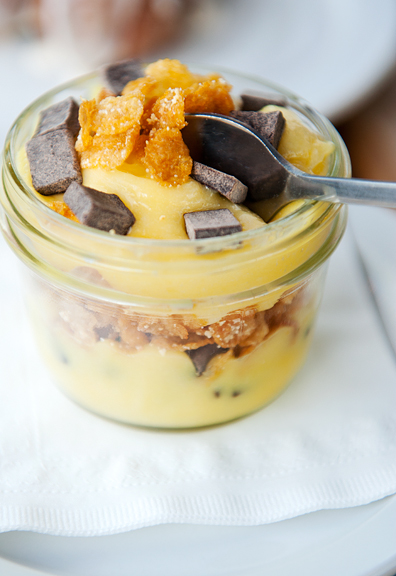 Now to dessert. These desserts are on the sweet side. Too sweet for my taste. The bourbon glazed doughnuts are ridiculous, though. If you're going to try one dessert, try the doughnuts. They come hot straight out of the fryer and the bourbon glaze is enough to knock your socks off. I could only eat one before going blind, but they are really good. The citrus curd with frosted flakes and cocoa nibs didn't do it for me. I like citrus curd (lemon curd, orange curd, etc.) and this one was fine. The frosted flakes were curious and added a nice crunch with a touch of salt. I liked them, but felt the whole ensemble was crying out for more pastry. The cocoa nibs were completely out of place. Too big, too chunky, too chocolately. It added a weird texture (for me) to the curd and flakes. Nothing was wrong with it, but it isn't something I'd order again. On my second visit, I had the ice cream sandwich: homemade peanut butter chocolate ice cream sandwiched between two chocolate chip cookies. It was the kind of knock-you-over-the-head sweet that I just don't have an appreciation for – overly sweet cookies with overly sweet ice cream. I'm hoping they'll rework their dessert menu into something a little more subtle and not so heavy on the sugar.
atlas chai french toast with strawberry cream and caramelized corn flakes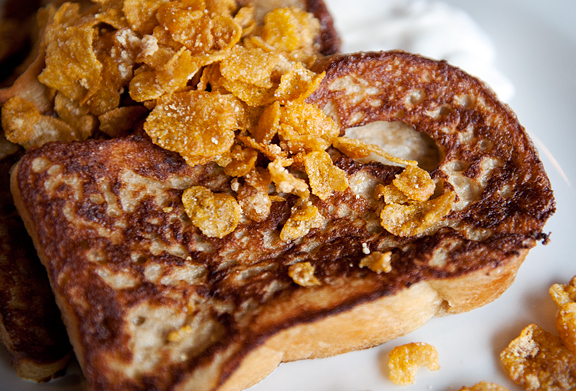 pinyon breakfast: fried chicken, pancake, eggs, bacon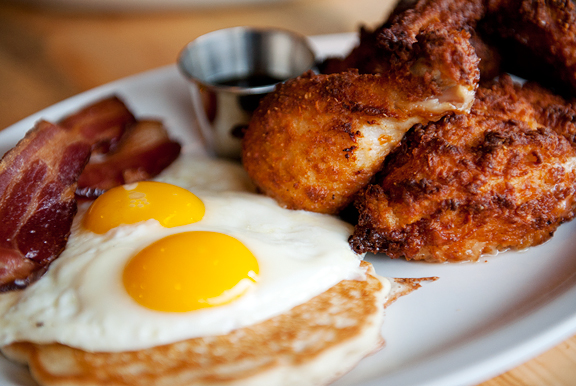 My third visit was specifically coordinated to hit brunch at The Pinyon. I am not a breakfast girl, but it's always worth checking out. I figured I would get the burger, but at the last moment decided to get something breakfasty and opted for the Pinyon Breakfast. Jeremy ordered the Chai French Toast (the chai comes from Atlas Purveyors just down the street). Again, simple fare that is perfectly prepared. The soft, spongy challah toast had a prominent chai flavor and was served with caramelized corn flakes and a side of strawberries in cream. Nice and not too sweet. The (generously portioned) fried chicken in the Pinyon Breakfast was no fluke – still as good as the first time I tried it. Smokey bacon and my sunny-side up eggs accompanied the chicken, but the pancake underneath the eggs… Not a breakfast girl, remember? Not even a pancake girl. But this buttery pancake was so fluffy and soft that I think I fell in love with it.
Overall I have to say The Pinyon is a new favorite of mine. It's a casual place that is packed on the weekends (get a reservation if you can), serves up terrific and generous plates, and offers polite and friendly service. All of this at a lower price point than some of their neighbors. The food is creative, fun, and solid. The dessert menu could use a little tweaking, but for a new restaurant, I think The Pinyon has got some good strong legs to run a long time in Boulder. I highly recommend it.
The Pinyon is currently open for dinner daily from 5:00 pm to 10:00 pm. On Saturdays and Sundays they serve brunch from 10:00 am to 2:00 pm.
The Pinyon
1710 Pearl Street
Boulder, CO 80302
Ph: (720) 306-8248

The Pinyon is on Facebook.
Follow @thepinyon on Twitter.
Full Disclosure: No comps for the chomps – totally 100% my opinionated opinion.