Technique: shucking oysters
You could say we met each other early in our lives. I was 21 and Jeremy was 19. It's not early like his grandparents who knew one another since the age of 5, but early compared to most of our friends. When we married four and a half years later, our low-key wedding was a bigger deal for others than it was for us. We just liked being together. We liked exploring, discovering, learning, growing, playing, and working together.

jeremy on the sand dunes, death valley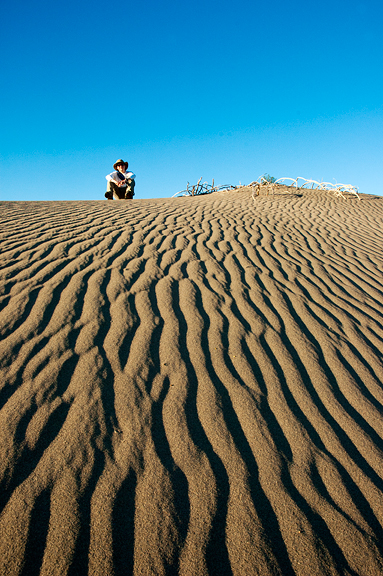 We started out as opposites:
I'm loud. He's quiet.
I'm an extrovert. He's an introvert.
I lose my temper easily. He remains calm, cool, and collected.
I'm practical. He's whimsical.
I'm clueless. He's not.
I like savory. He likes sweet.
I'm a visual thinker. He's abstract.
I'm organized (OCD). He is chaotic.
I'm assertive. He's inertial.
I'm Tigger. He's Eeyore.

surrounded by desert gold in death valley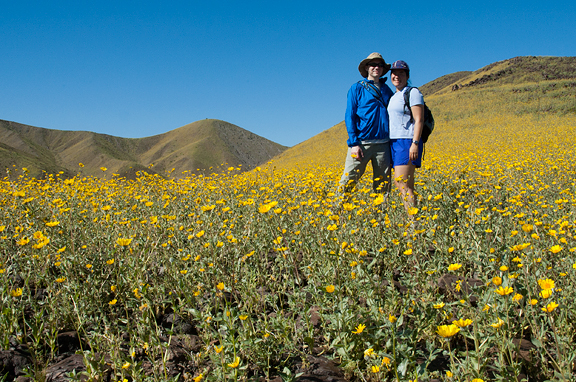 After almost two decades of shared experiences, I think we have as many similarities as we have differences. I'm still my own person and so is Jeremy, but we make a great team. Our relationship never feels like work, never feels like a burden. If anything, the challenges are always what life throws at us. We navigate them together, supporting one another. Fifteen years of marriage today and it's stronger than ever.
jeremy coaxes a tired kaweah to look at the camera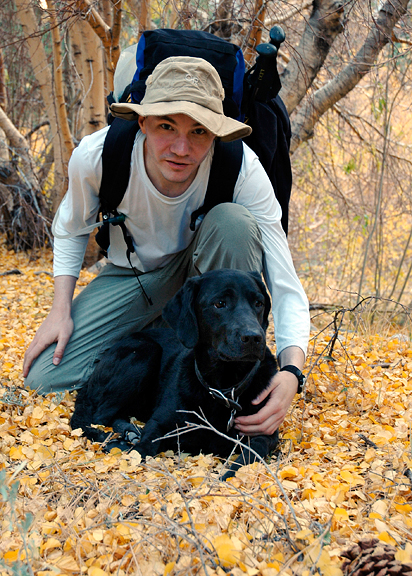 the only time he has ever danced in public (at our friends' awesome wedding)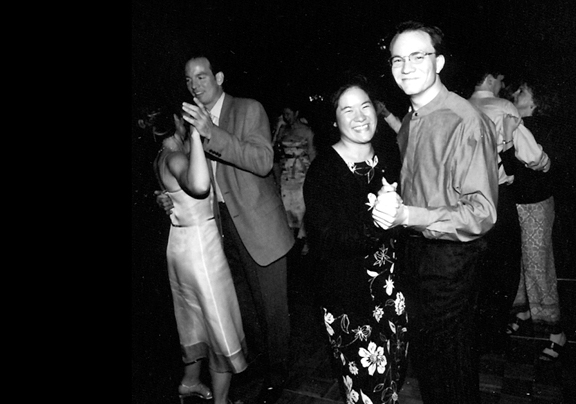 Our wedding anniversary isn't such a big deal, it's just that round numbers seem to be more significant – multiples of 5 or 10. So in honor of our 15th anniversary, I decided I'd learn to shuck oysters. If you had asked me about oysters this time last year I would have said, "oyster whut?" But this past summer, when the Food and Light team went to happy hour after the workshop was over, Jeremy got hooked on oysters.
i blame this young lady
Diane
saw Kumamoto oysters on the menu for a steal and got so excited that she asked if the rest of us wanted to order some too. People said sure and she counted, "two for you, two for you, okay that's a dozen…" then she turned to the server and said, "We'll order 2 dozen." We looked at her in surprise and she flashed that adorable smile of hers and said, "I need a dozen!" I like oysters just fine. I can take them or leave them. Jeremy loves them.
some barron point oysters from washington
I went to the seafood department at my local Whole Foods in Boulder (on Pearl Street) and asked one of the nice seafood guys to teach me to shuck oysters. It wasn't especially busy, so he took the time to explain the morphology of the oyster, the tools required, safety, and then technique. How cool is that? Then he set to work on a couple, quizzed me, and packed up several beautiful Barron Point oysters for me to take home to practice.
equipment: a kitchen towel and an oyster knife
the point closest to you is the hinge, the well or bowl should be on the bottom
Sometimes oysters can be oddly shaped, but my seafood pal was nice enough to give me almost perfect oysters. First, you want your oysters to be sealed shut. If an oyster is open, slightly open, broken (like a hole in the shell) or cracked, then your oyster is probably dead and you'll want to discard it. Turn an oyster over in your hand. You should be able to discern a flat side and a rounded side. The rounded side should be on the bottom – it will act like a little bowl. Then there are two ends: the hinge which should be kind of pointy, and the bill, which is… well, bill-shaped.
The equipment is fairly straightforward. I used a kitchen towel to hold the oyster steady and to protect my hand (wearing an oven mitt had come to mind as I had nightmares about severing a nerve in my hand). I didn't own an oyster knife (don't use a regular knife, just don't) and went to Sur La Table where they had three or four different kinds. I picked up the simplest one and now I think I should have gotten the one with a slightly bent tip and a plastic no-slip handle. I guess if I wind up doing a lot of these, I'll splurge on the upgrade. Oh, and before you start shucking the oysters do two things: 1) rinse and scrub the oysters of any dirt and debris under cold water and 2) get your garnishes and your serving vessel ready. A plate or bowl covered in shaved ice or kosher salt deep enough to create divots for your oysters is the typical method for serving them on the half shell.

carefully insert the oyster knife into the hinge
run the oyster knife flush with the top shell
remove the top shell
Take your clean oyster knife (always wipe it clean if there is grit or silt on it so you don't introduce it into the oyster) and carefully insert the point into the hinge. You may have to dig around for that, but eventually the blade will start to make its way between the two shells as you gently jiggle it in. Don't brute force this, someone will get hurt. Once you get maybe a quarter inch in, give the knife a little twist and the hinge should pop. Now you're in. Run the knife along the edge keeping it flush with the top flat shell. You want to avoid puncturing the oyster itself because all of the good juicy stuff is in the oyster. This should separate the shells as you eventually run into the adductor muscle and cut it. Remove the top shell, but don't be manhandling the oyster too much! Keep it level so you don't spill the oyster's liquor. Wipe the knife clean and run the blade along the bottom shell to loosen the oyster. Give it a whiff. A fresh oyster should smell like the sea. A rotten oyster is going to smell bad. Don't eat the ones that smell bad.
run the knife along the bottom shell
flipped oyster
There might be some bits of shell or grit in the oyster. You can carefully wipe it away or remove it with a cleaned oyster knife or your finger (if it's clean). If there is a lot of silt, you can rinse it under cold water and gently coax it out with your finger. Place the oyster on the ice or salt. Keep them cold if you are shucking a lot of oysters. I did get a small batch of Kumamoto oysters to shuck as well and that was tough. Some were totally misshapen and weird, but half of them were dead (busted, opened, or full of silt). I asked if I could get a refund on the bad ones and the folks at Whole Foods were nice enough to give me a full refund on the entire purchase.
oysters with lemon, mignonette sauce, and rosé
not terrible for a first attempt
I tried a couple of the Barron Point oysters. They were nice and sweet. I liked them even better with a little
mignonette sauce from Simply Recipes
which is ridiculously easy to whip up. Jeremy loved the oysters. And while I'm not crazy for the oysters or gout, I have to say I'm a little obsessed with perfecting my shucking technique so I can serve these in summer on our deck to guests. Hear that,
Diane
?
happy hour at home