Recipe: french crullers
I went on my annual sandhill crane migration shoot in southern Colorado earlier this week with my shooting partner, Jason. We crammed driving to and from Monte Vista, four shoots, a half day at Wolf Creek (ski resort), and not a lot of sleep into 48 hours. The town of Monte Vista, Colorado holds their Crane Festival this weekend (March 9-11).

shooting at sunset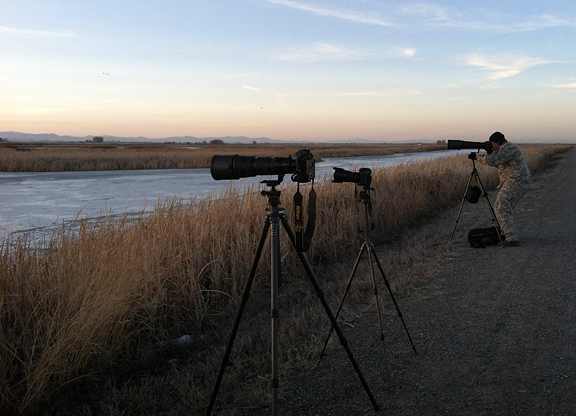 pre-dawn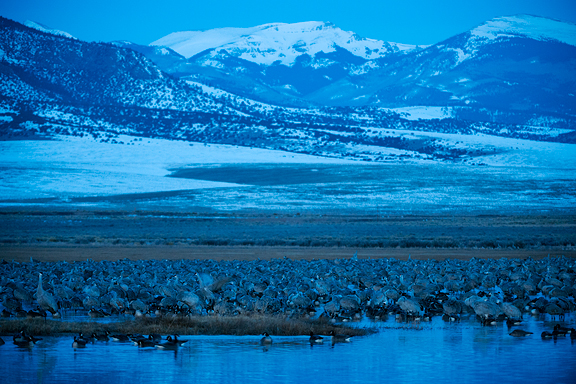 tandem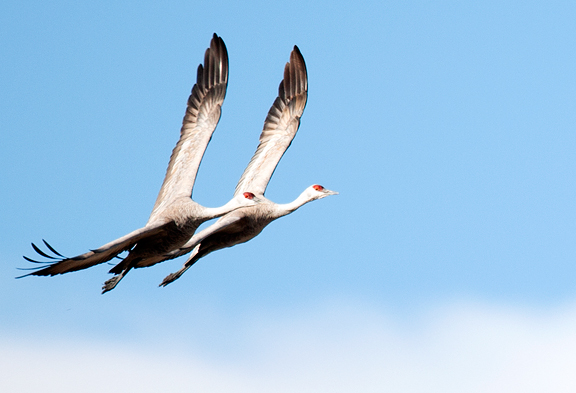 silhouettes as the sun rises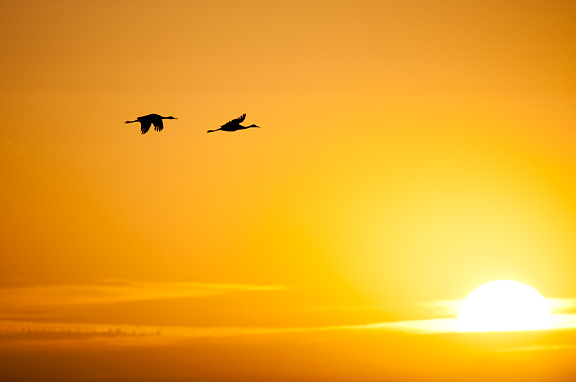 A big shout out and thank you to
Pro Photo Rental
for supplying us with the 200-400mm Nikkor f4 and the 500mm Nikkor f4 on this trip. You can see the entire set on
my photoblog
. Lack of sleep combined with standing around in the dark and cold at 5 am probably resulted in the cold I came down with Wednesday evening. That made sifting through my 2,687 photos a lot of fun. But I'm on the mend now and it's back to the business at hand. Let's talk doughnuts. Specifically – French crullers.
all you need: eggs, flour, water, butter, salt, sugar
bring the water, butter, sugar, and salt to a boil
add the flour
French crullers are my favorite doughnuts. They are eggy and light, made from pâte à choux – a sort of fried version of the cream puff. These are the ones I always search for if we ever happen upon a doughnut shop. Jeremy goes for the chocolate-filled, drenched-in-chocolate, chocolate something or other, but I am perfectly happy with a delicate, simple French cruller.
keep stirring until a thin film forms on the pan
beat the eggs in one at a time
then beat in the whites until you get a smooth and glossy batter
I found a recipe for French crullers in
Lara Ferroni's
Doughnuts
book. Crullers always seemed like they would be complicated and involved, but this recipe is pretty straightforward and quick. That's dangerous. Very dangerous.
brush squares of parchment with oil
pipe the batter into a ring on each parchment square
i managed a dozen
When piping the batter in rings, don't be tempted to overlap the ends too much. I did that and it makes for a lopsided cruller. Just pipe to complete the ring and twist the piping tip up. And if you don't care what your crullers look like, then do whatever you like – because it all turns out delicious in the end. Lara's recipe says that you can bake crullers just as easily as you can fry them, they just come out with a slightly harder exterior shell. Since I was going to the trouble of frying them, I fried them all.
carefully place the cruller into the oil, paper-side up
fried and resting
The recipe instructions say to place the ring of dough into the hot oil and then remove the parchment. Mine seemed to stick, so I left the paper on for a minute or so before gently prying it off (using tongs) with the help of a knife to keep the dough on the doughnut and not the paper. Lara also warns that undercooked crullers will deflate when they cool, so be sure to have a sacrificial doughnut to test for doneness.
honey glaze: powdered sugar, milk, honey
mix together
dip
While the crullers are cooling, you can whip up the honey glaze in about a minute. Dip the pretty side down into the glaze about half-way, then set the crullers on a cooling rack to let the glaze drip off. This might be a good time for some quality control, so definitely bite into one to ensure you don't have a batch of duds. Go ahead, no one is watching… except for the dog.
let the glaze set
serve with your choice of caffeine or milk
french crullers, praise be!
French Crullers
[print recipe]
from Doughnuts by Lara Ferroni
1 cup water
6 tbsps (3 oz.) unsalted butter
2 tsps (10 g) superfine sugar (I used regular sugar)
1/4 tsp salt
1 cup (135 g) all-purpose flour, sifted (I never sift anything)
3 large eggs
1-2 egg whites, slightly beaten
vegetable oil for frying
honey glaze
honey glaze
1 1/2 cups (150 g) confectioners' sugar
1 tbsp honey
3 to 4 tbsps milk or water
Bring the water, butter, sugar, and salt to a brisk boil in a heavy-bottomed saucepan. Stir in the flour all at once and continue stirring until the flour is completely incorporate. Keep stirring over medium-high heat. Lara says the more moisture you can remove, the more eggs you can mix in later which will result in a lighter pastry. When you see a thin film start to coat the bottom of the pan, the batter is ready. Transfer the dough to the bowl of a stand mixer. Use the paddle attachment to stir the dough for a minute to help it cool. Turn the mixer to medium speed and add one egg. Don't add the next egg until the previous has been completely incorporated into the dough. Then add the egg whites a little bit at a time (I used two egg whites) until the dough becomes smooth and glossy and holds a little shape (not much). Lara warns not to add too much egg white or else the crullers will become heavy. Transfer the dough to a large pastry bag fitted with a 1/2-inch star tip.
Fry the crullers in 2-inches (or more) of vegetable oil in a heavy-bottomed saucepan. The oil should register 370°F. While the oil is heating, cut a dozen 3-x3-inch squares of parchment. Lightly grease the squares on one side (I brushed with vegetable oil) and pipe a ring of dough onto each of the squares. When the oil has reached temperature, carefully place a cruller, paper-side up, into the hot oil. Do this one at a time unless you like the idea of hot oil burns and other disasters. After a minute or so, I would use tongs and a sharp knife tip to gently peel the parchment off the cruller. When the cruller turns golden (about 2 minutes), flip it over and let it fry for another couple of minutes before removing it to drain on a cooling rack or paper towels.
Make the glaze: While the crullers cool, mix the confectioners' sugar, honey, and milk together until smooth.
When the crullers are cool to the touch, dip the top of each cruller into the honey glaze and set on a cooling rack to let the drips run off. When the glaze has set, the crullers are ready to serve.
Crullers can also be baked. Preheat oven to 450°F. Pipe crullers onto a parchment-lined baking sheet at least 2-inches apart. Bake for five minutes then reduce oven to 350°F and bake another 15 minutes. Turn off heat, open the oven door a crack, and let crullers sit for 5 to 10 minutes. Glaze and serve.
Makes 10-14 (I made 12).