Recipe: vietnamese bun bo xao
Stormy weather. I love it! I like watching the clouds roil overhead as they blot out the sun. Usually, I'm on the lookout for lightning, because it's one of those elusive, dangerous, exciting, and beautiful things – both to capture with my camera and to witness with my eyes. However, I'm never one to pass up a good show of mammatus clouds. They're more common down on the Great Plains (Boulder/Denver and parts east) where atmospheric instability is pretty common in summer. Mammata are common up here in the mountains too, but they don't get a chance to develop as much nor are they as long-lived as they are down on the flats. But we've been getting some stormy days and nice displays.

gone in seconds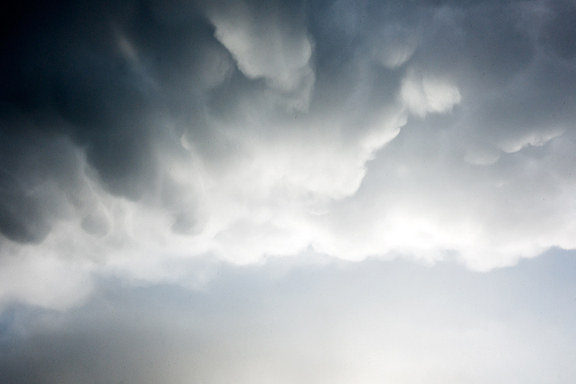 dissipating mammata and a nice vertical draft over the continental divide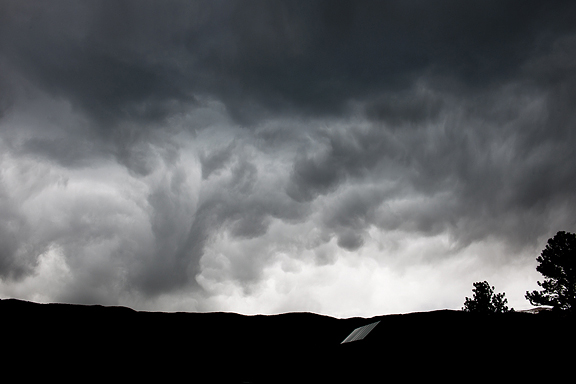 and right over my hizouse!!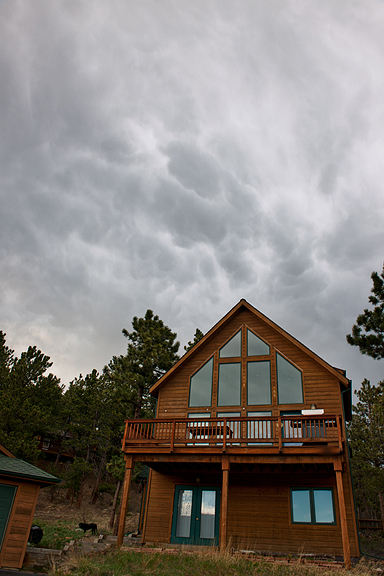 Some of you might be aware that I've been doing a lot of sandwich research of late. A LOT of sandwich research. Last week I asked some gal pals if they wanted to grab non-sandwich fare for lunch… I had a hankering for Vietnamese food – particularly the rice noodle salad. And so we did and it was great, but… how hard can it be to make this at home? Not that hard at all, it turns out.
bun (bún): rice noodles
I did a little snooping about on the interwebs and found
this lovely video
(with Aussie accents – bonus!) on how to make Vietnamese bun bo xao (beef noodle stir-fry). When I went to Asian Seafood Market in Boulder, I asked Maria if the rice vermicelli package was the right one to make bun. She grimaced and said, "That too skinny!" and snatched the package from my hand, disappeared down the aisles, and returned with the right kind – a thicker rice noodle. "Use this for bun!" So don't get the skinniest vermicelli, but rather the noodles that look about 1/16th of an inch in diameter (reference a ruler if you don't know what I'm talking about because super skinny noodles will kinda suck).
While I was digging around among the bags of herbs in the back of the store, I happened upon what looked like Vietnamese mint. I didn't know for sure though, because the video was the first I had ever heard of it. I brought it to Maria and asked if this was Vietnamese mint. She smiled and said yes, she likes to use it in salads and soups. She opened the bag and tore a leaf off for me to smell. "You put this with noodles!"

(left to right) basil, mint, vietnamese mint, thai basil
vietnamese mint up close
I know that Pacific Ocean Market (in Broomfield) and H Mart (in Aurora) carry fresh perilla – which is also called sesame leaves or shiso leaves – but I didn't have the time to drive out that far. I asked Maria if she had shiso leaves. A sharp "no!" was the response. Then I asked if it was okay for me to substitute basil for shiso in the bun bo xao. She squinted her eyes at me and said yes, use basil – why would you use shiso? Great, I was all set.
sliced beef, bean sprouts, herbs, cucumbers, lemongrass, garlic, onion, rice noodles, fish sauce
minced lemongrass, sliced onion, minced garlic, sprouts, sliced cukes, beef (flank steak)
Marinate the beef with lemongrass, garlic, and some fish sauce. Do this first as it requires about 20 minutes, which is enough time for you to prep everything else.
add fish sauce
mix it together
While the beef is soaking up all that great flavor, roll several leaves of the mint, Vietnamese mint, and basil (or shiso if you've got it) together and slice them thin. Place some noodles in a bowl and top with bean sprouts and cucumber. You get to choose your quantities, but I like to go heavy on the vegetables. That's how I roll. Sprinkle some shredded herbs over the bowl.
slice the herbs
get the noodle bowl ready
Now it's time to fire up the burner as hot as you can get it. I wish there was a "sun" setting on my dial, because I'd use that for my stir-fries. As it is, my stir-fries are substandard because I can't get them hot enough. I finally broke down and bought a proper wok a few months ago, but haven't had a moment to season it (and it takes me a few dates to get comfortable with new kitchen equipment). In the meantime, I used my All-Clad stainless steel. The sauté goes quickly: oil, lemongrass and onions, then beef, then finish with a dash of fish sauce. Done!
sauté the onions and lemongrass in some oil
stir in the beef
As soon as the beef is done, remove it from the heat and start divvying it up among the bowls. I wound up using half as much beef as the recipe calls for, but it still distributed generously among four bowls. It's not supposed to be a heaping meat bowl anyway. The meat is just a small component of a very fresh and colorful noodle salad. You will want to have chopped peanuts, nuoc cham, Vietnamese pickled carrots and daikon radish, and fried shallots on hand. I include recipes for the nuoc cham and pickled vegetables below, but I noticed you can also purchase them at some Asian grocery stores in addition to the fried shallots.
add more herbs
top with pickles and nuoc cham
a spoonful of chopped peanuts
The second time we had bun bo xao, I threw in julienned jicama and shredded romaine lettuce. Fantastic. This rice noodle salad is full of crunchy textures and fresh herbs and vegetables. I think Southeast Asian cuisines are the pinnacle of flavor country, not to mention the extensive use of fresh ingredients. This is a wholly satisfying meal that is also perfectly cool and refreshing for those hot days that make you wilt at the thought of cooking. You know of what I speak…
colorful, fresh, fragrant
Vietnamese Bun Bo Xao (Noodle Salad Beef Stir-Fry)
[print recipe]
from SBS Food
1 stem lemongrass (the tender white part), minced
1 lb. steak (I used flank steak), sliced thin against the grain and at an angle
2 tsp crushed fresh garlic
2 tbsps + 1 tsp fish sauce
1 lb. vermicelli noodles, cooked*
2 cups bean sprouts
1 large English cucumber (or 3 Persian cucumbers), halved and sliced
10 perilla leaves (also known as shiso leaves or sesame leaves – can be found in some Asian markets)
10 fresh basil leaves if you can't find perilla/shiso leaves
10 mint leaves
10 Vietnamese mint leaves (see photo above in the post)
2 tbsp vegetable oil
1 small onion, sliced
* Follow the instructions on the rice noodle package. If there aren't any, place the noodles in a large pot of boiling water and let boil for 5 minutes. Turn off the heat and cover the pot for 3 minutes. Drain the noodles and rinse in cold water.
extra goodies
Vietnamese pickled daikon and carrots
chopped peanuts
fried shallots (can be found in Asian markets)
nuoc cham
jicama, julienned (optional – but it's good!)
romaine lettuce, shredded (optional – adds crunch)
vietnamese pickled daikon and carrots
1 lb. carrots, peeled and julienned
1 lb. daikon radish, peeled and julienned
2 tsps salt
1 cup sugar
1 cup unseasoned rice wine vinegar
1 cup water
Sprinkle salt over the carrots and daikon and toss to coat. Let sit for a few minutes. Rinse with water and drain. Place carrots, daikon, sugar, rice wine vinegar, and water together in a bowl or a vessel with a tight-sealing lid. I like to place it in a screwtop tupperware and shake the hell out of it (to dissolve the sugar). Let sit for an hour before serving. Can refrigerate for up to 2 weeks.
nuoc cham
2 limes, juice of
2 tbsps brown sugar
4 tbsps fish sauce (I like Three Crabs brand)
4 cloves garlic, minced
chile-garlic paste to taste (or finely sliced hot chiles)
1/2 cup water
Whisk together all ingredients until sugar is dissolved. Set aside.
Make the bun bo xao: Mix 2 teaspoons of the lemongrass (reserve the rest for later) with the beef, the garlic, and 2 tablespoons of fish sauce. Set it aside and let it marinade for 20 minutes. Gather your serving bowls and place a large handful of rice noodles in each bowl. Sprinkle a handful of bean sprouts and some cucumber slices over the noodles. Roll the herbs together (easiest if you use the largest leaves to wrap around the smaller leaves) and chiffonade (slice thin). Sprinkle some over each bowl. Set aside. Heat a wok or frying pan on your highest heat setting. Add the vegetable oil, the rest of the lemongrass and the sliced onion. Stir the contents around the pan and toss the beef in. Let it char if possible. Add the remaining teaspoon of fish sauce and give everything in the pan a good stir. Place a scoop of the beef on each noodle salad. Dress with more herbs, Vietnamese pickled carrots and daikon, chopped peanuts, fried shallots, and nuoc cham (to taste). Optional: Add julienned jicama and shredded romaine lettuce. Serves 4-6.