For this week's sandwich pick, I'm still hanging about on East Pearl Street (that is, east of the Pearl Street pedestrian mall). Walk a few blocks east from Cured and you'll find Dish Gourmet on the south side of the street. It's a cute little deli (and catering business), bright with natural light, tucked in among the leafy trees this time of year.

dish gourmet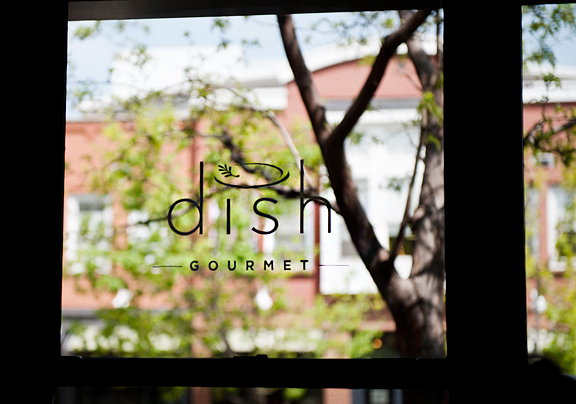 Step inside and you're greeted with a handful of high tables for patrons to enjoy their orders. There is also patio seating outside which people take advantage of during the glorious weather months in Boulder. A large
menu board
hangs up high above the counter where you order, listing all of the tempting sandwiches that Dish can handcraft for you. You also have the option for a half sandwich in case you want to have some soup or salad and don't want to explode. They have
breakfast options
too, but I haven't tried those. Gluten-free? You can request any sandwich on their house-baked gluten-free bread. Vegetarian? Plenty of vegetarian sandwiches on offer. And there are many enticing homemade salads and sides in the display case next to the order counter.
it can be difficult to choose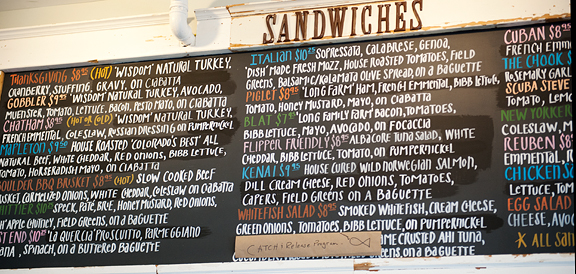 I worked my way around the menu a few times trying sandwiches like the Mapleton (roast beef, white cheddar, vegetables on ciabatta), the Boulder bbq brisket (beef brisket, caramelized onions, white cheddar, coleslaw on ciabatta), the Kenai (house-cured Norwegian salmon, dill cream cheese, vegetables on baguette). My buddy Jason tried the Cuban. In the end, I had to go with their Reuben. Classic, right? It also happens to be one of their most popular sandwiches.
the reuben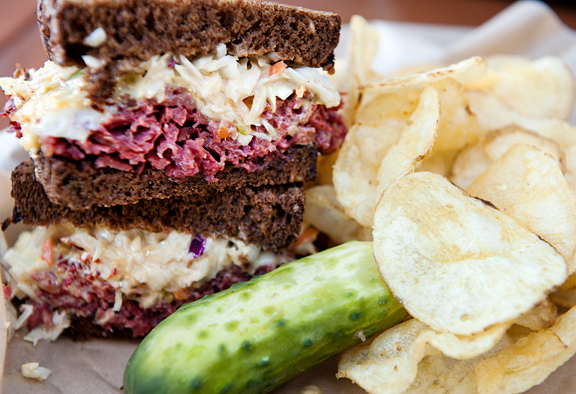 To the sandwich:
While the other sandwiches I had tried were solid, the Reuben was a step above. The corned beef was meaty and fresh. You know how corned beef can look like it was pressed and sliced and sold in a grocery store deli? This was not that. A generous amount was topped with a slightly sweet coleslaw, French Emmental, and a little Russian dresing. All of this was crammed between two slices of their heavenly pumpernickel. I don't always go for pumpernickel, but theirs had golden raisins dotting the bread which for some reason knocked my socks clear off when devoured with everything else. Fantastically juicy and substantial as sandwiches go.
All of their sandwiches come with potato chips and a pickle (upon request) or you can substitute the chips with potato salad, pasta salad, or a green salad for an additional $1.25. I'm not a fan of their pickles. I love pickles, but these were brined and not especially vinegary or spicy, and the vinegar is what I love most about any pickle. Despite the lackluster pickle, I think there is a sandwich for everyone here. And if you aren't a sandwich person (I can't even imagine) then consider their soups or salads and most definitely have a gander at the sides in the display case.

hours of operation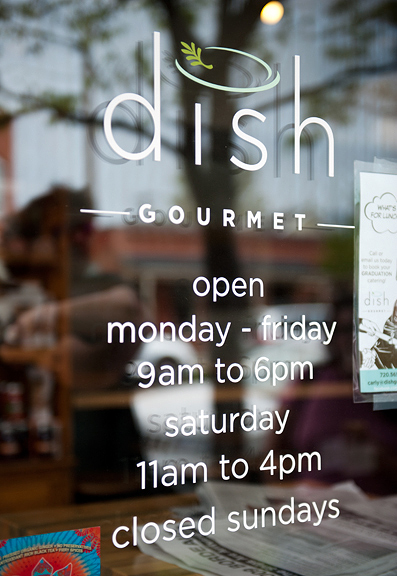 Where:
You can find
Dish Gourmet
at 1918 Pearl Street (Boulder, Colorado 80302) a few blocks east of the Pearl Street pedestrian mall.
When: Dish is open 9am – 6pm Monday – Friday, 11am – 4pm Saturday. DISH IS CLOSED SUNDAYS.
Contact: Call Dish Gourmet at 720.565.5933. Visit their Facebook page or follow them on Twitter @dishgourmet.
Full Disclosure: My opinions. No comps for the chomps.
Previous sandwich research:
1) The Pinyon's fried chicken sandwich (sadly, now closed)
2) Cafe Blue's blackened tuna sandwich
3) Frasca Caffè's Italiano panini caldi
4) Snarf's pastrami and Swiss sandwich
5) Cured's Spicy Frenchman sandwich