Recipe: chocolate gingerbread cookies
This post is coming to you from sunny (and hot) California. More specifically, you could call it sunny, hot, gorgeous, delightful, mouth-watering, seductive Sonoma County (and a little Napa too). It's been looking like this:

vineyards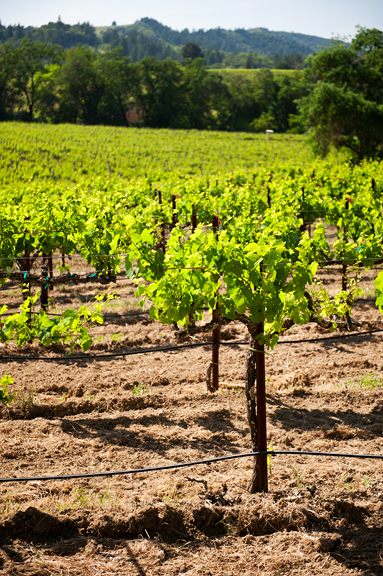 wine tastings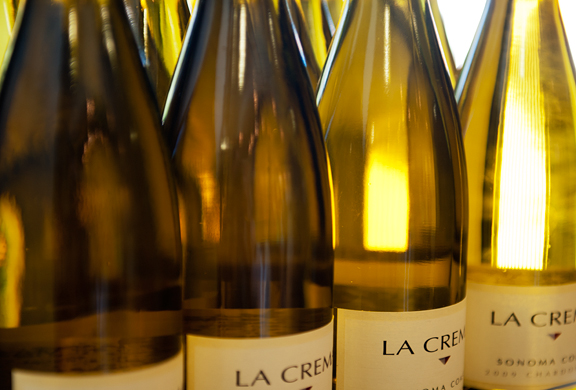 gardens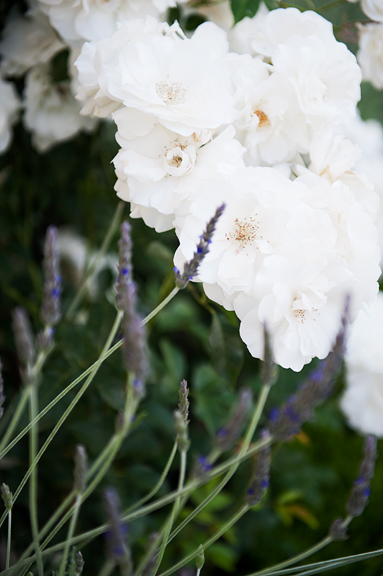 dinner at redd (those are scallops – bloody awesome scallops)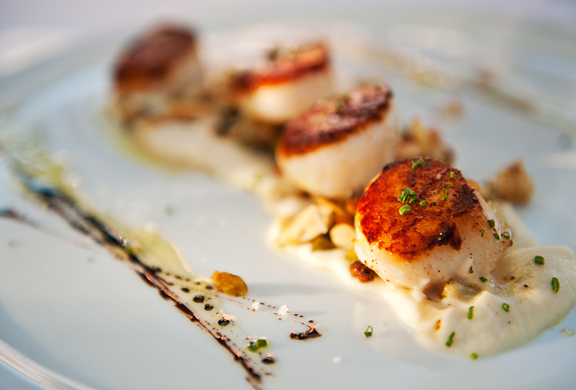 lovely grounds at wineries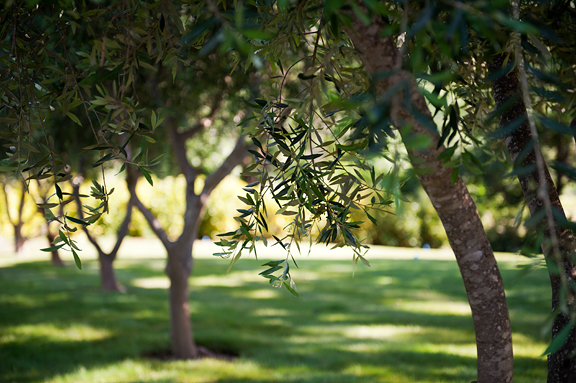 the most brilliant lunch EVER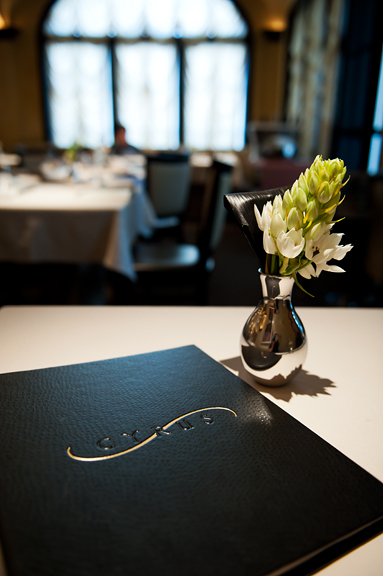 otoro sushi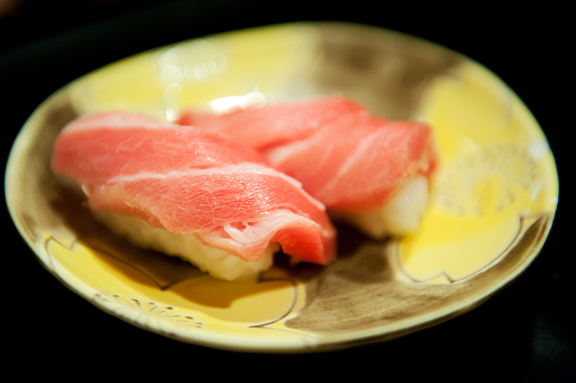 Before I head into the sticks for a few days, I wanted to wish all of the wonderful moms out there a very happy Mother's Day! The world would come to a halt without your love and dedication, so thank you for all you do. Of course, I have to give special shout outs to my two favorite moms: Mom (my mother-in-law) and Mom (my mom).
It seems fitting that today's recipe should be something sweet, like those magical hugs that only moms can give. I recently tested a batch of these chocolate gingerbread cookies and I think they may be the new crack – but LEGAL!

butter, molasses, flour, dark brown sugar, ginger, chocolate, candied ginger, cocoa powder, salt, baking soda, spices, fresh grated ginger, sugar
sift the flour, cocoa, salt, and spices together
beat the butter and fresh ginger together
add the brown sugar
I know gingerbread cookies are more a holiday type of treat, but I've been dealing with a good bit of fresh ginger lately and the recipe called to me. They are described as chewy cookies chock full of chocolate chunks. The gingerbread dough is really a chocolate gingerbread dough. So what's not to like?
mix in molasses
combine the baking soda and water
beat in the flour mixture
Actually, I'm not a big chocolate fan, so I decided to sub half of the chocolate with an equal amount of diced crystallized ginger. Perhaps it should really be named double chocolate triple ginger cookies? The dough smells so spicy and fresh when you mix it up, but it helps to have some patience because you have to chill the dough for a few hours before baking.
mix in chocolate and crystallized ginger
pat the dough to a 1-inch thickness and chill
roll the dough into balls and chill again
Cookies make me nervous as they tend to misbehave most often at my high altitude. These cookies turned out perfectly with no adjustments necessary (thank you, cookie gods!). They puff up in the oven and then slowly spread. The cookies are done when the surfaces crack. Let these cool on the baking sheet for 5 minutes before moving them to the cooling rack. Don't be hasty! The cookies are super soft fresh out of the oven and will most definitely fall apart if you try to move them too early. They firm up as they cool.
coat in sugar
move to cooling rack after 5 minutes of cooling on the baking sheet
The cookies are soft throughout with a nice sparkly outer coat of sugar. I've made them two ways: 1) with the chunk chocolate and crystallized ginger and 2) with just the chunk chocolate. Both versions are wonderful, but I prefer the chocolate and crystallized ginger version. The ginger adds a nice soft and spicy bite here and there to counter the rich and creamy chocolate pieces. Store the cookies for up to 5 days, but after that point they start to crumble apart. I'm pretty sure you won't be able to keep them around that long.
cookies and moms make the world go round
Chocolate Gingerbread Cookies
[print recipe]
from Martha Stewart's Cookies
1 1/2 cups + 1 tbsp (220g) (7 3/4 oz.) all-purpose flour
1 1/4 tsp ground ginger
1 tsp ground cinnamon
1/4 tsp ground cloves
1/4 tsp freshly grated nutmeg
1 tbsp Dutch-process unsweetened cocoa powder
1/4 lb. (4 oz. or 1 stick) unsalted butter, room temperature
1 tbsp freshly grated ginger (peeled)
1/2 cup (120g) (4 1/4 oz.) dark brown sugar, packed
1/2 cup (190g) (6 3/4 oz.) unsulphured molasses
1 tsp baking soda
1 1/2 tsps boiling water
3.5 oz. (about 1/2 cup) semi-sweet chocolate, chopped
3.5 oz. (about 1/2 cup) crystallized or candied ginger, chopped (if you want you can use chocolate like original recipe)
1/4 cup granulated sugar
Line baking sheets with parchment paper. Sift the flour, ground ginger, cinnamon, cloves, nutmeg, and cocoa together into a medium bowl. Place the butter and grated fresh ginger in the bowl of a stand mixer and beat (with paddle attachment) on medium until the butter is fluffy and light-colored (3-4 minutes). Beat the brown sugar into the butter until combined. Beat the molasses into the butter until combined. In a small bowl, stir the baking soda into the boiling water until dissolved. Pour half of the flour mixture into the butter-sugar mixture and mix until combined. Add the baking soda-water mixture, beat and then add the remaining flour mixture and beat until dough is uniform in color and texture. Mix in the chocolate and candied ginger. Turn the dough out onto a sheet of plastic wrap. Place another sheet on top and flatten the dough to a 1-inch thickness. Wrap it up and refrigerate for at least 2 hours or overnight.
Preheat oven to 325°F. Remove the dough from the refrigerator and tear off chunks of the dough to roll into balls – about 1 1/2-inches in diameter (I made mine 1-inch diameter). The dough can get sticky, so work quickly and don't overhandle it. Set each dough ball on a plate. Refrigerate the finished dough balls for 20 minutes. Roll each ball in the granulated sugar to coat completely, then set on parchment-lined baking sheets, about 2 inches apart. Bake for 10-12 minute (11 works perfectly for me at 1-inch diameter) or until the surfaces begin to crack. Let cool on baking sheet for 5 minutes before removing to a cooling rack (they will be very soft just out of the oven and fall apart easily). Makes 2 dozen big ones or 4 dozen smaller ones. Store in airtight container for up to 5 days.