Recipe: spinach cheese empanadas
A lot of our time seems to revolve around friends and food of late. I guess that's no surprise, but it hops onto an accelerated pace in summer when the weather is nice and we don't have to worry about insane winds scaring our dinner guests off or snow and ice closing the canyon. Game on! On Sunday, Trent (who owns Pica's in Boulder), his family, and a mutual friend came up to escape the heat and enjoy some burgers. These aren't just any burgers, but California roll burgers. Trent spends so much time feeding and taking care of others that I felt it was his turn to be spoiled – just a little bit.

that's a tall burger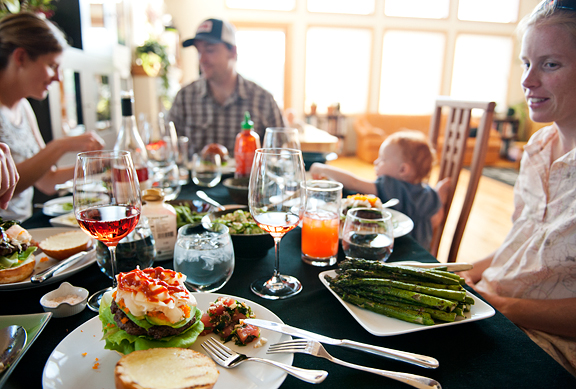 it cooled down nicely in time for ice cream, strawberry daifuku mochi, and french macarons on the deck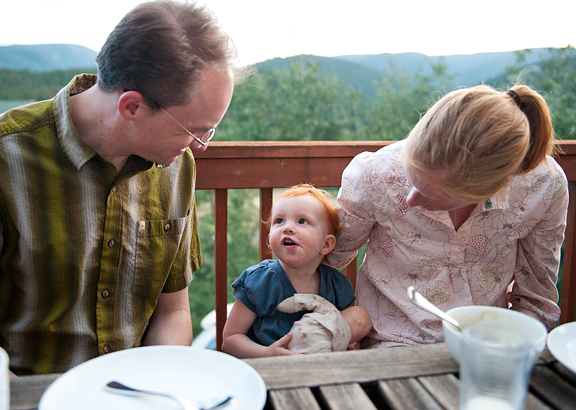 trent and his darling little girl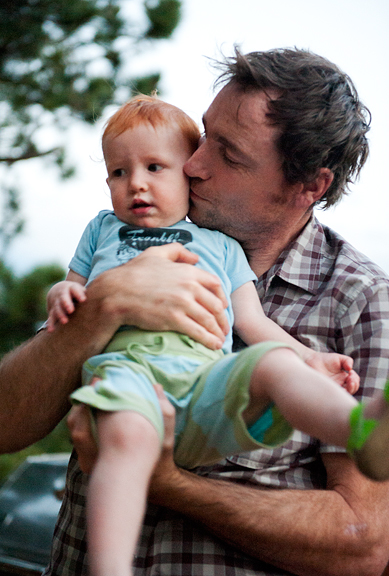 being silly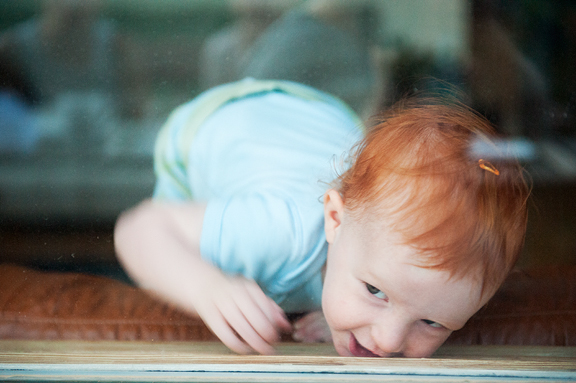 Ahhh, I love good eaters… good eaters who appreciate good food. Those are the best guests! They also make for great dinner companions. One of my all-time favorite dinner guests is
Erin
, who turns the big 3-0 (that's 30) in a few days. Jeremy and I took her out Monday night to
The Kitchen's
Community Night dinner for an early celebration. I mean, everyone knows the 30s totally rawk.
mushroom flatbread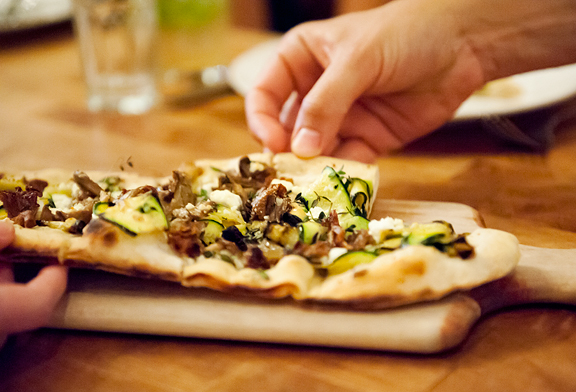 brawn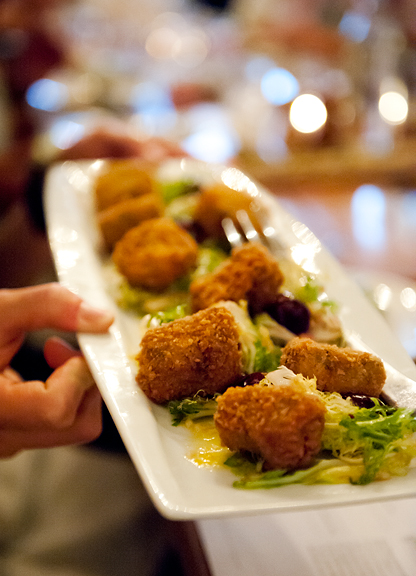 our neighbors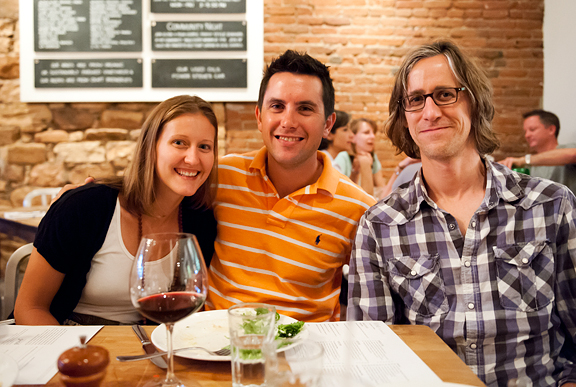 birthday girl and jeremy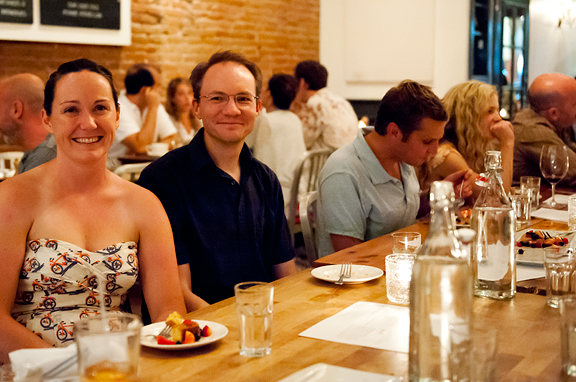 When we hosted the astrophysics retreat last week, I planned
Argentine empanadas
as part of the lunch menu one day. As two of the guests do not eat beef, I figured I could offer a vegetarian version. This spinach and cheese filling sounded pretty good, but I had no idea how popular it would be among the carnivores as well!
the filling: spinach, chile powder, garlic, ricotta, mozzarella, parmesan, olive oil, butter
chiffonade
everything prepped
It's an unbelievably quick filling to pull together, especially if you purchase triple-washed spinach (the washing of spinach takes some time). This spinach cheese filling is far less labor intensive than the beef filling. I have to fess up – I've never had a vegetarian empanada before, mostly because they didn't appeal to me. But my mouth began to water the moment the garlic hit the butter and oil.
sauté the garlic and chile in butter and olive oil
add the spinach and cook until wilted
The spices are mainly red chile powder (I used medium spiciness) and garlic. Then there are three cheeses: mozzarella, ricotta, and Parmesan. What the what? I never said these were
healthy
vegetarian empanadas. They are, however, delectably good vegetarian empanadas. Just don't eat them all in one sitting… by yourself.
combine the spinach with the cheeses, salt, and pepper
mix
Now, I used the same dough as the one in the Argentine empanadas recipe because I'm lazy like that. And I really like that dough – it's easy, bakes up nicely, and tastes fantastic. The difference in making the vegetarian empanadas is that you shouldn't roll the dough too thin. See, the cheese expands during baking and will leak out and make a huge (and delicious) mess. So I try to roll the dough a little thicker and try not to pack the empanada too tightly with the spinach and cheese filling.
pinch off and form a ball of dough
roll it out into a pancake (not too thin)
place the filling on one side
When you seal the edges, be sure you don't leave any holes or gaps for the filling to escape through. When there is a breach in the pastry, a good deal of the filling oozes out and bubbles onto the baking sheet. That sucks. For decorative purposes, I like to rope pinch the edges. Don't crowd the empanadas too close together on the baking sheet. I'd suggest allowing for at least an inch of space between them.
press the edges of the dough closed
make any decorative edge you like
place on a baking sheet
The first time I baked these, I tried them at the beef empanada temperature and time. About 30% burst at some seam or thin area and deposited an alarming amount of melted cheese onto the baking pan. The second batch (of course I made more!) seemed to do a little better with a lower temperature and longer bake time (to let the pastry get golden). I think the main thing is not to overstuff the empanada with too much filling. However, even the exploding empanadas tasted great. You can serve them hot or room temperature, but I find the hot ones to be wonderfully chewy and melty and rich.
golden empanadas
serve hot and enjoy!
Spinach Cheese Empanadas
[print recipe]
partly based on this recipe
empanada dough
1 cup water
3/4 cup lard (I used butter)
2 3/4 cups flour
2 tsp salt
pinch paprika
spinach cheese filling
1 tbsp butter
2 tbsps olive oil
3 cloves garlic, minced
1 tsp chile powder
5-8 oz fresh spinach, stems removed, washed, chiffonade
1 cup ricotta cheese
8 oz whole milk mozzarella cheese, or similar white cheese such as queso quesadilla, shredded or crumbled
2 tbsps Parmesan cheese, grated
salt and pepper to taste
Make the dough: Heat water and lard (butter) in a medium saucepan over medium heat until lard (butter) has melted. Mix flour and salt in a large mixing bowl and make a well in the center and sprinkle a pinch of paprika in the well. Pour a little of the warm liquid in and stir with fingertips to make a wet paste. Pour in remaining liquid and work the flour into the dough with your hand until you get a wet, oily dough. Wrap the dough in plastic and refrigerate for at least 2 hours.
Make the filling: Heat the butter and olive oil in a medium saucepan or sauté pan over medium-high heat until melted. Add the minced garlic and chile powder (not cayenne, but red chile powder) and sauté until the garlic becomes fragrant. Add the spinach and sauté until all the greens are wilted. Remove from heat. Stir the ricotta cheese, mozzarella cheese, Parmesan cheese, and cooked spinach together. Season with salt and pepper to taste.
Assemble the empanadas: Preheat the oven to 375°F. Tear off pieces of dough to roll about 12 large or 24 small balls of dough. Using a rolling pin, roll out dough balls on lightly floured surface into circles with a 3/8-inch thickness. Just don't roll the dough too thin because this filling (unlike the meat filling in the Argentine empanadas) can expand and burst the pastry if the dough is too thin or the empanada is over-stuffed with filling. Place 2-3 tbsp of filling in the center of each dough circle (depending on the size of the empanadas you are making). Fold over and press edges firmly to seal. Rope pinch the edges tightly. In this case, a good tight seal will also prevent oozing of cheese during the baking process. Place empanadas on cookie sheet and bake until golden brown, 20-25 minutes. Makes 12 large or 24 small empanadas.