Recipe: mexico city style roasted corn with chipotle mayonnaise
I just got back from a lovely dinner at Mizuna in Denver. I rarely get down to Denver (to be honest, I avoid the city – I'm a country mouse), but 1) I've been hearing about this restaurant for seven years 2) we were meeting with a super fun couple and 3) there was a hand off of goods. More on the goods in a second… I'm so glad we finally went to Mizuna because everything about it was terrific – the food, the wine, the service. Here are two of my favorite plates from tonight:

hamachi crudo with edamame and shishito peppers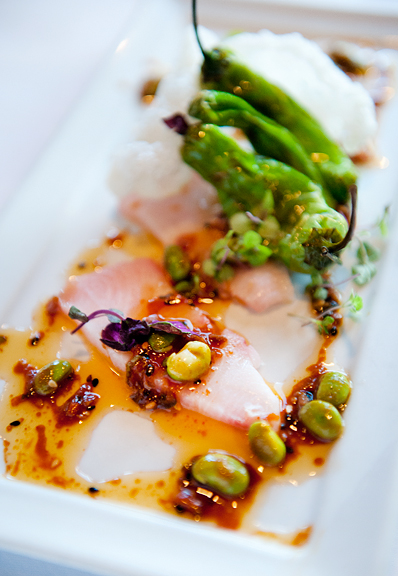 lobster mac & cheese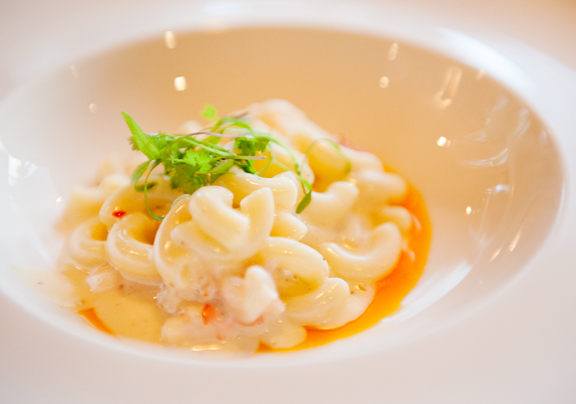 Now what exactly was handed off, you ask? I brought three jars of Chinese hot chili sauces to my friend,
Ellen
, and she gave me a delivery of her delectable salt caramels. Why salt caramels?
Well, I needed them for a couple of care packages… for you!
This isn't a sponsored any such thing, this is me saying thank you for being a wonderful, supportive, funny, kind, and friendly readership. I love my regular and irregular commenters as much as those who de-lurk to say hi as much as the folks who are too shy to comment, but send really touching emails to me directly. You know who you are – you're all awesome! So I have put together a little bit of Colorado in two care packages to give away to two of my awesome saucesome readers. The packages will include:

helliemae's salt caramels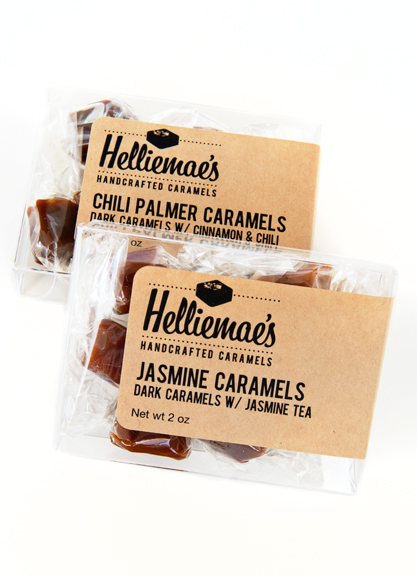 a bag of whole bean coffee from boxcar coffee roasters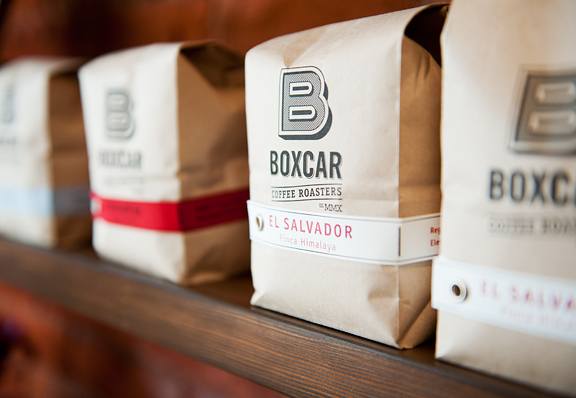 frasca's red pepper jelly from cured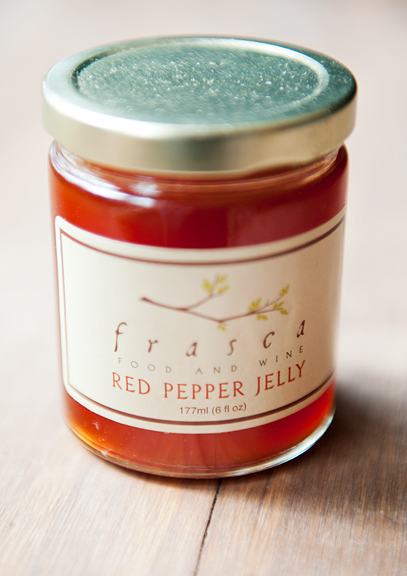 a boulder county farmers market tote bag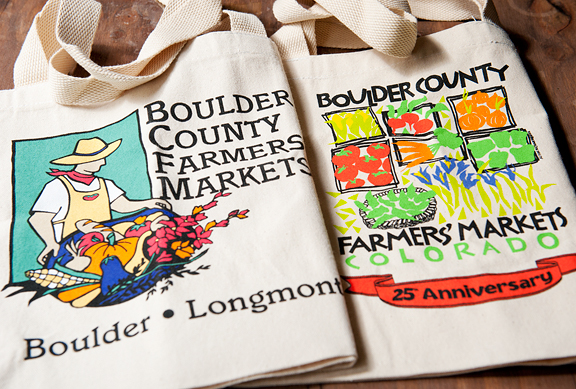 a t-shirt of your choice from either salto coffee works or tin shed sports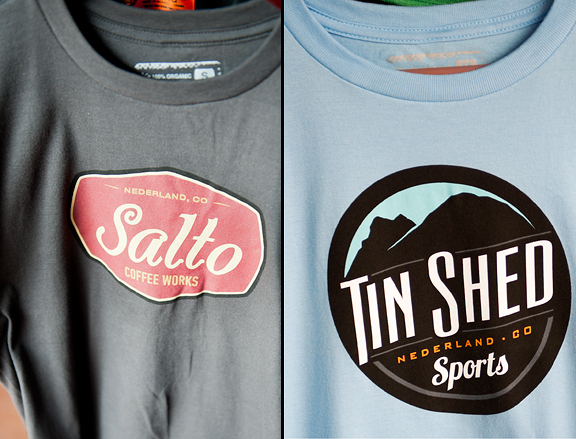 That's not all! I'm also tucking in a jar of
organic Colorado peach jam
and a jar of
organic Colorado tomato jam
, both from my kitchen.
ENTER THIS GIVEAWAY!
1) Introduce yourself to the rest of us by sharing one interesting fact about YOU in the comments section of this post.
2) One comment per person, please.
3) Entries will be accepted through Friday, September 28, 2012.
4) The care packages will ship worldwide.
5) Two winners will be selected at random by Kaweah.
6) Winners will be announced on Monday, October 1, 2012.
Good luck!
***************
Sometimes you find the best food in the darnedest places. For instance, when I was in Portland, Maine last month, everyone was telling me to eat lobster, lobster, and more lobster. Sleep on lobster, bathe in lobster. Lobster lobster lobster! The first night, we started at El Rayo Taqueria and then moved on to Cantina El Rayo next door. There was no lobster on our menu. But wait – someone casually set a plate of roasted corn covered in cotija cheese in front of us early on in the meal. The cobs were cut up into 2-inch wide nibbles and everyone politely sampled the corn. Joy was sitting across from me and later into the evening I saw her reach for a second one which totally made me feel okay about grabbing a second! We were pretty hooked on that corn.

nice, healthy ears of corn
give them a soak in cold water
My neighbors seated to my right were Margaret Hathaway and Karl Schatz of
Ten Apple Farm
. They wrote and photographed this brilliant book (among others!) that I received upon my arrival in Maine titled
Portland, Maine Chef's Table
which is a collection of recipes from the best chefs around Portland. IT INCLUDES THE RECIPE FOR THIS FABULOUS CORN. When Karl and Margaret told me, I smiled and did a happy dance (
Gangnam style
) in my head.
chipotle peppers in adobo sauce, mayonnaise, garlic, cilantro, lime zest and juice
chopped, juiced, zested
As soon as my package of goodies from Maine arrived in the post, I opened the book and went straight to the recipe. The ingredients are relatively easy to source and corn is still in season although at the tail end. Get on this now.
purée the peppers, sauce, garlic, cilantro, zest, and lime juice together
stir the purée into the mayonnaise
chipotle mayonnaise
The chipotle mayonnaise lends spicy, smokey, tangy, and creamy notes to the sweet, almost nutty roasted corn. It does require a little planning though, because you have to soak the corn in water for an hour, then roast it in the oven for 45 minutes, then grill another 20 minutes. But the resulting deliciousness is completely worth the wait.
roasted corn
peel the silk and husks off, but leave the stem intact
brush with vegetable oil
grill until lightly charred
While the corn was on the grill, I grated the cotija cheese onto a large plate (for ease of rolling the ears). Once the corn was charred to my liking (light char – don't burn it to a crisp!), I took the ears off the grill and brushed them with the chipotle mayonnaise. Then each ear takes a roll in the grated cheese. Do yourself a favor and don't let the ear sit in the cheese while you answer a phone call or take the dog for a walk. The hot/warm corn will melt the cheese and then you'll have a giant blob of cheese stuck to the corn.
grate some cotija cheese
slather the chipotle mayonnaise on the corn
roll in cheese
ooooh yeah
Pass these bad boys around quickly as they are best consumed hot. If you stack them (like I did in the photos) some of the contact surfaces will peel the cheese off one cob and stick to another. As far as I'm concerned, it's all good.
and you're ready for the party!
serve hot
Mexico City Style Roasted Corn with Chipotle Mayonnaise
[print recipe]
from Portland, Maine Chef's Table by Margaret Hathaway, recipe from Chef Cheryl Lewis of El Rayo Taqueria
12 ears of corn, husks on
canola oil
1-2 cups chipotle mayonnaise (see below)
6-8 oz cotija cheese, grated
chipotle mayonnaise
1 tbsp garlic, chopped
1/4 cup chipotle chiles in adobo sauce
1/2 oz. fresh cilantro, chopped
3/4 tsp Boyajian lime oil or 2 tsps lime zest (I did the zest route)
2 tbsps fresh squeezed lime juice
2 cups mayonnaise
salt to taste
Make the chipotle mayonnaise: Place all of the ingredients except the mayonnaise in a food processor or blender. Blend until smooth (if you halve the recipe, it gets hard to blend everything because there isn't enough for the blades to get purchase). Fold the purée into the mayonnaise until completely stirred in. Add salt to taste (I didn't add any).
Prepare the corn: Place the corn with husks on, in a bucket or deep pot or sink full of cold water. Let them soak for an hour. If the corn floats (it's gonna float), keep it submerged by placing a heavy bowl or other heavy thing on top of the corn. A few minutes before the corn is done soaking, preheat your oven to 400°F. Drain the corn (husks still on) and place them in a roasting pan. Roast the corn for 45 minutes and remove from the oven. Let the corn cool until you can handle it. Peel away the husks and silk, but leave the stalk base intact as a sort of handle. If you are preparing this ahead of time, you can stop now and refrigerate the corn until you are ready to proceed. Otherwise – onward! Brush a light layer of canola oil over each ear of corn and set the ears on a hot grill, turning every few minutes until they are lightly charred on all sides (how much time varies with the strength of your grill's heat). Working while the corn is still hot, brush a generous amount of chipotle mayonnaise over each ear and then roll the corn in the grated cheese. Serve immediately. Serves 12, unless someone fancies a second!