Recipe: peach jam
Our local wildflowers are going gangbusters. Or they were. I think they may be over the hump by now, but it's still wonderful to step into the mountains and see green slopes dotted with blues, pinks, reds, yellows, whites, oranges, purples… I've made a point of getting out to assess the flowers along my favorite trails… of course, those trails are my favorites primarily because they have stunning wildflowers.

elephant heads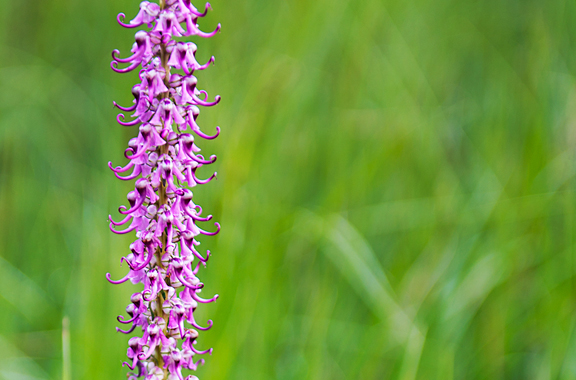 rose paintbrush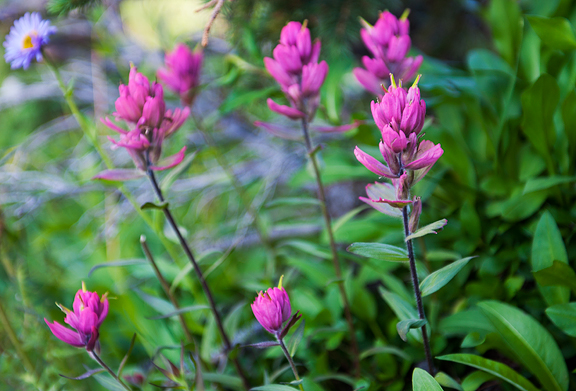 rose crowns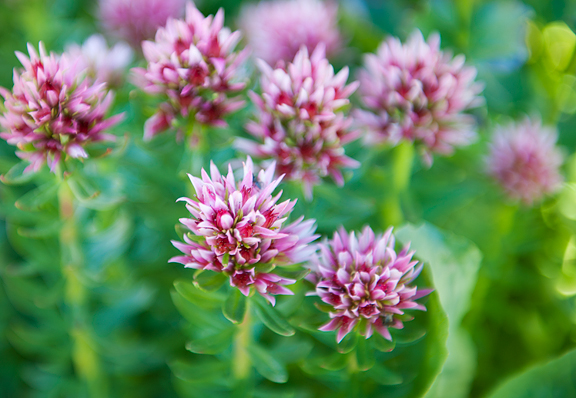 asteraceae and bluebells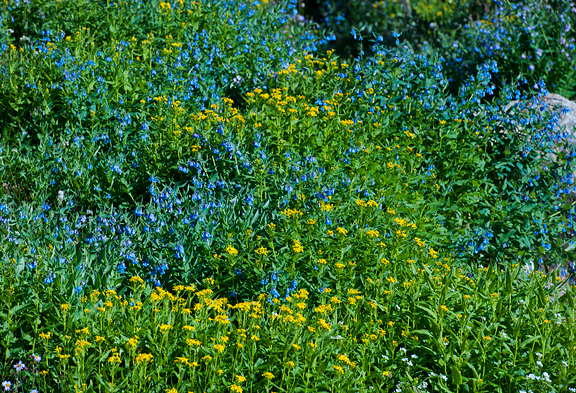 Over the weekend, a friend of mine from high school was in town with his family. We met up at the Boulder Farmers Market Saturday morning as it was the only free time they had. Jeremy and I arrived early so I could scope out various produce for myself and for another friend. It's kinda dangerous going to the market without a set list, because what I usually wind up doing is impulse buying fruits or vegetables for canning and jamming projects only to realize on the way to the car that I will have to forgo sleep to get all of it done before the produce goes south.
who needs sleep when you have organic purple okra?!?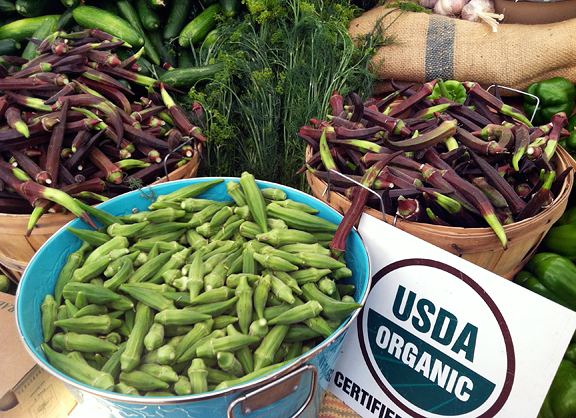 I forget which of my wonderful friends clued me in on "seconds" at the farmers market, but I am eternally grateful. Seconds are produce that may have bruises and blemishes and sometimes odd shapes or sizes. They are perfect for canning and jamming and come at a reduced price compared to their premium cousins that are typically on display at the stall. A few weeks ago, I went to the
Boulder Farmers Market
on a Wednesday to score some ripe Colorado peaches. There are a few vendors at the market who sell peaches, but there is only one vendor who consistently commands a line as much as 40 deep:
Morton's Orchards
of Palisade, Colorado out on the western slope. I was planning to grab a ten pound box of seconds (they're certified organic), but when I saw the "20 lbs. seconds for $10" scribbled on the bottom of their board, I got greedy and went for it!
half of my haul
even though they don't look perfect, they sure taste perfect
So I have this canning addiction, see? That twenty pounds of peaches is history and when we arrived at the market Saturday morning, I got the itch again. We stood in line for peaches. Fascinatingly enough, people would walk past the line, look at it with great interest, then hop into line at the end without even knowing for what they were standing in line. This time, the price was $10 for 10 pounds of seconds. I don't know if that markup was for the Saturday vs. the Wednesday market or if it was for a different variety of peach, but I was happy to have more of these sweet, juicy gems.
let's jam: peaches, sugar, cinnamon, nutmeg, lemons, liquid pectin
I'm not a jam person, mainly because I'm not a breakfast person – and particularly not a sweet breakfast person. Jams don't really move in this house unless you like jam and happen to be a house guest. That said, I am in love with the idea of making jam and got overly ambitious with the first attempt. I
doubled
the recipe and found out too late that you aren't supposed to double the recipe. This resulted in a double batch of somewhat runny organic Colorado peach jam. It's still good and people don't seem to mind receiving it (what they do with the jars after they take them home, I don't know). So, if you're just starting out, the first rule of jamming is…
don't talk about jamming
don't double the recipe. Just make two batches. I've since made four more batches the correct way and the result is enough to convince me that homemade jam is a different animal. A different, delicious, tasty animal.
get that lemon zest
blanch your peaches
peel the skins off
I followed Marisa's recipe from her book
Food in Jars
and she recommends halving the peaches and then blanching them. Well, I tried to halve one of the peaches and because it was a clingstone variety and ripe, I wound up turning it into a juicy mush. So I reverted back to blanching them whole, peeling them, and then cutting them off the pit and chopping the peaches into chunks. Messy business.
liquid pectin, lemon juice, cinnamon, nutmeg, sugar, lemon zest, chopped peaches
combine the sugar and peaches in a large stock pot
add the spices, zest, and juice when the peaches come to a boil
I probably never told you about the time I put my lentil soup into my old blender and wound up with lentil soup all over the kitchen ceiling… twice. The time was right to move on from my Oster with its ten buttons that, for all intents and purposes, seemed to do the same damn thing. I graduated to a Vitamix and simultaneously went for an immersion blender because we like the soups in this house. I love my Vitamix, but this was the first time I had used my immersion blender and it left me a little breathless with how efficiently it puréed the fruit. I like to leave chunks of fruit in my jam, so I only puréed a small fraction of the peaches in a picosecond.
blender some of the fruit before adding the pectin
it's ready when it is thick, jammy, and pours off in sheets
and then you put it in a jar
You don't have to can your jams if you put them in the refrigerator. They'll likely last up to a year (I read this somewhere, is this true?). But I love the idea of having homemade something or others to gift to folks, so I canned many many jars of peach jam, saving one out for immediate consumption. I'm sure you've either heard it said or have verified it for yourself, but there is nothing quite so lovely as homemade jam.
how about a little brekkie
with peach jam
it's wonderful with a buttery croissant
Peach Jam
[print recipe]
from Food in Jars by Marisa McClellan
5 cups peeled, pitted, and chopped peaches (3 lbs. or 1.4 kgs whole peaches)
3 cups (600g) granulated sugar
1 lemon, zest and juice of
1 tsp ground cinnamon
1/2 tsp nutmeg, freshly grated
3 oz. (85ml) liquid pectin (one packet is typically 3 ounces)
Notes: I have made this recipe using both Weck and Ball jars. The Weck site has some nice canning instructions if you are using their jars, which differ slightly from the standard instructions for canning with Ball-style jars. Marisa uses pint jars in her book recipe, but I used 8-ounce jars. The yield is estimated at 4 1-pint jars, but it can fluctuate by a few ounces depending on the fruit (how much water or sugar content which can vary from season to season).
Canning peach jam: Ready the boiling water bath and the clean (washed with soap and water) jars you plan to use for canning. Check your jars and lids for nicks or cracks – don't use them if they have any because it could jeopardize creating a good seal. If using standard Ball or similar style jars, it helps to put them in the pot you plan to use for canning and fill them (and the pot) with water, then bring to a boil. Keep the jars at a simmer (180°F) until they are ready to use. Place the lids in a small saucepan with enough water to cover them and set to a simmer over low heat (high heat can compromise the gummy seal material). If using Weck jars, you only need to sterilize your jars and glass lids if they will be processed for less than 10 minutes. Place the rubber rings in a small saucepan of water and bring to a boil for 2-3 minutes then leave them in the hot water until you are ready to use them.
Make the jam: Place the chopped peaches and sugar in a large, non-reactive pot over high heat. Stir the peaches and sugar together to help release the juices and bring to a boil. Stir in the lemon zest, lemon juice, cinnamon, and nutmeg and cook over high heat for 15-20 minutes. Use an immersion blender (or carefully remove some jam from the pot and place in a food processor) and purée a little bit of the fruit to your desired proportion of jammy fruit pieces to smooth jam. Add the pectin to the pot and stir to incorporate. Bring to a full boil and let it boil (not simmer, boil) for another 5 minutes until thick. Remove from heat and fill your prepared jars with jam, leaving 1/4-inch headspace.
Use a cloth to wipe the rims clean and apply the lids and rings of the Ball-style jars to fingertip tight (just tightened with fingertips – not super tight). If using Weck jars, place the rubber rings on the glass lids and set them on the jars. Secure the lids with two canning clamps for each jar – 180° from each other (across from each other). Set the jars in your canning bath (either on a jar rack or a makeshift cooling rack – just be sure they are not set directly on the bottom of the pot) and check that there is at least 1-2 inches of water above the lids of the jars – if not, add more water. Once the pot has returned to a boil, process for 10 minutes if you are at an altitude of sea-level to 1,000 feet above sea level (asl). For 1,001 to 3,000 feet asl, add another 5 minutes to the 10 minute processing time. For 3,001 to 6,000 feet asl, add 10 minutes to the 10 minute processing time. For 6,001 to 8,000 feet asl, add another 15 minutes to the 10 minute processing time. And finally, for 8,001 to 10,000 feet asl (that's me!) add an additional 20 minutes to the 10 minute processing time for a total of 30 minutes.
When the jams are done processing, remove them from the canning bath and place them on a towel-lined countertop to let them cool. Don't mess with them! For the metal lids, you may hear the "ping" of the seals forming as the center of the lid gets sucked down. There will be no pinging of the Weck lids, but you may notice the tongue of the rubber band pointing down (this is good). Let the jars cool for 24 hours. Remove the bands or clamps and lift the jar an inch or so off your work surface (carefully – in case the seal is bad and breaks) by the lid. If the seal is good, it should hold. Store the jars in a cool, dark location for up to a year (take the clamps and rings off). Also, any jar with a bad seal can be stored in the refrigerator.
Alternatively, if you don't want to can the jam, you can store it in the refrigerator (I think for up to a year?). Makes 4 1-pint (500 ml) jars or 8 8-ounce (250 ml) jars.