Dear readers, I've been thoroughly enjoying your comments on the giveaway post. You people are fascinating and hilarious and awesome and sweet! These interesting little tidbits you have shared with me (and the rest of the interwebs) have been a true joy to read while I'm on the road. My readers are THE BEST. Thanks for the smiles and laughs and all around fabulousness. If you haven't entered yet, please do so! Lurkers, I've got your back!
So I'm writing from the great Colorado mountain town of Crested Butte. It's a former mining town, but today the gold in the hills comes in the form of aspens. This is my eighth season shooting the fall colors and it never gets old. In fact, it just gets better because I feel like I know these places, these hillsides, these trees. It's just me, the road, and Colorado.

and construction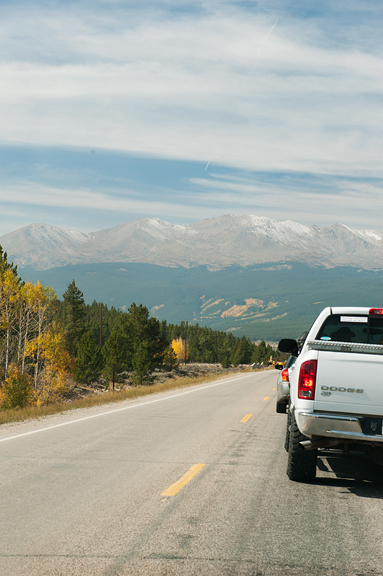 There is a lot of construction going on in that last minute rush to beat the winter storms that are sure to arrive any day. This means a lot of waiting in your car with views of the mountains through the smoky haze of wildfires (from states to our west) and someone's tailgate in your face.
also a good time to eat the sandwich i packed (iphone)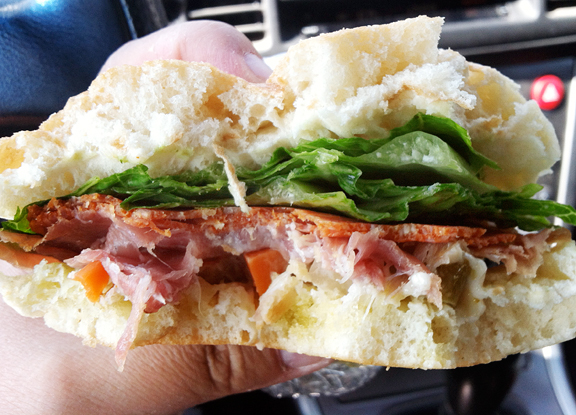 But most of the drive west is lovely, dotted with brilliantly yellow trees along creeks (cottonwoods) and roadsides (some aspen). And then you drive along the flanks of the tallest mountain in the state and a lump develops in your throat because it is just incredible to behold.
mount elbert and the forebay (iphone)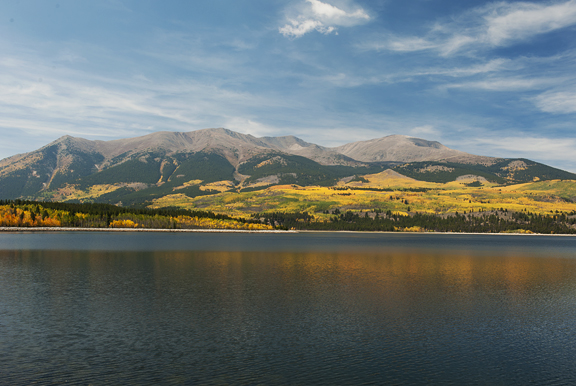 i never tire of roads like these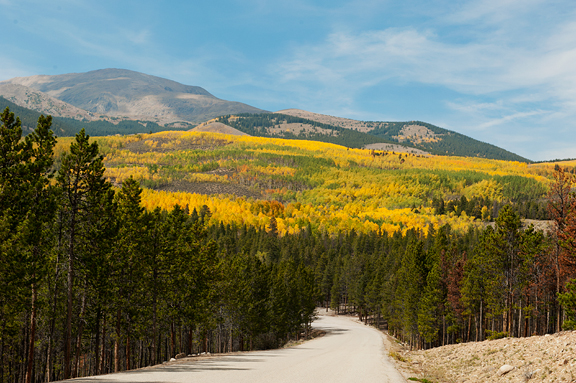 Traveling mid-week means a hefty reduction in the typical leaf-peeping traffic and I mostly had the roads to myself. But whenever and wherever I stopped, I almost always encountered other leaf enthusiasts. They were all there to relish the fall colors. These people were incredibly friendly and full of joy, with huge smiles on their faces. Some asked technical questions, others asked for local tips (where to go, what's good to see), but everyone was super nice. One young couple pulled into an empty trailhead parking lot, jumped out of their car, threw their arms in the air and whooped and hollered. When they left they waved and I waved back. "Have an awesome day!" they shouted as they sped off. Colorado can do that to people.
me and my trusted subie, road trippin'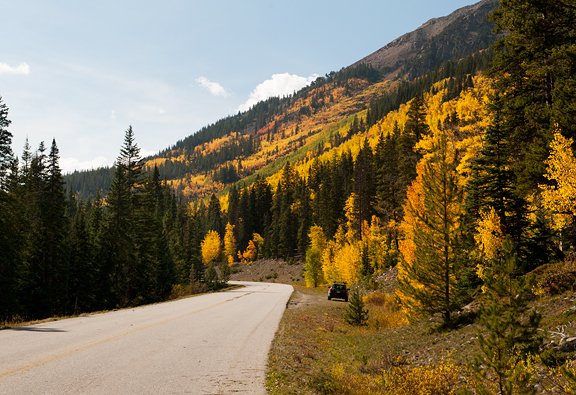 ah yes, more construction (this one cost me an hour)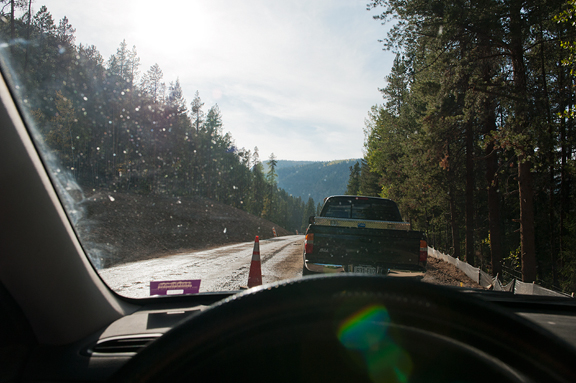 Last year was the best display of colors I had seen since I started shooting fall colors here. And 2012… looks like it's giving 2011 a run for its money. We are on the early side of peak, but peak colors are fast approaching and it's all just unbelievably glorious. There are big swaths of green and yellow punctuated by a good showing of reds and oranges this year. Some patches are brown or spotted or dull, some patches are bare. It's a complete mix.
finally arrived to see mount crested butte in the last hour of daylight (iphone)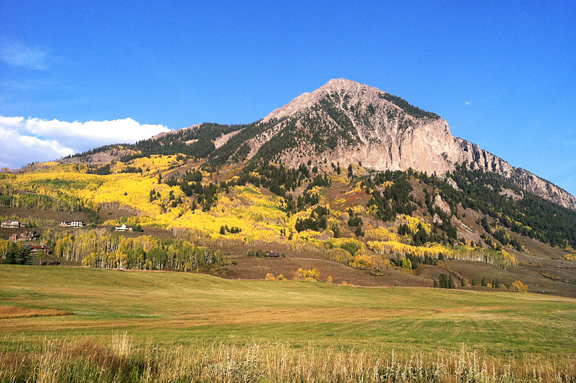 It's been my experience that if there is a single yellow tree among thousands of green ones, someone will tell me that the leaves are at peak. Non-photographers see yellow and think: AUTUMN. Nature and landscape photographers tend to give pretty accurate percentages, estimates on when peak will hit, and quality of color in addition to logistical issues (road closures, construction, restricted access) for specific locations. So I spent the first full day on recon, checking out valleys, passes, and trails.
frost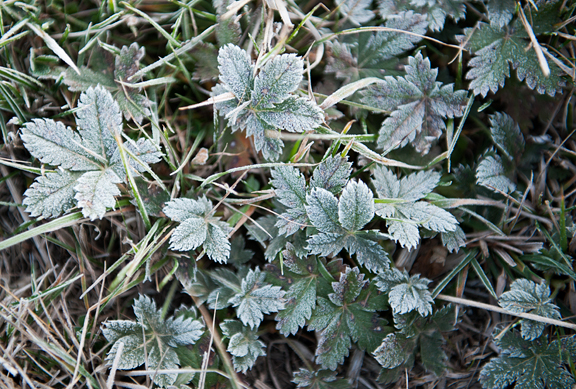 soaking up the warmth of the sun (iphone)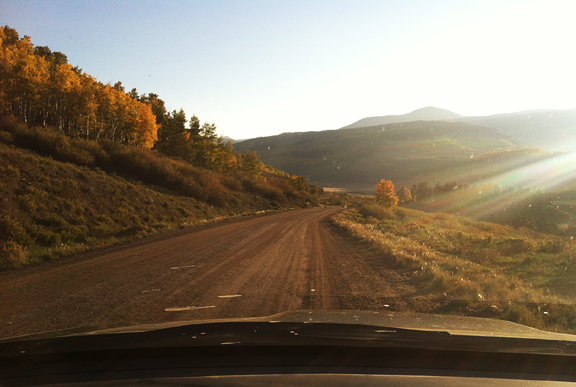 hat, gloves, fleece kind of morning – happy for the sunrise (iphone)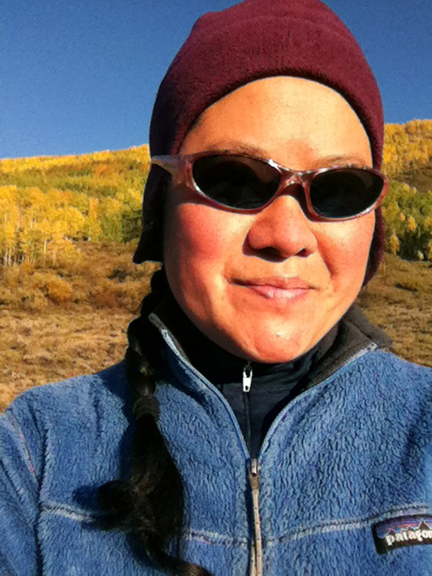 casting shadows (iphone)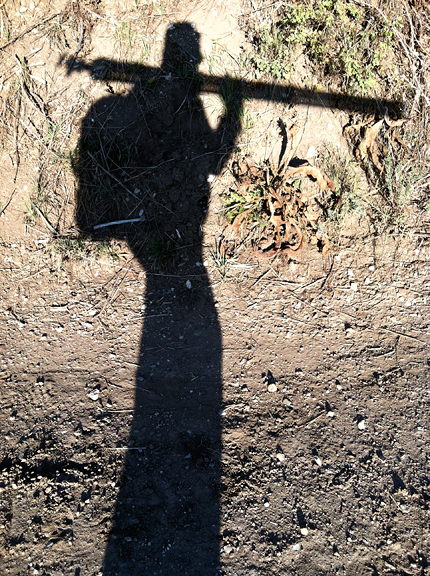 So far, the only people I have encountered early in the mornings on the trails have been hunters. Not many, just a handful. I carry my tripod, they carry their rifles. We are both shooting, but not really. Mornings are mostly me, lots of fearless little birds, skittish chipmunks, and signs that summer has closed shop.
greet the day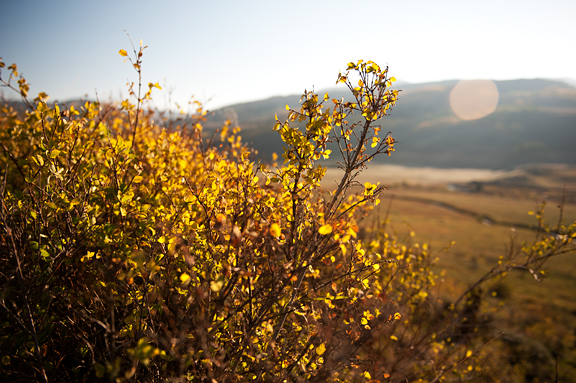 the cattle keep me company – they are everywhere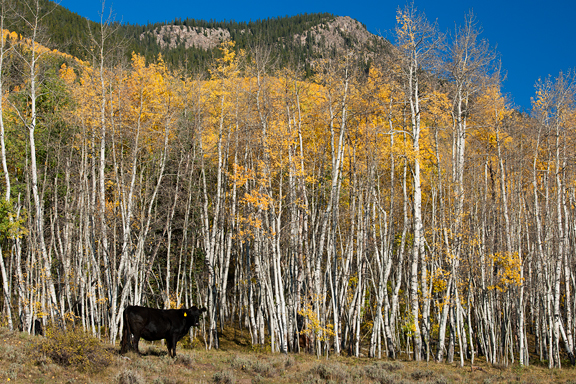 But as the sun rises, I trade my fleece hat for a sunhat and the jacket is tied around my waist. Hiking in the sun with all my gear is sweaty work. With the progression of morning into afternoon, I go into opposite mode and seek shade, cherish the cool breezes, and begin feeling both sticky and dusty. I smell awful, but I don't care because it's amazing out here.
looking up valley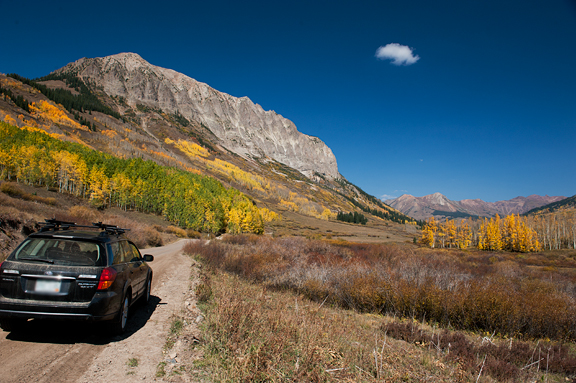 a nice splash of color in the sideview mirror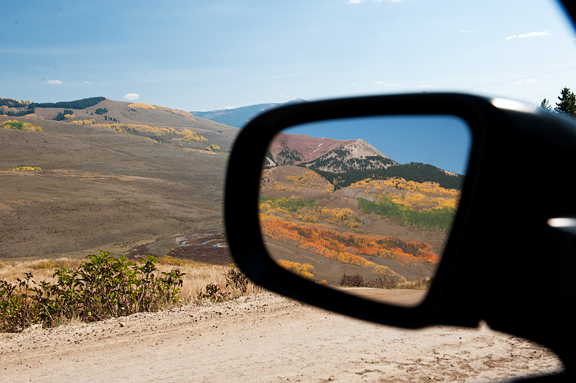 the roads lead to awesome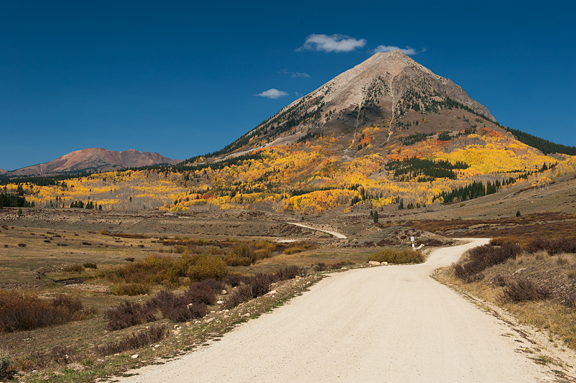 it's only 70°F, but i feel like i'm melting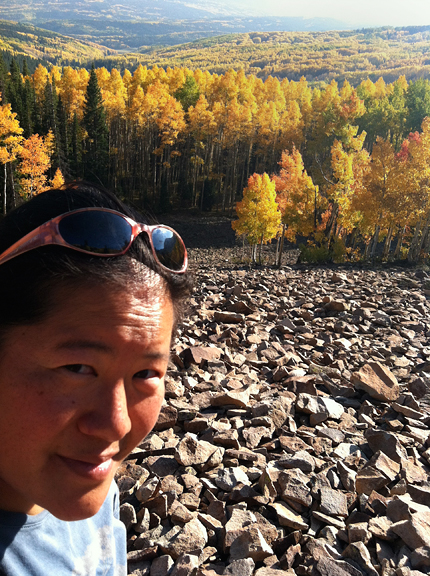 I hope you all have a great weekend. If you get a chance to check out the fall colors (anywhere really, but in Colorado especially) it's worth a gander! Here is a little sampling of what I've been seeing.