Recipe: hot giardiniera pickled peppers
Over the past several years, if I'm not out shooting the fall colors on my birthday, I'm out on recon for the fall colors on my birthday. Sometimes my birthday coincides with the first day of autumn and I've always loved that. I couldn't wait for the heat to GO AWAY in southern Virginia. Luckily, I have more pleasant associations with it now: fall colors, cooler weather, sometimes a freak early snow storm (yes please!). But I'm almost always working through my birthday and this year was no exception. Jeremy decided to drive 5.5 hours to Crested Butte this weekend to nominally celebrate my birthday, see the fall colors with me, and get a little mountain biking in. It was a lovely weekend and a most happy birthday.

birthday morning near red mountain pass (iphone)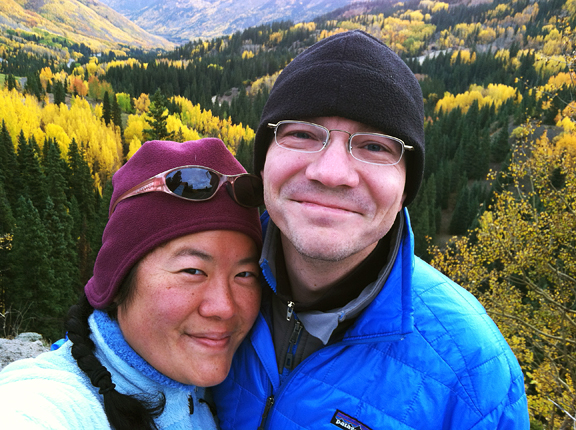 working on building a respectable layer of dirt on the car (iphone)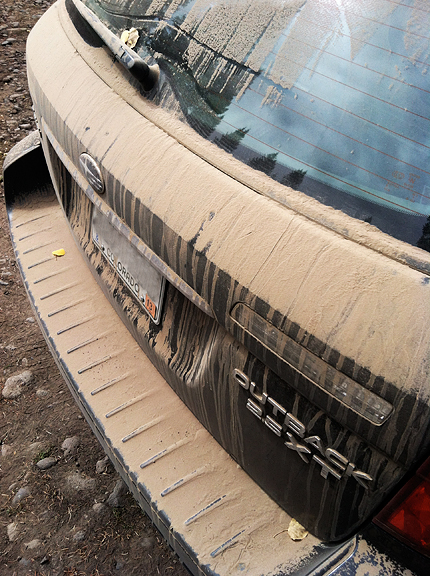 Dinner is always a moving target and dictated by the whims of the weather. It just so happened that sunset was a bust on my birthday, releasing me a little earlier than usual. My thoughts turned to what was good to eat in town. In Crested Butte, there is a lot that is good, but my favorite restaurant is
The Lobar
for sushi. So we went there to celebrate with a low key, but fabulous dinner.
hamachi sashimi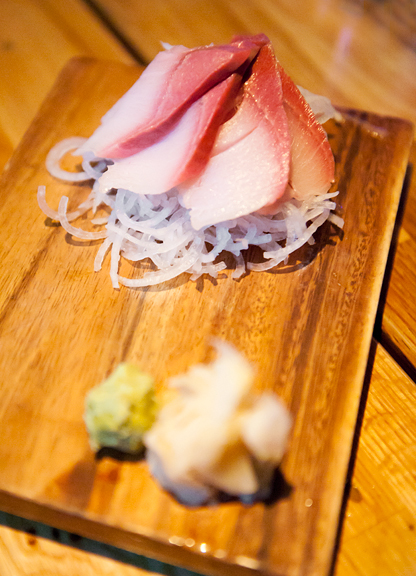 dragon scales (spicy tuna wrapped in shiso leaves and tempura fried)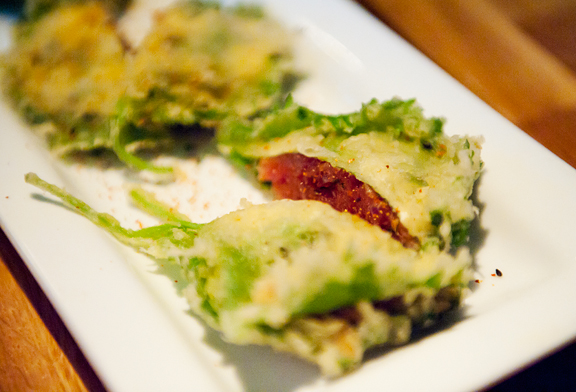 seared scallop slices with lime, cilantro, sriracha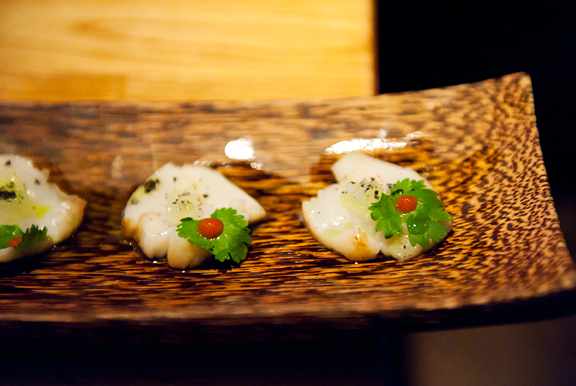 With Jeremy's return home on Monday, I'm pretty much back to my quick, affordable, and convenient meals of cold salads, sandwiches, and fruit. I come prepared with a cooler, nalgene bottles (for ice and water – especially when the motel rooms don't have refrigerators), dishes and utensils for one, sponge and dishsoap, dishtowels… What I failed to bring was a jar of my pickled hot peppers, the stuff that makes sandwiches magically delicious.
celery, carrots, red bell peppers, jalapenos, serranos, olives, cauliflower
you'll also need: white vinegar, pickling spices, sugar, and pickling salt
My obsession with pickled hot peppers has been in the making all my life, but the peppers that really pushed me over the edge were the hot giardiniera from
Snarf's
. Snarf's is my favorite sandwich shop in Boulder (they have several stores in the Denver metro area) and it's in no small part due to those tantalizing peppers. I have been researching different recipes for the past couple of years, but didn't start making them until this summer… because I learned how to can.
chop, chop, chop
spicy chop chop chop
The first recipe I tried was one that had the intention of imitating the Snarf's hot giardiniera (I don't know about you, but giardiniera always makes me think of the word
giardia
, which is unfortunate). I doubled the recipe in crazy anticipation of pickled hot pepper love. Step-wise it is easy. Most of what is involved is chopping the vegetables and brining them. And when you brine the vegetables, you essentially do nothing for 12-18 hours – right on!
make the brining liquid (salt and water)
add the vegetables to the brine
What I realized only after the vegetables had come out of their brine, was that there was a lot of sugar in this recipe and the Snarf's hot giardiniera isn't all that sweet. Also, there was no oil in this recipe and there is definitely oil in the Snarf's peppers as evidenced from my dozen or so oil-stained t-shirts. That gave me pause for a second and then I shrugged. I'm never one to turn down a good pickled pepper.
drained and rinsed
now place the brined vegetables in the hot pickling vinegar
The giardiniera I made consisted of half jalapeño peppers and half serrano peppers because my friends told me that jalapeño peppers are not very hot anymore. They were right. After all of the processing, the jalapeños were more or less like bell peppers (to me – I like spicy food) and the serranos had just enough heat to keep it interesting. Oh, but aside from the peppers there is a lot to hold my interest! I love the cauliflower, the carrots, and especially the celery (who'd have thought?). Even though this is a sweet, non-oily version of the Snarf's hot giardiniera, I really like it.
ladle into jars if you plan to can some
sealed for winter
I canned most of the pickles for myself, but did a few gift jars for friends who might want to try some. They are very pretty and easy to can (easier than say, the tomatoes). I'm still on my quest to replicate the Snarf's hot giardiniera, but I've found another recipe I love in the meantime. Of course, the ultimate test was how well they fared in a sandwich. They were excellent! I have to say, I did not miss the oil at all, although next time I'm using all serrano peppers. Life is too short to skimp on the spicy.
for friends
great on a sandwich (and in mah belleh)
Hot Giardiniera Pickled Peppers
[print recipe]
from The Kitchenette
1/2 lb. carrots, peeled and sliced to 1/8-inch thickness
1/2 lb. celery, sliced into 1/4-inch thickness
2 red bell peppers, medium dice
1/2 lb. cauliflower florets, about 3/4-inch in size
1/2 lb. green olives, pitted and cut into 1/4-inch pieces
1 lb. hot peppers of your choice (I did half jalapeño and half serrano)
1 cup pickling salt
4 quarts water
2 cups white vinegar
2 tbsps pickling spice (purchase or easily make your own)
1 1/2 cup sugar
In a large bowl or stock pot, stir the pickling salt into 4 quarts of cold water until the salt is dissolved. Place all of the diced/chopped vegetables into the brine and cover. Refrigerate for 12 to 18 hours. Drain the vegetables in a colander and rinse them in cold water, draining them again. Set aside. Place the vinegar, pickling spices, and sugar in a large pot and bring to a boil over high heat, stirring to ensure the sugar dissolves. Add the vegetables to the hot vinegar mixture and let boil for 10 minutes or until the vegetables soften a bit. If you want to can the pickled vegetables, follow the steps outlined here, but leave 1/2-inch headspace and process the pickles for 5 minutes at full boil in a water bath canner, then another 5 minutes remaining in the canner with the heat off. At 8500 feet, I process for 25 minutes and a 5 minute sauna sit. Double check your seals after 24 hours. Makes 6 pints.