Wednesday, January 16th, 2013

Recipe: mushu pork burger
It's been months since Kaweah has been able to walk up the stairs on her own. She walks down the steps just fine, albeit slowly (with an escort to catch her if she stumbles). But one of us will carry her up to the main floor several times a day. Of course, we can't ask our dear neighbor to carry Kaweah up a flight of stairs when she lets the pup out while we're gone all day. So we'll typically keep Kaweah on the first floor – where there are only three steps. Except now, Kaweah can't get up those three steps either. I figured a ramp would be a good solution to let Kaweah wander up to the front door when she pleases (she likes this as she can look to see who is coming and going). I dropped a wad of cash on a dog ramp at the store and it turns out that it's too narrow for our aging dog. Kaweah's hind leg kept slipping off the edge and it scared the hell out of her little doggy self. We returned the ramp, went to the hardware store, and bought some materials.

et voilà!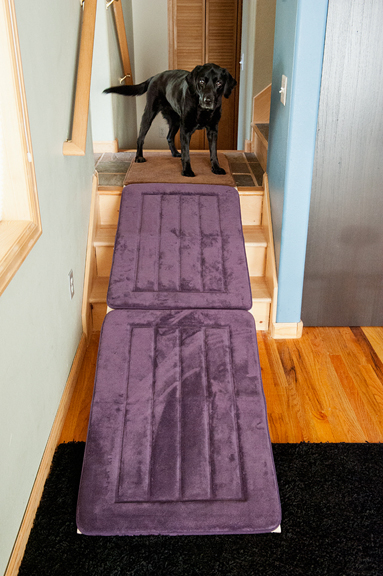 Some plywood, hinges, support beams, wood screws, and foam cushion bathmats ($13 each at Costco) made for a nice, solid ramp. At first Kaweah was reluctant, but after some coaxing (i.e. treats) she got the hang of going up and down the ramp like a pro. Yay, success! Why the foam cushion bathmats? She seems to get better footing on these than on standard carpet on an incline. Also, we know she likes them because she always stands on them in our bathroom.
no prob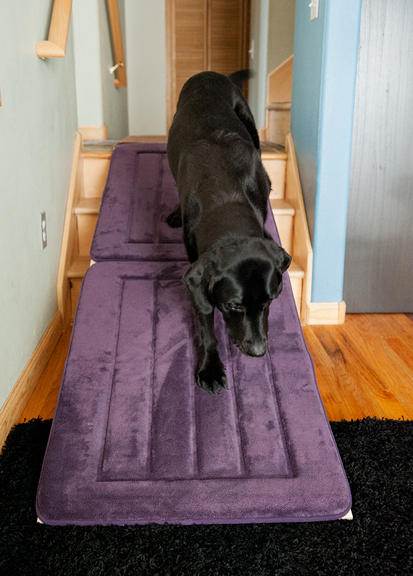 she is all about the treat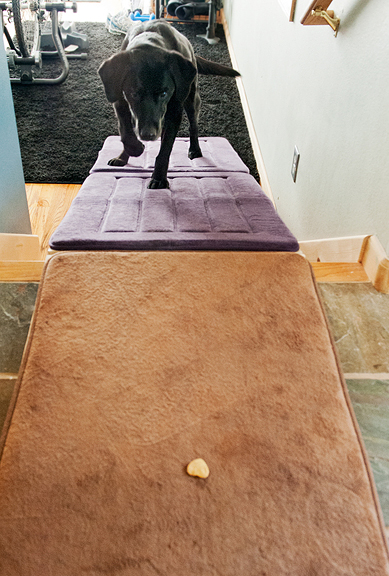 It was a simple DIY project, but I love making things to my specifications. The same goes for food. Actually, I think food is easier because I work with food all the time. A few days ago, Jeremy and I were reminiscing about the
California roll burger
. We've only ever made it twice, but it is so unbelievably GOOD. And it got me thinking about burgerfying other dishes… like mushu pork.
ground pork, green onions, fish sauce
mix it together with some salt and pepper
form the patties
**Jump for more butter**