Recipe: bolognese sauce
This weekend's storm dumped 14 inches of snow on our local hill and almost as much at our house. For the first time in a long while, we were able to ski tour right out our front door, through the neighborhood, and to the trails. The snow swallowed the usual sounds and echoes, leaving the mountains extra quiet, soft, and contemplative.

it snowed all day saturday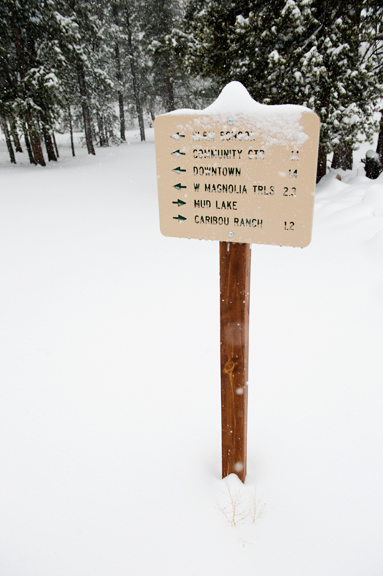 poof balls of snow everywhere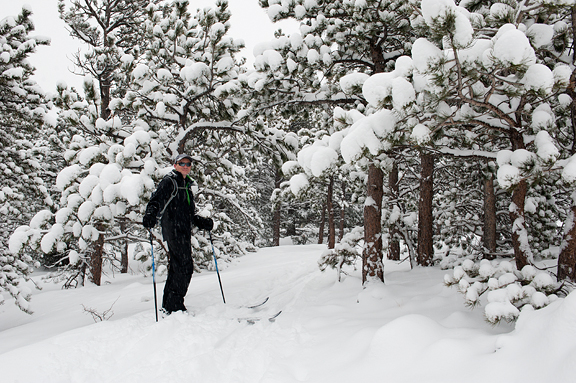 What happened next? We lost an hour of sleep and hit the slopes the following morning along with ALL of Boulder County. I generally avoid the resorts on weekends, but we've been so starved for powder that it's hard to pass up even on a Sunday morning. It was totally worth it for the powder stashes. By twilight, I realized that the time shift meant I had one less hour in the evenings than I've been used to. Oh, but then there is the lure of evening dinners on the deck when faces are still lit by the glow of a sun that has long dropped behind the mountains. It's all good in my book, the book of Jen.
In anticipation of the storm (I follow the snow forecasts like a boss) and of Jeremy's return from travel this weekend, I decided to tackle a recipe that is long on stove time and big on returns – bolognese sauce. It's one of my favorites and sounded perfect after an afternoon of ski touring. I looked at several recipes before remembering that I had this book on Italian cooking that I bought on a lark in my last year of college (uh… 21 years ago). It's by Marcella Hazan and her bolognese recipe looked spot on. Also, David Leite sang the praises when he made it. Word.

carrots, celery, onion, butter, white wine, diced tomatoes, salt, pepper, olive oil, milk, veal, beef, pork
small dice
carrots, onion, celery
If you're in a rush, then this bolognese sauce is not for you… or perhaps it is. Maybe it's just what you need. This is a time investment and the return is a deep, rich, developed flavor that comes to those who are patient enough to simmer and stir and simmer and stir and simmer, simmer, simmer. I chopped my vegetables in a small dice because I wanted them to break down in the sauce, but if you like chunkier sauce, then go for a larger dice. The recipe calls for vegetable oil, but I used olive oil instead and it worked just fine. Oh, David cautions against using cast-iron pots for the sauce because the reaction of the metal to the acidity turns the sauce an unappetizing color. He uses enameled cast-iron in his post and I used stainless steel.
sauté the onions in butter and oil
sauté the diced vegetables
add the meats (pork, veal, beef) and brown
Those first steps were pretty straightforward and quick: sauté the onions, the rest of the diced vegetables, and brown the meat. Be sure to sprinkle a large pinch of salt on the meat when you add it to the pan as Hazan says this extracts the juices which helps in developing the awesomeness of the sauce. Next you add the milk and let it simmer away (simmering away is not the same as boiling away). That took me 45 minutes with frequent stirring to prevent sticking or burning on the bottom of the pan. I wasn't expecting it to take that long to cook off all of the liquid. Like I said – don't rush this thing. Grate some nutmeg into the pot.
pour the milk
fresh grated nutmeg
When I set out to make something that requires so much time and babysitting, I often consider doubling the recipe. Sometimes that doesn't work (like with jams), but in this case it totally works and I totally did it. If you have too much (can you ever have too much?!) you can refrigerate the sauce for up to 3 days or freeze it. Lovely.
doubling the recipe requires just over half a bottle of a dry white wine
and into the pot it goes to simmer… simmer…
The same deal applies to the wine as applied to the milk. Bring it to a gentle simmer and let the liquid bubble away completely. That took me another 35 minutes with occasional stirring. When the wine has simmered down to nothing, it's tomato time. I initially used two jars (four cups) of my canned diced organic tomatoes from last summer, but added a third jar (two more cups) to balance out the carrots.
last but not least: tomatoes
simmer it dooooooooown
Hazan instructs the reader to simmer for three hours – at the lowest of lowest simmers – stirring every so often (maybe 10-15 minutes). She then says four hours would be better. I definitely wanted my sauce to be a better sauce, so I went for the four hours, which brought the sauce to a total of seven hours. Kaweah likes to sleep in the middle of the kitchen floor whenever there is meat on the counters, in the oven, on the stove. And so she was there for seven hours minus a few minutes for a potty break outside. I couldn't get her to leave and it's no wonder, the entire house smelled good enough to eat. After the last hour of simmering, the sauce was thick and nearly uniform in color. There is a delightful tang that accompanies the complexity of the sauce. Everything falls apart in your mouth because it has been simmered to the nth degree of tenderness. The only thing left was to boil some pappardelle (my favorite pasta to eat with bolognese sauce), top with some sauce (a little goes a long way), grate some Parmigiano-Reggiano on top, and pour Jeremy a glass of wine.
proper bolognese sauce on pappardelle
worth the seven hours
Bolognese Sauce
[print recipe]
from Essentials of Classic Italian Cooking by Marcella Hazan
*Note: I doubled the recipe and used Hazan's pork variation, but also added veal as was used in this ragù.
2 tbsps vegetable oil (I used olive oil)
6 tbsps unsalted butter
1 cup onion, small dice
1 1/3 cups carrot, small dice
1 1/3 cups celery, small dice
1/2 lb. ground beef chuck (80% lean – no leaner)
1/2 lb. ground pork
1/2 lb. ground veal
salt
pepper
2 cups whole milk
1/4 tsp freshly grated nutmeg
2 cups dry white wine
3-5 cups canned Italian plum tomatoes with juices, diced (I used home canned diced organic tomatoes)
3 lbs. pasta (I like pappardelle)
2 tbsps butter (to toss with pasta)
freshly grated Parmigiano-Reggiano
Place the oil, butter, and onion in a large pot (don't use cast-iron, but enameled cast-iron is okay as is any heavy-bottomed pot – I used stainless steel) over medium heat. Sauté the onion until it is translucent, then add the carrot and celery. Stir the vegetables for about 2 minutes. Add the ground meat, a large pinch of salt, and some freshly ground pepper. Brown the meat and break any clumps into small pieces. Pour the milk into the pot and simmer, stirring often, until the liquid has cooked away completely (took me 45 minutes). Stir in the nutmeg. Add the wine and let it simmer, stirring occasionally, until it has evaporated (about 30 minutes), then add the tomatoes, stirring well to mix everything together. When the sauce starts to boil, reduce the heat to barely a simmer. Let the sauce cook uncovered for 3 hours (or more), giving it a stir every now and again. If all of the liquid boils off before the cooking time is done, stir in 1/2 cup of water and continue to simmer. Repeat as necessary. By the end, there should be no liquid left. Season with salt to taste. Makes 4 cups of sauce. Can be refrigerated in an airtight container for 3 days or frozen.
Prepare the pasta al dente, drain, and toss with 2 tablespoons of butter. Serve 1/3 cup of bolognese sauce for approximately 4 ounces of pasta with freshly grated Parmigiano-Reggiano on the side. Serves 12.
more goodness from the use real butter archives