Recipe: chili cheese fries
It's been a working weekend over here, both of us sitting at our computers processing photos or data, listening to my recent compilation of songs from the 80s and 90s. [I'm realizing that was a really long time ago.] We took a break on Saturday to go over to our favorite neighbors' house for dinner. They served grouse, which they hunt each year in Canada. We've never had grouse before, although we've seen and heard a lot of them on mountain trails. The meat is sweet and tender, an absolute treat on top of the wonderful evening spent chatting with people we like. As we walked across the driveway to go back home, their flood light caught snowflakes racing past in night. By morning, our local hill had reported a foot of fresh snow for this, their closing day of the season. Dear snow, where the hell were you in December?! We scarfed down some breakfast while pulling on our ski pants and rushing out the door. This is Colorado. You don't turn down a foot of freshies!

happy and rosy-cheeked after catching the powder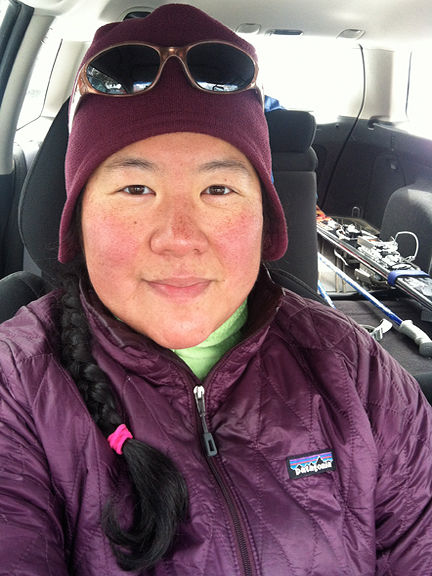 There is MOAR snow on the way too. Folks on the lift were bemoaning the snow that would come after the end of the ski season. Most of the big mountains have shut down their operations. Heck, I'm just getting started. The backcountry beckons (after the snowpack stabilizes – it has been a horrendous avalanche year). I still reminisce about skiing fresh powder on the first day of summer in 2011. One can always hope.
No matter what is flying through the air – be it snowflakes or hummingbirds, there are some foods that have no season… like chili cheese fries. Oh, I remember the first time I was introduced to chili cheese fries my freshman year in Southern California. What insane deliciousness was this?! I'll tell you what it was. It was a pile of greasy hot french fries, fake orange cheese, and a glop of chili (I use the term loosely). These days we still indulge in the occasional chili cheese fries, but we tend to opt for a more flavorful and healthy homemade version.

cheddar cheese, potatoes, chili, salt, pepper, cayenne, olive oil
slice the potatoes
place in a pot and cover with cold water
Of course you can buy all of the components for making chili cheese fries, but that usually involves extra junk that I don't want to be eating – like preservatives. What usually happens is I will have made a batch of chili (I use
this recipe
, but will substitute an ale for the stout if I don't have chocolate stout on hand) and then I'll think to serve leftovers with fries and cheese. But I don't like frying things if I can avoid it. I looked around for a good alternative and tried
the third method in this post
with success. It's not going to be exactly like deep fried french fries, but it's easy, not too messy, and the results were pretty good. However, I must point out one brilliant post I found in my search and fell in love with:
The Burger Lab's: How to Make Perfect McDonald's-Style French Fries
.
drain the fries
pat dry
drizzle a little olive oil
The potato sticks are boiled until just done. Don't overcook these, you will so regret it. Then you drain them and pat the potatoes dry. Dry is important because the water will impede the crisping process in the oven. I tossed mine gently with some olive oil, salt, pepper, and cayenne. If you don't like a spicy kick to your fries, you can use paprika or skip it altogether. If you toss too enthusiastically, the fries will break apart or become mush (especially if you overcooked the potatoes – DON'T overcook the potatoes). When the fries are evenly coated, arrange them in a single layer on a parchment-lined baking sheet. You want a single layer to maximize the surface area exposed to the broiler (for maximum crisping). You want parchment because it helps to keep the fries from becoming a soggy mess. So many people will try a recipe but not follow the instructions and then ask why the recipe didn't come out right. IT DIDN'T COME OUT RIGHT BECAUSE YOU DON'T FOLLOW INSTRUCTIONS.
seasoned
tossed
arranged for broiling
Can you bake these instead of broiling? I guess so. I don't think they will be as nicely crisped though. I put my baking sheet on the topmost rack just under the broiler which was set to "high". Our broiler (and our oven) is dysfunctional, so it took about 10 minutes for the fries to start looking crispy, but you should watch carefully as your oven might be the functional sort and your fries may be turning golden in less time. Take the fries out, flip them over, and return them to the broiler for another 10 or so minutes until crisp. Transfer the fries to your serving dish. Everything else should be ready to go.
done
add hot chili on top
sprinkle with cheese
The fries should be hot, the chili should be hot, the cheese should be melting on contact with the chili. Chili cheese fries are best consumed hot and as close to the assembly time as possible. The moment the chili touches the fries, the soggification begins. I'm not a fan of soggy french fries, so this timing is important. Once the chili hits the fries, don't talk to me, don't interrupt me – it's all chili cheese fries. What I love about my current version of chili cheese fries as opposed to the college days version is that mine is not only healthier, but I can taste the nice sharpness of the cheddar, the heirloom beans and summer tomatoes I used in my chili, and the true flavor of a proper potato. That's hard to beat.
a great appetizer to share (or not)
chili cheese fries anytime
Chili Cheese Fries
[print recipe]
boiled and broiled fries from Food for My Family
2 large russet potatoes, scrubbed clean
1 tbsp olive oil
1/2 tsp salt
1/2 tsp pepper
1/4 tsp cayenne (or paprika if you don't like the heat)
2 cups chili, heated (I used this recipe)
1/2 – 1 cup cheddar cheese, shredded (depends on how much cheese you like)
2-3 green onions, chopped
Cut the scrubbed potatoes (skin on) lengthwise into 1/2-x1/2-inch sticks. Place the cut potatoes in a large saucepan and cover with cold water. Set the pot over high heat and bring to a boil. Boil for about 7-8 minutes until the potatoes are just barely done, but not mushy (you'll regret the mushy). Drain the potatoes and pat dry. Place the dried potato sticks in a large bowl. Drizzle oil over the potatoes. Sprinkle salt, pepper, and cayenne (or paprika) on the potatoes and toss gently to coat the sticks. Spread the potatoes in a single layer on a parchment-lined baking sheet. Place an oven rack as close to the broiler as possible and turn the broiler on to high. Broil potatoes until the tops begin to brown. My oven sucks and this took me 10 minutes, so yours might take less time like 4-5 minutes. Just keep checking on them. Flip the potatoes over (this is tedious) and return to the broiler to brown the tops again (another 10 minutes for me, but your mileage may vary). Remove from oven and place the fries on a serving plate or a large shallow bowl. Top the fries with hot chili, shredded cheddar cheese, and green onions. Serve immediately. Serves 2-4.
more goodness from the use real butter archives