Wednesday, May 8th, 2013

Recipe: pistachio almond cake
Mother's Day is coming up this Sunday. Don't freak out or anything. I'm telling this to you now so you can get your act together with a couple of days to spare. My mom called Monday and sternly warned that under no uncertain terms, she would be very very upset with me if I sent her anything for Mother's Day. She couldn't see my furrowed brow and sideways scrunched mouth as I looked at the shipping receipt on my desk. Both she and my MIL are getting some amazing Helliemae's caramels (jasmine and classic salt, if you must know). Hey, at least I listened to her sage advice on retirement accounts when I was 21.

flowers for all of the moms out there, because they make the world a better place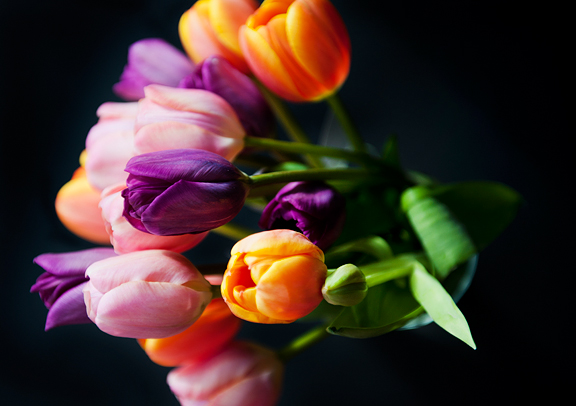 Last month,
Courtney
posted a photo on Facebook of a slice of cake she had gotten at a bakery. It was an almond pistachio cake with whipped cream and it looked incredibly good. I said as much and she confirmed my suspicions. I have a slight love affair/obsession with pistachios because they have such a beautiful flavor and they are green, which is the best color ever. So of course, I went looking about the interwebs for a good pistachio cake recipe. I died a little bit with every recipe that called for instant pistachio-flavored pudding mix, but eventually I did find one that appealed to me and I thought it fitting to post a cake before Mother's Day in case you wanted to bake something special for Mom.
kaweah kept creeping around during the shoot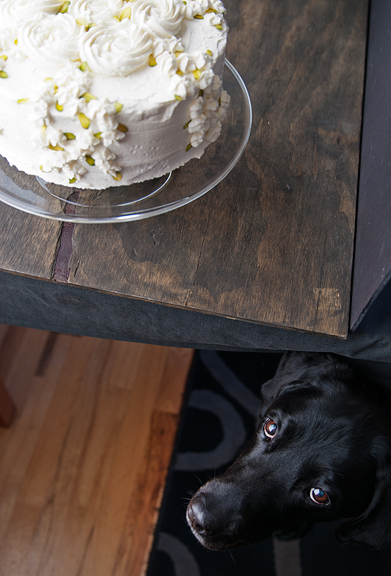 Ultimately, I converged on the idea of two layers of pistachio cake and one layer of almond cake, all frosted with whipped cream. You are welcome to add jam layers, chocolate ganache, soaking syrups (mmm, amaretto soaking syrup!), swap the whipped cream frosting out for buttercream frosting. The point is – make a cake that you (or Mom) will love. The first step for me was to make pistachio paste because I can't source it easily and I was delighted to find a recipe for it on
Ellie's blog
. If you can purchase Love'n Bake's pistachio paste, that will save you quite a handsome chunk of time.
pistachios, corn syrup, sugar, water
blanch the pistachios and remove the skins (time-consuming task)
blender it all up (actually, I recommend a food processor over a blender)
a beautiful green paste
**Jump for more butter**