Recipe: matcha green tea mochi ice cream
There is a period in summer when the sun is set on BROIL and I slink around barely tolerating the heat (or not tolerating it, as Jeremy might point out). The best I can muster is a combination of avoiding the sun and ignoring it. By the time the pine pollen has cleared in the mountains, we are chomping at the bit to get outside and run, hike, bike, anything. The snow pack is dwindling which isn't abnormal for late June, but I cry on the inside to see it melt. Still, it means wildflowers are sure to follow.

a little ice remains on lake isabelle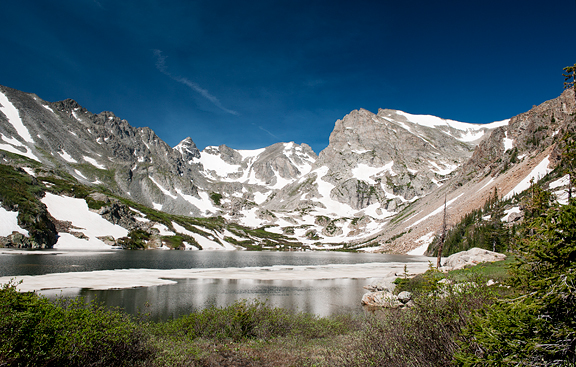 That morning hike got the ball rolling on a day of many very excellent things. There was a package waiting for me when I got home – the very best kind of package. My friend,
Jamie
, gifted me several AMAZING and BEAUTIFUL custom-made cutting boards from her studio. Her craftsmanship and artistry left me speechless, as did her generosity. Also? She is totally badass. I am already sleeping with the little board under my pillow, I love it so much.
i shall cherish these
In the evening, I took Jeremy to dinner at his favorite restaurant in Boulder,
Frasca
, to celebrate his official notice of tenure.
congratulations, sweetheart!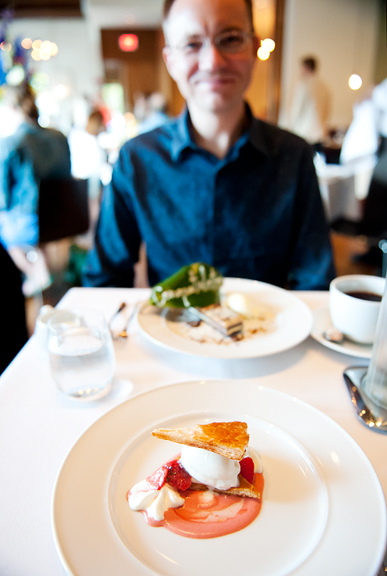 And to top off an already terrific day, we were rewarded at home with lightning storms and REAL rain that washed away the pollen, soaked the thirsty ground, cooled the air, and smelled of mountain summer.
forked lightning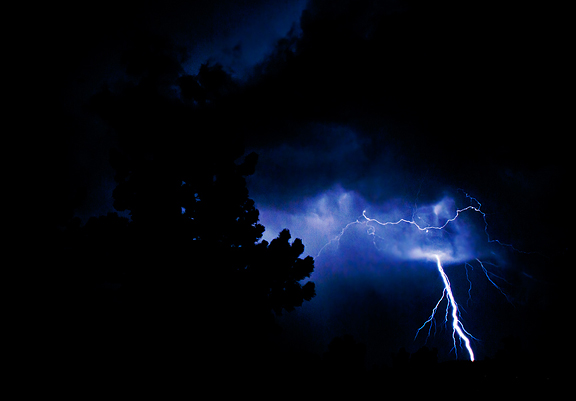 cloud to cloud strikes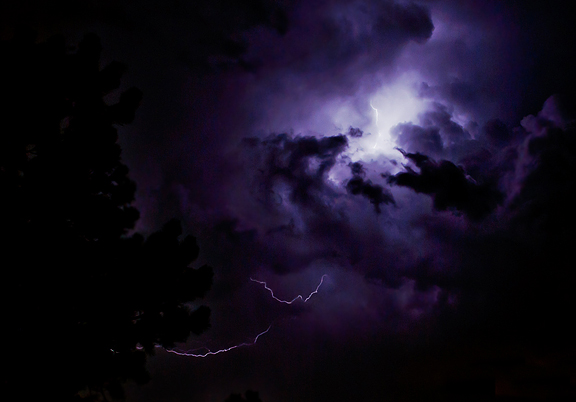 We have since been enjoying milder temperatures, periodic rainstorms, and dramatic clouds forming over the high peaks. But I know the heat will attempt to return, as it competes with the clouds for attention. For the past few weeks, the only foods I'd been wanting to prepare were cold or frozen. Sometimes in late afternoon, the house would be so warm I'd open the freezer and cram my head and shoulders into the bottom shelf for a brief second, or two, or three… While I was in the freezer last week, I noticed a quart of passion fruit ice cream in the door and decided I ought to do something with it.
you'll need potato starch (or cornstarch) and glutinous rice flour
Mochi is one of my favorite Asian treats. The slightly sweet rice flavor and chewy texture is wonderful with ice cream, sorbet, or frozen yogurt. You have no doubt seen the mochi ice cream nuggets sold in Asian grocery stores or the Trader Joe's freezer troughs. When I lived in Southern California, I was in an eternal state of overheating. I routinely poured my upper body into the Trader Joe's freezers and when I approached the "now it's awkward" time threshold, I'd grab a box of mochi ice cream to go.
Two things: 1) Glutinous rice flour doesn't contain any gluten. I have to say this every time because someone out there freaks out every time. It's just a descriptor for how dang sticky the stuff is. 2) Mochi is stupid-easy to make.

water, matcha green tea powder, sugar, glutinous rice flour
mix the matcha and rice flour together
add the water
Whenever I make
daifukumochi
(little rounds of stuffed mochi), I always use a microwave to cook the mochi. If you don't have a microwave, I guess you could steam the mochi. Nuking seems like a much easier way to do it.
whisk in the sugar
cover with plastic wrap
microwave until the mochi darkens and gels (but don't burn it!)
I've made this three times and the best results occur when you microwave the mochi for 2 minutes on high, stirring occasionally to keep hot spots from burning, and then microwave in 30 second increments until the whole mass is gelatinous and dark rather than milky (if that makes sense). Take care, this stuff gets HOT.
pour it onto a baking sheet full of potato starch
cut into nine pieces
Do you really need potato starch or cornstarch? Well, yes. If you don't drop the mochi onto the starch and pat it down with more starch before you begin handling it, I guarantee that everything in the room is going to be stuck to that ball of mochi before it's over. It's difficult enough as it is
with
the starch. Flatten it into a square or circle with your hands to 1/4-inch thickness, then cut it into 9 pieces. Let the mochi cool completely. Meanwhile, quickly scoop out tiny balls of ice cream, about 1 tablespoon each and set them on a plate or tray. Pop those into the freezer to firm up. When the mochi has cooled, take one ball of ice cream from the freezer and wrap it in a piece of mochi.
i used passion fruit ice cream and matcha green tea ice cream
wrap quickly, as the ice cream will start melting immediately
Wrapping mochi is the biggest pain in the ass, especially when your ice cream is fast turning into a puddle. Pinch the dough together around the ice cream ball, press it into a spherical shape, and put it in the freezer to set. I had more success with the firmer passion fruit ice cream than the very soft green tea ice cream. This is why you want everything to be cold or at least completely cooled before assembling. Once frozen, the mochi is fine even with little ice cream leaks. Be patient and definitely get some practice before promising 4 dozen mochi for a potluck.
to serve, i place them in little cupcake papers
Making mochi is simple and easy. Wrapping mochi around ice cream in the heat of summer is a little crazy-making. Eating a homemade mochi ice cream is definitely worth the trouble (in my opinion).
a summer treat in a little package
Matcha Green Tea Mochi Ice Cream
[print recipe]
green tea mochi based on this recipe
1 cup glutinous rice flour
1/2 tsp matcha green tea powder
3/4 cup water
1/4 cup sugar
1-2 cups potato starch or cornstarch
9 1-tbsp scoops of ice cream (passion fruit or matcha green tea), frozen
In a medium bowl, whisk the rice flour and matcha powder together. Stir in the water until smooth. Stir in the sugar. Cover the bowl with plastic wrap and microwave the mochi batter on high power for 2 minutes (give it a stir after 1 minute to prevent burning). Stir the mochi and cook 30 seconds at a time until there is no more liquid in the mochi. Layer potato starch or cornstarch on a rimmed baking sheet or pan. Scrape the mochi onto the starch. Sprinkle more starch over the mochi and begin to press the mochi out to a square or circle of 1/4-inch thickness. Cut the mochi into 9 equal pieces and let cool completely. Place one frozen scoop of ice cream in the middle of a mochi square and quickly wrap the mochi around the ball, pinching the ends together to seal the mochi. Try to avoid letting the ice cream melt or else the mochi begins to lose its stickiness. Place the mochi ice cream in the freezer. Repeat for remaining mochi. Let thaw a few minutes before serving. Makes 9 mochi ice cream.
more goodness from the use real butter archives