Recipe: caterpillar sushi roll burger
The two week pine tree orgy is over and the pine pollen no longer rains down on you when the wind blows around here. That stuff does a number on my respiratory system such that all workouts have been indoors. I dare say I think it's safe to venture out into the hills again. Our yard grows wild, literally. We have no lawn, just weeds and native grasses. But those "weeds" have begun sprouting the colors of summer. I love it.

indian paintbrush and yarrow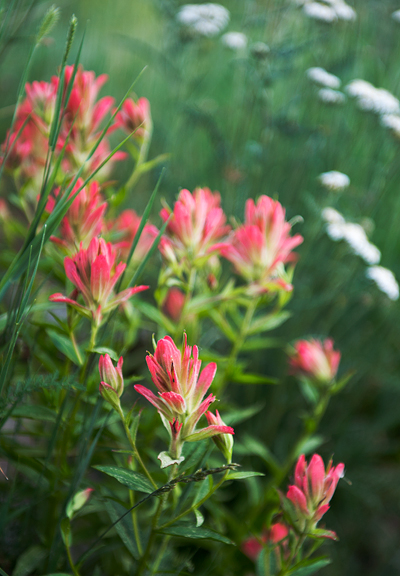 arnica and baby aspens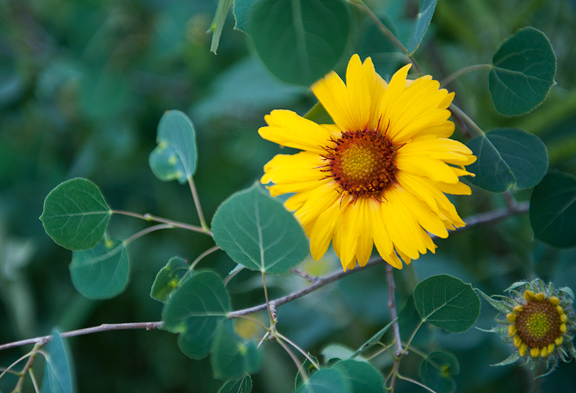 Everyone is doing their thing in summer, because it's summer! Even the bugs. On a hike in Crested Butte a few weeks ago, we paused to observe some caterpillars in a nest. As we continued around the lake, the caterpillars still on my mind, my thoughts turned to caterpillar rolls in sushi bars. Of course, right? I've played around with the burgerfication of various favorite dishes, especially sushi rolls. And I even made a caterpillar sushi roll burger over a year ago, I just didn't like it. So I shelved the photos and recipe – until I saw those caterpillars. What I realized was that the bun I used ruined the entire dish for me (us). It was the first (and last) time I ever tried Rudi's. The bread was dry, crumbly, bland, and basically disintegrated after the first bite. I was so disappointed.
beef patties, buns, eel (unagi), nori (seaweed), lettuce, avocado, tomato, unagi sauce
I'm looking for a certain texture and flavor in my burger buns. I like the bread to be slightly sweet, soft and tender, structurally competent, buttery if possible, and fluffy. Walking through our mountain town grocery store, I spotted some barbecue buns (intended for pulled pork). They fit the bill.
cut the unagi
prep the fixings
The two key ingredients in a caterpillar roll are the eel (
unagi
– freshwater or
anago
– salt water) and avocado… and the
unagi
sauce. Okay, three ingredients. I added
nori
(seaweed) and then the standard burger, tomatoes, and lettuce. You could add
tobiko
(flying fish roe) or
masago
(capelin roe),
gari
(Japanese pickled ginger),
tamago
(Japanese omelette), and other goodies you may fancy. It's your burger. If you're wondering where you can find
unagi
and its corresponding sauce, go to an Asian grocery store. The eel is usually in the frozen section (sometimes in the refrigerated section if you're at a large store that carries more fresh items). The sauce could be anywhere, so good luck with that. Actually, try asking someone before you give up.
grilled beef patties
layer the tomatoes, then the lettuce
set the patty on top
As with all of these sushi burgers, they stack high. This is why the structural integrity of the bun is so important – because you're going to squash this sucker so that it fits just enough into your pie hole to take a bite. If the bun fails, your meal will wind up in your lap.
set a few slices of avocado and then a piece of unagi
sprinkle nori strips and drizzle unagi sauce
The second time around, with the bbq buns, the burgers were infinitely better. Everything was the same except for the bread. It really makes all the difference. How do the caterpillar sushi roll burgers compare to the others? I like them a lot, but I think the
California roll burger
is still hands down the champion of my taste buds. Just for kicks, I made some sliders too, which were equally awesome but freakishly tall for such a tiny burger. As long as it fits in your mouth, you're good to go!
we enjoyed the caterpillar sushi roll burger with a ginger-carrot dressing salad
little caterpillar sushi roll sliders
Caterpillar Sushi Roll Burger
[print recipe]
inspired by 26 Beach
1 lb. ground beef
1/2 tsp fish sauce (don't omit this!)
salt and pepper to taste
4 burger buns
2 tomatoes, sliced
4-8 leaves of lettuce, washed
1 avocado, sliced
1 filet of unagi (Japanese barbecued freshwater eel)
nori (roasted seaweed) strips (I like the seasoned kind)
unagi sauce
Mix the ground beef, fish sauce, salt and pepper in a bowl. Form the ground beef into four regular patties or as many slider patties as you can make, taking care not to pack them too tightly. Grill the patties on high heat to desired doneness, flipping once. Remove the burgers when ready and layer on the bottom bun: lettuce, tomato, burger, avocado, unagi, nori strips, and unagi (eel) sauce. Top the burger with the bun. Makes 4 large burgers and up to 10 sliders.
more goodness from the use real butter archives