Recipe: porcini mushroom gruyère burgers
My good friend, Erin, is a native of Colorado, and yet she had never been to Crested Butte before. So we invited her out to spend the weekend with us hiking, eating, and even meeting some of my entertaining nature photog pals (who were here for the wildflowers). It's the height of the wildflower bloom, so the hikes were especially beautiful this time of year.

erin jumping for joy on beckwith pass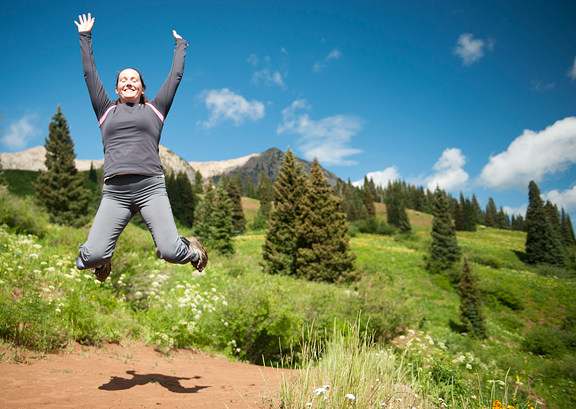 erin for scale next to a green gentian stalk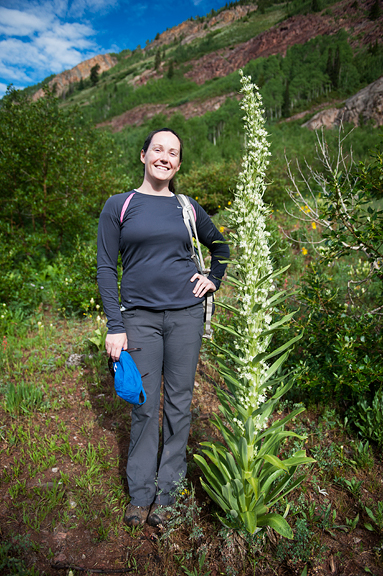 close up of the green gentian flowers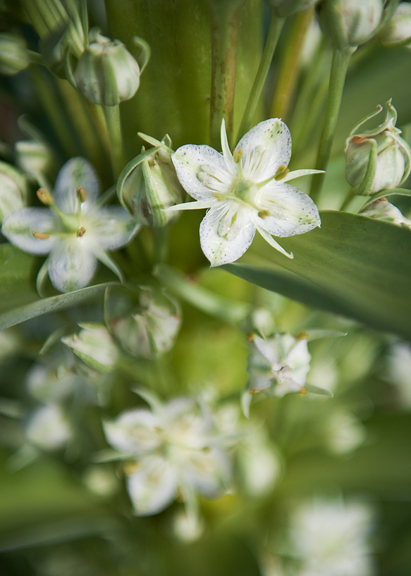 a windy evening at the mountain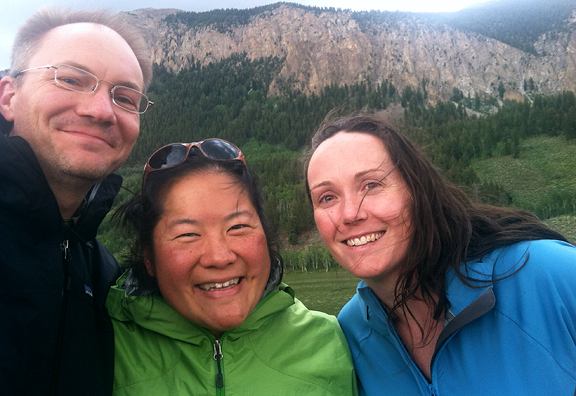 On Sunday, we did a 13-mile hike up to the high country. The pattern of summer monsoon storms has started in the last week and we've been getting some really productive rainstorms in the last few days each afternoon. At a trail junction around 11,000 ft. we paused to let a trail runner pass us. She chatted with us briefly about the trails and continued on. Just then, I spotted something familiar at the base of a tree… It was a mushroom, but not any mushroom – it was a
Boletus edulis
or King bolete or
porcini
.
Wendy
and I have been discussing when our local porcinis would flush this season for the past two months. I had no idea I'd find one in the wilderness outside of Crested Butte! [Note: DO NOT forage for mushrooms unless you are with or ARE a trained expert. Eating the wrong mushrooms can make you very ill or even kill you.]
erin models the porcini on the trail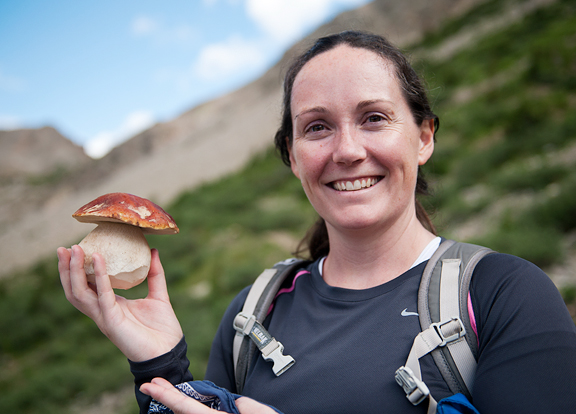 How timely to find my first porcini of the season because I have a recipe I've been waiting to post since last year's porcini season ended. Most of the year, if you are eating porcini, it has been dried and rehydrated. But during this magical period in summer when the rains come and the mushrooms flush, you can enjoy fresh porcinis. I had them with burgers.
little bouchons
butter, white wine, gruyere, porcinis, ground beef, brioche buns
Of course, I realize not everyone is able to source fresh porcini mushrooms and you are perfectly welcome to substitute any other fresh mushroom variety, but if you can get porcinis, it is worth it.
make the patties and slice up the mushrooms
sauté the mushrooms in butter and add white wine
reduce the wine until the liquid is gone
Timing-wise, I think it's best to sauté the mushrooms first and then grill the burgers. For me, it's more important to have a hot juicy burger. However, if you have exquisite multi-tasking abilities or you can wrangle some help – then cook them simultaneously. The assembly is as simple or complicated as you want it to be. I like a simple layer of lettuce with my burger and mushrooms.
grilling the burgers
add mushrooms to the burger
and you're good to go!
Porcinis have a delicate flavor and I worried that the beef and the Gruyère might overpower them, but the mushrooms held their own. Their meaty texture works incredibly well in a burger. And if you're vegetarian, then skip the patty and load up on more porcini mushrooms. I'm so excited for the porcini season to start!
all hail the king (bolete)!
Porcini Mushroom Gruyère Burgers
[print recipe]
2-3 oz. butter, unsalted
8-12 oz. fresh porcini mushrooms, sliced 1/4-inch thick
salt to taste
1/2 cup white wine
1 lb. ground beef
1/2 tsp fish sauce
freshly ground black pepper
4 slices Gruyère cheese
4 hamburger buns
lettuce
Melt the butter in a large sauté pan over high heat. When the butter begins to bubble, add the porcini mushrooms and let sear until golden brown on the bottoms. This should take about 3 minutes. Flip the mushrooms and sear the other sides until golden. Add a sprinkle of salt and pour in the white wine. Let the liquid boil until it is gone. Turn off the heat and set the mushrooms aside. Place the ground beef, fish sauce, and ground black pepper in a large bowl and mix until combined. Form four hamburger patties (a little thinner in the middle). Grill the burgers on high heat for 3-4 minutes. Flip the burgers over and place a slice of Gruyère cheese on each patty. Grill another 3-4 minutes (depending on desired doneness). Place lettuce on a hamburger bun, then top with a hamburger, and finish with several slices of mushrooms. Serve hot. Makes 4.
more goodness from the use real butter archives