Recipe: buttermilk fried chicken
As we started out on our last trail run in Crested Butte, I was admiring the amber glow from the setting sunlight bouncing around the aspen leaves. I absolutely love running or riding through aspen stands in autumn. The path underfoot is carpeted with the signature shapes of aspen leaves in different hues of yellow, punctuated with blacks, browns, greens, oranges, reds. When the tree tops mingle above the trail, you are traveling through a veritable tunnel of gold. Sometimes Jeremy and I run separately when he wants to log more miles and I'm fine with that. I enjoy the solitude.

off he goes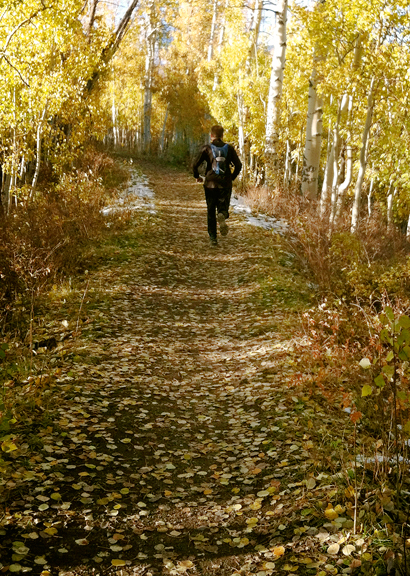 Every time we leave Crested Butte, we scrub our place down. Kaweah cautiously watches from a safe distance when her nemesis, The Vacuum, prowls every inch of the house. It's the kind of cleaning one does when you want ALL of your security deposit back, but we just want to take really good care of it. And the day we leave, Jeremy always gets his caffeine fix in town.
the BEST coffee in town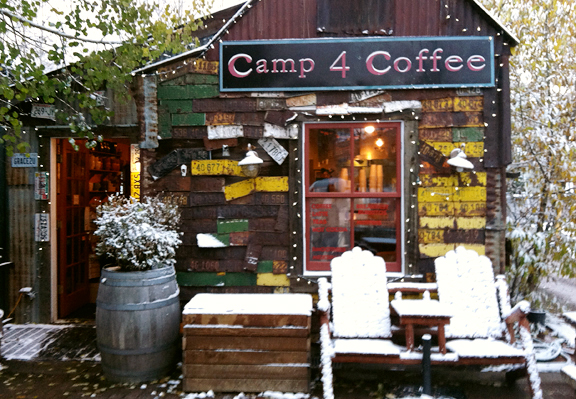 Driving east, we encountered several snow storms on the mountain passes, sunny dry roads in the big Colorado valleys, and freezing rain in between. I followed Jeremy as he drove with Kaweah in the smaller car. Whenever he came to a stop, I saw her little head bob up as if to say, "Are we there yet?!?!" Despite icy roads and whiteout conditions, we made our way safely home.
crawling over monarch pass (jeremy and kaweah in front of me)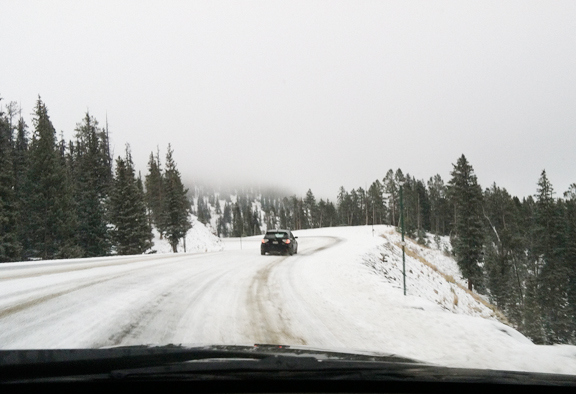 kaweah was so happy to be home, she immediately passed out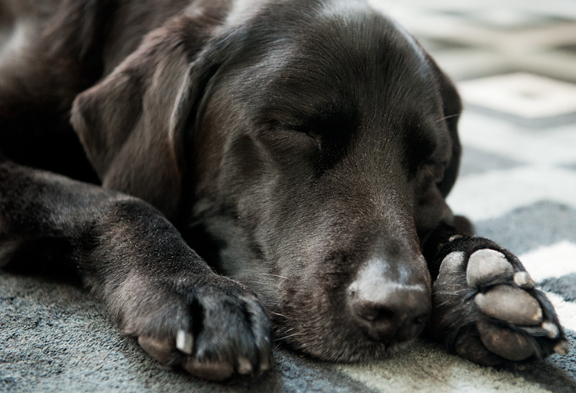 It's been snowing on and off since we got home. We've got the heat on winter settings and snuggy flannel sheets on the bed. There's a growing list of things to do around the house to prepare for winter. Time to swap out the bike rack for the ski rack, tune the skis, pull out the running tights and snow gear. And of course there is cooking and baking which do double duty because the house fills with mouth-watering aromas surfing on currents of warm air. Nothing is better than home style comfort food to welcome you back. Let's fry some chicken!
whole chicken legs, onion, garlic, buttermilk, salt, sugar, bay leaf, rosemary, celery seeds, black pepper
crush the spices
grating onion
Fried chicken is a big deal in The South. I remember spending the night at a friend's house when I was a kid and getting super excited because her mom was making her "secret" fried chicken recipe for dinner. It's like barbecue – many opinions, versions, secrets, and plenty o' fightin' words. We didn't have a secret family recipe for fried chicken. My family didn't make fried chicken. Living in southern Virginia, there was enough (good) fried chicken to be had that you needn't ever make it yourself. Living in the mountains of Colorado, good fried chicken can be hard to find. [Note: I know people love a certain place in Crested Butte for its fried chicken dinner, but honestly – I was disappointed.]
put the spices, sugar, and salt in a gallon ziploc bag
pour in the buttermilk
add the chicken
let it brine overnight
Ever on the lookout for good recipes that promise the results I seek, I decided it was time to delve into what makes the perfect fried chicken. Brining the chicken is a must. Crunchy outer coating, another requirement. Good flavor. Juicy. Tender.
Marc had a recipe
that looked like it would deliver on all those points.
flour, onion powder, paprika, celery seed, black pepper
combine all of the flour and spices in another ziploc
remove the chicken and pat each piece dry
coat the chicken in the flour
set on a rack
Be sure to save the buttermilk brine when you remove the chicken, because you will use it for dipping the chicken once you strain the solids out. I especially liked that Marc double coated the chicken (more crunchy!) and let the legs sit out to dry for an hour before frying. It's a bit of a messy process, but if you are a fan of crunchy skin, I recommend it.
strain the buttermilk
dip the floured chicken in the buttermilk
coat a second time
dry on a rack
fry to a golden brown
The verdict? VERY juicy and tender chicken. The skin is crisp and crunchy with plenty of seasoning. I think the spices were a bit much for me. Perhaps I will dial back the amount of rosemary, bay leaf, and celery seed the next go around. Also, I think I will add some garlic powder to the flour mix next time. But overall, this made for a great dinner and I especially enjoyed MY fried chicken with a dash (or seven) of Tabasco sauce. Good stuff.
welcome home
Buttermilk Fried Chicken
[print recipe]
from No Recipes
1 tsp celery seed
1 tsp dried rosemary
1/2 tsp black peppercorns
1 bay leaf
2 cloves garlic, finely grated on a microplane
1/2 small onion, finely grated on a microplane
2 cups buttermilk
2 tbsps kosher salt (1 tbsp if using table salt)
1 tbsp sugar
4 whole chicken legs
1 1/2 cup all-purpose flour
1 tbsp onion powder
2 tsps paprika
1 tsp ground celery seed
1/4 tsp black pepper, freshly ground
oil for frying
Grind 1 teaspoon of celery seed, the rosemary, 1/2 teaspoon black peppercorns, and 1 bay leaf together. Place the ground mixture in a gallon-size ziploc bag with the grated garlic and onion, buttermilk, salt, and sugar. Seal the bag and mix everything together (shake or smoosh). Put the chicken in the ziploc bag with the buttermilk brine. Squeeze out any excess air and seal. Refrigerate overnight.
Combine the flour, onion powder, paprika, ground celery seed, and ground black pepper in another gallon-size ziploc bag. Seal the bag and shake to mix. Remove the chicken from the buttermilk brine and pat the chicken dry. Strain the buttermilk mixture into a shallow bowl and reserve the liquid (discard the spices). Place one piece of chicken in the flour mixture bag and seal. Shake until it is well coated. Remove and set on a baking rack. Repeat for the rest of the chicken. One at a time, dip each piece of chicken in the buttermilk mixture and coat in the flour mixture again. Set all the pieces on a baking rack to air dry for at least an hour or longer. Heat 2 inches of oil over medium high heat to 340°F. Add the chicken and try to maintain a temperature of 320°F. Fry the chicken for 12-15 minutes total (flip them over when the bottom is turning golden brown). The outer crust should be golden brown, but if you want to check the chicken for doneness, remove it from the oil first before cutting into it unless you like being splattered with hot oil. Drain on paper towels and rest for a few minutes. Makes 4 whole chicken legs.
more goodness from the use real butter archives