Recipe: chicken fried steak with cream gravy
Wow, thank you for all of the warm and kind birthday wishes! I hope you had your own happy birthdays as well. It was one heck of a long weekend, but in the best way possible. The recon trip turned into a shooting trip because the leaves flipped like a switch. They are really good this year (I know this because they were pretty crappy last year). The colors are coming in rich and vibrant in the higher elevations because of our late and wet spring (big snowpack) and also due to the current hot days and cold nights that snap those leaves into the reds, golds, and oranges we love. There is plenty of green, but I've never seen it change so quickly.

we encountered a lot of road construction on the way out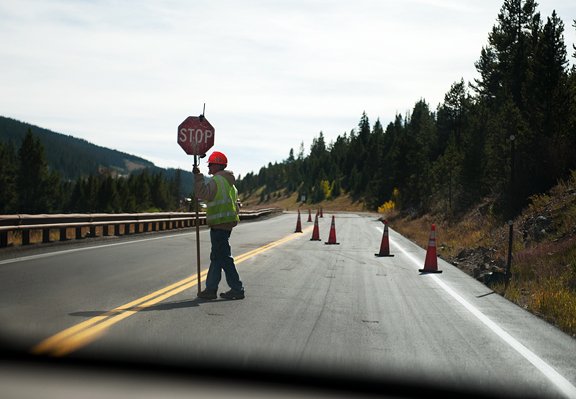 and early colors off the highways in drive-by (photo) shootings
Our first stop was Crested Butte, a town with which we've pretty much fallen in love. My thinking was that it would be early and there wouldn't be much to shoot. I planned to just take notes as to when peak colors would probably occur and then we would hike and mountain bike the rest of the time there. We did manage a few rides, but most of the time was spent hunting gold. Here are some snappies from the trip (I won't be able to look at my real photos until later).
approaching storm behind a sunlit stand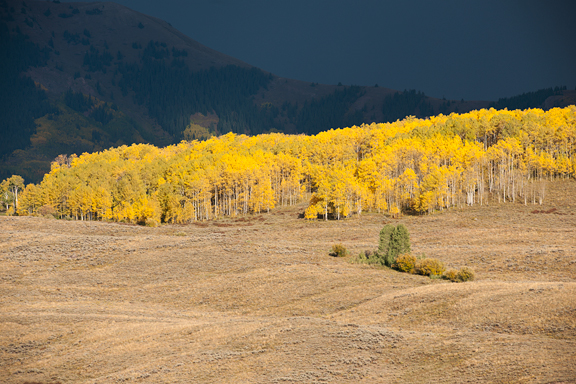 rainbow from the storm reflected in an oxbow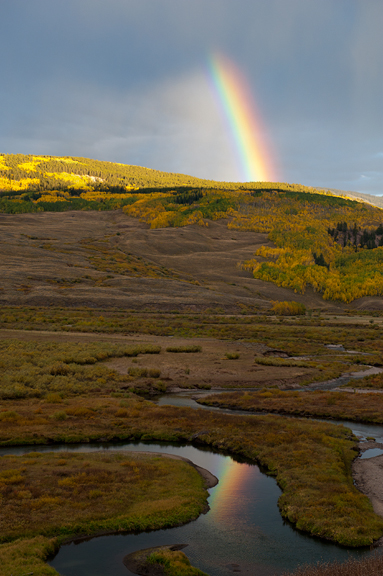 enjoying the colors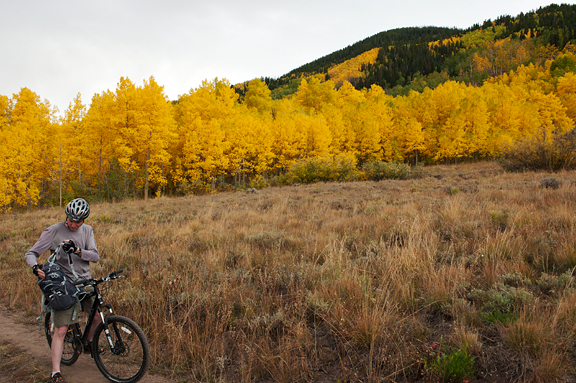 pot of gold at the other end of the rainbow (it lasted over an hour!)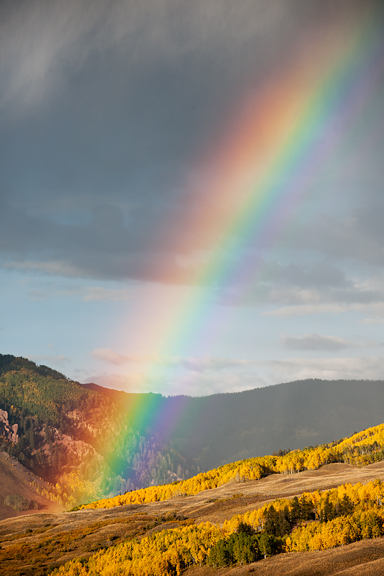 jeremy's favorite place for coffee: camp 4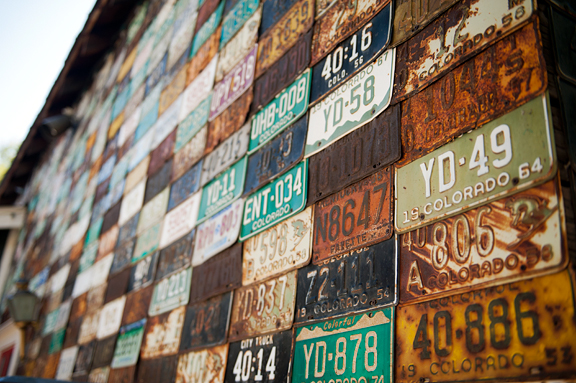 one view from the town of mount crested butte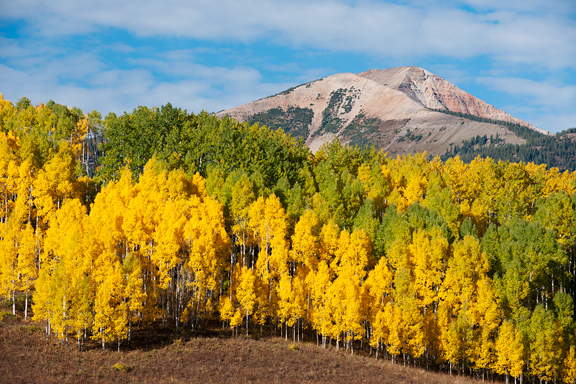 After a few days in Crested Butte, we moseyed across to Aspen. The two towns are practically within spitting distance of one another, separated by the glorious Maroon Bells-Snowmass Wilderness. To get to one from the other by car requires a more circuitous route. Aspen is a completely different vibe from Crested Butte, but we weren't there for the town – we were there for the surrounding mountains and they delivered with some great colors. Over Independence Pass to Mount Elbert were probably the best stands of aspen I've seen this season so far.
sad to see some leaves falling already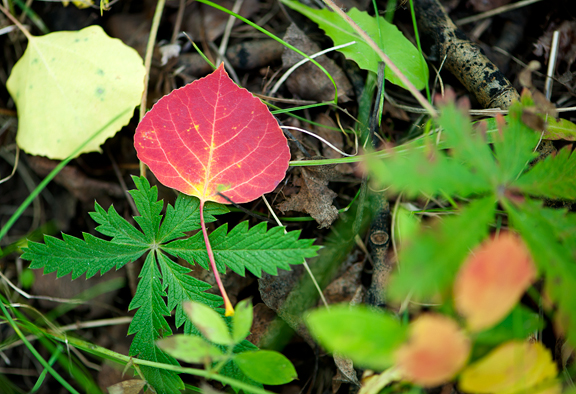 sampling an heirloom tomato salad at matsuhisa's in aspen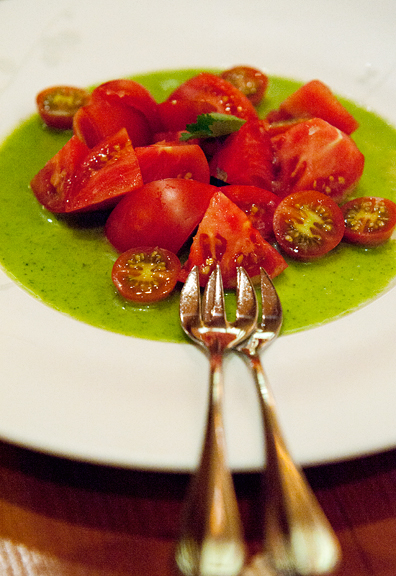 excellent color on the slopes of mount elbert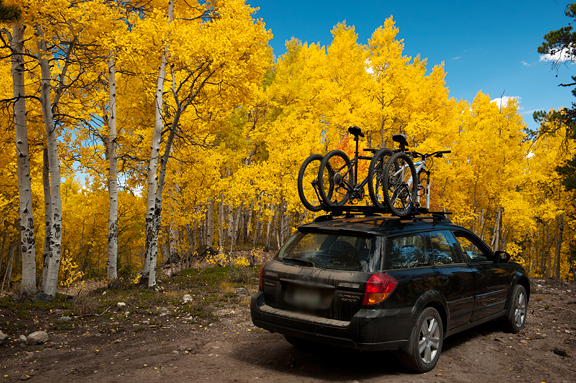 Now it's time to head home, regroup, and get ready for the next shoot. This was a long weekend birthday recon getaway, but the rest is work. There is no rule that says you can't love your work though. I get to frolic with snakes, hawks, horses, sheep, foxes, countless chipmunks and squirrels, and cattle. Many of the roads leading to good aspen or views wind their way through Colorado ranch land. It's not uncommon for me to be shooting in a stand and have a a cow wander past me. I don't mind their company at all, but the other day my thoughts turned to… chicken fried steak.
steak, salt and pepper, buttermilk, eggs, flour
tenderize the steak
Do you ever think of something you want to make while you're in the grocery store, but have no idea how to make it or what you need to buy, and then you whip out the smartphone and look up a recipe? I have been doing that more and more lately (well okay, ever since I switched to Verizon from AT&T). So that's what happened a few weeks ago when I had a hankering, nay, a
craving
for chicken fried steak. I asked Jeremy to do a search and he began reading off the sources. When he said "
Homesick Texan
" I shouted from the dairy cases "THAT ONE!" We all know that girl knows her chicken fried steak.
mix salt and pepper with the flour
whisk the buttermilk and eggs together
Again, I don't own a meat tenderizer. This was the second recipe in a week that called for tenderizing the meat but I just used
Marc's
method for tenderizing the pork in the
Japanese tonkatsu
recipe and it worked wonderfully. I prefer to use the back (dull part) of the knife rather than the sharp part of the blade.
dredge in flour once
dip in egg-buttermilk mixture
a final dredge in the flour
I've tried the recipe with the milk-egg mixture and also with the buttermilk-egg mixture and I prefer the buttermilk. It seems to coat better and I like the way it fries up.
fry the steaks and flip over when blood pools on top
drain on a cooling rack or paper towels
But wait, there's more! Lisa also provides a recipe for cream gravy. This frightened me greatly because gravy is bad enough as it is, but cream gravy sounded doubly bad. Lisa's cream gravy recipe calls for milk though, not cream, so you don't have to be as terrified that it will send you up a pant size.
flour, salt and pepper, oil from frying the steaks, milk
make a roux with the oil and flour
You don't have to use pan drippings, you can use bacon grease or vegetable oil to start the roux – just some sort of fat. When the roux gets dark, whisk the milk in. I find it helps me to whisk in half the milk and let it come to a thick gravy before adding the rest of the milk, otherwise I end up chasing little lumps out with my whisk for several minutes. When it thickens, you have yourself creamy gravy.
thickening the cream gravy
pour over the chicken fried steak
Frying always makes a mess, but this one makes a quick mess and terrific dinner (or breakfast or lunch). It's disturbing how easy it is to throw together in a pinch which is why you should pair this with some mashed potatoes, collard greens, and a good couple hours of cardio workout.
this is diggin' in kinda food
Chicken Fried Steak with Cream Gravy
[print recipe]
from Homesick Texan
1 1/2 lbs. top round (sirloin), steak
2 cups flour
2 tsps kosher salt
1 tsp black pepper
1/4 tsp cayenne
3 large eggs
1/2 cup milk or buttermilk (buttermilk gives a better crust, based on my experiments)
oil for frying
1 1/2 cups cream gravy
cream gravy
2 tbsps pan drippings, bacon grease or vegetable oil
2 tbsps flour
1 1/2 cups milk
1 tsp black pepper
salt to taste
Make the chicken fried steak: Cut steak into four pieces and tenderize with a meat tenderizer or use the back (the unsharp part of the blade) of a chef's knife until the beef is flattened and nearly doubled in area. Mix the flour, salt, pepper, and cayenne in a wide, shallow bowl. Whisk the eggs and milk (I prefer the buttermilk option) in another wide and shallow bowl. Completely coat each piece of beef in the flour, then dip it into the egg and milk bowl, then coat it in the flour once again. Fill a cast-iron skillet or sauté pan with an inch of oil and heat over medium-high until a flick of the flour sizzles. Place the beef in the oil and let fry until blood begins to pool on the top of each piece. This takes a few minutes. Carefully turn the pieces to fry the other side for about 4-5 minutes more. Remove from the oil and place on a cooling rack to drain. Repeat until all of the steaks are cooked. Keep the rest warm in an oven until ready to serve.
Make the cream gravy: Put the fat and flour together in a hot skillet or saucepan, constantly stirring until it becomes dark. This takes a few minutes. Slowly pour the milk into the pan while whisking it into the roux to break up any lumps. Turn the heat down to medium low and keep stirring until the liquid begins to thicken. This takes a few minutes, but it will happen. Season with pepper and salt to taste. If too thick for your liking, add a little milk to thin it out. Makes 1 1/2 cups.
Serve the chicken fried steak with the cream gravy. Serves four.