Today (December 14th) is Kaweah's 15th birthday! At this time last year, Jeremy and I figured she probably wouldn't make it to fifteen… figured that her various ailments and most of all, her age, would catch up to her before this day. We agreed to take each day as it comes and to make Kaweah as happy and as comfortable as possible. Even last night when I reached over from under the covers to stroke her soft ears, I never assumed that she would be here today. For her birthday, we are making sure she enjoys the one thing in this world that makes her happiest – food!

amuse bouche: brussels sprout leaf, carrot, cheddar, and a peanut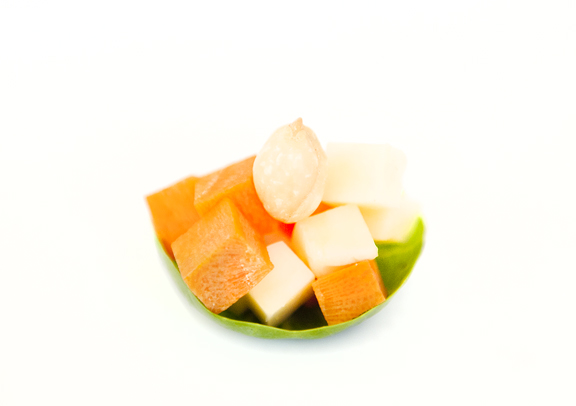 beef 3-ways: hand cut, medallion wrapped in prosciutto, carpaccio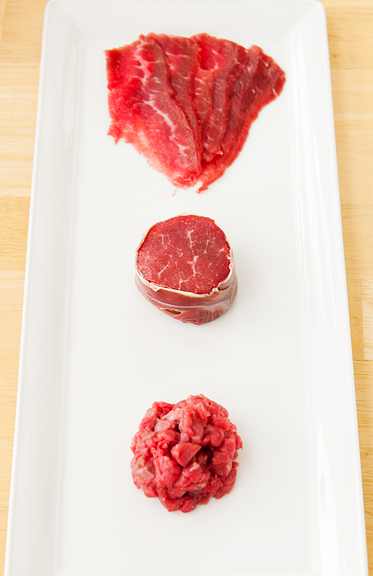 birthday dessert: crushed pumpkin peanut butter dog treats in peanut butter, sliced lady apple, whipped cream, sprinkles, whole lady apple, homemade dog treats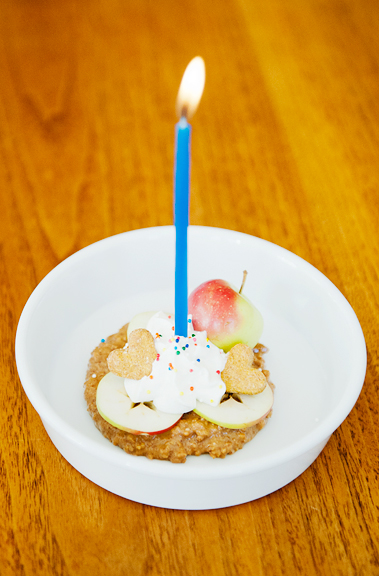 Jeremy fed Kaweah a quarter of her usual kibble allotment for breakfast, because I had this nice birthday meal planned for her (too much food guarantees a puke episode in the middle of the night). She happily gobbled it down and wandered off to contemplate the things that Kaweah contemplates in the office. An hour later, as I was preparing her birthday meal in the kitchen, she emerged from the office looking around as if something was amiss. "I think she just realized that she was short-changed at breakfast," Jeremy observed.
ready to start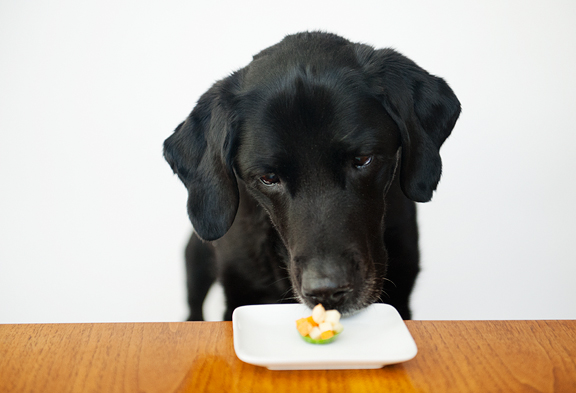 she could not stop licking her chops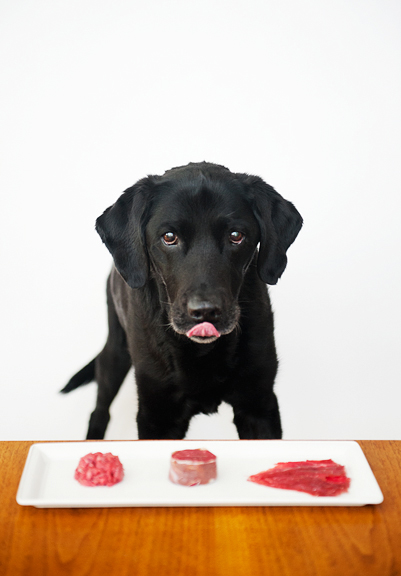 jeremy gives her a hand with the carpaccio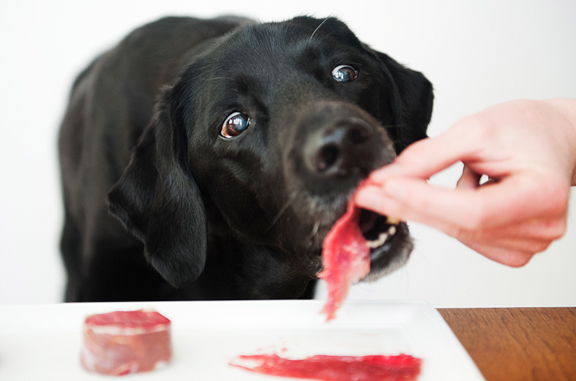 licking the plate clean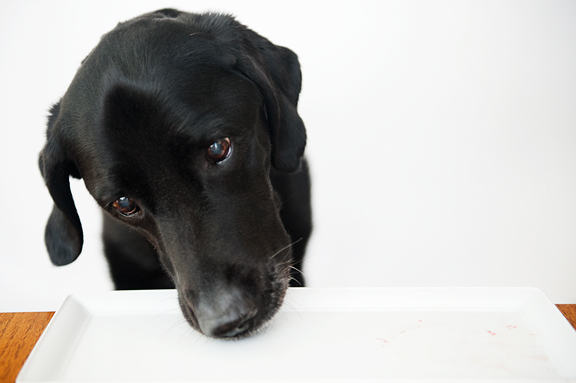 It's a silly thing I do for Kaweah – making pretty food for her to devour. She's a dog's dog and would be just as happy if I filled a bowl with kibble. I guess I do it for me as much as I do it for her. Perhaps it's all in my mind, but I think I see her wag more when she inhales beef or peanut butter or cheese.
intent on her birthday dessert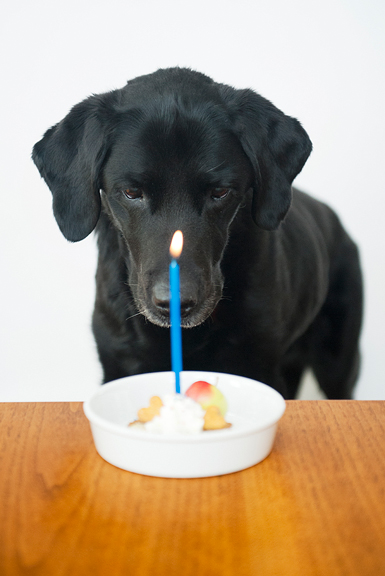 looking to jeremy for the go ahead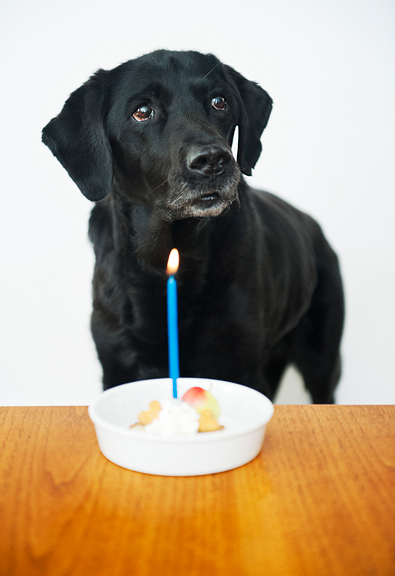 she got so excited, she started panting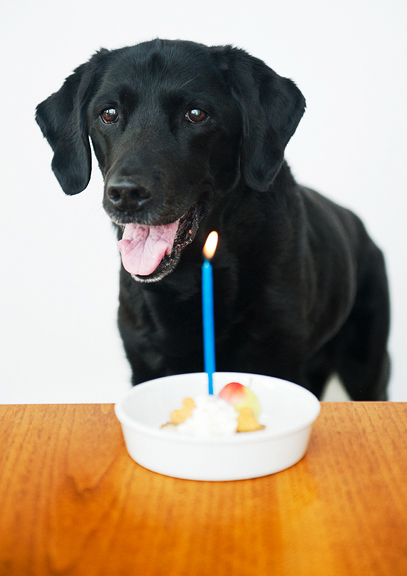 birthday puppy!!!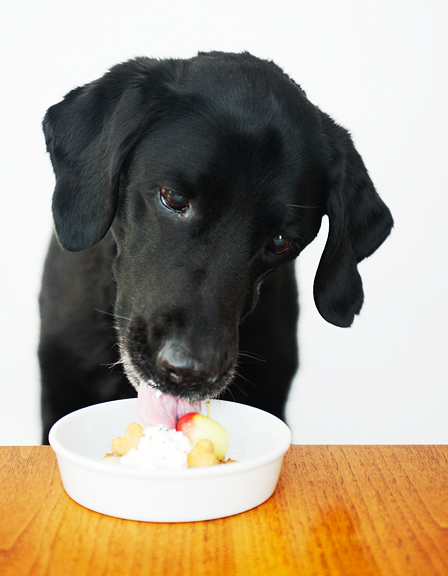 Kaweah spent a good 30 minutes lying in the sun and licking her chops after her birthday meal. Later, I noticed she had capsized onto her side taking a much needed nap – her belly happily full. Jeremy called the vet to make an appointment for a check-up next week and the technician knew Kaweah by name. When the appointment had been booked, she said to Jeremy, "She's pretty remarkable." We feel the same way. It's hard to watch a beloved pet age, but every day we get with Kaweah is a gift. She just keeps surprising us all.
Happy birthday, baby puppy. We love you so much!

outtake: sometimes her eagerness gets the better of her