Recipe: pressure cooker beef pho
Happy New Year, everyone! I'm always glad when we finally get to the first of January because it means I can flip the switch from HOLIDAY to NORMAL. But things weren't quite normal for the past few days. Sunday evening, we noticed that Kaweah's breath was particularly foul. I mean, she's a dog and her breath was never pleasant, but it was really awful smelling. Then Monday afternoon she was limping on the paw that had a sprained toe from a few weeks ago. We thought it was getting better, but when I took a closer look… her toenail and toe pad were infected and the source of that horrible smell.
Kaweah has always been a pretty healthy dog with minor problems, if any. But at her age, I wondered how serious this could be and if it would mean making a hard decision. You always hear about a procedure that could solve the problem, but might kill an old dog. Jeremy called our vet back home while I quietly wiped away tears and rubbed Kaweah's belly. We got antibiotics from the vet in Crested Butte, but decided the next morning to take her in for a look and to get some advice on how to care for her toe. We've been lucky that every vet who has ever cared for Kaweah has been absolutely wonderful, and our CB vet is no different. She fell in love with Kaweah and of course, Kaweah loves her right back (Kaweah doesn't dislike anyone). We've got her on antibiotics, pain killers, a medicated soak twice a day, lots of happy treats, and a cotton sock for her little paw paw (thank you, CB thrift store!).

kaweah on the way home from the vet, having made more friends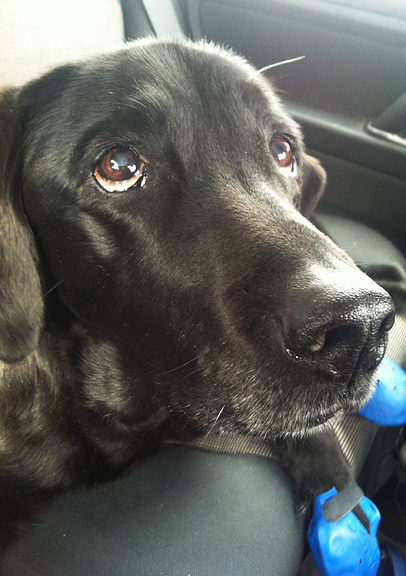 All this to tell you that Kaweah seems to be improving, the stink is mostly gone, and that we rang in the new year soaking her paw in a ziploc bag of medicated wash. Yay, Kaweah! She'll most likely lose that toenail, but hopefully she will be able to keep the toe. We have good vets looking after her.
Once we were sure she was comfortable and asleep (lots of excitement for her at the vet), we hopped out for a quick nordic ski on New Year's Eve. It was good to get the worry and stress out on the trails.

frozen stream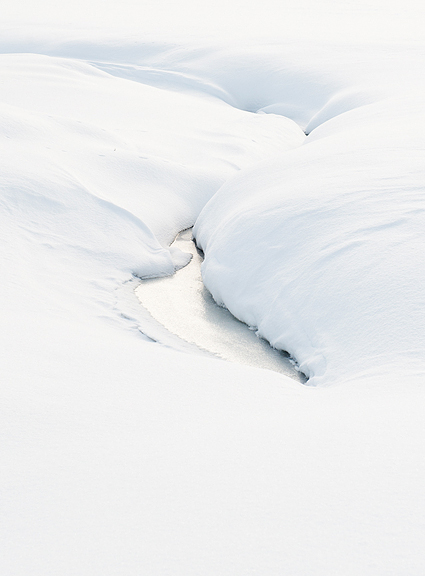 the valley that is home to the town of crested butte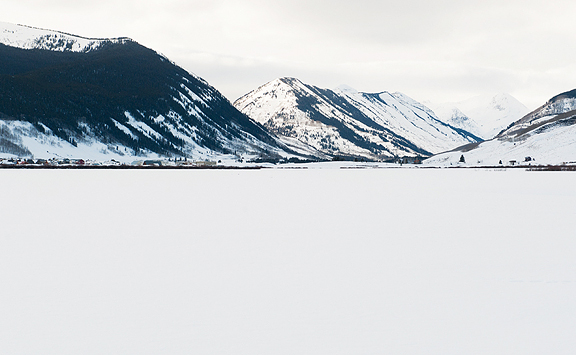 On New Year's Day, Kaweah was her happy waggy self walking around with a child's sock on her foot like a little drunk person. We figured we could go ski the mountain for a few hours to greet the new year properly. And I'm happy to report that I have been learning to jump some ramps! Nothing huge, but… this 42 year old betty can hang with (some) of the 13 year old boys at the terrain park! Especially now that I've stopped screaming whenever I catch air.
dropping knees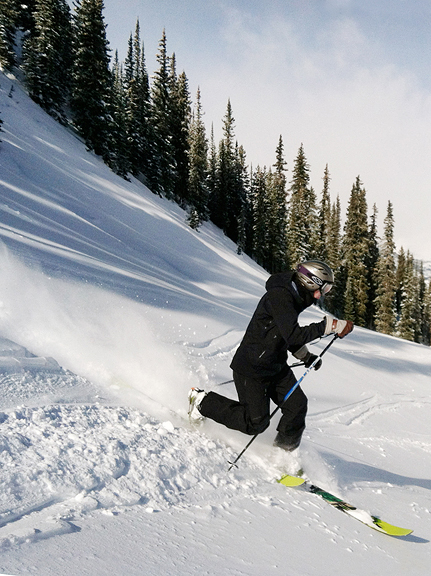 …and skiing trees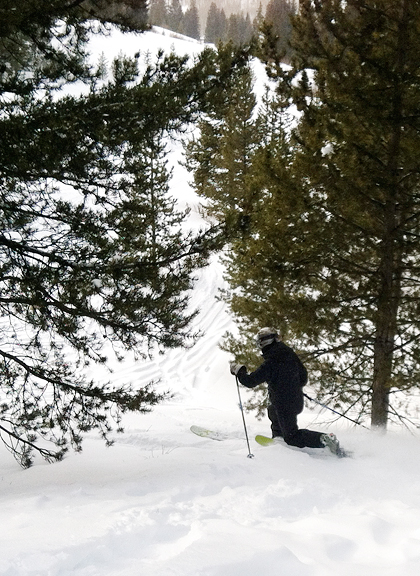 This is our first winter in Crested Butte, and each day it becomes clear that this is a winter paradise for those of us so fond of frozen precipitation. But after our excursions on the mountain, on the trails, or in the backcountry, we set our gear out to dry, wipe off the sunblock, and prepare something hot with which to warm up. A favorite of mine is Vietnamese beef pho, but I rarely made it because of the time investment. Until now. I've managed to reduce hours of simmering to an hour by employing my beloved pressure cooker for the task.
for the broth: fish sauce, onions, ginger, beef brisket, beef bones, spices, sugar, salt
slice the onions and ginger in half
broiled
Don't fret if you don't have a pressure cooker, you can always make this the traditional way and simmer for several hours on the stove. I just like to use my pressure cooker whenever I can because it saves energy and (my) time. The bones I used to make my broth are three-fourths back rib bones (these had some meat on them) and one-fourth beef marrow neck bones. If you use all beef marrow bones, it gets to be an incredibly greasy mess. I just want some marrow for the flavor. The first step is to boil the bones in water for a few minutes to remove bone bits and scum. Drain the water off and rinse the bones. The second boil is when you get down to business.
first boil
second boil: top with water
add brisket, charred onions and ginger
Take care not to fill your pressure cooker to the brim otherwise there isn't enough room for the steam to build up pressure (hence the name, pressure cooker). Mine is an 8-quart Fagor Duo and it says not to fill it more than 2/3 full of liquid. Respect the physics. I let it cook on high for an hour.
adding star anise, fennel seeds, whole cloves, cinnamon stick, coriander seeds, black cardamom
and don't forget the fish sauce
lock it down and cook
The broth yield from my pressure cooker was somewhat on the low side because 1) I could only fill it two-thirds full 2) it's an 8-quart capacity pot and 3) it was already full of bones and beef and other stuff. No problem. I strained out the broth and left all of the broth goodies in the pot, topped it off with more water to two-thirds capacity, and cooked on high for an hour. Two hours is still less time than three (or more) hours.
lovely broth
pouring through a fine mesh sieve
removing the disk of fat that solidified on top after chilling
When the broth is done, I like to refrigerate it or put it out on the deck where the temperature in winter is well below my refrigerator temperature. The fat rises to the top and solidifies into a neat disk which is easily removed. This takes time though, and if you are impatient to have your pho right away, you can always ladle warm broth into a gallon ziploc bag, seal it, set it over a large pot (keep it low so the broth doesn't squirt out all over you), and cut open a tiny (tiny!) hole in one of the bottom corners. The broth will empty into the pan and the fat will sit at the top. As the liquid drains from the bag, the fat layer will begin to lower toward the corner. Pinch off the corner before any fat gets through and discard.
slice the brisket
slicing raw flank steak
use fresh or dried rice noodles
If there is meat on the bones you used to make the broth, it should come off easily and separate from connective tissue and fat. I save this meat to include in the pho with the cooked brisket. At this point, you can freeze or refrigerate the broth and the meat for later. When you're ready to eat, gather your ingredients and get your
mise en place
. I use the cooked brisket from the broth (and the extra meat off the bones) and sliced raw flank steak (easiest to slice thin when partly frozen or partly thawed). There are always dried rice noodles in my pantry, so I boiled those for a few minutes and drained them per the instructions on the package. Soak thin slices of yellow onion in a bowl of cold water for 30 minutes to take the edge off. Slice green onions, Thai chilis, and lime wedges. Lay out fresh basil (Thai basil if you can get it), fresh mint, mung bean sprouts, cilantro, Sriracha hot sauce, and hoisin sauce. I get so excited just thinking about it.
green onions, basil, mint, onion, mung bean sprouts, chilis, cilantro, lime, beef and beef, hoisin and sriracha sauces
place cooked rice noodles in the bowl with brisket, raw slices of beef, sliced onion, and green onion
ladle the hot broth over the noodles
I think I like the add-ins almost as much as the soup and noodles. If you ever have pho with me in a restaurant, I will use up all of the sprouts, the lime wedges, and the basil. When I dine with Jeremy, he gets to have a taste before I add the hot sauce (because he ALWAYS orders the pork noodle bowl). But the point is that now we can each have our own bowl of pho at home! And it doesn't have to suck away as much time from work or skiing or general goofing off, thanks to our awesome pressure cooker and… PHYSICS! Happy New Year, friends!
refreshing and warming and 100% satisfying
Pressure Cooker Beef Pho
[print recipe]
based on Steamy Kitchen's recipe adapted from Andrea Nguyen
broth:
2 medium yellow onions, slice in half (skin on)
4-inch piece of ginger, sliced in half
5 lbs. beef soup bones (leg and knuckle bones recommended – mine were back rib bones and 1.5 lbs. neck marrow bones)
5 whole star anise
6 whole cloves
1 cinnamon stick, 3 inches
1 tbsp coriander seeds
1 tbsp fennel seeds
1 black cardamom pod
1 lb. beef chuck, rump, brisket, cross rib roast (2×4-inch pieces)
1 1/2 tbsps salt
4 tbsps fish sauce
1 oz. rock sugar or regular granulated sugar
for the bowls
1 1/2 -2 lbs. banh pho fresh or dried rice noodles, cooked according to package directions
1/2 lb. flank, eye of round, sirloin, etc., sliced thin against the grain
1 yellow onion, sliced thin, soaked in cold water for 30 minutes
3-4 green onions, sliced (green part only)
black pepper, ground
1/3 cup cilantro, chopped
2 cups fresh mint
3 cups fresh basil (Thai basil, if you can get it)
2 cups mung bean sprouts
Thai chilis, sliced
1-2 limes, cut into wedges
Sriracha sauce
hoisin sauce
Make the broth: If broiling, lightly grease the cut sides of the yellow onion halves and the ginger halves and broil for 10-15 minutes on a foil-lined baking sheet, turning over half way through the cooking time. Alternatively, you can char the onions and ginger over a grill or gas flame until blackened and soft. Remove blackened parts with a knife. Set aside. Place the beef bones in your cook pot and cover with cold water. Set over high heat and bring to a boil for 2-3 minutes. Drain the water off and rinse the scum off the bones. Scrub the residual protein from the pot and rinse it out. Place the bones back in the same pot and add 6 quarts of water (I added 4 quarts because of my pressure cooker capacity) and bring it to a boil with the lid off. Skim the protein foam off the top as it boils for a few minutes.
Add the anise, cloves, cinnamon, coriander seeds, fennel seeds, cardamom pod, beef, salt, fish sauce, and sugar to the pot. Seal the lid on and set the pressure cooker to high (if you have a choice). Once the pressure cooker reaches pressure, start the timer and let it cook for an hour. Turn the heat off after an hour and let the pressure cooker release naturally (don't open it, don't run it under cold water, just let it cool on its own). This is called natural release. If you don't have a pressure cooker, you're fine to let the broth simmer uncovered for 3 hours after adding all of the spices and flavorings. Andrea recommends removing the beef cut from the pot when it is done to your liking (soak in cold water for 10 minutes, drain, then cover and refrigerate). I leave the beef in my pressure cooker until the end because you can't be removing stuff from a pressure cooker willy nilly. When the pressure cooker releases, strain the broth through a fine mesh sieve into a large pot.
*Note: I made two batches of broth from the same bones because my pressure cooker has an 8-quart capacity and you aren't supposed to fill them more than two-thirds full of liquid. After the first batch was done, I strained out the liquid and put everything (including the cut of beef) back into the pot. I topped it with another 4 quarts of water, sealed the pressure cooker, and let it cook for an hour with natural release as before.
To de-fat the broth you can refrigerate it until the fat solidifies, removing the disk of fat and discarding it. Or you can pour warm broth into a gallon ziploc bag, seal it, set it over a large pot (keep it low so the broth doesn't squirt all over you), and cut open a tiny hole in one of the bottom corners. The broth will empty into the pan and the fat will sit at the top. As the liquid drains from the bag, the fat layer will begin to lower toward the corner. Pinch off the corner before any fat gets through and discard. At this point, you can refrigerate or freeze the broth for later use. Pick any meat from the bones and reserve with the beef cut. Discard the bones, spices, and aromatics.
Serve the soup: Place desired amount of rice noodles in a large, deep bowl. Add sliced raw beef, sliced cooked beef, thinly sliced yellow onion, sliced green onions, and black pepper to the bowl. Ladle hot broth over the noodles until the bowl is almost full. Garnish with cilantro, mint, basil, mung bean sprouts, chilis, lime wedges, Sriracha hot sauce, and hoisin sauce. Serves 8.
more goodness from the use real butter archives