Recipe: baby bok choy with miso ginger dressing
It's been an exhausting few days while Jeremy was out of town. I'm running on fumes here, so this will be a quick post. I'll just say there was a major poopocalypse Tuesday that was in essence: Kaweah pooped on wall-to-wall carpet, stepped firmly in poop, wandered all over wall-to-wall carpet and dog bed while I was in town running errands… yay. I spent four hours scrubbing pretty much everything and now I have a date with a rental steam cleaner this week.
Let's look at some snow porn, because I really need it.

trail markers (blue diamonds) are normally 7 feet above ground, this was as high as my thigh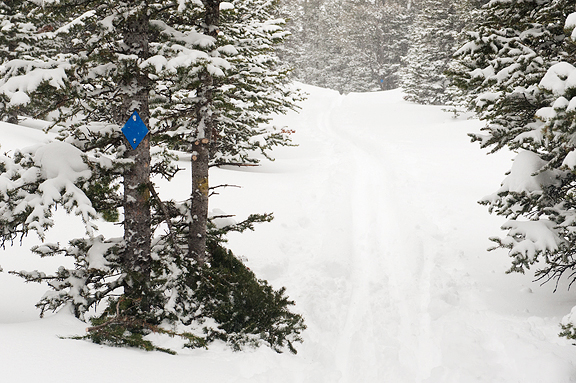 ripping ten fresh inches of powder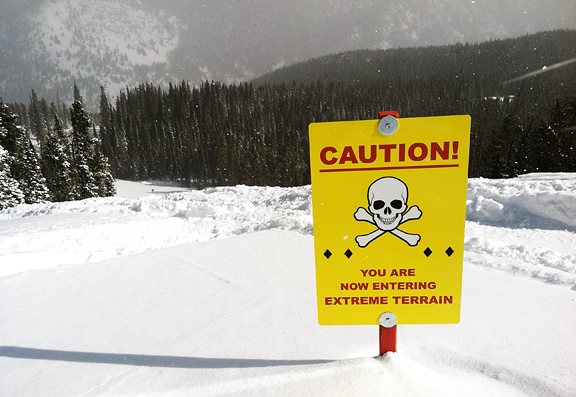 I know I've inundated you with heaps of indulgent posts lately, so I'm going to switch gears to something healthier and far easier to make. Sometimes I wonder if I love green vegetables in part because I love the color green. I'd like to think that the visual component plays a role in my enjoyment, but then how does one explain refritos? In any case, baby bok choy is mildly sweet and tender. I used to only find them at the Asian grocery store, but now you can find a few varieties in western grocery stores.
bok choy, miso, ginger, garlic, lime, rice vinegar, sesame oil, vegetable oil, sriracha, mirin (ignore the soy sauce)
cut the baby bok choy in half
beautiful cross-sections
This recipe comes from a recent issue of Fine Cooking magazine. It's easy, quick, and delicious, which are all important criteria for vegetable dishes lest you try to find a reason to weasel out of making it. The baby bok choy also present well for entertaining. The dressing requires a little mincing and squeezing, but comes together in no time.
mincing ginger
lime juice, ginger, rice vinegar, mirin, miso, sesame oil, garlic, sriracha
mix the miso, mirin, lime juice, sriracha, and rice vinegar together
smooth
You can make the dressing first and keep it warm on the stove while you sauté the bok choy or make it while the bok choy cooks. The goal is to have a warm dressing to pour over your bok choy when it's ready – so you decide.
sauté the bok choy
cook until the ribs are soft without being mushy
add the miso sauce to the sautéed ginger and garlic
whisk in sesame oil
Make sure you don't overcook the bok choy. Bright green and still slightly crunchy is the goal. Overcooking will result in a puke green color and mushy texture. When the baby bok choy are ready, arrange them in your serving vessel and drizzle the warm dressing over the greens. This is a great side dish if you're looking for vegetables with a hint of mellow miso and a gingery zing. I've also eaten it with a bowl of rice for a light meal when I'm craving greens and not much else. We shall resume the debauchery in the next post. Promise.
warm dressing over the bok choy
it's both good and good for you
Baby Bok Choy with Miso Ginger Dressing
[print recipe]
from Fine Cooking issue #127
1/2 cup mirin
1 1/2 tbsps white miso paste
1 tbsp fresh lime juice
1 tbsp rice vinegar
1/4 tsp Sriracha
2 1/2 tbsps peanut oil or vegetable oil
1 1/2 tbsps ginger, minced
1 clove garlic, minced
1 tbsp sesame oil
2 lbs. baby bok choy, halved
In a small bowl, whisk the mirin, miso paste, lime juice, rice vinegar, and Sriracha together until smooth and blended. Set aside. Heat 1/2 tablespoon of oil in a small or medium saucepan on high heat. Add the garlic and ginger, stirring for 30 seconds. Whisk in the miso mixture and cook for a minute until slightly thickened. Remove from heat. Stir in the sesame oil. Cover with a tight lid or transfer to a heat-proof bowl and keep warm. In a large sauté pan or stock pot, heat 2 tablespoons of oil on high heat. Add the baby bok choy and sauté for 5-6 minutes or until the stalks become tender, but not mushy. If the bok choy is overcrowded in the pan, it will take longer to cook and will steam more than sauté. Cook in 2 batches if necessary. When baby bok choy is done, arrange it on a serving plate. Drizzle the dressing over the baby bok choy and serve. Serves 4 as a side dish.
more goodness from the use real butter archives