Recipe: stir-fried baby bok choy
There are a few spaces left in the Food and Light workshop to be held in Boulder, Colorado on August 2-3, 2011. If you want to take your food photography skills to the next level, if you're in a rut, or even if you are just getting started – it's a great opportunity to learn, work hard, make friends, eat amazing food, have fun, and experience a little bit of glorious downtown Boulder in summer.

shooting in my home studio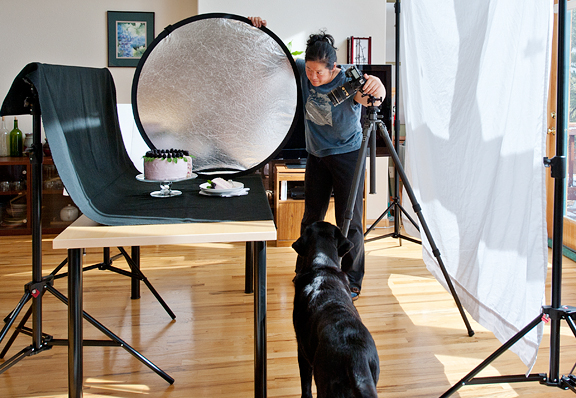 We have a rock 'em, sock 'em line-up of instructors who were not only selected for their stunning body of work, but for their ability to teach and teach well. I'm quite proud of this team because our collaboration from the beginning has been cooperative, jovial, enthusiastic and most importantly – we are all focused on providing the best experiences for our workshop attendees. In a month, we will be sending out a questionnaire to Food and Light 2011 participants to gauge what each person's skill level is and to find out what topics they want us to cover and what specifics they want to be addressed. It's highly customized to the individuals because we only spend a small fraction of the workshop giving lectures. Most of the time is spent shooting and working one-on-one with the instructors.
matt is a our canon man (photo courtesy of matt wright)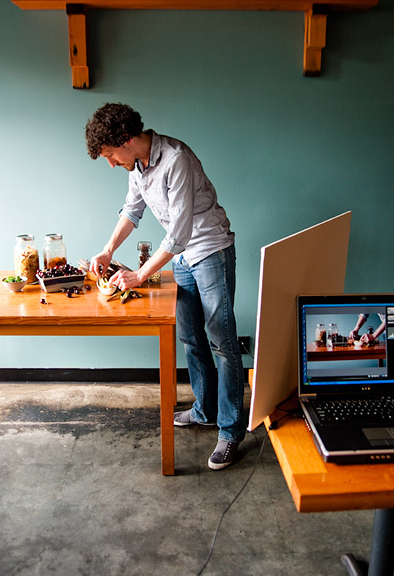 Did I mention that Matt wrote a
photography manual to raise money for Japan's relief efforts
? He did. He's amazing.
This year we're changing things up a bit and spending our second day of the workshop in a restaurant setting at The Kitchen Upstairs. We've got the whole place to ourselves! The first day will still be at that beautiful light-filled Rembrandt Yard art gallery we booked last year. This way we can get some studio work at the gallery, some dynamic shooting at the restaurant, and a group family-style lunch at the restaurant (fun!!!). I'm even going to request Diane's *favorite* waiter :)

todd working the cake (photo courtesy of white on rice couple)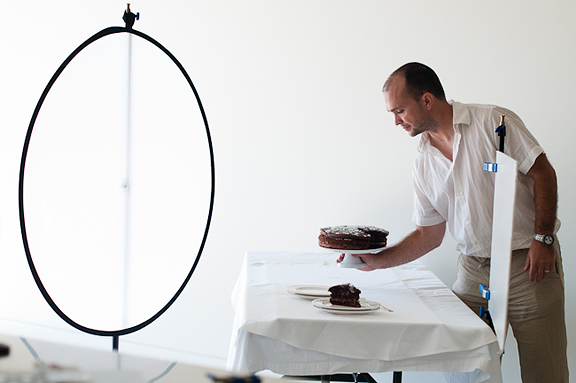 Besides the fundamentals, we plan to cover: styling, composition, motion, lighting (natural and artificial), and we're adding a short session on digital post-processing. Our sponsor
Pro Photo Rental
will be providing Canon and Nikon pro lenses for attendees to test drive. That's super awesome. As stated on the website:
Our goal is to not only teach you the fundamentals of food photography and food styling, but to give you the tools to continue learning when the workshop is over.
So I hope you'll consider joining us because it's going to be a blast!
diane in the studio (photo courtesy of white on rice couple)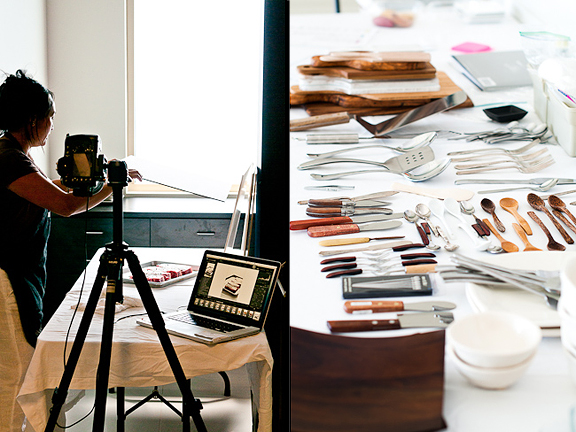 There's never a free moment around here and that's largely because I cram as much as I can into my calendar. My friend is writing up her dissertation and I read with some horror that she hadn't been eating well a few weeks ago. At Cornell, when close friends were "in the cave", I whipped up a few batches of food for them so they wouldn't have to worry about cooking/feeding themselves. It's only natural that I'd offer to bring her some food. Ya gotta eat, right?! I asked if she liked beef and broccoli, hot and sour soup, kung pao chicken, bok choy… She said she'd love anything I made. I hope she likes bok choy.
baby bok choy (because baby everything is cuter)
lop off the base
I doubled everything I made for my friend since most of the effort in Chinese cooking is the chopping – that way I could feed my household as well as her. I am all about the greens lately. Just craving them like crazy because I want wholesome, simple food. And that means my mom's cooking. It's nothing fancy, but it's incredibly good.
slice the heart in half
pretty
Baby bok choy is usually pretty clean, but give it a good rinse in water to get rid of any silt on the leaves or between the ribs. I shake off as much excess water from the bok choy as I can before stir-frying. Since I doubled this recipe, you might think I cooked the whole thing in one go. Nope. I've discovered (through trial and much error) that my sauté pan can handle a maximum of a pound of bok choy. If you crowd the pan too much, everything just steams and wilts. So be patient and cook a pound at a time.
washed and shaken dry
stir-fry in oil and a little salt
That's it – (baby) bok choy, oil, and salt. So simple and yet incredibly satisfying and good for you. It's a fantastic side dish, but I also love to eat a pile of the greens with a small bowl of rice or with a bowl of hot Chinese noodle soup. That is good stuff. I get baby bok choy in the Asian grocery store although I've seen it on rare occasion at regular grocery stores (although they usually look pretty tired).
the hearts are sweet
Stir-Fried Baby Bok Choy
[print recipe]
1 lb. baby bok choy
2 tbsps vegetable oil (something without flavor – not sesame or olive)
salt to taste
Trim the base of each bok choy bunch and peel away any bad outer leaves. Remove loose leaves from the bunch, but if they're in good shape – save them. Slice the hearts in half. Wash the good loose leaves and hearts in water and drain. Heat 2 tablespoons of vegetable oil in a large sauté pan. When the oil is hot, add all of the bok choy at once. Stir-fry a few minutes and sprinkle salt to taste (like 1/2 teaspoon, but it varies). The bok choy is done when the leaves wilt and turn dark green. The white stalks will soften. It took me about 7 minutes. Remove from heat and serve. Serves four as a side dish.