Recipe: chicken teriyaki bowl
YES! TWO FEET of snow graced our mountains by storm's end (we averaged 16 inches around our house). Jeremy and I were patient, letting the snow settle for 24 hours before diving into it. Our assessment over two days of backcountry skiing is that the bottom of the snowpack was a wet spring base, but the upper 12 inches of fresh snow was good and wintry. Even Kaweah enjoys feeling the snow underfoot when she does her rounds in the yard. We're all snow lovers in this house.

jeremy breaking trail into 2 feet of fresh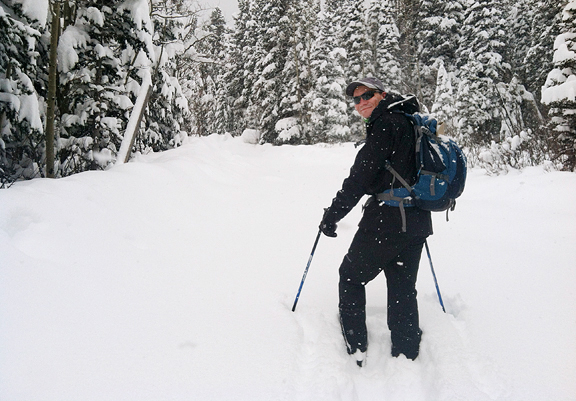 winding up into the high country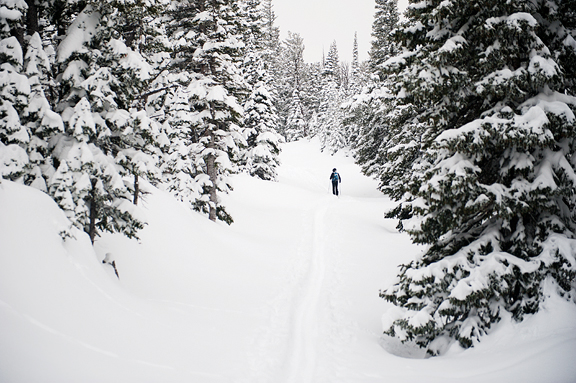 beautiful, untouched snow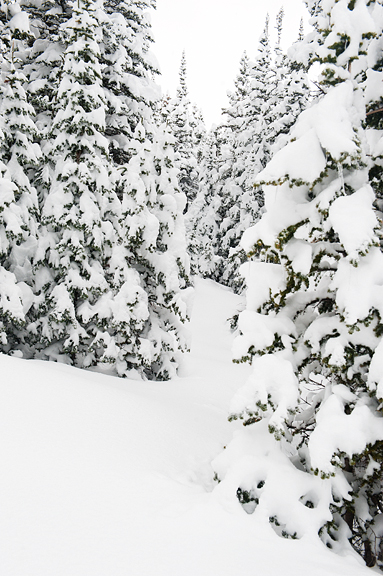 plus a little sunshine and bluebird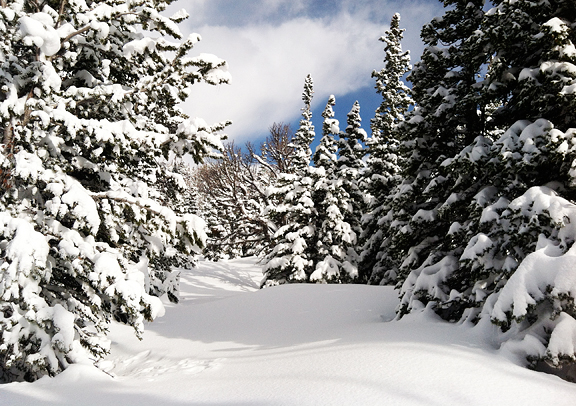 jeremy ripping skins as a squall approaches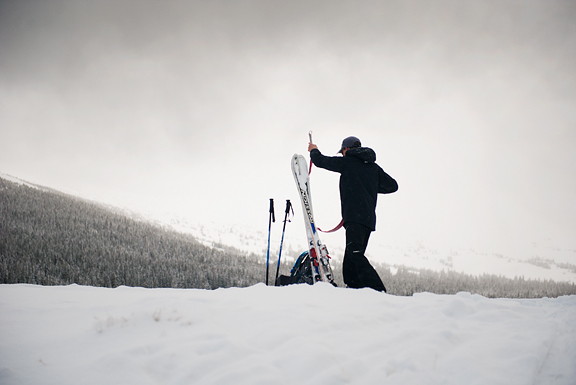 Our temperatures are on the upswing now. Piles of snow that adorned our yard Wednesday morning were gone by the close of business. That's fast melt. The good news is that the high country keeps getting more snow as guerilla snow storms pop up on the Continental Divide. I know people want the roads to campgrounds, access to trailheads, and trails cleared of snow. Me? I go with the flow. As long as there is good snow, I can ski it and it keeps most of the crowds away. And when it all melts out? We hit the trails running, fast packing, backpacking, mountain biking, or hiking. I love the mountains year-round, every single day.
a glorious sunset

Some of my friends look at me with suspicion. Why is it that I prefer schlepping gear up a steep trail to sleep on the ground (with the bears) and not shower for days on end as opposed to staying in some posh hotel and partaking of fine dining and other luxuries? I find if I don't go outside and get my heart pumping on a regular basis, I get into a funk. This was especially clear to me during my chemo on days when I didn't have the strength to sit up in bed. If I don't stay in nice places and eat fine food, I don't really miss it. And besides, we are not deprived of fine food. We make damn fine food in the House of Butter. Let's work some chicken magic.
chicken teriyaki: dark soy sauce, soy sauce, mirin, water, sake, honey, brown sugar, chicken thighs
I have a prejudice against many fast foods. It's not that I haven't had my share. Sometimes when you're road tripping through the sticks on a photo shoot, the only options are the lonely burger outposts or the ubiquitous
KenTacoHuts
. But more and more I've come to realize that a homemade version of a burrito or fried chicken or burger can not only be far healthier (you know what ingredients you put in your food), but way way tastier. Walk past any mall food court and you'll probably encounter a place that serves some sort of teriyaki rice bowl. I have no idea what those taste like, but all of the parts add up in my brain to something good. How hard could it be to make it yourself?
pouring mirin into a ziploc with soy sauce and dark brown sugar
adding water
drop some chicken thighs in
marinate for up to 24 hours
Turns out that chicken teriyaki is ridiculously easy to make, which means a teriyaki rice bowl is only slightly less ridiculously easy to make. I'm using chicken thighs because I prefer dark meat to white meat. You can use chicken breasts if that suits your fancy.
Marc
's recipe uses skin-on boneless thighs, but skinless is all I could find. If you're short on time, you can marinate the chicken on your counter for an hour. I chucked mine into the refrigerator overnight. Whenever you're ready to grill the chicken, prepare the teriyaki sauce.
dark soy sauce
adding honey to the dark soy sauce, mirin, and sake
boil on medium until the sauce turns glossy and thickens
Did I ever mention how many varieties of soy sauce I have in my refrigerator? Dark soy sauce, thick soy sauce, light soy sauce, regular soy sauce, tamari – I'm sure I'm forgetting a few. There's actually a difference between dark soy sauce and regular soy sauce. Dark soy sauce is more viscous and more intense in flavor. You should be able to find it in most Asian grocery stores. Once the sauce is ready, you can grill the chicken. You'll need the sauce to glaze the chicken for the last half of grilling.
baste the chicken with the glaze
all shiny and done
You can put whatever you like on your teriyaki bowl. I steamed Japanese short grain white rice and sautéed some snow peas in vegetable oil with garlic and a little salt. A sprinkle of furikake (Japanese dry condiment for rice) over the rice adds a nice bit of additional flavor. Cut the chicken into bite-size pieces and set them atop the rice along with some vegetables. Use the remaining sauce to drizzle over the chicken.
some garlic and snow peas to stir-fry
slice the chicken
finish with the sauce
See how simple it is to make? Nice clean and fresh flavors for lunch or dinner. And it isn't swimming in that gloppy fake sauce full of thickening agents and blegh. You can make all of the components in advance. Just assemble as needed and heat up your own chicken teriyaki rice bowl. These also pack well for lunch (Jeremy gets really jazzed about certain lunches he takes to the office).
garnish with green onions and sesame seeds
some life skills can be so tasty
Chicken Teriyaki Bowl
[print recipe]
based on the chicken teriyaki from No Recipes
brine:
1/2 cup water
2 tbsps soy sauce
2 tbsps dark brown sugar
2 tbsps mirin
4-6 skin-on (or skinless) boneless chicken thighs
8 cups steamed rice
4-6 cups sautéed vegetable (spinach, zucchini, snow peas, or broccoli)
furikake (optional)
sauce:
2 tbsps honey or maltose
2 tbsps dark soy sauce (it's much thicker than regular soy sauce)
2 tbsps mirin
2 tbsps sake
Place the brine ingredients in a ziploc bag. Add the chicken thighs. Push the air out of the bag and seal it. Marinate the chicken for at least an hour or up to 24 hours in the refrigerator. Before grilling the chicken, prepare steamed rice (I like to use short grain white rice) and sauté a green vegetable of your choice (I used snow peas and a couple cloves of crushed garlic). In a small saucepan, combine all of the sauce ingredients over medium heat and stir until glossy and slightly thickened (this takes about 4-5 minutes). Scrub the grates of your grill clean and turn it to high heat. Using tongs and a paper towel with some vegetable oil on it, grease the grates. Place the chicken thighs skin-side down (if skinless, then the smooth-side down) on the grill. Close the lid and cook for about 5 minutes or until brown and the thighs release from the grates. Flip the chicken pieces and baste with the sauce. Continue to grill until the chicken just starts to char (another 5-6 minutes on my grill). Remove from heat and cut the chicken into bite-size pieces. Fill a medium bowl half full of steamed rice. Sprinkle some furikake on top (optional). Set one thigh's worth of slices on top of the rice. Add a cup of sautéed vegetables. Drizzle some of the teriyaki sauce over the chicken. Garnish with green onions. Serves 4-6.

more goodness from the use real butter archives