Recipe: teriyaki pork chops
The university is on spring break this week which means very little to Jeremy other than the fact that he gets a reprieve from teaching relativity (special and general) and cosmology. His trusty graduate students are still in town and working on their research (I'm going to send them some cookies because they are such sweet, hilarious, and conscientious students), and he still has unbelievable amounts of work to do… But since he doesn't have to teach and his students are quite smart and self-motivated, he has opted to spend this week with me! What a champ he is. Our intention was to ski on Monday, but the winds were ridiculously insane. So he worked at home while I baked and baked. Then we planned to ski Tuesday, and the National Weather Service LIED about high winds and then decided to update and reduce the winds after it was too late to drive out to the big mountains. Again – more work for Jeremy and I can't recall what the hell I did yesterday (more baking and cooking, I suppose and then we had dinner with Beth in Boulder).
But today, I said screw the National Weather Service and we're going skiing. Which we did. We chose Breckenridge because Vail charges $20 for parking and A-basin doesn't have express lifts and we like Breck (well, we like them ALL). It wasn't crazy busy, but it was busy for a Wednesday because everyone else was also on Spring Break or Rich Person's Vacay or whatever. No new snow, but lots of nice groomers and damn it if it wasn't a roasting hot day (40s?!? that is insane!). See here… some of the nearby hills are melting out.

heartbreaking for some, like me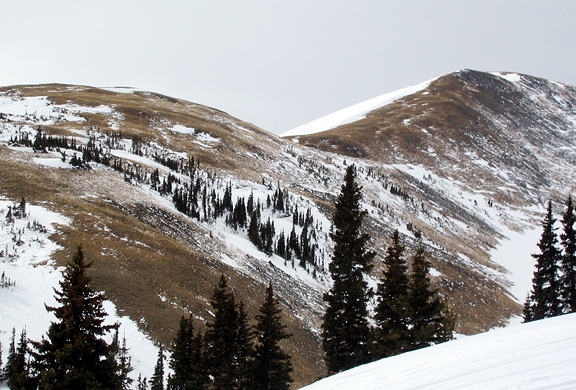 Jeremy let me instruct him on some drills I learned from my women's tele program today. This is a rare thing, seeing as he likes to hot dog it and blow off things like Good Form or Proper Technique. In the afternoon I said we could play, which we did. The upper mountain called to us.
ahhh, an express lift to the top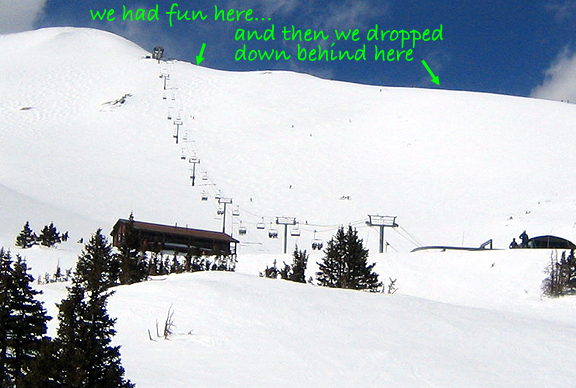 it's still skiable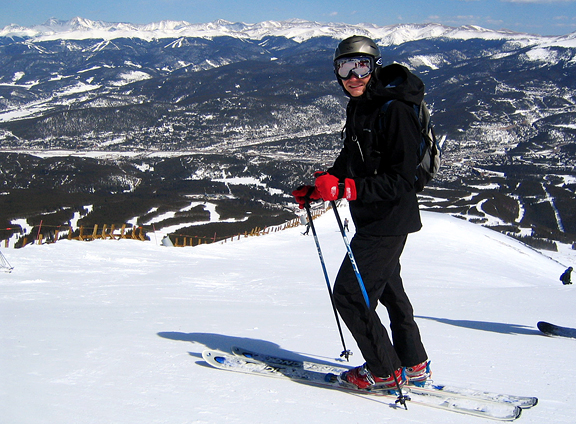 At one point Jeremy said, "Let's see what's over here." So we skied over to the edge and what I saw made me salivate.
nice terrain behind the ropes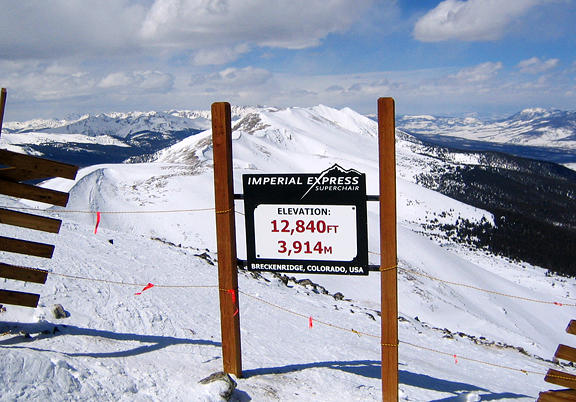 let's go!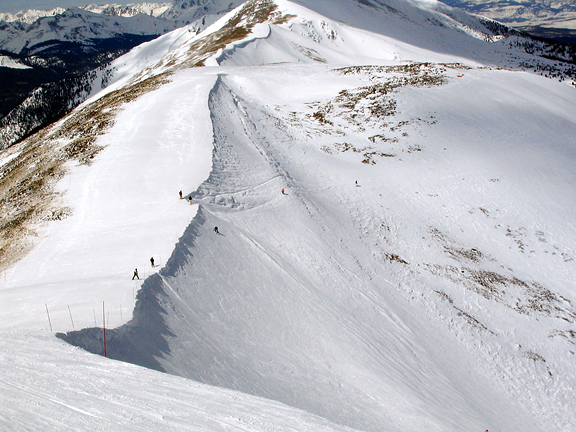 And we crossed over to Peak 7 where there were some double blacks that I had never checked out before. Of course, it was mixed hard pack and tracked up powder – complete hard pack on the faces. While I was skiing down Art's Bowl I heard Jeremy above me making strange scraping sounds and the next thing I knew he flew past me on his back and there was no way for him to stop as it was slick and steep. I skied down after him as he slid for a good 15 seconds over a lip trying to get his skis under him and his edges in – but to no avail. He finally slowed down as the face leveled a little. Scared the bejeezus out of me, but he immediately signaled that he was okay. Then we saw another dude yard sale it next to us and slide even further down the mountain since his alpine skis popped off about a hundred feet above where he stopped.
I dare say this may be my last tele day of the season seeing as my next round of chemo is tomorrow and by the time I'm feeling strong again, the ski hills will be closing shop for the season! But then we can switch to spring mountaineering and then summer hiking and oh, the possibilities are endless for a Colorado girl. Life is always Good if you make it so.
Once home, we were pooped, but in the good way. And I had already planned a super quick and easy meal in anticipation of our poopedness. Teriyaki pork chops – GRILLED! Even though it was 35F on the deck and a cold wind chilled our bones, we had a spring inauguration with the first grilling of the year.

fresh green onions, garlic, ginger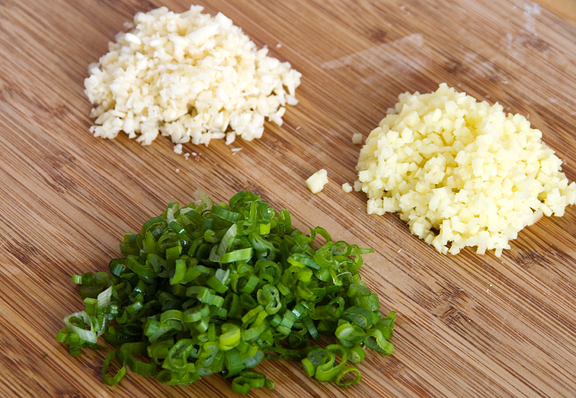 pork chops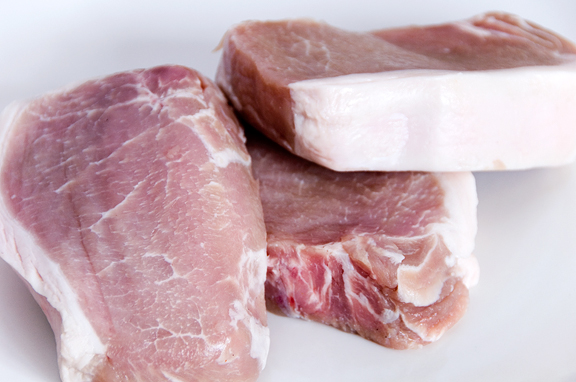 I got this recipe in college from one of my apartment mates – a 5th generation Japanese from Seattle. Andy was like a goofy, sweet, and brilliant brother to me. He and Alex had just moved off campus and the first time they went grocery shopping they came home with bags and bags of junk food: chips, cookies, soda, ice cream. They gorged that evening while I ate some homestyle Chinese food I had made for my dinner. As they lay on the couches moaning and holding their tummies they declared, "That wasn't a good idea." So they started cooking for real and making some pretty nice meals (we agreed to cook separately for some reason, I can't recall why – it may have had something to do with my sports practices). One day, Andy was on the phone with his dad for a teriyaki recipe and I asked if I could get a copy because it smelled terrific.
adding sugar to the marinade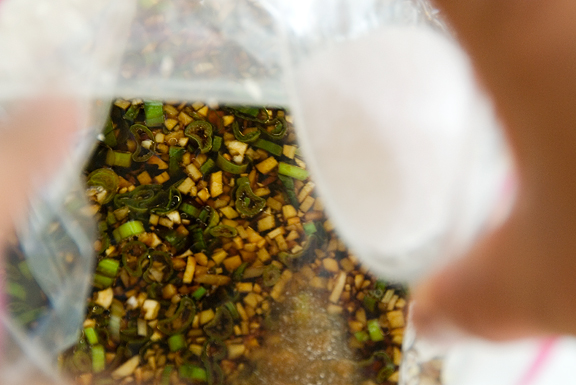 placing the chops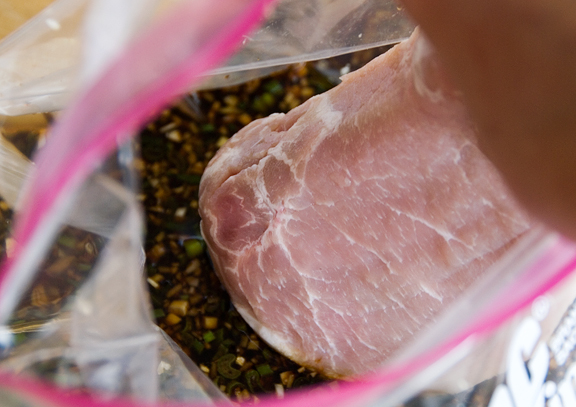 It's great to dump everything in a ziploc bag. Green onions, ginger, garlic, sugar, soy sauce, sesame oil, and the pork chops. I also love to buy skinless, boneless chicken thighs and chop them up to skewer on the grill – delish. Andy's recipe said to marinate for a minimum of 30 minutes. I go 24 hours. The doneness is up to you, but you should be aware of the dangers of undercooked pork. Still, I like my pork to be juicy and not leathery, so we typically shoot for an internal temperature of 160F and then off the grill we tent it and let the pork chops rest for 5 minutes. While we don't *really* know what we're doing, this is our general guideline and if you have better advice, then please hit me with it!
grill to a proper internal temperature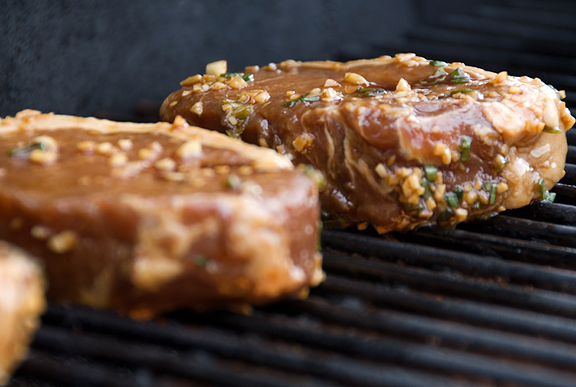 Because I have to be careful about certain raw foods – particularly leafy vegetables and knobbly berries and because vegetables wreak havoc on me for a good amount of time during my treatment, I have been craving salads and veggies like nobody's business. But today, today I am in tiptop shape (which is why they hit me with the treatment tomorrow), and we grilled asparagus and had Japanese cucumber salad with the chops.
spring IS beautiful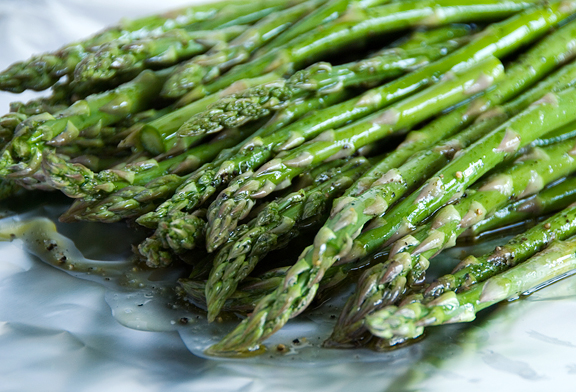 I know folks think skinny asparagus is all the rage, and I used to prefer skinny to fat asparagus spears… until I had fat spears picked not more than an hour earlier from a professor's garden in graduate school. Heavenly. I mean, sweet beyond compare and crisp and juicy and I was sold! I'd like to point out that skinny isn't always good. Some of them are stuck up, stupid, and they have no muscles. Oh wait, I was talking about asparagus, right? ;)
a great topper to the day
Teriyaki Pork Chops
[print recipe]
from a college apartment mate
4 pork chops (or a pound of chicken thigh meat – boneless, skinless and chopped into pieces)
1 cup soy sauce
2 tbsps sesame oil
1 tbsp sugar (or more if you like)
4 cloves garlic, minced
4 stalks green onion, minced
2 tbsps ginger root, minced
Mix all of this into a ziploc bag and marinate for at least 30 minutes, but I prefer overnight with occasional flipping for even marinate. Grill to appropriate internal temperature (we do 160F and then off the grill we tent the chops with foil and rest fo 5 minutes). To grill the chicken, we skewer the pieces and grill on medium high for 5 minutes and flip and grill for another 5 minutes. Take remaining marinade and boil in a pan. Strain the sauce and thicken with cornstarch to serve with pork chops or chicken skewers. * I like to use chicken thigh meat because I think it has better flavor and is juicier than breast meat.