Recipe: chinese chive turnovers (he zi)
Ahhhhh, finally finally finally, the much awaited cool down arrived. It was no longer sheer misery to run or hike or even stand outside. To celebrate, I put my trail runners on and headed out early Monday morning. I never take a cool weather day for granted! The wildflowers are still going strong, but they are different flowers from a month ago. Asters, fireweed, harebells, and columbine are all out in force now. I spotted another moose too, this time a female (cow), but she was but a speck in the distance by the time I got my iphone out. On my non-run days, I hike the trails to stretch my legs and check on my huckleberries. I say "my" huckleberries because I feel like we're all good friends by now. And I'm still naming the porcini I find because there are so very few… well, thus far there have been all of two.

me in a field of noxious weeds (ox-eye daisies?)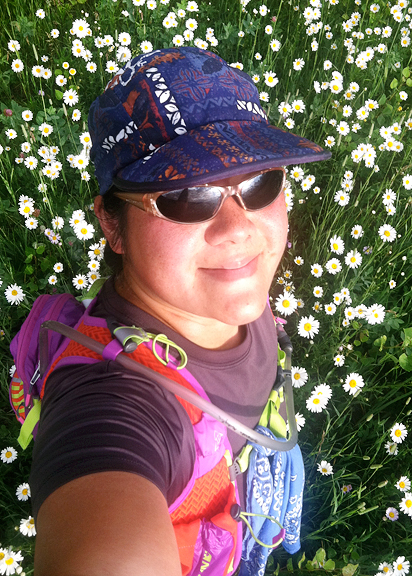 the single ripe huckleberry, which i ate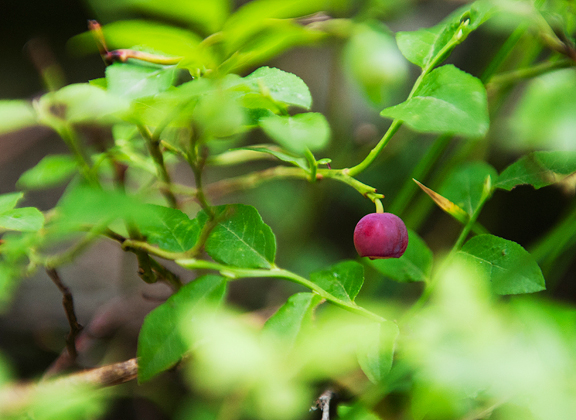 a lone, handsome porcini named claudio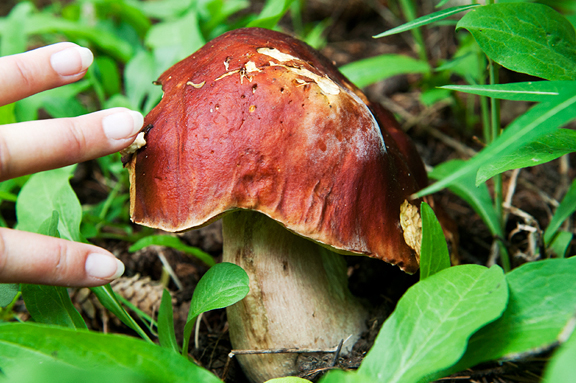 A large storm system has been sitting over us for a couple of days, delivering a lot of rain and much cooler temperatures. That's both good (we need it) and bad (we don't need it all at once, please!). So far there hasn't been any major flooding – whew! I rather love the dreary, rainy days. It takes the edge off of summer for me and makes me feel like cooking again. Last week, I had asked my parents about a Chinese snack my Grandma used to make and they immediately rattled off how to make them. I translated their instructions into recipe form. It's one thing to know how to make something, it's something else entirely to communicate how to make it to someone who may or may not know how to cook. They called me the next day and excitedly informed me that when I came to see them later, they would demo how to make the snacks. It was really cute.
team effort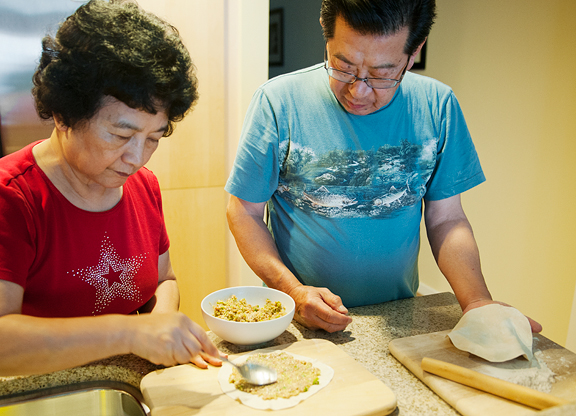 "daddy will show you how to do this right"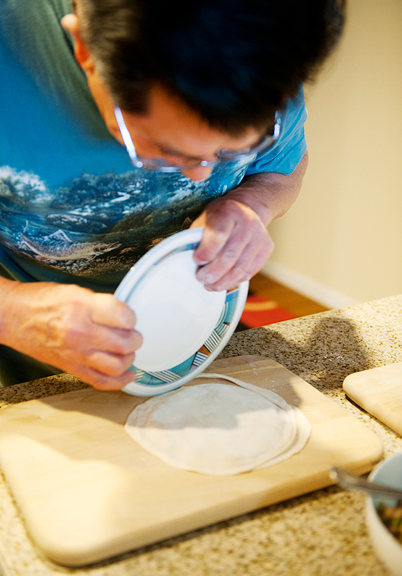 These are known as Chinese chive turnovers or
jiu cai he zi
. Chinese chives (or Chinese leeks) have a wonderfully garlicky flavor to them. They are some of my favorite Chinese greens. You can find them in Asian grocery stores that have well-stocked produce sections. Since my parents didn't have any on hand, they used Napa cabbage and pork for the filling, but I got the gist of it. The pastry is made from a hot water dough similar to the kind you use for Chinese dumplings. Traditionally, the turnovers are made with Chinese chives, egg, and sometimes pork and sometimes glass noodles (mung bean thread noodles). They don't have to be turnovers either. My parents demoed the pancake style, which is equally delicious. I'll show you how to make both.
chinese chives, full of garlicky goodness
chinese chives, salt, ground pork, flour, sesame oil, soy sauce, vegetable oil (for frying)
First, you should make the hot water dough. It's quite simple. Bring some water to a boil and pour it over all-purpose flour. Stir until it is incorporated. It will be dry. That's because the next step is to add cold water. When that is mixed in, knead the dough for a few minutes until it is soft and smooth. Cover the ball of dough with a damp kitchen towel or damp paper towels and let it rest for 30 minutes while you prepare the filling.
add hot water to the flour
stir in the cold water
knead it into a smooth ball of dough
I love Chinese chives, but I really don't enjoy preparing them because they can be quite sandy. I go through them one by one (tedious), composting rotted chives and trimming the bases of the rest. Then I plunge them in water and drain the greens several times. Chop the chives into 1/2-inch pieces and set them in a bowl. My parents told me to salt the chives to draw out excess moisture. This is to avoid a soggy filling. You don't have to do it, but I think it's better this way. Squeeze as much liquid out of the chives as possible and add them to the filling.
chopping chinese chives
salting the chives
adding sesame oil to the chives and pork and soy sauce
the filling is ready
Now back to the dough. The first attempt at this recipe gave me leftover filling (I made potstickers with it – yum!). So I increased the dough amount by half in the recipe. It should be a close match now. Flatten the dough on a floured surface and cut it in half. Always put any dough that isn't in use under the damp cloth. This is more of an issue for those of you in dry climates. Roll one half of the dough into a log about 1.5 inches in diameter. It's not important to be precise, just a ballpark. Cut the log into 12 equal-sized pieces. Place all but one under the damp cloth and use a rolling pin to roll out a circle about 1/16-inch thick and 6-inches in diameter.
slice the dough ball in half
roll each half into a log and slice
squash the slices flat with the palm of your hand
roll it out into a thin pancake
To make the turnovers, put about 3 tablespoons of filling on one half of the dough circle and fold the dough over to form a half moon. Gently press any excess air out from the turnover before pressing the edges together to seal the filling inside the dough. The purpose for sealing the dough is to prevent leakage of juices when you fry the turnovers which in turn results in splattering on your stove top or in your face. Crimp or pinch the edges in whatever fashion you like. I do rope pinch because it's pretty, but if I were making a lot of these, I would just use fork tines to make a decorative edge.
place the filling on the disk
fold in half and seal the edges together
decorate the edges as you like
pan fry until golden
The other method that my parents typically make is a big round pancake or pizza. I have always grown up calling it Chinese pizza and apparently there isn't such a thing (that I am aware of). Regardless, this way is faster than the turnovers and more suited to sharing at a table rather than eating one on the go. For the pancakes, you want to cut each half of the dough into 6 equal-sized pieces. Roll these out to about 6-7 inches, two at a time. Technically they can be made larger, but handling them becomes unwieldy and the risk of disaster increases exponentially with increase in diameter. I generally keep the filling to about 1/4 to 1/2 inches in thickness. You don't want it too thick or it will take longer to cook. The filling is sandwiched between two pancakes. After sealing the edges, you can trim them to within 1/4 inch of the filling. Some people place a plate over the pancake and use a knife to trim the rough edges. My dad said this is a stupid way and demonstrated his technique of rolling the plate edge around the pancake, which I really kinda like.
spread the filling to within 1/2-inch of the edge
top with a second pancake and seal the edges together
dad's method for trimming the edges
nice and neat
pan fried and ready to eat
If you dig on Chinese potstickers, you will love these turnovers or pancakes. What's not to love about delicious fillings in a pastry dough? For a vegetarian version, you can substitute minced baked or pressed tofu (fresh tofu is just too watery) for the pork and add chopped, rehydrated glass noodles (mung bean thread noodles) and minced Chinese doughnut (
you tiao
) to the Chinese chives. It found it endearing to watch my parents cook these pastries just for my education. I learned to make a treat that both of my Chinese grandmas had made for me many (so many!) years ago. How lucky am I? It seemed only fitting to pass it along to you all.
slice the pancakes into quarters
it's not hard to turn these into a meal
i'm a huge fan of the savory pastries
Chinese Chive Turnovers (He Zi)
[print recipe]
from my parents
dough
2 1/4 cups all-purpose flour
3/4 cup boiling water
6 tbsps cold water
filling
1 lb. Chinese chives, trimmed of woody bases and washed
1 tbsp salt
1 lb. ground pork
2 tbsps soy sauce
2 tbsps sesame oil
vegetable oil for pan-frying
Make the dough: Place the flour in a large bowl. Pour the boiling water over the flour and stir to mix it in (I used chopsticks, but a silicone spoonula works well too). Add the cold water and stir together. Press the dough together into a ball and knead for a few minutes until the dough is smooth. Place the ball of dough in the bowl and cover with a damp towel. Let the dough rest for 30 minutes.
Prepare the filling: Chop the Chinese chives into 1/2-inch pieces and place in a bowl. Sprinkle the salt over the chives and mix to evenly distribute. Let sit for 15 minutes. Squeeze the liquid out of the chives. Discard the liquid and place the chives in a bowl with the ground pork, soy sauce, and sesame oil. Mix together.
Assemble the turnovers: Cut the dough in half and set one half under the damp towel. Roll the dough out into a 1.5-inch diameter log and cut into 12 equal pieces. Place all but one of the disks under the damp towel. On a lightly floured work surface, roll the disk out to about a 6-inch diameter and 1/16-inch thickness. Place 2-3 tablespoons of filling on half of the dough disk, flattening the filling to leave at least 1/2-inch margin at the rounded edges. Fold the dough over the filling to create a half-moon shape and push out any air pockets. Press the edges together to form a good seal (to avoid leaking during cooking) and then crimp, pinch, or fold the edges however you like. Repeat for the remaining dough.
Alternative assembly: Instead of turnovers, my parents make these into a kind of filled pancake. It's faster to make and better suited to serving at the table than taking on the go. Cut the dough in half and set one half under the damp towel. Roll the dough out into a 1.5-inch diameter log and cut it into 6 equal pieces. Place all but two of the disks under the damp towel. On a lightly floured work surface, roll both disks (one at a time) out to about a 7-inch diameter and 1/16-inch thickness. Place 1/3 to 1/2 cup of filling on one of the dough disks and spread to within 1/2-inch of the edge. Set the second disk on top of filling and match up the edges of the dough as best you can. Press out any air bubbles and then press the edges together with your fingers, making sure to seal the filling in. Take a medium-sized round plate and hold it so the base is facing you and the service side is facing the pancake. Set the edge of the plate 1/4-inch from the edge of the filling (somewhere squarely on the sealed edge) and firmly press down to cut the dough. Slowly roll the plate around the pancake to trim the edge of the dough off while making a nice clean circular cut around the pancake. Repeat for the remaining dough.
Cook the pastries: Heat 2 tablespoons of vegetable oil in a shallow frying pan (stick or non-stick, it's up to you) over medium heat. Place two turnovers or one pancake on the hot oil and let fry for 3-4 minutes until the bottom is golden brown. Reduce heat if it starts to burn or increase heat if it's not browning. Flip the pastry (pastries) over, adding more oil if needed, and brown the other sides for another 3-4 minutes until golden. Remove from heat. Cook the rest this way. Cut the pancakes into quarters. Serve immediately or keep in the refrigerator for a few days and warm up in the oven. Makes 24 turnovers or 6 pancakes.
more goodness from the use real butter archives