Recipe: arnold palmer slushie
It got hot again.
This is not unexpected, but I was hoping that we were done with the crazy hot. Erin and I set off for the mountains again in search of our treasures (that would be huckleberries, and you knew that because you know I have a problem an obsession). We spent 13 hours on the trail and in the hucks, picking and chatting and straightening our sore backs and picking and stretching out our cramped legs. Squatting to check for purple berries, I squinted up at the clear blue skies and blazing sun. Our normal afternoon thunderheads did not develop that day – we only got cloud relief around 4 pm and they were puny little clouds at that! Sometimes when I stood up to stretch my old lady muscles, I would spy Banjo, Erin's pup, sleeping in the shade. It's okay to envy a dog, right? Colorado mountain dogs have the best life. Banjo never showed any interest in the hucks, whereas Kaweah would have been all up in my business trying to eat them… that or she would have zeroed in on the nearest animal carcass or poop pile in which to roll. Good times.

he's thinking "you don't have anything good to eat, do you?"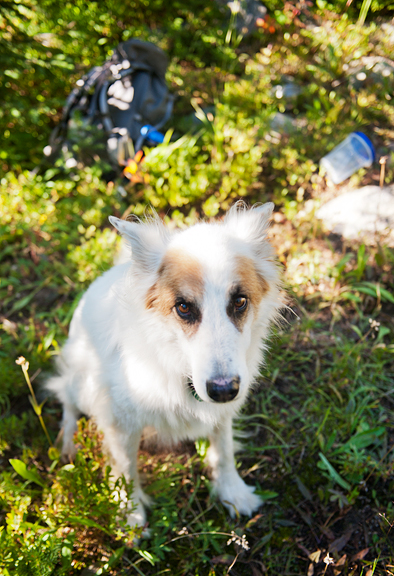 banjo is an incredibly well-behaved dog
Actually, that day wasn't so bad in terms of heat. Wednesday was bad, I mean hot (thus bad), because I had a chocolate shoot. I consume a good bit of water on a daily basis, but especially on hot days. It is my beverage of choice. But on special occasions I will spring for an oh-so-refreshing Arnold Palmer, which is half lemonade-half iced tea. The last few times we hosted dinner parties, I made lemonade and iced tea for non-alcoholic beverage choices to offer our guests. And no one wanted iced tea or lemonade! They all opted for the Arnold Palmer. My friend, Luke, taught 3-year old Felix how to make an Arnold Palmer. When Luke took a sip, he said, "Mmmm mmmm mmmm!!!" We made one for Felix in a juice glass and when he tasted it for the first time, he mimicked his father and grinned, "Mmmm mmmm mmmm!!!" Another fan of the AP has been added to our ranks! But for those extra hot days, you need to take it one step further.
lemons. ice, black tea, water, sugar
pour boiling water over the tea leaves
let it steep
boil sugar and water for your simple syrup
Sure, you could buy Arnold Palmer in the store already made. You could buy lemonade and iced tea and do the 1:1 ratio at home. But it's not THAT much additional effort to make it at home. Tea takes 3 minutes to steep and homemade lemonade is light years better than store bought. Plus, it's nice knowing where you food came from and how to make it. Cooking is a highly underrated life skill!
lemon juice, tea, simple syrup
pour the lemonade and simple syrup into a pitcher
add the tea
My Arnold Palmer mix is pretty concentrated because I like a lot of ice in my slushies. If you don't want a lot of ice, or if you want to drink it as a non-slushie, just add water until it is the right strength of sweet, sour, and tea for you. Also? I love any reason to use my Vitamix because it doesn't leave chunks of ice like my old blender did.
place ice in the blender and add some arnold palmer nectar
blitz it up and pour
This drink tops the charts in the Refreshing category. Not too sweet, a little fruity tartness, and smooth black tea to take the edge off. But in slushie form, this is the ultimate summer refresher! And for all you boozehounds, you can make yourself a Tipsy Palmer by adding some bourbon. We win!
i give you the slushie palmer
Arnold Palmer Slushie
[print recipe]
1 cup sugar
1 cup water
4 tsps loose black tea
2 cups boiling water
1 cup lemon juice, fresh squeezed
ice
Combine 1 cup of sugar and 1 cup of water in a small saucepan over high heat. Bring to a boil while stirring to help dissolve the sugar. Let boil for a minute then remove from heat. Let the simple syrup cool (should make about 1 1/2 cups). Steep 4 teaspoons of loose black tea in 2 cups of boiling water for 3 minutes. Strain the tea through a sieve and discard the tea leaves. Let the tea cool. When the simple syrup is no longer hot, combine it with the lemon juice to make a concentrated lemonade. Add the tea to the lemonade concentrate. Put 1 cup of ice in a blender with 1 cup of the Arnold Palmer mix. Run the blender on high until the ice has been completely slushed. Pour in a highball and serve. Makes 6 slushies.
more goodness from the use real butter archives