Recipe: lava flow
Everything seems to be converging on August: visitors, good-byes, workshops (!!), travel, work. Instead of freaking out, I'm in that state of quiet panic while I watch everything fly past me in this surreal slow motion. Maybe it's my allergy meds? But my allergy medications are good to me because I could stand in a field of hip-deep weeds without sneezing my brains out to get a shot of this the other day:

double rainbow in stormy weather, baby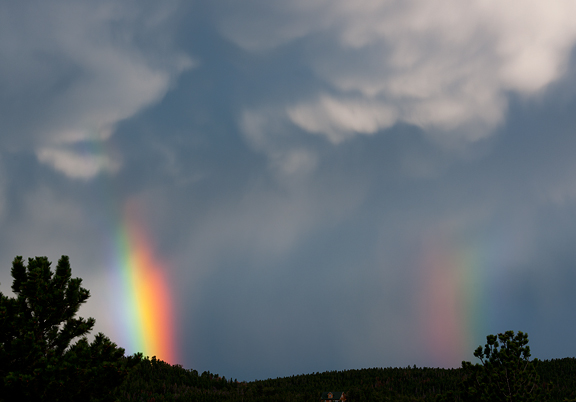 the primary was super bright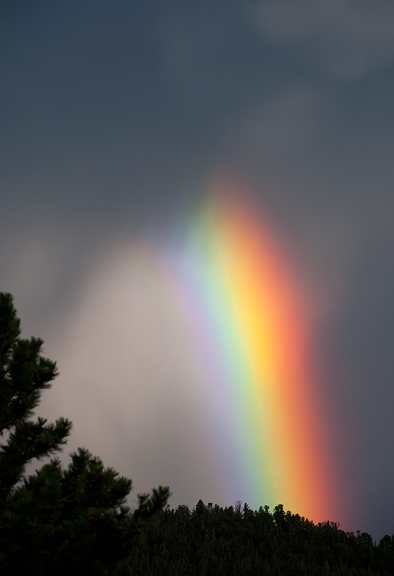 After a spate of several hot and cloudless days, that storm and the cool air it brought was more than welcome. It's my favorite way to escape the heat in mountain summer since we don't have air conditioning and we can't really work in the basement. I find it helps tremendously to drink a glass of ice water. It is my favorite beverage in summer and keeps me on an even keel. But once or twice each summer I will make lava flows to cool down.
i'm really all about the ice
…and fruit
What is a lava flow? It's just piña colada and strawberry dacquiri, but I love it because it's fruity and cold. I also dig anything that refers to a geologic phenomenon that is totally amazing to witness. Here's some lava from 2005 (the Big Island of Hawai'i)…
ocean entry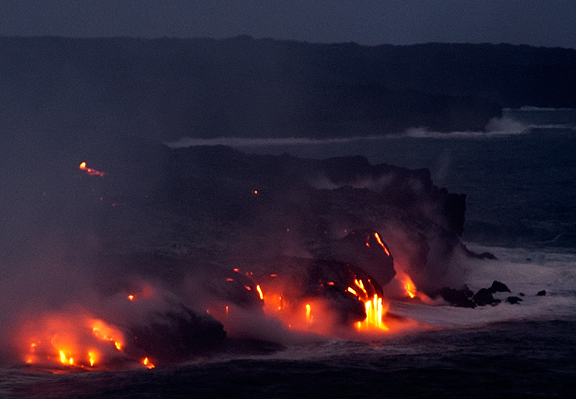 cream of coconut and pineapple for the piña colada part
the ice is critical
As has been declared by so many of my friends, I am a cheap date. So when I make lava flows at home, I usually prepare a virgin lava flow (no booze) for myself and then mix the rum into the remainder for Jeremy and any guests. It's hard to do it the other way around, see?
making the strawberry dacquiri
pour over the piña colada
When I have had the lava flow at restaurants, they looked more lava flow-ish because they were super slushy and thick. Super slushy is great, except it's hard to drink without a spoon. I tend to make mine slushy enough to be cold, but not so slushy that you can't sip it from your glass. I mean, no one enjoys tipping a glass back and having the entire icy slush come smashing into your face. However, it helps to make sure that the density of the piña colada is greater than that of the strawberry dacquiri, otherwise your "lava" will tunnel into the piña colada and that's a different phenomenon (resulting in lava tubes – from the lava, not the strawberry dacquiri).
garnish with fresh fruit
keep it cool
Lava Flow
[print recipe]
piña colada
1/2 cup ice
2 oz. rum (optional)
2 tbsps cream of coconut
1/2 cup fresh or canned pineapple
Place everything (for the piña colada) in a blender and blend until the ice is slushy. Fill half of two glasses.
strawberry dacquiri
1/2 cup ice
1 1/2 oz. rum (optional)
1/2 oz. strawberry liqueur (optional)
1/2 oz. lime juice
1/2 cup fresh or frozen strawberries
Place the strawberry dacquiri ingredients in a blender and blend until slushy. Pour over the half-filled glasses.
Serve with fruit garnish. Makes 2 lava flows.