Recipe: grilled brie porcini and caramelized onion sandwich
There is the possibility of a freeze and light snow down on the flats Thursday night. Everyone down there is freaking out at the potential for snow. That's what they do. They freak out. I'm kind of excited about the snow. You knew that. But I also realize that up high in the mountains where my the huckleberries grow, it's not only going to snow, but it's going to be a hard freeze. Those little guys are tough, but everyone has their kryptonite. Ever since I got home this week, I've been squeezing hikes in to look for more huckleberries. The season wanes, but the high country still calls regardless of heavy rains, angry winds, and cold numb fingers that pluck at precious purple berries.

sun in the east and rain overhead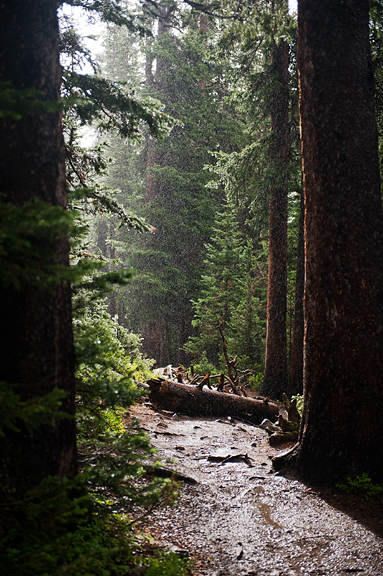 hiking into the wall of clouds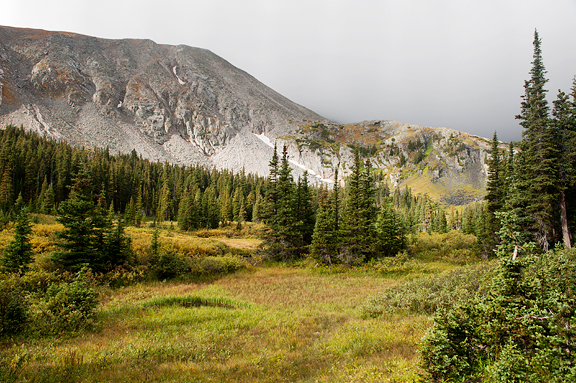 visiting with my high country neighbors (marmots)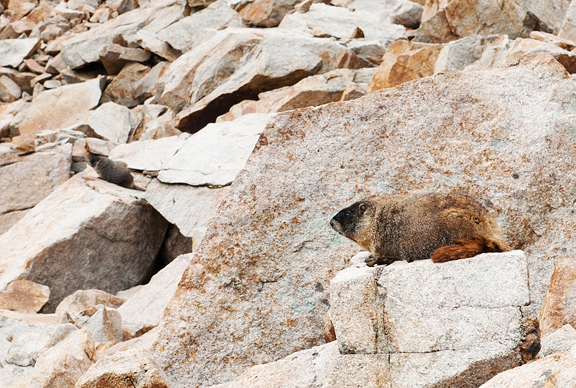 Cool weather and loads of late summer rains have kept the mountain mushrooms chugging along well past their usual bedtime. I don't go out of my way to find porcini these days because huckleberries are my priority. As my friend, Jay, said to Erin (regarding our obsession with huckleberries), "You two have a sickness." But porcini and hucks tend to like some of the same environments and they even hang out together. When I find porcini cozily nestled among the lush huckleberry plants, it fries my brain – because there's a porcini! But wait, are there huckleberries? But, a porcini! And I have to do a quick mental calculation as to how much time it takes to harvest and clean a porcini and then convert that to potential huckleberry volume. However, if the porcini are particularly perfect or the huckleberries are particularly absent, then I'll pick the mushroom.
i love that signature color of our rocky mountain porcini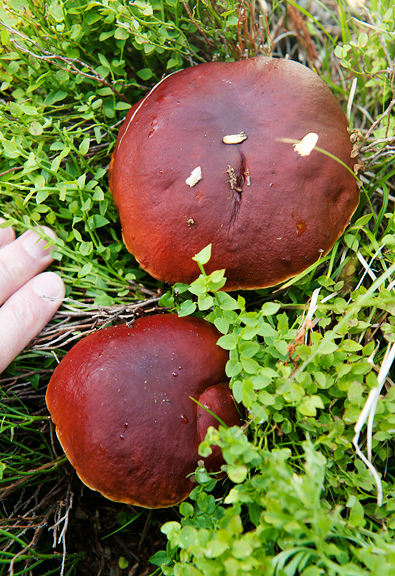 If I pick the mushroom, I have to be absolutely sure that I'm going to do something with it or give it to someone who is going to do something with it and who will also appreciate what they have received. So I did something with a few of the porcini – I made a grilled cheese sandwich. It's a grilled brie, buttery pan-seared porcini, and caramelized onion sandwich. I think I went momentarily blind when I took a bite of it. Jeremy, who burns a thousand calories just checking his email, ate the rest of the sandwich with a glass of chardonnay and a big honking smile on his face. This is DECADENT comfort food.
fresh porcini, olive oil, butter, brie, bread, onions (not pictured: sea salt)
slice the onions
start sautéing the onions
Grilled cheese sandwiches are quick, easy, delicious things. This grilled cheese sandwich isn't quick, it's sort of easy, and it is most definitely crazy delicious. The caramelized onions require the lion's share of the time. You can't rush caramelized onions. I don't care what short-cuts people claim, it takes time. Quite a bit of time… like 45 minutes to an hour. You can make them ahead which would turn the sandwich back into quick, easy, and crazy delicious. The caramelized onions should neither be underestimated nor undervalued. So start those first.
softened
translucent and starting to brown
more browning
where i got to after an hour and called it good
When you have the onions caramelized, the pan-searing of the mushrooms will feel like warp speed – FTL for you BSG fans (you know who you are!). As with all of my porcini recipes, you can always substitute some other fresh variety of mushroom, preferably something with flavor. Everything is amazing pan-seared in butter anyway, right?
i still stand by brushing my porcini
perfect slices
pan-seared in luscious butter
slice your bread (if it isn't already sliced)
Now with all of the components prepped, the assembly happens lickity-split and you begin to register just how mother-lovingly awesome this sandwich is going to be. I like matching my bread slices so they are equally sized. This isn't much of an issue for a loaf of bread with a uniform cross-section, but for those with decreasing cross-sectional area (they get smaller toward the ends), it helps to avoid pairing a middle slice with an end slice. Bread and geometry. Also, keep the buttered sides on the outside of the sandwich. I layer the brie on the bottom of the sandwich strata because I want it to melt and be as close to the pan as possible without being on the pan. Then I set the caramelized onions on top of the brie because they will allow oozy, melty cheese up through their layer.
caramelized onions, fried mushrooms, sliced brie, butter, salt, sliced bread
bread and buttah (just butter one side)
layer brie then onions
I want the cheese to melt onto the mushrooms. Why? To prevent any of the mushroom slices from abandoning ship when you eat the sandwich. But another easy way to solve that problem is to add another layer of cheese on top of the mushrooms. I did that for the first sandwich (the one that nearly made me go blind), although the sandwich is perfectly wonderful with just the one layer of cheese.
sprinkle some sea salt over the mushroom layer
add more cheese if you want über gooeyness and extra glue to hold the mushrooms in place
fry the sandwich until each side is golden
Was the sandwich worth all of that trouble? Yes, it was. I'll probably stick with one layer of cheese from now on out, but this sandwich is SPECIAL. The creamy, mildly stinky brie plus buttery porcini, sweet caramelized onions, and crunchy-outside-soft-inside bread really hits the spot on a cold and drizzly day. It would have been perfect with a bowl of tomato soup. I mean, it would have been MORE perfect.
grilled brie, porcini, and caramelized onion sandwich
dreamy goodness
Grilled Brie Porcini and Caramelized Onion Sandwich
[print recipe]
3 tsps olive oil
3 medium onions, sliced 1/4-inch thick
sea salt
4-6 tbsps butter (for frying the mushrooms and for buttering the bread), softened
1 lb. porcini or other fresh mushrooms, sliced 1/4-inch to 1/2-inch thick
8 slices of bread (Italian, sourdough, whatever you want that makes good grilled cheese sandwiches)
16 oz. brie cheese, sliced
Caramelize the onions: Heat the olive oil in a large sauté or frying pan over medium-high heat. When the oil is hot, add the onions. Stir to coat the onions with oil and spread them out in an even layer in the pan. Stir and spread the onions from time to time. They should soften and turn translucent. Sprinkle a little salt over the onions. Keep stirring and spreading every few minutes as they brown. You want the onions to brown, but you don't want them to burn (which is why you stir them). If the onions are beginning to burn, reduce the heat, but let them continue to cook. My total cooking time was an hour. It takes at least 40 minutes to get a proper caramelization, so just stick with it. If the onions begin to burn again, lower the heat some more and add a little olive oil. They will start to stick and leave a fond (that brown residue) on the pan. Scrape that up (it's full of flavor) and stir it in with the onions. Continue doing that until your onions are caramelized and dark brown.
Pan-sear the mushrooms: Melt 2 tablespoons in a sauté or frying pan over medium-high heat. Place the mushroom slices flat on the pan. Sear until golden brown on the bottoms (about 3 minutes). Flip the mushrooms and sear the other sides until golden. Add more butter as needed. Sprinkle with salt and remove from pan.
Make the sandwich: Butter one side of each slice of bread. For each sandwich, lay one slice of bread, buttered-side down. Layer brie cheese, caramelized onions, and mushroom slices on the bread. Sprinkle a little sea salt on the mushrooms to taste. Top the sandwich with another slice of bread, buttered-side up. Repeat for the rest of the sandwiches. Heat a large sauté or frying pan over medium-high heat. Set the sandwiches on the pan with the brie-side closest to the pan (mushrooms should be on top). Reduce the heat to medium-low. Cook until the brie has melted and the bottoms of the sandwiches are deep golden in color. Flip the sandwiches. Cook until the bottoms are deep golden in color. Remove from heat and serve. Makes 4 sandwiches.
more goodness from the use real butter archives