Recipe: cioppino
The most brilliant sunsets often involve something other than the sun. A setting sun in a crystal clear sky is predictable, plain Jane. There might be color, but it helps to have something more. Smoke, volcanic ash, pollution, dust, blowing snow, and water vapor can provide particulate matter in the air to absorb, scatter, and reflect light. The atmosphere peels away the shorter wavelengths, permitting the longer ones to bounce off these particles in the air, creating a glowing canvas on the sky. Colorado gets some pretty spectacular sunsets on a regular basis, but the Front Range really knocks it out of the park with dramatic cloud formations and weather phenomena. Monday evening, we were welcomed back to Ned(erland) with a nice display.

blazing sunset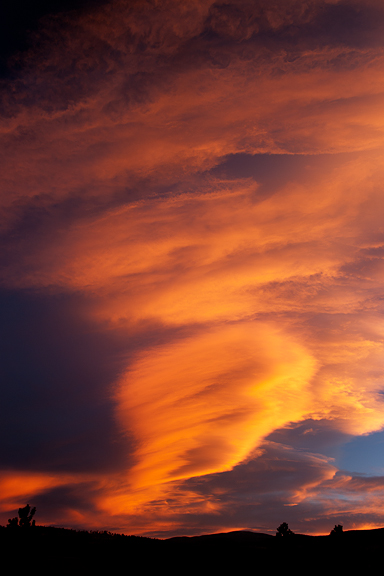 turning rosy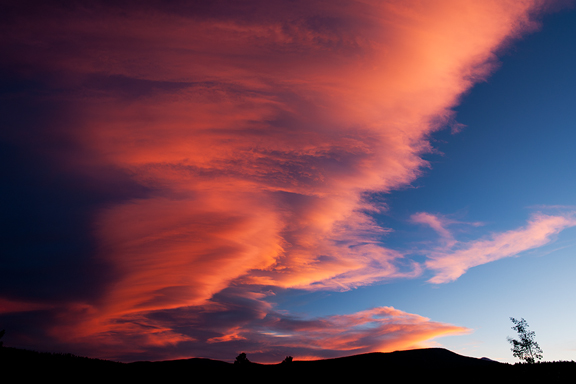 The following day, I tiptoed about in the dark gathering my equipment, gloves, hat, headlamp, so as not to wake Jeremy and drove into the blackness of early morning. I drive carefully at night in the mountains, because you never know what will decide to spring across the road in front of you. We have some big critters around here that could do proper damage to a car, but in all honesty, I brake for little tiny voles and mice as much as I do for moose and elk. I arrived in Rocky Mountain National Park before sunrise, but the sky was getting lighter by the minute. I had rented the Nikkor 500mm f4 telephoto lens from my friends at
Pro Photo Rental
to shoot the total lunar eclipse, but figured I would also shoot the elk rut in Rocky – because you really don't want to get too close to bull elks during the rut.
elk does and aspens bathed in golden sunrise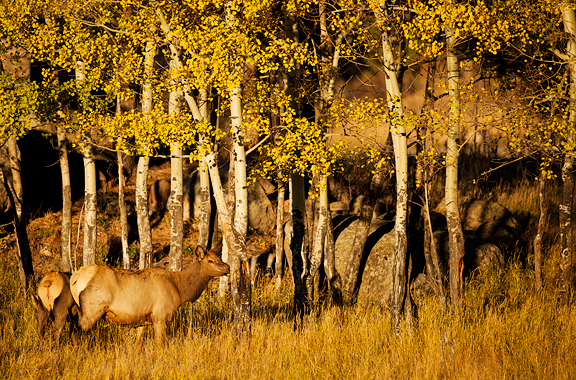 herding his harem across the meadow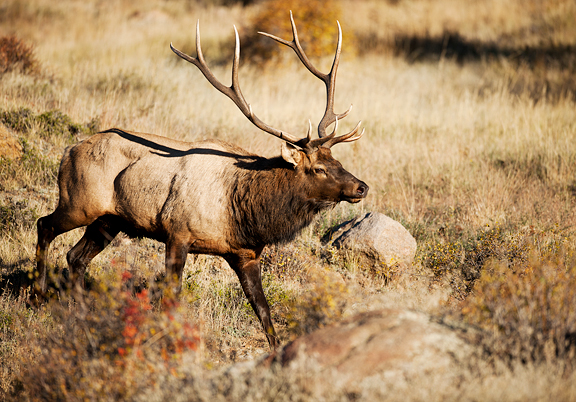 non-competing males having breakfast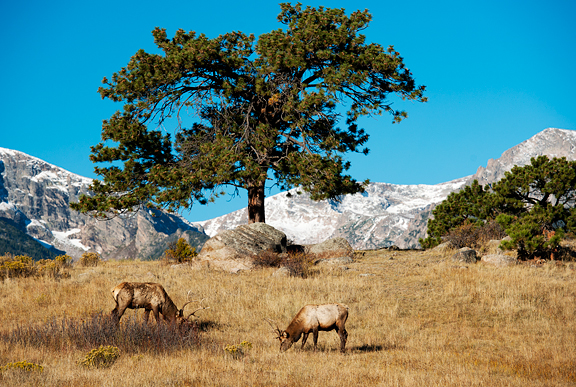 Wildlife photography is a different kind of photography from what I'm used to, so I felt it was good to challenge myself and try to improve what modest skills I have. Each time I shoot with the 200-400mm or the 500mm, I become that much more acquainted with the nuances of shooting super telephoto. Speaking as a photographer, the elk weren't in the best locations for a great shoot and the bulls were not as impressive specimens as when I photographed in 2012. You can't move them into the right light or the right setting like you can a cookie or a sandwich, nor can you move the mountains or the shadows or the trees or the guy who parked his Honda CRV in the worst place possible (but these are things you get used to when you photograph landscapes). You must move, and when it comes to bull elk in mating season, you give them wide berth and lots of respect. The sound of elk bugling into the evening air has been my soundtrack for much of the fall shoot and my trail runs for the last few weeks. Their calls echo back and forth between the hillsides of mountain valleys, eerie and haunting, but beautiful. Quintessential autumn in the Colorado high country.
bull elk bugling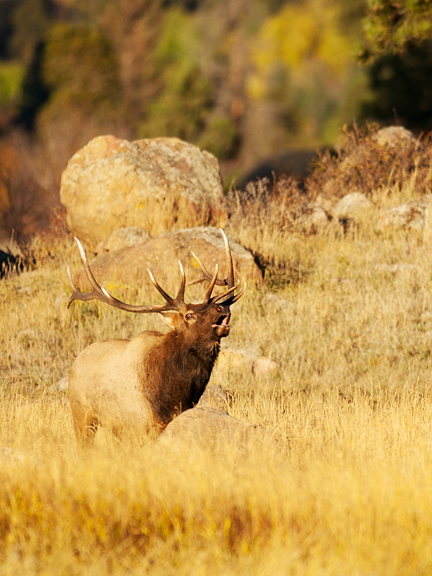 this guy bugles constantly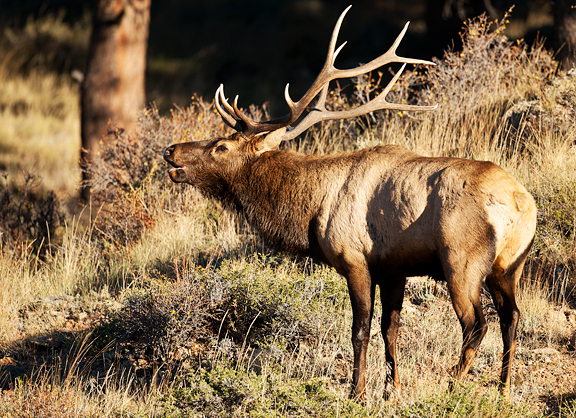 handsome fellow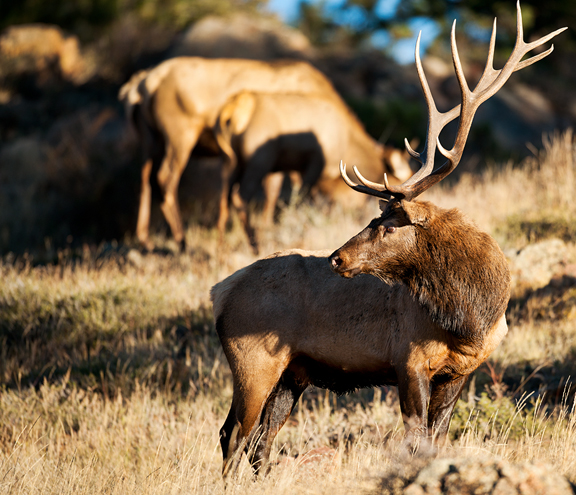 another bull elk chowing down on aspen bark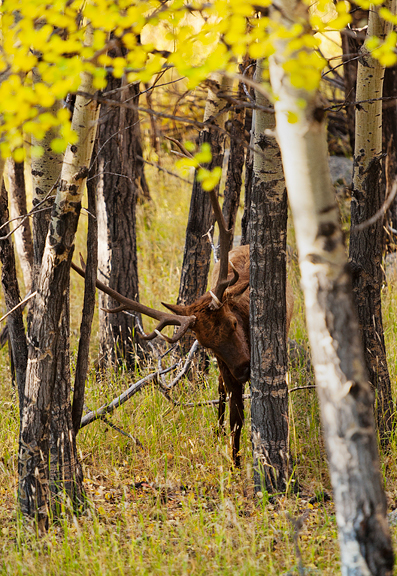 Whenever I set an alarm, I usually wake up five minutes before it goes off. But last night when my alarm sounded at 3 am for the total lunar eclipse, I was not awake, but in a deep slumber. I slunk out of bed and into warm clothes as Jeremy turned on his side and pulled the covers over his face. It's funny that the resident astrophysicist is the one who sleeps while I stumble outside to photograph the moon, the planets, the stars, the meteors. It was not to be. A uniform layer of high clouds stretched from every corner of the world above me and I debated whether or not to stay up in the hopes that it would clear. The radar and the forecasts told me to go back to bed, so I dutifully obeyed. At least I got some elk.
We are on our fifth or sixth oscillation between warm and cold weather since late summer. During the first cold snap, Jeremy and I were driving to Crested Butte in freezing rain and quickly failing daylight. We agreed to pick up dinner on the road and my stomach turned at all of the fast food options. Pulling into Frisco (near Breckenridge) we discovered a Whole Foods had opened this spring. I knew exactly what I wanted as I ran through driving rain and snow into the store – hot soup. Jeremy rarely knows what he wants to eat, but because we were short on time, I told him he was having soup. In the parking lot, spooning hot cioppino into our mouths, I felt warmth spreading from my tummy to my limbs and up the back of my neck. Jeremy kept making mmm mmm mmm sounds because he loves cioppino. Behind the steamy windows of our Subaru, I swore a silent oath to myself that I would find a good recipe for cioppino and make it at home.

fennel, leek, onion, garlic, carrots, celery, green pepper, parsley, crushed tomatoes, olive oil
dried basil, dried oregano, dried thyme, bay leaves, salt, pepper, cayenne, tomato paste, flour, butter, chardonnay, water
halibut filet, large sea scallops, medium sea scallops, crab meat, shrimp, clams
There are many many versions of cioppino out there, but to me it is like the Italian take on
bouillabaisse
. After searching and researching for a few hours, I settled on this recipe because it calls for lots of great seafood, white wine, and heaps of butter. Actually, I thought it was a tad heavy on the olive oil and butter, so I reduced it slightly, but there is still plenty to keep it crazy tasty. The only problem I encountered was sourcing all of the seafood necessary, but there is clearly a lot of flexibility in what you can use because the recipes for cioppino vary so widely. Cioppino is a San Francisco specialty, and we live in the Colorado Rockies, so the seafood alone cost me a small fortune. I took a few shortcuts like omitting tiny shrimp, using littleneck clams instead of manila clams (because that's all my seafood monger had), and subbing blue crab meat for dungeness crab meat, but I totally splurged on the halibut and scallops and shrimp (all wild-caught).
chopped and minced vegetables
seafood: sliced chunks of halibut, peeled and de-veined shrimp, scrubbed clams, scallops, crab meat
Once everything is prepped, you're looking at about two and a half hours of cook time, but the end product would be worth double that time. The two pans you will need are a stockpot and a deep sauté pan with a tight-fitting lid. The soup base has lots and lots of vegetables, which I really love. A finer dice will mean a less chunky consistency, but small dice is the biggest size I would go on the carrots which require the most time to soften (cook).
sauté the onions in olive oil and butter
stir in the fennel, leaks, celery, carrots, and green pepper
add the oregano, thyme, basil, cayenne, bay leaves, tomato paste, salt, and pepper
pour the crushed tomatoes into the stock pot
stir in water
While the soup simmers away for a couple of hours, you can prep your seafood if you haven't done so already. Cut the halibut into large chunks (3-inch squares), peel and de-vein the shrimp (but I left tails on for the pretty), and scrub the clams clean because I really hate biting into sand or grit. With about 30 minutes left on the simmer time, I started frying the seafood. It's a quick dredge in flour, shaken to remove any excess, and a few minutes frying in olive oil, butter, and garlic. It smelled heavenly. My sauté pan isn't large enough to fit everything, so I worked in batches, frying things of similar size and density at the same time. If you want to make this recipe gluten-free, I think you could skip the dredge in flour and just fry the seafood or you could dust the seafood in cornstarch before frying.
melt olive oil and butter in a skillet
add the minced garlic
dredge the seafood (fish, scallops, shrimp) in flour
fry the seafood
fried goodness
When the base has simmered for 2 hours, add the fried seafood and crab meat to the pot. Let that simmer for another 10-15 minutes. During that time, return to the frying pan. Don't even think of cleaning it! The browned bits of goodness stuck to the bottom of the pan are exactly what you want. It's called fond. That's why you need to use a pan that isn't non-stick because non-stick pans are pathetic when it comes to generating good fond.
after simmering for 2 hours
add the fried seafood
stir in the crab meat
Heat the used oil until it is hot and pour in 2 cups of wine. As everything steams and bubbles, use a spatula or whisk to scrape up the browned bits. When it comes to a full boil, add the clams and cover with a lid. Steam the clams for 5 minutes until they open. Any clams that remain closed should be tossed out (because they were dead to begin with). For that matter, before you cook them, any clams that are open and don't close when you tap them ought to be tossed out as well (because they too are dead). Pour it all into the cioppino – the clams, the broth, everything. I stirred in another cup of wine to the cioppino. You don't have to do that, but I would totally recommend it.
that brown stuff is fond – it's full of flavor and awesomeness
deglaze the pan with white wine
place the clams in the pan to steam
they are ready when open
pour the clams and broth into the cioppino
stir in half the parsley
Taste the soup before serving and adjust the seasoning with salt and pepper as needed. I like to mix in half of the chopped parsley and then use the remaining half for garnish when serving. Ladle the soup into bowls and then divvy up the goodies: the fish, scallops, shrimp, clams. We weren't sure which wine to serve with the cioppino. As it turns out, it works with a nice array of wines – Pinot Noir, Zinfandel, a non oaky Chardonnay, or a crisp Sauvignon Blanc. Jeremy is a fan of the Silverado Carneros Chardonnay 2011 with this soup, but go with what makes you happy. A slice (or two) of good crusty sourdough bread to sop up the broth is all you need to round out a perfectly wonderful meal.
serve with sourdough bread and a glass of wine
don't forget to pile on the goodies
Cioppino
[print recipe]
from Saveur
3/4 cup olive oil
12 tbsps butter, unsalted
1 medium onion, small dice
2 carrots, small dice
1 rib celery, small dice
1 green bell pepper, cored, small dice
1 leek (white only), small dice
1/2 small fennel bulb, small dice
2 28-oz. cans or boxes of crushed Italian tomatoes
2 tbsps tomato paste
4 cups water
4 bay leaves
1 tsp dried basil
1 tsp dried oregano
1 tsp dried thyme
1/4 tsp cayenne powder
salt to taste
black pepper, freshly ground to taste
2 cloves garlic, minced
1 1/2 lbs. fresh halibut filet, cut into 3×3-inch pieces
16 large sea scallops (I did a mix of 16 medium sea scallops and 4 large sea scallops)
16 large raw shrimp, peeled and de-veined (leave tails on for aesthetics)
1/2 lb. small raw shrimp, peeled (I couldn't find these)
1-2 cups flour
12 oz. crab meat, preferably Dungeness (but I used blue crab)
3 cups dry white wine
16 manila clams, scrubbed (I got littleneck clams)
2 cups parsley, chopped (should be 1/2 cup when chopped)
Make the soup base: Heat 1/4 cup of olive oil and 4 tablespoons of butter in a large heavy-bottomed stock pot over medium high heat. Place the onions in the pot and sauté for 2 minutes until soft. Stir the carrots, celery, green pepper, leek, and fennel in with the onions and continue sautéing for 5 minutes, stirring occasionally. Add the crushed tomatoes, tomato paste, water, bay leaves, basil, oregano, thyme, and cayenne. Season with salt and pepper to taste. Bring the contents to a boil, then reduce to a simmer. Cover and let simmer for 2 hours. Stir occasionally.
Fry the seafood: In a wide, deep skillet, heat 1/2 cup of olive oil and 8 tablespoons of butter over medium high heat until the butter melts. Add the minced garlic and sauté for 1-2 minutes until fragrant. Working in batches, dredge the halibut, scallops, and shrimp in the flour. Shake off excess flour and place the pieces in the skillet, frying until golden on the bottoms (1-2 minutes). Flip the pieces over and fry another minute until golden and remove with tongs or a slotted spoon. If the soup is still simmering, transfer the fried seafood to a platter and add it to the soup when the 2-hour simmer is done. Otherwise, place the fried seafood directly into the soup. Stir in the crab. Cover the soup and simmer for 10-15 minutes.
Deglaze the pan and steam the clams: There should be fond (browned bits) on the bottom of the skillet. This is good. Turn the heat to high and when the oil is hot, pour in 2 cups of the white wine. It should steam and bubble. Use a whisk or spatula to scrape up the brown bits from the bottom of the pan. When the liquid is boiling, add the clams to the pan in a single layer and cover with a lid. Cook for 5 minutes until the clams open. Discard any clams that remain closed. Pour the clams and the broth to the cioppino in the stock pot. Stir in half of the parsley and the remaining cup of wine. Ladle the soup into bowls, making sure to distribute the goodies evenly (fish, scallops, shrimp, clams), and garnish with the rest of the parsley. Serves 8.
more goodness from the use real butter archives