Recipe: seafood andouille gumbo
Thanks to all of the good folks who entered to win a Wii console and a Wii Fit Plus package! While we normally have Kaweah pick our giveaway winners, we gave her a break this time. Actually, it's because we weren't sure if the Kaweah Method would pass muster with the law-talkin' guys at Nintendo. But honestly, if you've ever met Kaweah, you'd realize right away that she is truly random.

truly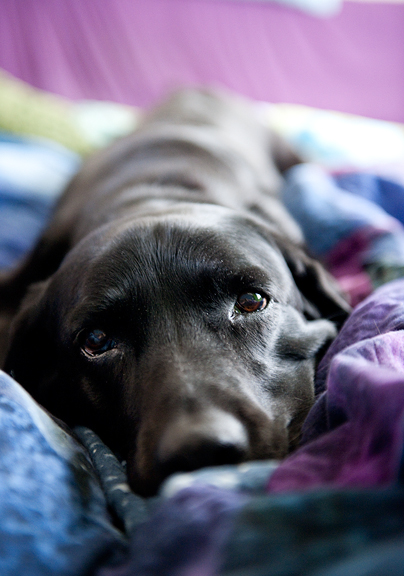 So let's get on with it! Random.org gave us 393 out of 516 comments.
Our winner is comment #393 – Karna!
Congratulations Karna! I'll contact you via email to get your mailing address so Nintendo can FedEx your cool and exciting new system to you! I have to say I was really impressed that so many of you want to get active and fit. Even if you didn't win the system, I still encourage you to get out there and do something. Whether you buy a Wii of your own or just start walking with friends, doing some exercises in your own home, trying out some yoga classes, or signing up for some sports teams to get you engaged and moving – it's good for you. I'm cheering you on from here!
I was feeling pretty good on Friday, then had a big crash and burn Saturday (I am told it is not uncommon to hit a wall on the third day after surgery). Reality never seems to be able to keep up with the plans I have in my head. By the way, thanks for all of your sweet recovery wishes. I think I'm finally on the mend. At least I was feeling good enough for us to run a few errands in town and meet up with friends at The Kitchen Upstairs (part of The Kitchen) for Tasting Hour.

jeremy tried a flight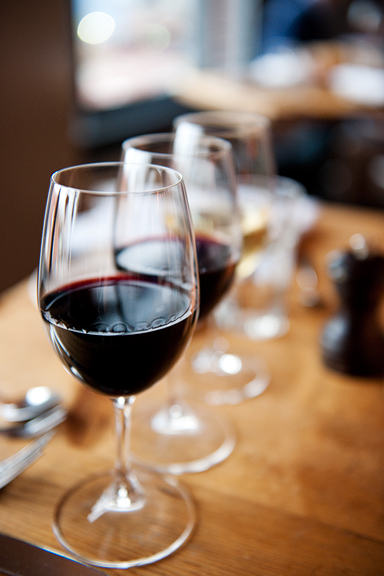 two of my favorite things: food and friends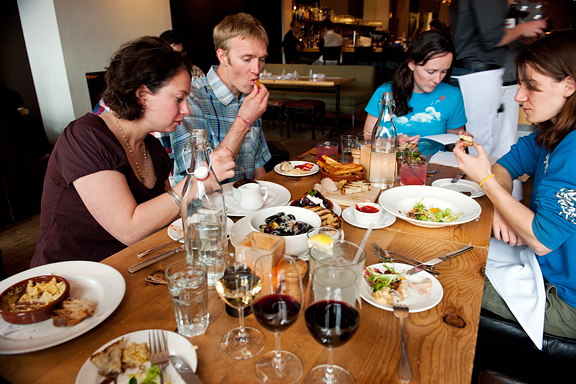 Cold, fat rain drops plopped on my head as we stepped into a gray and wet Pearl Street. I like the rain. I guess I wasn't this enthusiastic about it when I lived in Ithaca, NY. There is such a thing as too much rain. Here in the West, the rain is a nice change up from our typical gorgeous and sunny weather. Boulder is right at the transition into Spring where that bright green fuzz you see on the trees will burst into full on leaves in the next week. I drove us home in the rain, then the slush, then the snow. When we let Kaweah out for the night, it was snowing at a good clip.
takes my breath away every time i see it
What better weather for a hot bowl of gumbo? I've had this recipe dog-eared for a long time and I figured I'd make it when I thought to look for fresh okra. Lo and behold, I found it at H-Mart last week! Considering that I don't even know when okra season is, this was a magical thing. I grabbed a pound of the stuff. I call it the stuff because I've never cooked okra before and I've only had it on three occasions – once by accident (the NASA Langley cafeteria – that was interesting), once in a sushi bar (tempura fried, can anything be bad if it is tempura fried?), and once pickled because my friend Melinda is crazy about pickled okra.
onion, pepper, green onions, okra, tomatoes
okra looks happy, doesn't it?
I set about gathering shrimp and crab and andouille sausage. Nothing gets me going like a hearty spicy stew. I chose this recipe because I had never made shrimp stock before. It looked intriguing. I love using scraps to make more food and the stock was simple water, the shrimp shells, the celery trimmings, and the onion skin. Nice.
shelling and deveining the shrimp
let's make shrimp stock
The original recipe called for oysters, but I wanted andouille sausage – so I ousted the oysters for the andouille because I thought both would be too much. Plus, I didn't really see any good fresh oysters in the stores.
crab, shrimp, and andouille
straining the broth
The broth was golden and aromatic, which got me really excited about the gumbo. I can't tell you how many times I wanted to ditch the photos and finish making the dish so I could sit down and have a bowl. The recipe doesn't actually take very long to make if you aren't shooting it. Prep time and then an hour at most for cooking?
frying the okra
pre-cook both the sausage and okra
A lot of people have an aversion to okra because it is slimy. I guess it *is* slimy, but I like it. To reduce the sliminess, the recipe suggests frying up the okra slices until they are browned. Supposedly this cuts down on the unpleasant texture. My take on it is that the browning can only add more flavor to the gumbo – so why not? I browned the andouille too because that's a no-brainer.
make the roux
sauté onions, celery, and peppers
Everything up to this point was prep. You really start with a roux. I cooked my roux to a nice caramel color and added the onions per the instructions. They said it would turn a chocolate brown. I waited a long time and it still looked like caramel. At this point, my kitchen was a mess, I had flour on my camera, and I was getting cranky. I called it good and moved on. See what food blogging does to your culinary standards?
stirring in the broth and other goodies
just before serving, add the shrimp and crab
The rest was easy though. Add the broth, vegetables, sausage, and seasonings. Simmer. Stir in the lovely seafood. Kaweah kept walking into the kitchen raising her schnoz high in the air to get a whiff. White rice is the traditional accompaniment, but we've moved to mostly short grain brown rice here. Place a scoop of rice in the bowl, ladle that gumbo goodness on top and you have Happy in a Bowl right there. Don't forget the extra hot sauce on the side!
ladle over rice
I was already enamored with the recipe from the moment I strained the shrimp broth. When I served it to Jeremy, I thought he might balk at the okra, but he loved it – all of it. Now I just need to find a proper supply of okra.
gumbo yum-bo
Seafood Andouille Gumbo
[print recipe]
modified from Fine Cooking issue #90: Poppy Tooker's Seafood Gumbo
1.5 lbs. medium shrimp with shells on (or 2 lbs. medium shrimp with heads on)
2 cups onion, medium dice (about 1 large onion, reserve the skin)
1 cup celery, medium dice (2-3 stalks, reserve the trimmings)
1/4 cup + 6 tbsps vegetable oil
1 lb. fresh or frozen (thawed) okra, sliced 1/4-inch thick (about 4 cups)
1/2 cup flour
1 cup green bell pepper, diced
1 cup canned crushed tomatoes
1/2 lb. fresh or pasteurized lump crabmeat
1 tbsp dried thyme
1 bay leaf
2 tsps kosher salt
1 tsp black pepper, freshly ground
8 oz. andouille sausage, diced (here Poppy calls for shucked oysters, but I didn't have them and I prefer andouille – thus the substitution)
1/2 cup green onions, thinly sliced
Louisiana-style hot sauce, to taste
1/4 cup hot cooked white rice per serving (I used short-grain brown rice)
Shrimp Stock: Peel the shrimp (remove heads and devein as necessary). Place the shrimp in the refrigerator until you are ready to use them. Combine the shrimp peels and heads with the onion skin and celery trimmings in a large pot. Cover with 9 cups of cold water over high heat and bring to a boil. Reduce to an active simmer and let cook uncovered for 10 minutes. Strain and reserve the broth (about 2 quarts).
Okra: Heat 1/4 cup of vegetable oil in a wide sauté pan. Sauté the okra until the edges become lightly browned (about 3-5 minutes). Let them sit for the first two minutes or so until they brown, then start tossing them over to brown evenly. Drain of any extra oil and set aside.
Andouille: In the same pan as you used for the okra, heat the sausage on high and stir around until the sides have browned. Remove to a bowl and set aside.
Heat 6 tablespoons of vegetable oil in a large pot or Dutch oven. When it's hot, add the flour and stir with a wooden utensil or heatproof spatula until the roux becomes caramel colored. This takes about 5 minutes. Toss in the onions and stir until the mixture becomes chocolate brown in color (mine never achieved this color – it was more like light brown). Add celery, pepper and cook for another 5 minutes or until soft. Pour in the shrimp stock, okra, tomatoes, thyme, bay leaf, salt, pepper, and andouille. Reduce heat to a simmer and let simmer uncovered for 45 minutes. Five minutes before serving, stir in the shrimp, the lump crabmeat, and green onions. Add hot sauce, salt, and pepper to taste. Spoon gumbo over 1/4 cup of cooked rice per serving. Makes 3 quarts. Serves 6 to 8.