Recipe: cranberry hazelnut seed crisps
I could have very easily slipped on some yoga pants and settled down to work on the computer that grey, chilly morning last week. Instead, I went about gathering my running vest, water bladder, some fuel bloks, a ziploc for my phone, my dirty girl gaiters, trail runners… I had no idea how far I'd run, if I would get caught in the rain, if it would suck or if it would be great. The run was a little bit of everything. I did get caught in the rain for the last 6 miles and my muscles did get tight in the cold. But I managed a half marathon (a distance I haven't run in almost 2 months) and I also caught the remainder of our local fall colors, which is both thrilling and beautiful. It was my first trail run with my upgraded iphone, so I took a few detours to test drive the camera.

a lone aspen with red fringe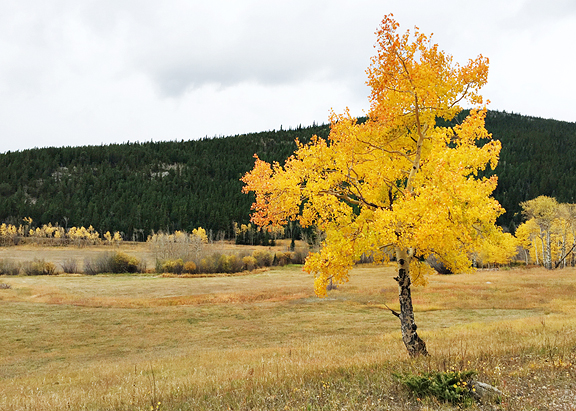 the grasses are turning lovely shades of red and gold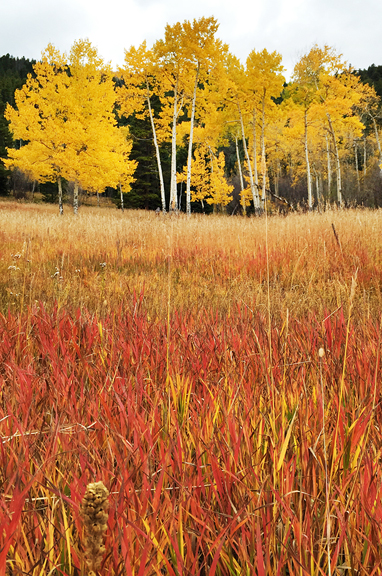 the browse line marks the extent of where the elk and moose feed on the aspen bark (thanks, twila!)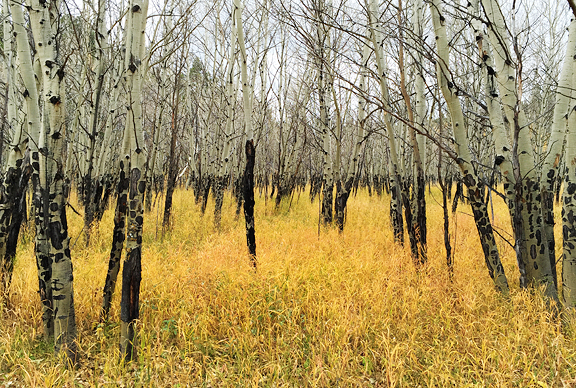 Is it terrible that my favorite part of trail running is when I'm done with the trail run? Oh, but a close second is when I get into that groove and find a nice pace that feels like I'm not even there. And I like feeling the soreness in my muscles the following day. I could feel the mild pull on my quads as I hustled through the fog the next morning. I was lugging that 500mm lens around trying to position myself to shoot the elk rut in Rocky Mountain National Park once again. This time, Jeremy joined me after I convinced him to forgo 3 hours of sleep. My shooting the elk rut does not require Jeremy's presence nor his assistance. I just knew that he would absolutely love seeing them so close as he had never witnessed the rut before. Of course, it was an extra bonus that he shot a little video with his phone that captured a bull elk bugling.
In contrast to the sunny morning earlier in the week (when I photographed the rut), this morning was cold and thick with mist and fog. Clouds clung to the mountains and drifted in and out of the valleys like slow-motion waves. If you watched closely, you could see the antlers of a bull elk emerge in the distance. If you watched really closely, you would notice the pack of coyotes trying to sneak past him or the rafter of wild turkeys picking their way into the woods. As we drove around with our windows down to listen for the bugling, Jeremy reached for my icy cold hand and gave it a squeeze. He thanked me for talking him into seeing the elk rut and said it was incredibly special to share the experience.
lone tree in the valley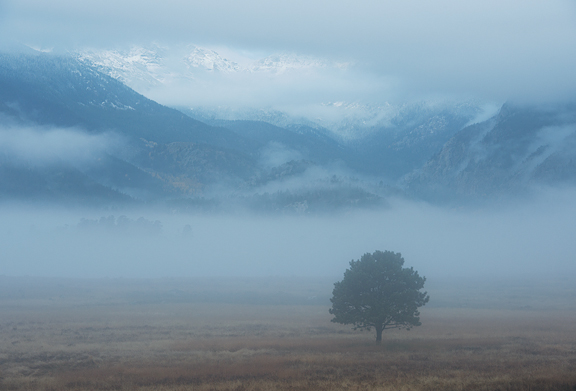 coyotes on the move
wild turkey foraging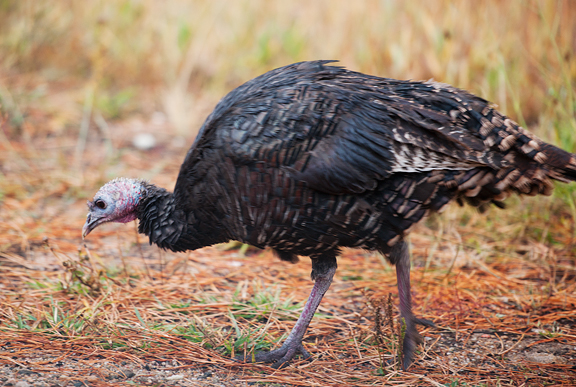 bugling into the fog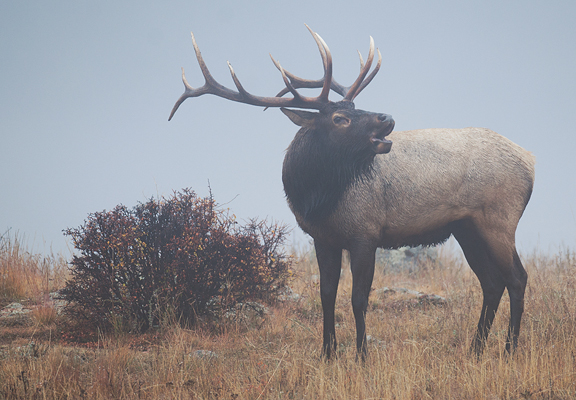 beautiful creature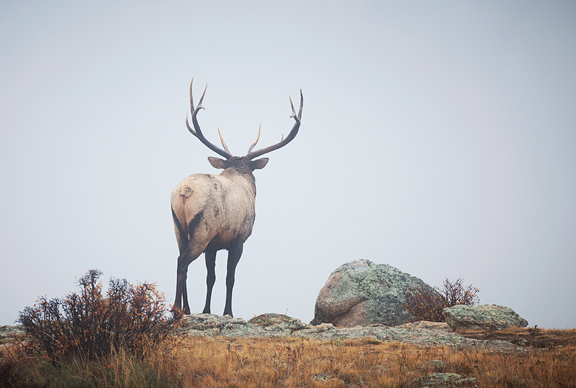 this fellow was yawning, not bugling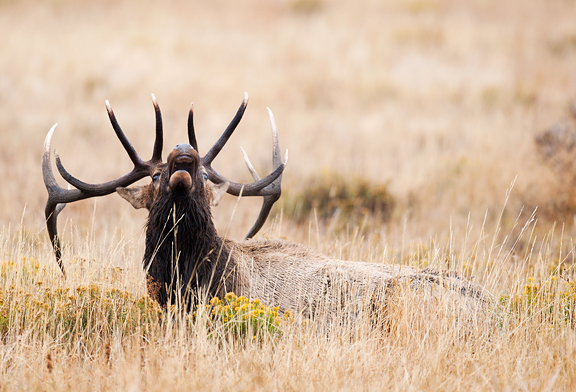 It is both exhilarating and a bummer when I am running alone and encounter a giant moose, or see a huge bird of prey take off from a branch just above me, or watch an ermine bring down a chipmunk and carry it away. The mini-safari aspect is pretty awesome, but then I find myself standing there looking around for someone I can yell "Did you see that?!" to. Food blogging is a little less dramatic than that, but it can be just as exciting when you find a recipe that is extra delicious, super easy, or saves you a ton of money. That's why I still food blog after all these years. I like finding great recipes and sharing them. It just so happens that one of my lovely readers pointed me to this recipe. Have you ever tried raincoast crisps? They are a slightly sweet cracker/crisp made with dried fruits and nuts and seeds. I picked up a packet for a party and quite liked them, but they are stupid expensive.
whole wheat flour, buttermilk, flax seeds, pumpkin seeds, baking soda, maple syrup, brown sugar, sunflower seeds, cinnamon, sesame seeds, salt, cranberries, hazelnuts
These crisps aren't very difficult to make, cost a fraction of retail, AND the homemade version tastes so much better than the commercial version. Plus, making your own means you can customize the ingredients and flavors to your liking. The original recipe calls for dried cherries, but I used dried cranberries because I always have them in my pantry. I also added hazelnuts because I think they look beautiful in cross section and I like their flavor and texture. I substituted regular whole wheat flour for the white whole wheat flour, because that is what I had, and it worked out perfectly. So there are four steps and they are all straightforward: mix, bake, slice, bake.
whisk the flour, sugar, baking soda, cinnamon, and salt together
stir the maple syrup into the buttermilk
add the wet ingredients to the flour mixture
fold in the dried fruit, nuts, and seeds
spread the batter in the pans
It takes mere minutes to mix up the batter and then 30 minutes to bake the mini loaves. But those 30 minutes are yours because the oven is doing the work! I worried that my loaves would overflow and burn, but they rose and remained in the pans. Such a well-behaved recipe! Once the loaves are done, let them cool completely. The reason for this is that you need to slice them quite thin and that gets hard to do when they are hot or even warm. The bread tends to have better cohesion when it's cooled. You will want to use a good, sharp bread knife for slicing the loaves because a dull knife won't give you clean cuts through the nuts and dried fruit. I ate the butt ends of the loaves. Very tasty! But the crackers are even better. Spread the slices on a baking sheet – I lined mine with parchment – and bake for another 20-25 minutes. You'll need to monitor the first batch to see how quickly they brown in your oven. I flipped my slices after 10 or 12 minutes, which helped prevent burning.
baked golden brown
cooling on the rack
sliced thin
lay out the slices on a baking sheet
bake until dark golden brown and crisp
When the crisps are done, remove them from the baking sheet and allow them to cool. These are so good that I could (and do) eat them straight up. But they are also excellent with soft cheeses or other spreads – whatever appeals to you. This recipe yielded about 6 dozen crisps and is way way way more economical than purchasing in the store. With the holidays on the horizon, the crisps are ideal for entertaining or gifting or just your own healthy snack.
part of a nice appetizer board
with brie and a slice of seckel pear
Cranberry Hazelnut Seed Crisps
[print recipe]
adapted from Weelicious
2 cups whole wheat flour (original says to use white whole wheat flour, but I used regular whole wheat flour)
1/4 cup dark brown sugar
2 tsps baking soda
1 tsp ground cinnamon
1/2 tsp salt
2 cups buttermilk
1/4 cup maple syrup
1 cup dried cranberries
3/4 cup hazelnuts
1/4 cup pumpkin seeds (pepitas)
1/4 cup sunflower seeds
1/4 cup sesame seeds
1/4 cup whole white flax seeds (I used whole golden flax seeds)
Make the loaves: Preheat oven to 350°F. Lightly grease three mini loaf pans (approximately 6 x 3 1/4 inches) with vegetable oil or butter. In a large bowl, combine the flour, sugar, baking soda, cinnamon, and salt with a whisk. In a small bowl or measuring cup, stir the buttermilk and maple syrup together. Pour the wet ingredients into the flour mixture and stir until just combined. Fold the cranberries, hazelnuts, pumpkin seeds, sunflower seeds, sesame seeds, and flax seeds into the batter. Divvy the batter among the three mini loaf pans and bake for 30 minutes or until the tops are golden brown and a toothpick inserted into the center comes out clean. Let the loaves cool in the pans for 10 minutes and then remove them from the pans and let cool completely over several hours or overnight.
Make the crisps: Preheat the oven to 325°F. Using a sharp bread knife, slice the loaves into 1/8-inch thin slices. Arrange the slices on parchment-lined baking sheets and bake for 20-25 minutes until dark golden and crisp. I found it helped to flip these slices over after 12 minutes. Makes about 6 dozen crisps.
more goodness from the use real butter archives