Recipe: toasted coconut custard tart
It's been snowing on and off since last week. Exciting, right? But you can't go ski just any snow. We had received several inches of fluffy, dry snow on top of bare ground, which meant there was no base to speak of. Rather than being overeager and rutting my skis, I opted for a trail run when we finally got out of single digits. I'm so glad I waited, because the sun came out and helped pack down the snow on the trails, and then we got more snow. What a lovely pair of words… MORE SNOW. Despite 11°F and nasty winds over the weekend, we got our first ski tour of the season in (rather late) and it was fantastic!

rosy sunrise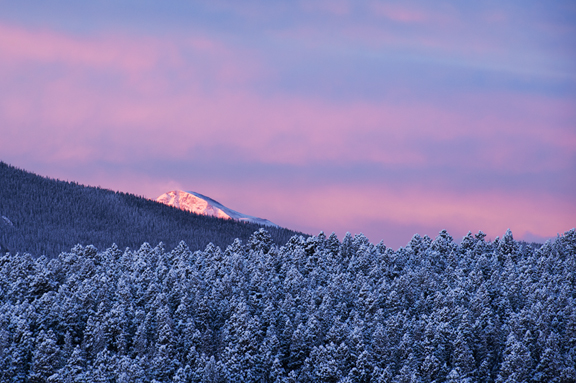 the sun is far more welcome in winter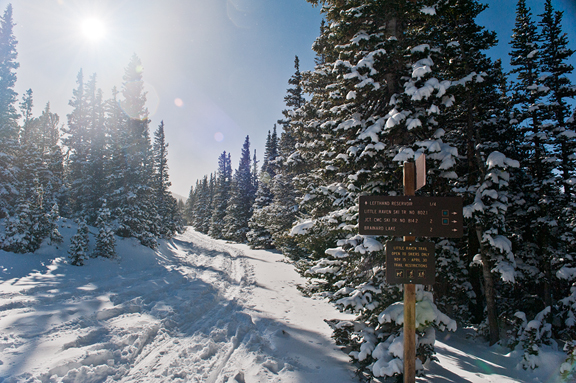 jeremy makes his way through snowy trees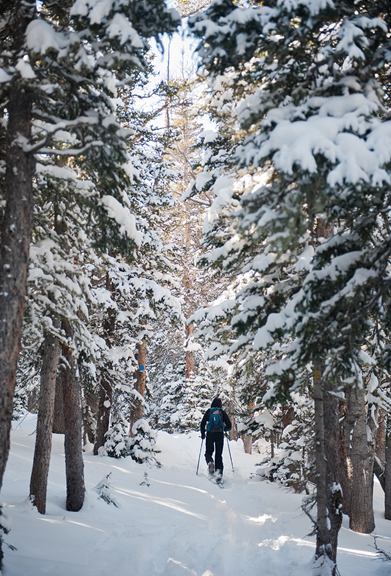 so happy that winter finally decided to show up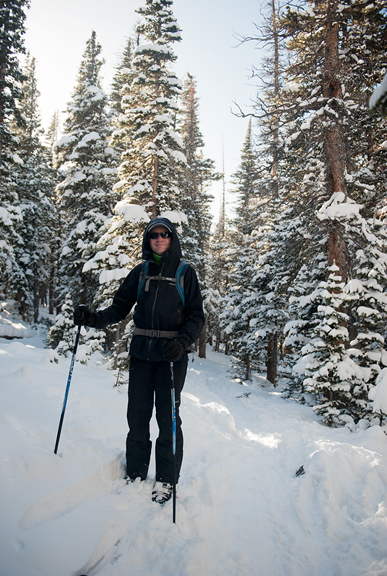 Snow on the ground is a wonderful thing. Jeremy and I began longing for ski season about 2 weeks after our last ski tour in mid may. Despite all of the trail running and hiking and biking and backpacking of summer, I feel like I'm stronger in winter. I burn more calories, too! We don't feel as guilty indulging in a little dessert during the cold weather months. But even if you aren't a ski dork like me, I tell you what – this toasted coconut custard tart is worth making and eating. Just give yourself an extra hour of walking.
for the tart crust: egg, butter, salt, flour, confectioner's sugar
pulse the butter into the dry ingredients
drizzle in some egg yolk
the dough should clump together, but remain grainy
The tart crust is a sweet, delicate, and crumbly-textured crust – a pâté sablée. My 9-inch tart pan was a little too shallow, so I used a taller 3-inch high tart pan with removable bottom. The dough pressed in beautifully, but after baking it did pull away in places leaving a few cracks. You can patch that with extra dough half-way through baking, but I didn't bother. As it turned out, the crust – while quite fragile – held together nicely.
butter the pan
press the dough into the pan
butter one side of a piece of foil
line the frozen crust with the foil (buttered-side down)
The crust can be made a day ahead and the custard can be prepared up to three days in advance. Flavored with rum and toasted coconut, this custard becomes a rich, thick, delicious filling for the tart. The most important part of the custard-making process is to temper the egg yolks with hot milk. That is, add a little bit of hot milk to the mixture and fully incorporate it with the eggs and repeat until the mixture is uniform. This method, as opposed to pouring all of the hot milk in at once, will prevent cooking the eggs and/or developing lumps in what should be a silky smooth custard.
butter, eggs, sugar, rum, milk, toasted coconut, salt, cornstarch, vanilla
whisk the cornstarch, salt, sugar, and egg yolks together
temper with hot milk
The custard should be nice and thick, but it will continue to thicken when chilled. And if you can only find raw shredded coconut, it's easy enough to toast in your oven. I sprinkled mine on a baking sheet lined with foil and baked the coconut for about 10 minutes at 350°F. For a lighter toast, take the coconut out a little earlier. It's best to keep your eye on the shreds as they go from untoasted to very toasted in no time.
add rum to the custard
whisk in the butter
stir in the coconut
When the tart crust is completely cooled and the custard is thoroughly chilled (either in the refrigerator or like I did – out on my snowy deck in sub-freezing temperatures), you can prepare the whipped topping. If making the tart in advance, wait to make the whipped topping until you are ready to serve the tart.
rum, vanilla extract, confectioner's sugar, cream, and toasted coconut (for garnish)
add the flavorings and sugar to the whipped cream (medium peaks) and beat to stiff peaks
fill the tart shell with coconut custard
spread the whipped cream on top
garnish with toasted coconut
Structurally, I thought this tart might be a disaster with such a delicate crust and a potentially oozy filling. You know how you slice a pie or a tart and all the filling drains out? Not with this tart. It's solid, beautiful, holds its shape, and every bite is absolutely delicious. I assumed that Jeremy was not going to want to eat much of this as he has never expressed much love for coconut. But after he took a bite and then watched me pack 70% of the tart to give to our neighbors with such sad eyes, I realized that this is a particularly excellent recipe and dessert. It's not overly sweet and yet it will satisfy that sweet craving. It tastes light and airy, but a little goes a long way. This could be a great option for a holiday table – I highly recommend it.
a tasty way to tart your day
dreamy creamy fluffy sweetness
Toasted Coconut Custard Tart
[print recipe]
from Baking: From My Home to Yours by Dorie Greenspan
sweet tart shell
1 1/2 cups all-purpose flour
1/2 cup confectioner's sugar
1/4 tsp salt
9 tbsps unsalted butter, frozen/cold and cut into small pieces
1 egg yolk
toasted coconut custard
2 cups whole milk
1/2 cup granulated sugar
6 large egg yolks
1/3 cup cornstarch, sifted
pinch of salt
2 tbsps dark rum
1 tsp vanilla extract
3 1/2 tbsps unsalted butter, cold and cut into small pieces
1 cup shredded sweetened coconut, lightly toasted
whipped cream topping
1 cup heavy cream, cold
3 tbsps confectioner's sugar
1 tsp dark rum
1/2 tsp vanilla extract
toasted coconut for garnish
Make the tart crust: Place the flour, confectioner's sugar, and salt in a food processor fitting with a metal blade. Pulse briefly to mix. Distribute the butter pieces over the flour and pulse until the mixture has pieces no bigger than a pea. Stir the egg yolk and drizzle a little at a time over the flour mixture, pulsing after each addition. Then pulse in 10 second increments until the dough begins to clump. Turn the dough out onto a work surface and lightly knead it (just barely) to incorporate any dry ingredients. It should be pretty crumbly, but if you press it together it will hold. Butter a 9-inch tart pan (I recommend something at least 2-inches high) with a removable bottom. Gently press the crust into the pan and up the sides while still maintaining its crumbly texture. Reserve any leftover dough to patch up cracks during baking. Freeze the crust in the tart pan for at least 30 minutes.
Preheat the oven to 375°F and butter the shiny side of a piece of foil large enough to cover the inside of the tart crust. Fit the buttered-side down onto the frozen crust dough tightly. Bake for 25 minutes on a baking sheet (in case any butter leaks from the crust). Remove the foil, pressing down any puffy parts of the dough and filling any cracks with extra dough. Continue baking for another 8 minutes. Keep the crust in the pan and let it cool. This can be made a day ahead.
Make the custard: Pour the milk into a small saucepan and bring it to a boil. In a medium saucepan, whisk the granulated sugar, egg yolks, cornstarch, and salt together until thick and blended (mine looked clumpy, but blended). Temper the egg mixture with the hot milk by adding a slow stream of about a quarter cup at a time, whisking the liquid into the egg mixture until thoroughly combined. When half of the milk is added to the egg mixture, you can whisk in the rest in a slow, steady stream. Set the pan over medium heat and stir it until it comes to a boil. Let it boil for 1-2 minutes while still stirring (get the corners of the pan too) – it should be thick. Turn off the heat and whisk in the rum and vanilla. Let the custard sit for 5 minutes, then whisk in the butter until the custard is silky and smooth. Stir in the toasted coconut. Refrigerate (or put it on the snow on your deck) until completely chilled. This can be made up to 3 days ahead.
Make the whipped topping: Whip the heavy cream to medium peaks. Add the confectioner's sugar, dark rum, and vanilla extract. Whip the cream to stiff peaks. This should be made just prior to serving.
Assemble the tart: Whisk the custard to loosen it and pour it into the baked tart shell. Smooth it evenly in the crust. Top the custard with the whipped cream. Sprinkle with toasted coconut. It's best to serve the day of making it (but it tasted pretty great the following day, too). Serves 6-8.
more goodness from the use real butter archives